Stereo sound for any room
Yamaha's R-N303 is a great choice for anyone looking to enjoy smooth stereo sound from a variety of sources, both wired and wireless. Its analog and digital connections let you hook up traditional analog components, like a CD player or turntable. Built-in Wi-Fi and Bluetooth give you even more ways to listen.
Stereo sound for any room
Yamaha's R-N303 is a great choice for anyone looking to enjoy smooth stereo sound from a variety of sources, both wired and wireless. Its analog and digital connections let you hook up traditional analog components, like a CD player or turntable. Built-in Wi-Fi and Bluetooth give you even more ways to listen.
Easy wireless music listening
Yamaha's flexible MusicCast multi-room system lets you enjoy all your music sources in other rooms. That includes Bluetooth streams or components connected to the R-N303's analog inputs. Just add compatible speakers and components to other areas of your home where you want to hear your music. Control your whole-house system using Yamaha's colorful and intuitive MusicCast app on your phone or tablet.
Hands-on time with the 'RN03
"Normally, I wouldn't expect much from a stereo receiver at this price. But I've come to expect more from Yamaha, and this amp delivered. It had plenty of power for my relatively inefficient bookshelf speakers. And the wireless features like Bluetooth and Yamaha's MusicCast platform open up lots of streaming listening possibilities."
-David Brown, Crutchfield editor
READ LESS
Product highlights:
100 watts x 2 into 8 ohms (40-20,000 Hz) at 0.2% THD
front-panel rotary volume knob and push-button bass and treble controls
40 AM/FM presets
remote control
Network Music Features:
built-in Wi-Fi for connection to your home network
built-in Bluetooth lets you stream directly from compatible devices

also sends audio wirelessly to Bluetooth-enabled speakers or headphones

Wireless Direct lets you connect compatible devices to the receiver wirelessly, without the need for a wireless access point
free MusicCast app lets you control music playback with a compatible mobile device
support for online music services, including Spotify®, Pandora®, SiriusXM, and thousands of free internet radio stations (subscription required for some services)
connects wirelessly to other Yamaha speakers and receivers with MusicCast to play the same song through multiple speakers or different songs in different rooms
plays MP3, AAC, WMA, FLAC, ALAC, WAV, and AIFF files
Apple® AirPlay® for streaming music from an iPhone®, iPad®, iPod touch® or computer running iTunes®
DLNA 1.5 certified for streaming music from compatible networked computers and NAS drives
supports high-res playback for PCM-based files up to 24-bit/192kHz as well as DSD files up to 5.6 MHz
Connections and Dimensions:
digital audio inputs: 1 optical, 1 coaxial
3 analog stereo RCA inputs
RCA recording output for audio dubbing
phono input for connecting a turntable
Ethernet port
2 pairs of speaker connectors for front A and B speakers
full-size (1/4") headphone jack
17-1/8"W x 5-1/2"H x 13-3/8"D (8"H with Wi-Fi antenna raised)
weight: 15.9 lbs.
warranty: 2 years
MFR # R-N303BL
What's in the box:
Network stereo receiver
Remote control (RAX35)
2 "AA" batteries
AM loop antenna
FM wire antenna
Owner's Manual
Warranty Information
Online Product Registration sheet
Supplement for Pandora
Supplement for SiriusXM
Supplement for Napster
Supplement for Tidal
Supplement for Deezer
Supplement for Spotify
Spotify brochure
MusicCast brochure
"Worldwide Representative Offices" note
Yamaha R-N303 reviews
Average review:
Customer photos
More details on the Yamaha R-N303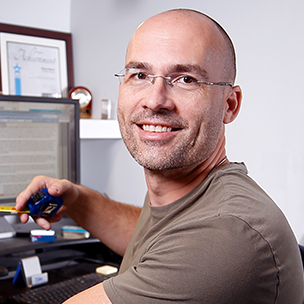 Researched by Crutchfield's

Stacey B.
Product Research
Audio Section
Network & Tuner Functions
Wireless Multiroom Audio
Bluetooth & Remote Control
Convenience Features
Audio Section
High Power Stereo Amplifier: Engineered for sonic power, Yamaha's R-N303 is equipped with a high-quality, high-power amp, featuring a single push-pull and discrete configuration that delivers a maximum output of 100 watts x 2 channels (8 ohms, 40Hz-20 kHz, 0.2% THD). Its low-impedance design minimizes the lengths of the audio signal paths, while placing the power supply unit near the amp unit eliminates energy loss and achieves superior drivability for optimum sound reproduction with all kinds of speakers, providing exceptionally dynamic, exciting sound.
Analog Inputs & Output: The Yamaha network receiver features four stereo analog RCA inputs (including a Phono input). There is also a stereo analog RCA output.
Phono Input: The Yamaha R-N303 stereo receiver features a dedicated Phono (MM) input for connecting your turntable and listening to your vinyl records.
Optical & Coaxial Digital Inputs: The R-N303 is equipped for digital audio input, with both optical (toslink) and coaxial (RCA) terminals. Both digital inputs supports 2ch PCM (32, 44.1, 48, 88.2, 96, 176.4, 192 kHz).
Note: The digital outputs are not compatible with Dolby Digital, DTS, or other multichannel audio formats.
A/B Speaker Terminals: The R-N303 is fitted with A & B speaker terminals so you can power up to two pair of speakers. The speaker selector switch on the front-panel of the receiver makes it easy to switch between speaker outputs, allowing you to hear the sound from one speaker pair (A or B) or from both speaker pairs (A+B). In addition, compatible speakers can be bi-wired using the A & B speaker terminals simultaneously (they are wired in parallel). The eight binding-post speaker terminals that will accept bare wire (up to 10AWG), pin-connectors, and banana plugs (single or dual). If connecting one pair of speakers to either the A or B outputs, the minimum speaker impedance needs to be 8 ohms. If connecting speakers to both A & B terminals, the minimum speaker impedance needs to be 16 ohms.
Headphone Jack: The Yamaha R-N303 is equipped with a front-panel 1/4" headphone jack for connecting a set of headphone, so you can listen to your music privately. Connecting a set of headphones automatically mutes the receiver's speaker outputs.
Tone Control: You can adjust the balance of the high-frequency range (Treble) and low-frequency range (Bass) of sounds output from the receiver' front left and right speakers to obtain a desired tone. You can independently adjust the bass (50Hz) and treble (20kHz) from -10dB to +10dB in 0.5 dB increments. You can also balance your connected speakers left to right.
Volume Setup: You can set the stereo receiver's maximum volume from 1-99 (1 step increments) to prevent excessive loudness. You can also set the receiver's initial volume to 1-99 (1 step increments), Off, Mute, or Max when the unit is turned on.
Max Volume Adjustment: Use this feature to set the receiver's maximum volume level. This feature is useful to avoid turning the volume too loud by mistake. You can set the Max Volume from -30 dB to +15 dB in 5 dB steps, or to +16.5 dB (full volume range is -80 dB to +16.5 dB).
Initial Volume Setting: Use this feature to set the volume level when the power is turned on. You can choose between Off (same as the volume when the unit was turned off), Mute, and -80 dB to + 16.5 dB in increments of 0.5 dB.
Network & Tuner Functions
Wired or Wireless Network Connection: The Yamaha stereo receiver is fitted with a RJ-45 Ethernet (LAN) port to connect the receiver to your home network. The unit also offers built-in WiFi (IEEE 802.11 b/g/n; 2.4GHz) for a wireless network connection; WPS, WEP, WPA-PSK (TKIP), WPA-PSK (AES), WPA2-PSK (AES) security protection is supported. Either network connection gives the receiver access to your DLNA music server, AirPlay, MusicCast, and various online music services. Wireless network setup can be done via WPS button, Access Point Scan, Manual Setting, PIN Code, or even through your Apple iOS device (5.0+).
Online Music Services: The Yamaha R-N303 offers access to Internet Radio through its built-in Airable by TuneIn, your Spotify Premium account through Spotify Connect on your Apple iOS or Android device; and your Pandora, TIDAL, Deezer, SiriusXM or Napster music account through Yamaha's MusicCast app.
Airable by TuneIn: You can listen to Internet radio stations using Airable by TuneIn. Search worldwide internet radio content by Genre, Language, Location, Quality, Popularity, or do a keyword search.
Spotify Connect: With the Spotify app (premium account required) on your Apple iOS or Android smartphone, you've got instant access to millions of songs. And now you can stream those same songs from your smartphone to the Yamaha stereo receiver by using Spotify Connect; simply hit play on the app to start streaming music. What's more, when you've been listening to Spotify on your smartphone outside and come inside, the song immediately begins to stream to the receiver for uninterrupted music enjoyment. You can also personalize playlists and receive phone calls while listening to music.
Pandora: Pandora is accessible through the Yamaha MusicCast app for Apple iOS & Android. Pandora is free, personalized radio that plays music and comedy you'll love. Just start with the name of one of your favorite artists, songs, comedians or composers and Pandora will create a custom station that plays similar tracks. You can also rate (thumbs up/thumbs down) songs as they play, and Pandora will adapt stations to your feedback. You can even bookmark stations and easily switch between favorites.
TIDAL: Tidal is accessible through the Yamaha MusicCast app for Apple iOS & Android. TIDAL is a global streaming service that offers over 30 million songs in high-fidelity CD sound quality. TIDAL has two pricing tiers; either $9.99 or $19.99 a month. Both pricing levels allow you to access TIDAL's entire music library. The $19.99 tier has the added benefit of high-fidelity sound at CD-level quality.
Deezer: Deezer is accessible through the Yamaha MusicCast app for Apple iOS & Android. Deezer is an online music service offering over 43 million tracks starting at $9.99 a month. Discover the perfect playlist or make your own, as well as browse curated collections by genre.
SiriusXM: SiriusXM Internet Radio is accessible through the Yamaha MusicCast app for Apple iOS & Android. SiriusXM lets you listen to over 120 channels of commercial-free music, talk radio, news, sports, entertainment, and more. Subscription fees will apply.
Napster: Napster is accessible through the Yamaha MusicCast app for Apple iOS & Android. Napster is a streaming music subscription service (starting a $10 per month) that allows you to play the full-length songs you choose on demand from a collection of over 10 million songs, without ads and without having to purchase or download the music.
AirPlay: AirPlay lets you stream your favorite songs directly from your Apple iOS (4.3.3+) device or from your iTunes (10.2.2+) library on your Windows PC or Mac computer to the stereo receiver, over your home's wireless network connection. From your Apple iOS device you are able to stream stored music on your device, downloaded music apps, and music on your iCloud to the stereo receiver. From your Windows or Mac you can stream your stored iTunes music library on your computer to the stereo receiver; you can even download Apple's free Remote App onto your compatible iOS device to browse and control playback functions of the music stored in your iTunes music library on your computer that is being streamed to the stereo receiver. With AirPlay you also get to see song/artist information on the receiver's front-panel display.
DLNA + WiFi Direct: The Yamaha R-N303 stereo receiver supports music streaming from WiFi-enabled devices (via WiFi Direct) and DLNA certified devices (via your home network). Supported music files include - WAV/FLAC/AIFF (up to 192kHz/24-bit), ALAC (up to 96kHz/24-bit), MP3/WMA/AAC (up to 48kHz/320kbps), and DSD (2.8/5.6MHz).
DLNA Certified: The R-N303 is DLNA (Digital Living Network Alliance) 1.5 and Windows 7/8 compliant for audio networking. This means it's easier for you to access and enjoy digital music stored on your PC over your home network. You can use your PC to play high-bit rate music content through your audio system, or use the R-N303 to browse and play music files on your hard drive. You can control playback of your streamed audio files from the stereo receiver's remote control. The receiver also supports ID3-Tag and META tag information so song title, artist name, and album name can be displayed from the unit's front-panel display. The stereo receiver supports the following DLNA music servers - (1) PC with Windows Media Player 11 or later installed, (2) PC with DLNA/UPnP Certificate server software installed, (3) NAS with DLNA/UPnP certification.
WiFi Direct: When using WiFi Direct, you can connect directly with other WiFi-enabled devices without using a wireless router. You'll be able to wirelessly stream a variety of music files to the Yamaha receiver without connecting to your home network. WiFi Direct completely bypasses your WiFi access point/router, so it's easy to set up. You'll continue to navigate your music and view song/artist information from your mobile device.
AM/FM Tuner: The Yamaha R-N303 network receiver features a built-in AM/FM tuner with manual, seek, and preset tuning. The R-N303 lets you store up to 40 AM/FM station presets. This can be done manually or automatically (auto-preset tuning). You can set this receiver to automatically match FM broadcast frequencies in stereo, or convert the frequency to monaural for weaker stations. An indoor FM wire antenna and AM loop antenna are included with the receiver.
Wireless Multiroom Audio
MusicCast Wireless Multiroom Audio Streaming: This AV receiver supports Yamaha's MusicCast multiroom audio eco-system, which allows you to wirelessly play back a wide variety of audio sources and content in multiple rooms of your home (additional MusicCast products sold separately). MusicCast works with your home's existing WiFi router and Yamaha's free MusicCast App for Apple iOS 9.0+ and Android OS 4.1+. You'll be able to stream the receiver's tuner, inputs, Bluetooth, and network sources to other MusicCast products installed in your home. In addition, you'll be able to stream your MusicCast products' sources to the stereo receiver. MusicCast supports the following source content.
Analog & Digital Sources: The receiver's optical/coaxial digital (2ch PCM only), and analog input sources can be played back over the MusicCast eco-system.
Hi-Res Audio (via USB or DLNA): MusicCast supports Hi-Res audio via DLNA or USB (the R-N303 is not equipped with a USB input. The MusicCast system is compatible with Apple Lossless (ALAC) up to 96kHz/24-bit, as well as FLAC and WAV music files up to 192kHz/24-bit. It also supports lower resolution music files like MP3, WMA, and AAC up to 48kHz. When multiple MusicCast devices are "linked" for multiroom audio playback, the Master room device's playback is at the native sampling rate (up to 192kHz/24-bit), while the other rooms and MusicCast devices down-converted to 48kHz.
Online Music Services & Tuner: MusicCast offers support for Pandora, Spotify Connect, SiriusXM, Napster & Airable. In addition the receiver's AM/FM tuner can be distributed across multiple MusicCast speakers.
Bluetooth: The receiver's Bluetooth source (SBC codec only) can be streamed to multiple MusicCast devices, so Bluetooth audio can be played in multiple rooms simultaneously. The MusicCast enabled receiver can also stream out non-Bluetooth sources to most any Bluetooth speaker or headphones (regardless of manufacture), making it convenient to expand MusicCast to your existing audio products.
Notes:

Up to 10 MusicCast devices can be connected to your home's wireless network (802.11 b/g/n; 2.4GHz).
If you want to install a MusicCast device to a location that is out of range of your wireless router, connect another MusicCast device to the router with a network cable to extend the range ("Extend Mode").
MusicCast App: The free MusicCast app can be downloaded onto your Apple (iOS 9.0+) iPod/iPhone/iPad and Android (OS 4.1+) smartphones/tablets. The MusicCast app puts control of your whole home listening experience in the palm of your hand from your Apple iOS or Android device. You'll be able to quickly select the room or rooms you want to listen to music in, select the source or sources you want to listen to, browse music content from your music library and online music services or Internet Radio, plus control music playback functions.
Rooms: Choose which room or rooms you want to listen to music in. You can select a different source for each room, group certain rooms together for playback of the same source, or link all rooms together so the same source is played back throughout the house.
Source Selection: From the app you can select which source or sources you want to listen to; choose from network-connected devices, select online music services, Internet Radio, Bluetooth; as well as analog & digital inputs.
Music Browsing: You can browse music libraries from your network-connected devices; like your smartphone, tablet, computer, or laptop. You can also browse music content from select online music services and search Internet Radio stations from the MusicCast app. You can also browse music files on your USB-connected thumbdrive.
Playback & Song/Artist Info: From the MusicCast app on your compatible Apple iOS or Android device you get Volume Up/Down, Play/Pause, and Previous/Next Track; as well as song/artist information and album art.
Favorites: Internet radio stations, content from select online music services, plus playlists and songs from your network-connected device's music library can be saved as "Favorites" for quick recall within the MusicCast app.
Personalization & Customization: With the app's unique personalization features, you can choose from preloaded room images or change the color of buttons to represent each room in the home, or even take pictures of their own home and assign the images to each button. The content source buttons can also be customized to rename, remove or reorder selections for easier operation.
Bluetooth & Remote Control
Built-in Bluetooth: The Yamaha R-N303 is equipped with built-in Bluetooth (version 2.1+EDR) for wireless communication between Bluetooth-enabled audio source devices, headphones, and speakers. The AV receiver can act as a Bluetooth receiver in order to wirelessly stream music from an audio device, or a Bluetooth transmitter in order to wirelessly stream music to a set of BT-enabled headphones/speakers.
Bluetooth Receiver: The R-N303 incorporates Bluetooth A2DP & AVRCP, so you can wirelessly stream stored music & music apps from a Bluetooth-enabled device; like your Apple iPod/iPhone/iPad, Android smartphone/tablet, Windows Phone/PC, or Mac computer/laptop to the AV receiver. In addition to support for the standard SBC Bluetooth audio codec, the receiver offers support of AAC. By supporting AAC, the receiver offers better audio performance of music streamed from your Apple iPod/Phone/iPad. Song/artist information will be displayed on the front-panel of the receiver. You'll you be able to control basic playback functions, like Play/Pause & Previous/Next Track from the receiver's remote; advance music browsing still has to be done from your Bluetooth source device.
Bluetooth Transmitter: The Yamaha stereo receiver can also act as a Bluetooth transmitter and stream its non-Bluetooth audio sources (Network, Analog, Optical/Coax Digital, & AM/FM tuner) out to most any Bluetooth headphone or speaker. You can only pair and stream audio to one Bluetooth headphone or speaker at a time. You can even have the same source playing from the main speakers and a Bluetooth speaker/headphone simultaneously (there is a slight audio delay). Volume control of the Bluetooth speaker/headphone will be controlled via the Bluetooth device and not the receiver. *To use this feature, the receiver must be connected to your home network and you will need to use MusicCast Controller app on your Apple iOS or Android device to configure the receiver as a Bluetooth transmitter.
Note: Due to the differences in Bluetooth technology, some Bluetooth enabled devices may be incompatible, function improperly, or may not support all features when used with the Yamaha stereo receiver.
Alexa Compatible (Firmware Update Required): Alexa-enabled devices (including the Amazon Echo, Echo Dot, Tap and Echo Show) will soon be able to control key functions of a MusicCast system using voice commands. A firmware update (available sometime in October), will be available for download that allows key functions of MusicCast products to be controlled using your voice through Alexa-enabled devices (sold separately).
Alexa Skill: The MusicCast skill for Alexa will allow you to power MusicCast products on and off, control basic playback functions, make selections from a playlist of favorite music, adjust the volume, and use the Link function for playback of multiple MusicCast products simultaneously.
Echo Source Input: In addition or alternatively, an Echo device can be used as a music/audio source for a MusicCast system. All MusicCast devices offer a Bluetooth input. Just pair your Echo, Echo Dot or Echo Show with any MusicCast wireless speaker, sound bar or stereo receiver and the sound will play from the MusicCast device. Using the MusicCast app, you can then select the Bluetooth input and link multiple MusicCast devices for playback, allowing you to hear it throughout your home. Many MusicCast products also offer inputs which can be connected to Echo Dot via its line output, if a wired connection is preferred over Bluetooth. This requires using an optional analog audio cable (sold separately). Using the MusicCast app, you can select the wired input and link multiple MusicCast devices for playback, allowing you to hear sound from Echo Dot throughout your home.
Note: You will need an Alexa-enabled device (Amazon Echo, Echo Dot, Tap, or Echo Show - all sold separately) to operate certain functions of your MusicCast products via voice-command. The MusicCast components and the Alexa-enabled devices must be on the same network.
IR Remote: The Yamaha R-N303 comes with an IR remote control for wireless operation of the network stereo receiver
Convenience Features
Front-Panel Display: The R-N303 network receiver features a front-panel display to indicate audio settings, source input, station identification, and song/artist information. You can adjust the brightness of the front-panel display. This unit does not offer an on-screen display.
Gapless Playback: Many live and classical albums have no gaps in the music. Gapless playback ensures that there are no pauses between audio files. This provides playback with no interruptions, the way it was meant to be heard. Compatible with WAV, FLAC, AIFF, and ALAC music files via DLNA.
ECO Mode: When the ECO Mode is enabled, you can reduce the receiver' power consumption by keeping the maximum volume, maximum output power, and front display's brightness low. ECO mode reduces power consumption by approximately 20%.
Sleep Timer: The receiver's Sleep Timer function can be set turn the unit automatically off after 30, 60, 90, or 120 minutes.
Auto Power Standby: If you don't operate the receiver or use the remote for an extended period of time, the unit will automatically go into standby mode. The Auto Power Standby feature is set at 20 minutes for Bluetooth & Network sources and 8 hours for Analog/Digital input sources, as well as the AM/FM tuner.
Firmware Updates: New firmware will be released for the purpose of additional features or product improvements. Firmware updates can be downloaded from the Yamaha website. If this unit is connected to the Internet, the receiver will indicate when a new firmware version is available and you can download the firmware via the network connection. Firmware updates normally take approximately 20 minutes or longer. Check Yamaha's Support Download Site for the most recent firmware updates.
Q
Crutchfield asked: Why did you buy this?
A
Yamaha has a great reputation and this is just simple good sound for the money
[ Romy Sep 08, 2019 ]
A
Needed turntable input for old albums but wanted to be updated to digital as well. This looks perfect. Excited to find it.
[ Vicki Aug 28, 2019 ]
A
Needed a replacement for my dying Yamaha receiver (25+ yrs old) Had all the features I wanted for my tape deck, phono, CD player and Sirius XM. The Wi Fi and Bluetooth are great to have as well. The price drop was very nice, indeed!
[ Billy Aug 26, 2019 ]
A
Needed a basic receiver and after much research, this seemed to be the best fit. It was recommended by customer service.
[ Elizabeth Ann Aug 26, 2019 ]