A bang-for-your-buck bar
Yamaha's sound bars have consistently impressed us, and their budget-friendly bars are no exception. This new SR-B20A offers a really simple way to improve your TV's sound quality with an easy one-cable connection — either HDMI or optical digital.
A bang-for-your-buck bar
Yamaha's sound bars have consistently impressed us, and their budget-friendly bars are no exception. This new SR-B20A offers a really simple way to improve your TV's sound quality with an easy one-cable connection — either HDMI or optical digital.
Onboard amplification powers six drivers, including a pair of built-in ported subwoofers that deliver more bass than you'd expect from such a slim bar, especially at this price point. But if you want even more low-end rumble, there's an output for adding on a separate powered sub of your choice.
The bar has built-in ported subwoofers for deeper bass than most sound bars can deliver on their own.
Dedicated dialogue and surround modes
I hate when I have to rewind movies and TV shows because I didn't catch what the actor just said. Sometimes it is just too hard to hear the dialogue over the background noise. That's where Yamaha's Clear Voice processing comes in handy — it brings speech to the forefront so that dialogue is easier to hear and understand.
And right next to "Clear Voice" on the remote control, you'll find a button for "3D Surround." This enables the bar's simulated surround sound via a technology called "DTS Virtual:X."
How does DTS Virtual:X work?
Many sound bars simulate Dolby Atmos or DTS:X by bouncing sound off your walls and ceiling. That's not what's happening here. Instead, DTS Virtual:X almost completely relies on digital sound processing.
DTS uses what they call "spatial audio techniques" to make it seem like the sound is all around you. Incredibly sophisticated audio delays and adjustments create a larger, wider soundstage. That includes overhead atmospheric effects like leaves rustling on a tall tree or birds chirping above.
Check out Jeff Miller's article "What is DTS Virtual:X?" for more details.
Stream your favorite tunes over Bluetooth
The SR-B20A can handle your music, too. The bar has built-in Bluetooth so you can wirelessly stream music, audiobooks, or podcasts from compatible devices directly to the sound bar.
READ LESS
Product highlights:
two-channel sound bar with simulated 3D surround sound

two 1" dome tweeters
two 2-1/8" cone midrange drivers
two 3" cone woofers

built-in amplifiers: 30 watts x 2 for front left and right drivers, 60 watts for bass drivers
DTS Virtual:X digital sound processing

emulates object-based surround sound like DTS:X and Dolby Atmos
simulated surround and height-channel speakers create a spacious, lively soundstage

built-in Bluetooth for wireless music streaming from compatible devices
Dolby® Digital and DTS decoding
Clear Voice mode for clearer, louder dialogue with movies and shows
listening modes: stereo, standard, movie, and game
Connections and general info:
1 HDMI ARC connection
2 optical digital audio inputs
mono RCA subwoofer output for adding your own powered subwoofer
free downloadable Sound Bar Remote app for Apple® and Android™ lets you control the bar via Bluetooth with your smartphone
keyhole slots for wall-mounting
remote with subwoofer volume control
35-7/8"W x 2-1/8"H x 5-1/8"D
weight: 7.1 lbs.
warranty: 2 years
MFR # SRB20ABL
What's in the box:
Active soundbar speaker
6' AC power cord
Remote control (CR2025 3V battery (installed)
5' Optical digital cable
2 Spacers
Quick Start Guide
Wall-Mount Template
Product Registration
Safety Brochure
Warranty Information
Contact Information
Yamaha SR-B20A reviews
Average review:
Customer photos
More details on the Yamaha SR-B20A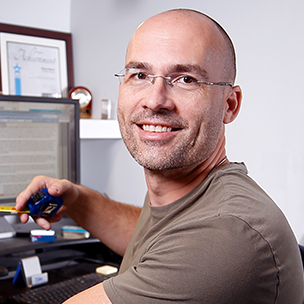 Researched by Crutchfield's

Stacey B.
Product Research
Features
2.1ch Active Soundbar Speaker: The Yamaha SR-B20A active soundbar speaker features a 2.1ch driver configuration with one 1" dome tweeter and one 2.125" mid-woofer for each of the left & right channels, as well as dual 3" subwoofers for the LFE channel. The SR-B20A delivers 120-watts of power to the enclosed drivers - 30 watts to each of the left & right channels and 60 watts to both subwoofers.
Clear Voice: Clear Voice raises the level of dialog and narrations while maintaining overall sound quality. Movies and TV shows, sports commentary and news broadcasts are more clearly audible.
Built-In Subwoofers w/ Bass Extension: The SR-B20A is equipped with dual, built-in 3" subwoofers plus a unique bass reflex port and "Bass Extension" processing to deliver exceptional low-end performance without the need for a separate powered subwoofer. You can adjust the level of the built-in subwoofers independently from the soundbar's overall volume.
Note: The Yamaha SR-B20A does not include a separate powered subwoofer.
Dolby Digital & DTS Compatible: The Yamaha SR-B20A soundbar decodes 2ch PCM, multi-channel PCM, Dolby Digital, & DTS audio signals. You can listen to these audio formats in DTS Virtual:X mode (with vertical and horizontal surround effects), Virtual Surround mode (with horizontal surround effects only), or 2ch Stereo mode (no surround effects). The 2ch Stereo mode is ideal for music, while the Virtual Surround mode provides surround effects for movies, and the DTS Virtual:X provides an even more immersive surround sound effect for movie soundtracks.
Digital Audio Connector
Audio Signal Type
Audio Signal Format
HDM & Optical
Bitstream
Dolby Digital, DTS
2Ch Linear PCM
2ch, 32-96kHz, 16/20/24-bit
DTS Virtual:X 3D Surround: In addition to the standard Virtual Surround mode which provides virtual surround from horizontal directions, the SR-B20A supports DTS Virtual:X which adds virtual height effects for a more immersive surround sound experience. DTS Virtual:X can be used with any content (from 2ch to 5.1ch soundtracks), while delivering virtual height & virtual surround processing based on psychoacoustics (not reflective surfaces).
Sound Modes: You can enjoy the sound of movies, music, TV programs and games with Yamaha's optimal sound modes. Select from four options (Stereo, Standard, Movie, Game) designed to suit your content. Stereo mode to match stereo playback of music, Standard mode for most TV programs, Movie mode for movies to enhance space expansion, and Game mode to immerse yourself in gameplay content allowing for individual sound action localization to be clear and precise.
Dynamic Range Compression (DRC): Compressing the dynamic range of audio signals (the volume difference between the loudest and quietest sounds) makes it easier to listen at a low volume. This setting is applied only when Dolby Digital audio signals are being played.
HDMI ARC Output: The Yamaha SR-B20A features one HDMI ARC output to connect the soundbar to your TV's HDMI ARC input. The SR-B20A's HDMI ARC output allows audio from your TV to be sent through the active soundbar speaker. The HDMI ARC output supports 5.1ch Dolby Digital, 5.1ch DTS, and 2ch PCM audio signals.
Some televisions will only pass 2ch PCM through the ARC-enabled HDMI input from devices connected to the TV via HDMI or analog, and will only pass Dolby Digital via the TV's built-in tuner, network apps, or USB.
The HDMI ARC Output only supports audio transmission and does not support any type of video signals.
Optical Digital Inputs: In addition to HDMI connectivity, the SR-B20A is outfitted with two optical (toslink) digital inputs that supports 2ch PCM, 5.1ch Dolby Digital, and 5.1ch DTS audio signals.
The digital optical output terminals of some flat-panel TVs only send an audio signal in 5.1ch when receiving Dolby Digital/DTS surround sound from the TV's built-in tuner, network connection, or connected USB device; and will output only 2ch stereo from sources connected to the TV via HDMI, or RCA (like your Blue-ray/DVD player or satellite/cable box).
There is no analog input on this soundbar.
Bluetooth Audio Streaming: The Yamaha SR-B20A soundbar features built-in Bluetooth 5.0 with support wireless audio streaming (A2DP). You'll be able to stream stored music, music apps, and other audio content from your Bluetooth-enabled device (such as your smartphone, table, laptop, or computer) to the SR-B20A active soundbar speaker. You will continue to navigate your music and view song/artist/albums information from your Bluetooth-enabled source device. The soundbar system has a Bluetooth wireless range of approximately 33'.
Pairing: This unit pairs with your Bluetooth-enabled device with a single press of a button. If a Bluetooth device has been paired before, the unit will connect to the last paired device when the soundbar's Bluetooth source button is pressed. You will need to terminate this connection to pair a new device.
SBC + AAC Codecs: In addition to support for the standard SBC Bluetooth audio codec, the Yamaha soundbar speaker offers support of AAC. By supporting AAC, the SR-B20A soundbar offers better audio performance of the music streamed from your Apple iPod, iPhone, or iPad.
Bluetooth Standby: The Bluetooth Standby function allows you to turn On or Off the soundbar automatically, linked with the operation of a Bluetooth device.
Notes:

The SR-B20A does not support Bluetooth hands-free communication for making or answering phone calls.
Due to the differences in Bluetooth technology, some Bluetooth enabled devices may be incompatible, function improperly, or may not support all features when used with the Yamaha SR-B20A.
Sub Out: A mono-RCA subwoofer output lets you hook up an optional powered sub (sold separately). The soundbar's built-in subs will continue to produce sound along with the external power sub.
Mounting Options: Due to its slim profile, the soundbar fits in front of most flat-panel TVs without blocking the screen. If you prefer to wall-mount the speaker, the SR-B20A offers built-in keyhole slots (spaced 18" apart). A built-in gyroscope optimizes sound depending on whether the soundbar is placed on a table-top or hung on wall.
Table-Top Dimensions: 35.75" (w) x 2.125" (h) x 5.125" (d)
Wall-Mount Dimensions: 35.75" (w) x 5.125" (h) x 2.5" (d)
IR Remote + HDMI-CEC: The SR-B20A comes with a sleek, easy-to-use IR remote control for wireless operation of the soundbar speaker. Also, if your TV supports HDMI CEC and you use HDMI connectivity, it is possible to adjust the volume of the sound bar using your TV's remote to simplify day-to-day operation.
Note: This soundbar does not allow you to program your TV remote to operate the speaker, but does offer HDMI control through your compatible TV's remote.
Sound Bar Remote App: With Yamaha's Sound Bar Remote App (for Apple iOS 13.0+ and Android 6.0+) its even easier to control the SR-B20A active soundbar speaker from your compatible smartphone or tablet device. The app can be used to switch sources, sound modes, clear voice and bass extension functions and simple power on/off commands intuitively and easily from your Apple iOS or Android mobile device.
Auto Power Standby: When the Auto Power Standby function is enabled, the unit will automatically turn off when there is no operation for 8 hours. When Bluetooth or HDMI is selected as the input, the unit will turn off after no audio input and no operation for 20 minutes.
Firmware Updates: Firmware updates can be done via a USB thumbdrive containing downloadable firmware updates from Yamaha's website. Check Yamaha's Support Download Site for the most recent firmware updates.