About the Denon AVR-5308CI
Denon pulled out all the stops when they created their flagship AVR-5308CI. This sophisticated receiver turbocharges your high-definition home theater with a host of advanced audio and video features. For starters, it teams up 150 watts per channel of precision, high-current power with THX® Ultra2 processing. This potent combination guarantees intense, high-impact surround sound from all your entertainment sources. Plus, you get Dolby® True HD and DTS-HD™ Master Audio decoding to provide superior surround sound with compatible
Blu-ray players
and discs.
Denon pulled out all the stops when they created their flagship AVR-5308CI. This sophisticated receiver turbocharges your high-definition home theater with a host of advanced audio and video features. For starters, it teams up 150 watts per channel of precision, high-current power with THX® Ultra2 processing. This potent combination guarantees intense, high-impact surround sound from all your entertainment sources. Plus, you get Dolby® True HD and DTS-HD™ Master Audio decoding to provide superior surround sound with compatible Blu-ray players and discs.
Outstanding picture quality from every video source
The '5308CI will accept as many as six high-definition digital video signals at resolutions up to 1080p via its HDMI inputs. This lets you hook up high-res sources such as HD DVD and Blu-ray disc players, an HDTV tuner, and a high-end DVD player like Denon's DVD-5910CI, and easily switch among them. Two HDMI outputs mean you can route your high-def video signals to more than one HDTV or projector.
Denon also equipped the '5308CI with the Silicon Optix Realta™ HQV chip — a state-of-the-art video processor usually found only in professional video equipment. It incorporates broadcast-quality video deinterlacing and 1080p scaling for improved detail and smoother playback from all of your video gear, whether connected via HDMI or analog inputs.
Wi-Fi® connectivity and HD Radio
This receiver gives you convenient wireless access to digital music files and JPEG photos stored on your PC, using your Wi-Fi or Ethernet home computer network. It also lets you tap into the world of Internet Radio via a broadband Internet connection. The built-in HD Radio tuner lets you listen to the free, over-the-air digital programming that many AM and FM stations now broadcast. Plus, you get front- and rear-panel USB ports to plug in a compatible MP3 player, hard disk drive, or USB flash drive loaded with your favorite tunes.
Precision auto setup tailors sound to your room
Denon also included Audyssey MultEQ® XT, a sophisticated auto-calibration system that helps you get the most accurate home theater sound possible. The '5308CI uses the supplied microphone to analyze sound from up to eight different listening positions, then automatically adjusts level, equalization, and delay settings for each of your speakers. You get precise response across a wide listening area instead of just a single "sweet spot," so everyone in the room can enjoy balanced home theater sound.
Multi-room flexibility
This receiver's multi-source, multi-room output gives you flexible entertainment options throughout your home. You can enjoy a surround sound movie in your main room while a housemate watches a different video source in a second room, and another housemate listens to stereo music in a third. You can even route digital audio signals to a fourth room for playback with an additional receiver.
Top-notch construction for detailed sound
The '5308CI treats your digital music sources right with 16 high-quality Burr-Brown digital-to-analog converters, and a Pure Direct mode that lets you switch off the video circuits and display panel for greater sonic purity. This receiver's rock-solid construction includes an anti-resonant chassis and an oversized power supply with a toroidal transformer. This beefy build ensures pristine audio and video performance at all times.
Learn about the ins and outs of HDMI connections at the Crutchfield Learning Center.
Shop our selection of HDMI cables.
Large Item Special Shipping: This item will be delivered to the door of your house or apartment. Available to physical addresses in 50 United States only. Limited delivery available to Alaska and Hawaii for $99 per item — call 1-888-955-6000 for more details. Sorry, we can't ship to P.O. Boxes or freight forwarders. Delivery takes 5-7 business days once your order has been processed. Extra charges may apply to items that must be carried up more than 5 flights of stairs. Allow extra time for delivery to remote addresses. Free return shipping not available with this model.
READ LESS
Power and Processing:
150 watts x 7 into 8 ohms (20-20,000 Hz) at 0.05% THD
THX Ultra2 certification for exceptionally accurate surround sound
THX Surround EX, Dolby® TrueHD, DTS-HD™ Master Audio, Dolby® Digital Plus, DTS-HD™ High Resolution Audio, Dolby® Digital EX, DTS-ES™, Pro Logic® IIx, and DTS Neo:6 decoding, and Dolby Headphone processing
Silicon Optix Realta HQV video processing and scaling
Audyssey Laboratories' MultEQ XT eight-point auto setup and room calibration system (microphone included)
four-room/four-source output includes:

with powered and line-level stereo audio output for 2nd or 3rd room (using powered 2nd or 3rd room stereo output allows 5.1 home theater in main room)
digital audio output for 4th room via optical digital out (available only with sources input through an optical or coaxial digital connection to receiver)

toroidal power transformer
Digital Music Options:
iPod®/iPhone® connection through optional Denon Dock
built-in Wi-Fi for music and JPEG streaming from a PC network
XM Satellite Radio Ready with decoding for XM's HD Surround channels (requires XM subscription and optional XM tuner kit)
built-in HD Radio tuner with multi-casting reception
Compressed Audio Restorer for better sound with compressed music sources

line-level or powered stereo audio output with volume, balance, and tone control for 3rd room
discrete 2nd room theater output (optical digital)

conversion of optical or coaxial digital signals to analog audio output for 2nd and 3rd rooms (PCM signals only)
Audio Performance Features:
Advanced AL24 Processing for all channels
HDCD decoding
16 Burr-Brown PCM1796 192kHz/24-bit digital-to-analog converters
DDSC-Digital construction
Dolby Headphone mode for surround sound with standard stereo headphones
Connections:
1080p-compatible HDMI digital video switching (6 in, 2 out)

analog-to-HDMI video upconversion (up to 1080p output via HDMI)

HDMI version 1.3a
component video switching: 6 in (including 1 BNC), 2 out (including 1 BNC)
component video conversion (composite to S-video, or composite and S-video to component) for main room and 2nd room
composite, S-video, and component video output for 2nd room (composite video output for 3rd room)
digital audio inputs: 5 optical (including 1 front-panel), 4 coaxial, 2 BNC
digital audio outputs: 4 optical
8 audio/video inputs, including:

1 front-panel input with composite and S-video
7 rear-panel inputs with composite and S-video

2 audio-only inputs (including phono)
7.1-channel analog audio preamp input
9.3-channel analog audio output
front and rear USB ports for audio playback from USB flash drives, hard disk drives, and portable USB music players
two RS-232C ports (for control via PC or automated system)
Denon Link jack (3rd edition)
Ethernet port for music streaming from a PC network, Internet Radio capability (broadband connection required), and control via a PC
detachable power cord
1 set of main speaker outputs
back surround speaker channels re-assignable for bi-amping front left and right speakers
General Features:
learning/multibrand touchscreen electro-luminescent remote
enhanced remote for 2nd or 3rd listening room (requires remote control extender system, not included)
17-1/8"W x 8-1/2"H x 20-3/4"D
weight: 63 lbs.
warranty: 2 years
MFR # AVR-5308CI
What's in the box:
Denon AVR-5308CI owner's manual
Black AM/FM/Dolby Digital/DTS/THX receiver
Audyssey DM-A505Z setup microphone with attached 25' cord (has a minijack mono connector)
RC-1067 Wireless remote control with LCD
RC-1070 Secondary Wireless remote control
2 "AA" batteries
2 "AAA" batteries
6' AC power cord
Small AM analog loop antenna
Analog FM wire antenna
Large HD AM loop antenna
Dipole HD FM antenna
Rod antenna for wireless LAN connection
Owner's Manual
Limited Warranty sheet
Denon Service Network sheet
TwonkyVision/packetvideo sheet
XM channel guide
Denon AVR-5308CI reviews
Average review:
Customer photos
More details on the Denon AVR-5308CI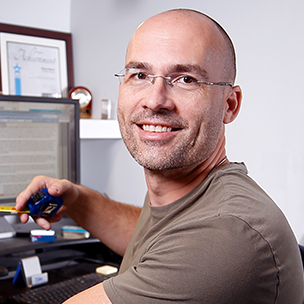 Researched by Crutchfield's

Stacey B.
Product Research
Audio Features
Video Features
PC/Network Functions
Remote Controls
Optional Add-on Devices
Features
Amplifier: The Denon AVR-5308CI features a 7-channel equal power, discrete amplifier. The amplifier is rated at 150 watts x 7-channels RMS. The receiver supports 9.3-channel surround and features Front left/right channels, Center channel, Surround A left/right channels, Surround B left/right channels and Surround Back left/right channels with three subwoofer preamp outputs. The unit's Surround A and B channels are wired in parallel and share an amplifier.
DDSC HD-Digital (Dynamic Discrete Surround Circuit): The Denon AVR-5308CI is equipped with the latest technology in surround audio performance. All elements of the Surround Processor are optimized to the highest standards by the use of selected high performance and discrete components, particularly the A/D and D/A converters and the sophisticated DSP surround decoder. DDSC HD-Digital (Dynamic Discrete Surround Circuit) features triple Analog Device Hammerhead SHARC 32-bit floating point DSP processors, Burr-Brown audio DACs in differential mode (2 per audio channels) on all 12 output channels, and a master clock design for more accurate processing and less jitter noise.
Advanced AL24 Multi-Channel Processing: Denon's Advanced AL24 Multi-Channel Processing technology dramatically improves information volume in the time axis region using high-speed signal detection and processing technology. In addition to expanding to expanding original 16-bit data to 24 bits, Advanced AL24 Processing uses data interpolation along the time axis or upconverted sampling to achieve natural interpolation without losing the original data. A digital filter is used to further expand adaptability and perform optimum filtering calculations for ringing-free pulse response, pulsive music data and attack sounds. The result is reproduction of such spatial information as the delicate nuances in your music, the positions of the performers, and the breadth, height, and depth of the concert hall. Advance AL24 Processing is conducted for all channels and modes other than the DSD Direct mode.
24-Bit, 192 kHz D/A Converters: The AVR-5308CI uses highly accurate Burr Brown PCM-1791 Digital-to-Analog converters, two for each channel, on all 12 output channels. The 192kHz sampling and 24-bit word length capabilities of the DACs allows you to play high-resolution recordings and hear the increased clarity, detail and dynamic range of those recordings.
Minimum Signal Path Construction: The AVR-5308CI's circuit board layout and mechanical construction is designed to minimize audio and video signal paths in order to maximize video and sound quality.
Direct Mechanical Ground: The receiver's heat sink and main transformer are located near feet to minimize mechanical vibration. Both the heat sink and main transformer are fixed to the bottom chassis of the receiver to reinforce Mechanical Ground. The transformer is supported by a separate transformer and plate and the receiver's center chassis is reinforced to add overall strength and durability to the unit.
Separate Circuit Boards: The AVR-5308CI utilizes separate circuit board to isolate each signal to achieve the highest quality of audio and video. The receiver features separate digital, analog audio and analog video circuit boards which reduces interference and lowers noise distortion.
Discrete Transformers: Five individual transformers provide a separate power supply for the receiver's Power Amp section, Digital block, Analog Audio block, Analog Video block, and HD radio block for maximum performance. The receiver also features an independent sub transformer ensuring excellent low frequency response.
Toroidal Power Supply: The receiver utilizes a high current Toroidal power supply to drive the unit's discrete mono block amplifier channels.
HDCD Decoding: The AVR-5308CI automatically detects and decodes the digital bitstream from a CD that has been encoded through the special High Definition Compatible Digital (HDCD) process. HDCD discs use 20-bit encoding and other proprietary processing to provide the ultimate in CD listening.
THX Ultra2 Certification: This unit has been built and tested to conform to the high standards of sound and build quality set by the THX Ultra2 Certification program. THX is the unique collaboration between Lucasfilm Ltd. and audio equipment manufacturers. THX Ultra2 certification provides a rigorous set of performance standards, along with proprietary surround sound post-processing technologies, designed to enhance the surround sound playback experience in the home theater. When the THX Ultra2 mode is on, the following THX post-processing is added:
Re-Equalization: The tonal balance of a film soundtrack tends to be excessively bright and harsh when played back over audio equipment in the home because film soundtracks are designed to be played back in large movie theaters using very different professional equipment. Re-Equalization restores the correct tonal balance for watching a movie soundtrack in a typical home environment.
Timbre Matching: The human ear changes our perception of a sound depending on the direction from which the sound is coming. In a movie theater, there is an array of surround speakers so that the surround information is all around you. In a home theater only two or four surround speakers are used. The Timbre Matching feature filters the information going to the surround speakers so that they more closely match the tonal characteristics of the sound coming from the front speakers. This ensures seamless panning between the front and surround speakers.
Adaptive Decorrelation: In a movie theater, a large number of surround speakers help create an enveloping surround sound experience, while in a home theater there are usually only two or four surround speakers. This can make the surround speakers sound like headphones that lack spaciousness. The surround sounds will also collapse into the closest speaker as you move away from the middle seating position. Adaptive Decorrelation slightly changes one surround channel's time and phase relationship with respect to the others. This expands the listening position and creates the same spacious surround experience as in a movie theater.
ASA (Advanced Speaker Array): ASA is a proprietary THX technology which processes the sound fed to the two side and two back surround speakers to provide the optimal surround sound experience.
BGC (Boundary Gain Compensation): The BGC feature provides overall improved bass balance of your home theater system by compensating for room and wall boundaries.
Surround Formats: This receiver incorporates a wide variety of surround formats to bring you maximum enjoyment from your audio and video software. The supported surround formats include:
Home THX Cinema: Home THX Cinema accurately translates the sound from the movie theater environment into the your home by correcting the tonal and spatial errors that occur. When the Home THX Cinema mode is selected on the AVR-5308CI, THX post-processing is automatically added after the Dolby Pro Logic, Dolby Digital or DTS decoder.
THX Ultra2 Cinema Mode: The AVR-5308CI is equipped with THX Ultra2 Cinema mode that plays 5.1 channel movies using up to 12 speakers (9.3). The THX processing blends the surround and surround back speakers providing the optimal mix of ambient and directional surround sounds. DTS-ES and Dolby Digital EX 6.1 channel soundtracks are automatically detected and processed appropriately.
THX Surround EX: With the AVR-5308CI Dolby Digital EX soundtracks further undergo Home THX Cinema processing to achieve a THX Surround EX system. This mode gives you more detailed imaging behind you, allowing for 360-degree surround sound effects.
THX Music Mode: THX Music mode can be used for playing 5.1 multi-channel music sources. In this mode THX processing is applied to the surround channels to provide a wide and stable rear soundstage.
THX Games Mode: Two channel stereo and multi channel, analog and digital signals are compatible with THX Games Mode. ASA is used to accurately place all game audio information, providing a full 360° playback environment. THX Games Mode is unique as it gives you a smooth transition of audio in all points of the surround field.
DTS Digital Surround: DTS Digital Surround is a 5.1 multi-channel digital surround sound format used for both commercial/theatrical and consumer grade applications.
DTS-ES Extended Surround: DTS-ES features two 6.1 multi-channel formats: DTS-ES Discrete 6.1(6.1-channel discrete digital audio format adding a surround back channel to the DTS digital surround sound) and DTS-ES Matrix 6.1 (discrete 6.1 channel digital audio format inserting a surround back channel to the DTS surround sound through matrix encoding)
DTS Neo:6 Surround: DTS Neo:6 is a matrix decoding technology for achieving 6.1-channel surround playback with 2-channel sources. You can choose from two DTS Neo: 6 Surround formats - Neo: 6 Cinema and Neo: 6 Music
DTS 96/24: DTS 96/24 is a digital audio format enabling high sound quality playback in 5.1-channels with a sampling frequency of 96 kHz and 24 bit quantization of DVD-video.
DTS-HD High Resolution Audio: DTS-HD High Resolution Audio is an improved version of the conventional DTS, DTS-ES and DTS 96/24 signal formats that is compatible with sampling frequencies of 96 or 48 kHz and up to 7.1-channels of discrete digital sound. High data bit rate performance provides high quality sound.
DTS-HD Master Audio: DTS-HD Master Audio is a lossless audio format compatible with up to 96 kHz and up to 7.1-channels. The lossless audio coding technology faithfully reproduces the sound of the studio master.
Dolby Digital: Dolby Digital is a 5.1 multi-channel digital surround format.
Dolby Digital EX: Dolby Digital EX is a 6.1 multi-channel digital surround format.
Dolby Digital Plus: Dolby Digital Plus is an improved Dolby Digital surround format that is compatible with up to 7.1-channels of discrete digital sound and also improves sound quality due to extra data bit rate performance.
Dolby TrueHD: Dolby TrueHD is a high definition audio technology, using lossless coding technology to faithfully reproduce the sound of the studio masters.
Dolby Pro Logic II: Dolby Pro Logic II technology processes any high quality stereo (two-channel) movie and music audio into five playback channels of full-bandwidth surround sound. A matrix surround decoding technology, Dolby Pro Logic II detects the directional cues that occur naturally in stereo content and uses these elements to create a five-channel surround sound playback experience. You can choose from the following Dolby Pro Logic II formats - Cinema, Music, or Game.
Dolby Pro Logic IIx: Pro Logic IIx expands any existing stereo- or 5.1-channel audio for a 6.1- or 7.1- channel playback, creating a seamless, natural surround soundfield that immerses you in the entertainment experience. You can choose from the following Dolby Pro Logic IIx formats - Cinema, Music, or Game.
Dolby Headphone: This is a three-dimensional sound technology developed jointly by Dolby Laboratories and lake Technology Ltd. of Australia of achieving surround sound using regular headphones.
Neural Surround: Neural Surround has been adopted by XM Satellite Radio for digital radio broadcasts of XM HD Surround recordings and live events in surround sound. Neural Surround employs psychoacoustic frequency domain processing which allows delivery of a more detailed sound stage with superior channel separation and localization of audio elements.
Combined Surround Modes: The receiver features several combined modes using existing Dolby, Digital Theater Systems (DTS), and THX surround modes: ES DSCRT6.1 + THX, ES MTRX6.1 + THX, PLIIX Cinema + THX, Dolby PL + THX, NEO6 + THX, Multi CH 7.1 + THX, Multi CH 5.1 + THX, DTS + PLIIx Cinema, DTS + PLIIx Music, DTS + NEO:6, Dolby Digital + PLIIx Cinema, Dolby Digital + PLIIx Music, Multi In + PLII x Cinema, Multi In + PLIIx Music, Direct + PLIIx Cinema, and Direct + PLIIx Music
Denon Original Surround Modes (DSP): In addition to the supported surround formats, the AVR-5308CI features the following Denon Original DSP modes:
Wide Screen: this mode is for enjoying the atmosphere of viewing a movie on a large screen
Super Stadium: this mode is suited for viewing sports programs
Rock Arena: this mode is for enjoying the atmosphere of a live concert in an arena
Jazz Club: this mode is for enjoying the atmosphere of a live concert in a jazz club
Classic Concert: this mode is for appreciating classical concert programs
Mono Movie: this mode is for playing monaural movie sources with surround sound
Video game: this mode is suited for achieving surround sound with video games
Matrix: this mode lets you add a sense of expansion to stereo music sources
7CH Stereo: this mode is for enjoying stereo sound from all speakers
Two-Channel Music Modes: There are three 2-channel playback modes exclusively for music:
Pure Direct: plays back music with an extremely high level of sound quality. All the video-related circuits are turned off so that music signals are reproduced with high quality. When an analog mode is selected, the digital processing circuits are also turned off to achieve the highest purity.
Direct: audio signals bypass the tone control circuits, and are transmitted directly, resulting in good quality sound
Stereo: allows you to adjust the tone to achieve the desired sound
Surround Parameters: You can adjust the following surround mode parameters:
CINEMA EQ (Cinema Equalizer): The Cinema EQ function gently decreases the level of the extreme high frequencies, compensating for overly-bright sounding motion picture soundtracks. Select this function if the sound from the front speakers is too bright. This function only works in the Dolby Pro Logic (including PL II and PL IIx), Dolby Digital, DTS Surround, DTS Neo:6, and Wide Screen modes.
D.COMP (Dynamic Range Compression): Motion picture soundtracks have tremendous dynamic range (the contrast between very soft and very loud sounds). For listening late at night, or whenever the maximum sound level is lower than usual, the Dynamic Range Compression allows you to hear all of the sounds in the soundtrack (but with reduced dynamic range). This only works when playing program sources recorded in Dolby Digital or DTS. You can select one of the four settings: "OFF", "LOW", "MID" (middle), or "HI" (high).
LFE: This setting adjusts the low-frequency effects level (LFE). You can adjust the LFE from -10 to 0 dB.
Center Image: This function assigns a center channel signal to the front left and right channels for wider sound. You can adjust the center image range from 0.0 to 0.3 to 1.0.
Panorama: This feature assigns front left and right signals to surround channels for wider sound. You can turn this feature On or Off.
Dimension: This settings shifts the sound image from the center to the front or rear to adjust playback balance. You can select from 0 to 3 to 6.
Center Width: This function assigns a center channel signal to the front left and right channels for wider sound. You can select from 0 to 3 to 7.
Delay Time: This feature adjusts the delay time to control the sound stage size. You can select either 0 to 30ms to 300ms.
Effect: This settings switches the effect signal for multi-surround speakers either On or Off.
Effect Level: This function adjusts the effect signal level from 1 to 10 to 15.
Room Size: This feature determines the size of your acoustic environment. You can select from Small, Medium small, Medium, Medium large, or Large.
AFDM: This feature auto-selects the surround mode by the connected source's content.
SB CH Out (for multi-channel sources): This setting selects the playback mode for the surround back channels of the receiver. You can choose from Non Matrix, Matrix, PLIIx Cinema, PLIIx Music, ES Matrix, ES Discrete or Off.
SB CH Out (for 2-channel sources): You can select either On or Off for the surround back channels when listening to a 2-channel source.
Subwoofer: This feature selects whether or not to output subwoofer signals when the receiver is in the Direct or Stereo mode.
Tone Settings: You can independently adjust the system's overall Bass and Treble settings from -6 to +6 dB or you can set each channel's Bass and Treble setting separately. These settings can be set for the main zones, as well as zones 2, 3 and 4.
Night Mode: This mode is optimized for late night listening. You can select from the following Night Modes - Low, Middle, High or Off.
Restorer: This function restores compressed audio signal to how they were before compression and corrects the sense of volume of the bass to obtain richer playback sound. You can select from one of the following modes - Mode 1, Mode 2, Mode 3 or Off.
Dialogue Normalization: Dialogue Normalization is a feature of Dolby Digital which is used to keep the programs at the same average listening level so the user does not have to change the volume control between Dolby Digital programs.
Personal Memory Plus: The receiver has a personal memorize function that automatically memorizes the surround modes and input modes selected for the different input sources. When the input source is switched, the modes set for that source last time it was used are automatically recalled. The surround parameters, tone control settings, and playback level balance for the different output channels are memorized for each surround mode.
Auto Setup: The receiver is equipped with an Auto Setup and Room Equalization function, to achieve the most ideal sound field for your room. The AVR-5308CI's Audyssey MultiEQ XT function is designed to optimize the sound quality at each listening position in the room. The included DM-A505Z microphone is used to measure test tones at each listening position. This measured data is then analyzed using a program to improve acoustic characteristics in the listening area. For best results at least 8 positions should be measured, including a main position. The main position is given more weight in the calculations. The Audyssey function adjusts the following measurements automatically: Speaker Configuration, Distance, Channel Level, Crossover Frequency, and Room EQ. The receiver also features a Pro Auto Setup which allows a professional installer to measure up to 32 positions using software and equipment exclusively purchased from Denon.
Room EQ: The Room EQ function offers the following adjustment settings:
Audyssey: adjusts the frequency response of all speakers to correct the effects of room acoustics
Audyssey Byp. L/R: optimizes frequency response of speakers except front speakers to match room acoustics
Flat: frequency response of all speakers are flat
Manual EQ: This feature adjusts the tonal quality for each speaker using the receiver's built-in graphic equalizer. You can select -20 to +6 dB for the following frequencies for each speaker - 63Hz, 125Hz, 250Hz, 500Hz, 1kHz, 2khz, 4kHz, 8kHz, and 16kHz.
Off: Turns off EQ
Subwoofer Control: The receiver features three subwoofer preamp outputs. You can choose to connect one, two or three powered subwoofers. You can adjust the cutoff frequency of the subwoofer output from 40Hz, 60Hz, 80Hz, 90Hz, 100Hz, 110Hz, 120Hz, 150Hz, 200Hz or 250Hz. You can also select the subwoofer output level between 0, 5, 10 or 15 dB. In addition, the receiver features a THX Ultra2 Subwoofer mode when connecting a powered subwoofer compatible with THX Ultra2 standards or a subwoofer that can be properly played at low range.
Audio Delay: The audio signal can be delayed, from 0-200ms, to match the video signal.
Volume Setting: You can set a maximum volume level of 0, -10, or -20 dB to limit the receiver's total volume output. You can also indicate a Turn-On Volume setting from -80 to +18dB or Last (whatever volume you used last before turning the unit Off).
Muting Level Adjustment: You can set the amount of attenuation for the audio muting circuit from -40dB or -20dB from the present volume level.
Denon Link: This receiver features the Denon Link (3rd edition), an RJ-45 jack on the back panel, which allows a one-cable connection to a compatible Denon DVD player equipped with a Denon Link connector. This digital connection allows the input of uncompressed Super Audio CD and DVD-Audio digital signals with jitter-less data transfer and ultra-low noise.
Amplifier Assign: There are seven amplifier channels built into the receiver. These channels are typically used for 7.1 channel surround in the main room, but the amplifier assign function gives you the option of configuring the system differently if you prefer. The amplifier features seven different amplifier assignment configurations. You can configure the amplifier to support up to 9.3 channel surround.
Bi-Amp/Bi-wiring: Four of the seven amplifier channels can be used to bi-amp the front speakers, leaving three to power other channels. Your front speakers can also be bi-wired using this amplifier if your speakers support this feature.
Dual Surround Speaker Mode: The AVR-5308CI provides the ability to connect two different sets of surround speakers, and place them in the appropriate locations in your home theater room, so that you can enjoy both movie soundtracks and music listening, with optimum results and no compromise. If you play one pair of surround speakers at a time (Surround A or B), the minimum impedance of the connected speakers is 6 ohms. If you play both pairs of speakers simultaneously (Surround A + B), the minimum impedance of the connected speakers is 8 ohms. In addition, the receiver also features discrete surround back left/right channels.
Multi Zone/Multi Source Operation: Denon's Multi-Zone/Multi-Source function lets you select different audio/video sources for listening and viewing in different locations of your home. The AVR-5308CI features a Main Zone (Zone 1), two Audio/Video Zones (Zone 2 and 3), and a Digital Audio Only Zone (Zone 4). The Main Zone 1 contains 9.3-channel playback of your audio/video gear in your main entertainment room. The Audio/Video Zone 2 allows stereo or digital audio and video playback of another AV source connected to the receiver in another room of your home via left/right RCA audio, speaker terminal output connections, or optical digital output connection and composite video, S-video or component video connectors. Zone 2 will pass S-Video and composite video inputs through its composite video output. The S-video and component video output of Zone 2 will only output video that is input using the same type of connection. Audio/Video Zone 3 also allows stereo audio and video playback of another AV source connected to the receiver in another room of your home via left/right RCA audio or speaker terminal output connections and a composite video connector. Zone 3's composite video output will support video input via S-video or composite video. The Digital Audio Only Zone 4 allows you to play a digital audio source connected to the receiver in a fourth room of your home via an optical output connection.
Note: Zone 2 and Zone 3 feature either a preamp-output or speaker terminal output so you can use this amp or a separate amp to power speakers in another room. Zone 2 also features a digital audio output. When using the AVR-5308CI to power speakers in a second room of your home, the main zone is restricted to 5.3-channel at the same time. Also, when using the AVR-5308CI to power speakers in a second and third room of your home the main zone is restricted to 3.3 channels at the same time. When using the receiver's preamp output terminals for the second and third room you need an additional amplifier in each room to power those speakers and the main Zone of the receiver remains 9.3-channel. Zone 4 only features an optical digital output connection and requires an external amplifier to power speakers in another room.
Assignable Digital Inputs: The AVR-5308CI features 4 optical digital (Toslink) inputs and 4 coaxial digital inputs. Each input can be assigned to any of the different input sources except Phono and Tuner. Optical Digital Inputs 2, 3 and 4 also have corresponding Optical Digital outputs for use with a CD, MD or other digital recording device. One of these optical outputs can also be used for Zone 4. There is also a dedicated optical output for Zone 2.
7.1 Multi-Channel Input: The AVR-5308CI is equipped with a 7.1-channel input to accommodate present and future multi-channel formats.
Binding Post Speaker Terminals: All of the receiver's speaker terminals are binding posts. They are not 5-way binding posts because a plastic collar prevents their use with spade lugs and they are positioned too far apart to be used with dual banana plugs.
9.3 Multi-Channel Pre-Out: The receiver features a 9.3-channel pre-out for connection to an external power amplifier.
AM/FM Tuner With RDS: The receiver features an AM/FM tuner which allows you to preset up to 56 radio stations (8 stations each in 7 separate banks). You can delete any unused tuner banks. The unit also supports RDS (Radio Data System). RDS is an FM broadcasting service which allows a station to send additional inforamtion along with the regular radio program signal. The following three types of RDS information can be received by this receiver's FM tuner - Program Type (identifies the type of RDS program), Traffic Program (identifies programs that carry traffic announcements), Radio Text (allows RDS stations to send text messages that appear on the display of the unit).
HD Radio: The AVR-5308CI features a separate, built-in HD AM/FM tuner. HD radio stations offer higher sound quality than conventional FM/AM broadcasts. HD FM stations sound as great as CD quality while HD AM sounds a rich as analog FM stereo. It is also possible to receive data services and select broadcasts from among up to eight multicast programs.
Last Function Memory: This unit is equipped with a last function memory, which stores the input and output setting conditions as they were immediately before the power was switched off.
Panel Lock Mode: The buttons on the main unit can be locked if not using them.
Back-Up Memory: The unit is also equipped with a back-up memory. This function provides approximately one week of memory storage when the main unit's power switch is off and the power cord is disconnected.
Video Features
Noise Shaped Video (NSV): The NSV precision video feature works in the digital domain to reduce noise in the video signal frequency band in order to enhance video signal linearity, provide accurate signal representations, and enhance the picture quality. Noise shaping techniques can be combined with dynamic element matching techniques in order to reduce the matching requirements of DAC elements by converting the analog mismatch into and out of band noise. This approach of dynamic element matching and noise shaping has been shown to allow the use of sigma delta modulation at video data rates. NSV can achieve ultimate precision with 12-bit/216-MHz fidelity in both digital-to-analog and analog-to-digital domains.
HDMI ver. 1.3a: This unit has 6 HDMI version 1.3a inputs and 2 HDMI version 1.3a outputs. The HDMI inputs are assignable to different input sources. The 2 HDMI outputs are parallel so the same video signal is output through both. The HDMI jacks support HDCP copyright protection and are compatible with 30 and 36 bit Deep Color and xvYCC technology. The receiver's HDMI outputs are compatible with the following audio formats: 2-channel linear PCM, Multi-channel linear PCM, Dolby Digital, DTS, DSD, Dolby Digital Plus, Dolby TrueHD, and DTS-HD.
Full 10-Bit Processing Video Circuit With Up-Conversion: The AVR-5308CI features discrete construction and circuitry for the highest quality video processing. The receiver utilizes a Realta sxT2 HQV 10-bit processor for i/p and video scaling. The AVR-5308CI's flexible video switching system converts video signals in an effort to only require one video connection from receiver to TV. The video switching system features Multi-Cadence Detection for accurate i/p conversion when standard interlaced video is viewed on progressive scan displays. The Realta sxT2 HQV 10-bit processor converts standard interlaced signals into progressive scan signals in order to eliminate the stair-casing effect that conventional up-converters can introduce to diagonal edges. In addition, this unit's Full 10-bit video processor can pass a 1080p/24fps signal through its HDMI input/output and supports Deep Color up to 36-bit and xvYCC broader color spacing via HDMI. Unlike most other video conversion circuits, this receiver will also convert analog signals from composite video, S-Video, and component video to HDMI up to 1080p.
Composite Video: can be converted to S-Video, component video, or HDMI
S-Video:can be converted to composite video, component video, or HDMI
Component Video: can be converted to composite video, S-Video, or HDMI (480i signals only when down converting)
HDMI: HDMI input signals must be output as HDMI
Auto Lip Sync: Auto Lip Sync automatically compensates for timing shifts between audio and video output.
Component Video Inputs/Outputs: The receiver features 6 component video inputs and 3 component video outputs. The component video inputs are assignable to different sources. One of the three component video outputs is used for Zone 2 while the other two component video outputs are wired in parallel and used for monitor outputs (the same video signal is broadcast through all two). One set of the component video inputs and outputs use BNC-type connectors instead of RCA.
On-Screen Display (OSD) With GUI Menus: An OSD with GUI menus can be displayed on your television for easy system setup. The OSD and GUI menus are sent through all monitor outputs (composite video, S-video, component video, and HDMI).
Picture Adjustments: The receiver allows you to make the following picture adjustments to incoming video through the unit's component, composite or S-video inputs - Contrast, Brightness, Chroma Level (Saturation) and Hue. You can also make the following picture adjustments to all incoming video inputs including HDMI - DNR (reduces the overall level of noise on the picture), Enhancer (enhances picture) and Sharpness.
Note: When the input signal is 1080p the Picture Adjust feature will be ineffective.
Source Delete: You can delete inputs you are not using from the receiver's display and on-screen menu to make accessing your connected sources quicker and easier.
Dimmer: The receiver features 4 display brightness settings - Bright, Dim, Dark or Off.
PC/Network Functions
Home Network Function: The AVR-5308CI is equipped with an Ethernet port and WiFi (WLAN) antenna that lets you build various types of network environments either hardwire or wireless (802.11 b/g). You can use these network environments to take advantage of 4 home audio network functions:
Music Server: The AVR-5308CI's Music Server function lets you stream audio and still image files (MP3/WMA/WAV/MPEG-4 AAC/FLAC/JPEG) stored on your PC to the receiver. This network connection uses 2 standard technologies: Windows Media Player Network Sharing Service or Windows Media DRM10. To access iTunes library and playlists you need to install TwonkyMedia software to your PC. Twonky Vision is a software program needed to manage your iTunes database and can be downloaded from www.twonkyvision.com for a one time fee of $29.99. The AVR-5308CI also supports MP3 ID3-Tag (ver.2) and WMA META tags. The AVR-5308CI only supports files that are not copyright protected.
Internet Radio: Internet Radio is a system that lets you hear radio broadcasts from stations on the Internet. A wide variety of stations, both large and small and some which are operated by individuals, can be found on the Internet. Until now, radio stations could only be heard if you were within listening range of their radio waves, but with Internet Radio, you can listen to broadcasts from all over the world. The list of stations that the AVR-5308CI uses comes from the vTuner radio station database that has been customized for Denon.
Rhapsody: Rhapsody is a paid music broadcast service of RealNetworks which offers a massive music catalog. Rhapsody currently offers a 30-day free trial and memberships start at just $12.99 month.
A/V Receiver Network Setup (Web control): This function lets you set up and control the A/V receiver over a network using Internet Explorer on a PC. The AVR-5308CI's Ethernet port also supports serial controls that use Crestron and others.
Note: A computer with the following specifications is required to use the Music Server feature: Operating Systems include Windows XP Service Pack2 or Windows Vista, Installed Software includes .Net Framework 1.1 and Windows Media Connect (Windows XP)/Windows Media Player ver. 11/DLNA-compatible server software, Internet Browser needs to be Microsoft Internet Explorer 5.01 or later, a LAN port is needed along with 300 MB or more free disk space.
USB Terminals: USB terminals that let you connect a USB-compatible portable music player are located behind the fold-down door on the front panel and on the receiver's rear panel. You can connect your player or PC to these terminals and play the MP3 or WMA (Windows Media) files directly through your AVR-5308CI system. When an MP3 music file includes album art data, the album art can be displayed on your connected TV while playing the file. You can also play JPEG still picture files in a slideshow fashion that are stored on a USB memory device. The AVR-5308CI is compatible with mass storage class and MTP (Media Transfer Protocol) USB memory devices in FAT16 or FAT32 format.
Note: You cannot use the front USB port and rear USB port at the same time. You must select which port you want to use - Front or Rear.
Remote Controls
Learning Main Remote Control (RC-1067): The receiver's main remote control (RC-1067) features a back-lit LCD touch panel as well as hard-key buttons for operation of the AVR-5308CI. If your other audio/video devices are of a brand other than Denon or if they cannot be operated with the preset memory function, the other device's remote control signals can be transferred and stored in the AVR-5308CI's main remote control (RC-1067). The remote control is equipped with "System Call" functions, allowing a series of remote control signals to be transmitted by pressing a single button. Up to 32 sequential signals can be stored in each of the 3 System Call buttons.
Sub/Multi-Zone Remote Control (RC-1070): The receiver's sub remote control unit is equipped with frequently used buttons, so it can be used for simple remote control unit operations. The sub remote (RC-1070) can also be used for multi-zone, so you can use it to control the AVR-5308CI from other rooms via an optional IR repeater kit. The following operations can be performed using this remote:
Switching the input source
Adjusting the volume
Tuner (AM/FM), XM, HD Radio and iPod operations
NET/USB direct play
GUI menu and Zone2 on-screen display operations
Zone power on/off
Note: It is not possible to operate devices other than the amplifier.
Remote Lock Mode: This setting can be made so that the remote control unit cannot operate the AVR-5308CI.
HDMI Control: When connecting the AVR-5308CI to a television or player compatible with the HDMI control function, the following operations are possible - Turn power On/Off with television, Switch sound output, Adjust volume and Switch input source.
Custom Integration: The AVR-5308CI carries the "CI" stamp, which is Denon's certification to custom installers that the receiver has advanced connectivity and control features often required for custom home integration and theater applications using premium control systems. These features include RS232C jacks for use with whole house control systems, remote in/out IR command control, and assignable +12-volt triggers.
RS-232C Ports: The AVR-5308CI includes dual RS-232C ports for connection to external whole-house control systems, from companies such as AMX, Crestron, and others, and provides a software/firmware upgrade pathway.
Room-to-Room Remote Jacks: The receiver has a mini-jack input for use with an optional Denon RC-616, 617, or 618 IR re-transmitter. The adjacent room-to-room output is for future use.
12V Trigger Outputs: The AVR-5308CI has 4 mini-jack outputs to send a 12-Volt DC "turn-on" signal to another component that accepts a 12V trigger, such as a power amplifier. These trigger outputs can be assigned to the Main Zone, Zone 2, Zone 3 or Zone 4.
Optional Add-on Devices
iPod Compatibility: Using an optional ASD-11R iPod dock, or an ASD-51N or ASD-51W iPod/Network adapter dock, you can integrate your iPod with the AVR-5308CI. Song titles appear on the receiver's display panel and the iPod can be controlled using the buttons on the main unit and the remote control.
XM Satellite Ready: The optional XM Direct 2 Home Tuner (220XHD2H1, sold separately) lets you enjoy XM Satellite Radio through the XM-ready receiver. Simply connect the XM direct 2 Home Tuner to the XM jack on back of the receiver, place and aim the included antenna for optimum reception, and you are ready to start enjoying commercial-free music, plus live sports, new, talk, and exclusive entertainment. The channel number, channel name, artist name, and song title are listed on the receiver's display and on the connected TV monitor. XM stations are stored as presets and recalled in the same way AM and FM stations are.
Note: In addition to the XM Direct 2 Home Tuner and the XM-ready receiver, you will need a subscription to XM Satellite Radio to receive XM programming.