Radar protection and app-based assistance
Cobra's iRad radar detector combines reliable long-range radar protection with real-time extras from the free Cobra iRadar smartphone app, giving you trustworthy leadership for all your travels. It also adds advanced anti-falsing circuitry to minimize annoying distractions, allowing you to enjoy your favorite music, podcast, or conversation in peace as you drive.
Radar protection and app-based assistance
Cobra's iRad radar detector combines reliable long-range radar protection with real-time extras from the free Cobra iRadar smartphone app, giving you trustworthy leadership for all your travels. It also adds advanced anti-falsing circuitry to minimize annoying distractions, allowing you to enjoy your favorite music, podcast, or conversation in peace as you drive.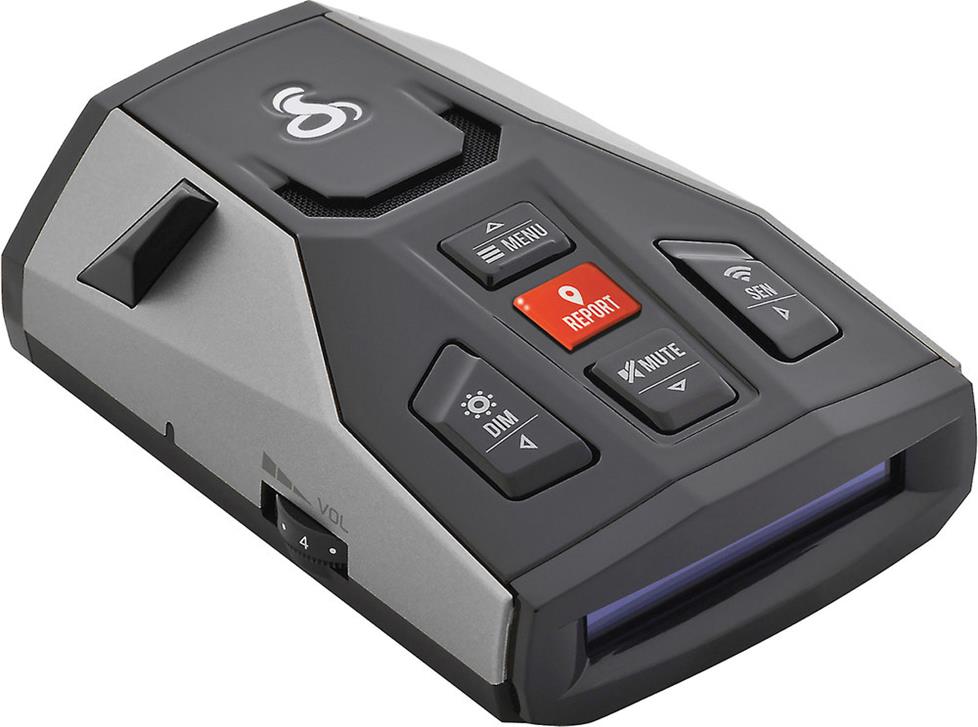 Powerful protection
The iRad gives you radar and laser protection across multiple bands. Super-fast circuitry ensures you'll have long-distance protection and rapid delivery of alerts. You'll receive visual cues through your phone, and you can elect to have voice alerts spoken to you through your phone. You'll also be protected against VG-2 and Spectre I radar detector-detection devices, and get alerts as those threats approach.
Tap into the Cobra iRadar community
Millions of other drivers are using the Cobra iRadar app on their smartphone as they travel, so why not use their information to help yourself? iRadar app users can tag a detected radar or laser signal or enforcement area on their own phones, and that location is uploaded to Cobra's central server. Your app then can incorporate those locations into its own maps and give you a heads-up when you're approaching them. Likewise, you can mark camera and enforcement locations along your drive and share them safely and anonymously with other iRadar users on the road, using the detector's convenient "Report" button.
Bright OLED screen for convenient viewing
Cobra's new OLED screen quickly gives you all the info you need on a bright, easy-to-read white background. You'll see radar band identification icons and a numeric strength meter. You can program the display to show text in English or Spanish. And you can dim the display at night to make things easy on your eyes.
Hear the warnings
The iRad also offers audible warnings when a signal is detected. You can quiet things temporarily with the convenient mute button, or enter QuietDrive mode for a silent ride. As with the text display, the audible alerts can be programmed for English or Spanish.
Stay away from false alerts
The iRad incorporates sophisticated anti-falsing circuitry to keep you from getting annoying false alerts from automatic door openers, roadside traffic flow monitors, and other radar detectors. Cobra's updatable in-vehicle technology filter reduces false alerts from collision avoidance systems and adaptive cruise controls found in other vehicles on the road, both now and in the future as the technology changes.
Cobra's iRadar app puts you in command
The iRad's basic radar and laser detection capabilities are optimized to be used in conjunction with Cobra's iRadar smartphone app when you pair your phone with the detector via Bluetooth. The app gives you the choice of Dashboard or Map view to best suit your driving style. The built-in speedometer and compass help you keep track of your velocity and bearings.
AURA camera database
The app also connects you to Cobra's AURA database of thousands of camera locations across the U.S., so you'll get warnings when red-light and speed camera or known enforcement areas approach, even if you don't have the detector turned on. The app also stores a history of spots where you've had alerts, warning you as you approach them in Map View, so you can drive with confidence.
Sorry, but we cannot ship radar detectors to Virginia or the District of Columbia.
READ LESS
Product highlights:
radar detector with Bluetooth®
suction-cup mount windshield bracket kit and hook-and-loop fastener
straight power cord
white OLED text display
English or Spanish voice and text alerts
Protection:
detects multiple radar bands and 6 laser bands
audio tone and voice alerts for radar and laser
anti-falsing circuitry and updatable in-vehicle technology filter
360° laser protection
VG-2 and Spectre I immunity and alerts
Spectre IV+ alerts
display includes signal strength meter
dim and auto-mute modes
QuietDrive mode for temporary silence
Bluetooth Features:
wireless compatibility with Cobra iRadar smartphone app (available for Android and iPhone)
Specifications:
dimensions: 2-7/8"W x 1-3/8"H x 4-3/8"D
warranty: 1 year
MFR # 0180003-1
What's in the box:
Radar detector
Dual suction cup mount
Dual Lock Dashboard mount
Hook-and-loop pad
72" Power cable with cigarette lighter adapter and USB Type A port
Operating Instructions
Product Registration note
Customer Care note
Cobra iRad reviews
Average review:
Customer photos
More details on the Cobra iRad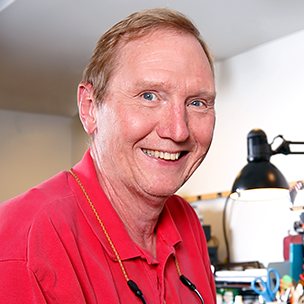 Researched by Crutchfield's

Mark G.
Product Research
Features
Overview: The Cobra iRAD detects all radar, laser, and VG-2 signals. When connected to your smartphone (via Bluetooth) and the Cobra iRadar app, you get enhanced protection. The iRAD has a bright, easy-to-read white OLED display, so you can always be aware of radar and laser use nearby. It comes with dash and windshield mounts, and a 6' straight power cord with a cigarette lighter adapter that can also charge your phone.
Cobra iRadar App: The award-winning Cobra iRadar app gives you access to the world's largest community-based radar, laser, and camera detection system. You can receive alerts in real time from other iRadar users (over a million), and share your alerts as well. You get warnings of upcoming speed cameras, red light cameras, known speed traps, and dangerous intersections from other iRadar users or through AURA, the industry's premier 100% verified camera database. The iRadar app is compatible with Apple iPhones and iPads running iOS 6.0 and later, and Android devices running version 4.3 and up.
Radar/Laser Detection: The iRAD detects X, K, and Ka band radar signals, including those from "instant on" radar guns. With LaserEye, the unit detects LIDAR (Light Detection and Ranging), commonly known as Laser, from the front and rear. For best results, the unit must have a clear view out the windshield and back window. The iRAD monitors the following frequencies:
Radar: The display shows the following radar bands along with LEDs indicating signal strength.

X Band: 10.525 GHz
K Band: 24.150 GHz
Ka Band: 33.400 - 36.000 GHz
Ku Band: 13.435 GHz
Note: The FCC has approved X, K, and Ka band for use in the US, while the Ku band is used in parts of Europe and Asia.
Laser: LTI 20-20, LTI Laser, Kustom Signals Laser 340, Kustom Signals Laser, Stalker LIDAR, and Laser Atlanta SpeedLaser/Kustom Signals-ProLaser II. The display shows the letter "L" when any of the above-listed Laser types are detected.
Display: The iRAD is equipped with a 2", easy-to-read white OLED display with bright band identification icons, a 5-segment signal strength indicator, and a numeric frequency readout. You can adjust the intensity of the display using the top mounted "Dim" button in 3 levels (Bright, Dim, Dark). After a set interval, the screen saver will turn off the display until an alert or button press occurs.
Visual Alerts: The display includes the type of signals detected, as well as a bar graph indication of the signal strength. Laser detection and VG-2 detection are indicated with a glowing "L" or "V", respectively.
Voice and Tone Alerts: The unit will provide voice and tone alerts and confirm user settings. Digital voice announcements, in English or Spanish, identify the nature of the alert so you can keep your eyes on the road. Voice alerts can be turned off if you want to only hear tones. A distinctly different tone is used for each type of signal detected, and with radar bands, the tones will repeat faster as you approach the signal source.
Quiet Drive: When you want less audible feedback from your detector, you can activate Quiet Drive. When you get an alert, only the first few seconds of audio will be heard. You can activate or deactivate in the User Settings, or by pressing the Mute button for two seconds.
Auto Mute: Auto Mute automatically reduces the volume of all alerts after 4 seconds. The signals will remain muted for as long as the signal is detected.
Anti-Falsing Circuitry: The iRAD's Anti-Falsing circuitry helps to reduce false alerts from erroneous sources, including automatic garage door openers and traffic flow monitoring devices.
City/Highway Modes: Selectable City and Highway sensitivity modes are available to adjust to the driving environment. The City mode delays all X band audio alerts at lower signal strength levels. This reduces the number of false alerts when you're driving in high density areas where there are many conflicting X band signals from microwave towers and garage door openers. Highway mode gives you increased sensitivity in areas where there are fewer causes for false alerts.
IVT Filter: The unit has an In-Vehicle Technology (IVT) Filter that reduces false alerts caused by modern safety devices found in recent vehicles. Blind spot systems and collision-avoidance system use radar-like signals to alert you of oncoming traffic or vehicles trailing in your blind spot. Adaptive cruise controls can monitor the distance between your vehicle and one you're following. The IVT Filter can distinguish between these signals and real radar signals, and will keep your detector from emitting a false alert.
VG-2 Protection: Police use radar detector detectors (RDDs) with VG-2 and other signals to find drivers that are using a radar detector. The iRAD will alert you with audible and visual signals when it identifies VG-2 signals and RDDs. At the same time, the iRAD is invisible to VG-2 detectors. You can turn VG-2 protection on or off as desired.
Mounting: For optimum performance, you should mount your detector in the center of the vehicle, without obstructing the view of the road to the front or rear. The detector can be mounted in two ways:
Windshield Mount: The supplied windshield mount adheres the detector to the windshield with two suction cups. The angle can be adjusted for best visibility.
Dashboard Mounts: The 3M Dual Lock mount has a tab that inserts into the mounting slot on the detector. The strong adhesive on the Dual Lock holds the mount firm on the dashboard. You can also use the supplied hook-and-loop pad to attach the detector flush on the dashboard.
Power Requirements: The iRAD comes with a 12-volt DC power adapter ("cigarette lighter adapter") with a 6' cord. The adapter is equipped with a Type A USB port for simultaneously charging/powering your smartphone. With the optional RA-PSC-B, you can hardwire your radar detector to your vehicle's switched power and ground wires.
USB Port: The unit is equipped with a Micro-B USB port that allows you to connect it to a Windows-based computer for future software updates. No USB cable is included.
Q
Crutchfield asked: Why did you buy this?
A
Looking for a radar detector that cancels out car detection systems causing constant false readings.
[ JOHN K Feb 27, 2018 ]