Metra 99-7629S Dash Kit
Crutchfield customer from Silver Spgs, FL on 3/1/2020
Buyer be ware! Okay the dash kit is nice HOWEVER the mounting brackets do not work on the radio I bought from Crutchfield I had to modify the brackets to make it fit took several hours to get it as close as I could. Now I have a full nav. system in the truck before I did the new install that monitor does not shut off ONLY with the old control unit. I was told from the techs at Crutchfield that they never went forward to figure that out I was told try to get behind the unit and unplug it.. RIGHT.. NO WAY.. I have to pay the dealership $300 to take the dash apart and unplug the monitor..The monitor has it own computer that is controlled ONLY with the OLD dash unit. Oh yea what did the tech say just take the dash apart if I could not get my hand behind it...what a bunch of crap.
Pros: Nice dash kit
Cons: The techs at Crutchfield do not know what they are talking about when it comes to the old control system and the nav. screen.
0 of 0 found this helpful
Perfect fit and color in every way.
Crutchfield customer from Coeur D Alene, ID on 2/11/2020
2004 Nissan Pathfinder Armada
I have owned and loved my 2004 Nissan Armada 4x4 since new. Shortly after buying it the world took a huge technological turn in digital entertainment and suddenly my Armada felt left out. For years I have wanted to upgrade my Stereo/Navigation head unit but simply could not connect the dots to do so as it was a very complicated process and I would need parts that did not yet exist. Even though there have been other versions of this bezel none of them would accommodate the Armada's navigation screen which still sits directly above the double din opening. THIS ONE FIT PERFECTLY! I have just successfully installed the latest Kenwood head unit with this super clean, perfect fitting bezel along with SiriusXM and steering wheel controls. One of the biggest complications with this installations is how to address the issue of what to do with the HVAC/Car Computer controls since there will no longer be space for them above the new double din. Well, there's an answer for that too! I extended the wires running to the control panel, mounted the panel in a custom built built enclosure and then mounted the control box upside-down under the center console glove box. This way when you are sitting in the driver's seat and open the lid of that compartment the control panel is readily available. You will hardly ever need to use the panel anyway but there it is. Life is good! I could not have pulled this off without the help of Crutchfield and my man Zac. Crutchfield saves the day again!
Pros: Perfect fit and color
Cons: No cons whatsoever!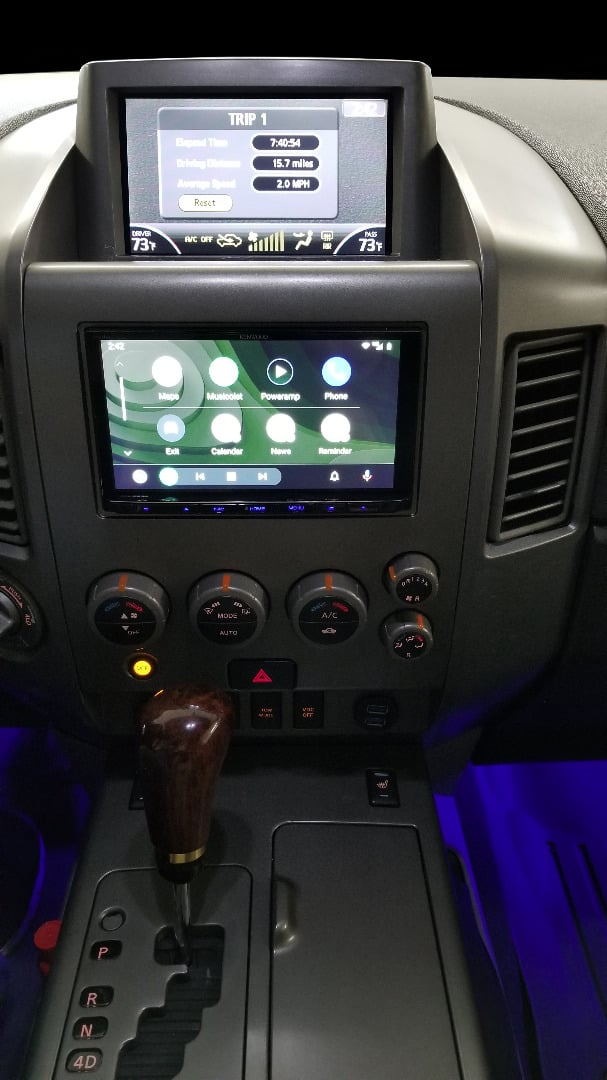 0 of 0 found this helpful
Metra 99-7629S Dash Kit
Crutchfield customer from Sicklerville, NJ on 8/27/2017
2005 Nissan Titan
Good product easy to install. Only drawbacks I had to remove transparent airbag sticker from the original face & there are two tabs that come with the kit that don't stay in place. Tabs sometime pop out of place exposing the black ac control panel behind it.
0 of 0 found this helpful