About the Pioneer AVIC-Z3
Enjoy music, DVDs, in-dash navigation, and the convenience of advanced voice control with Pioneer's AVIC-Z3 navigation receiver. This double-sized receiver sports not only a DVD/CD drive, but also a 30 GB hard drive that holds all navigation maps and information, plus up to 10 GB of music onboard. The combination of a 7" touchscreen controls and voice command features gives you total control over this complete multimedia center.
Enjoy music, DVDs, in-dash navigation, and the convenience of advanced voice control with Pioneer's AVIC-Z3 navigation receiver. This double-sized receiver sports not only a DVD/CD drive, but also a 30 GB hard drive that holds all navigation maps and information, plus up to 10 GB of music onboard. The combination of a 7" touchscreen controls and voice command features gives you total control over this complete multimedia center.
Superior navigation
The navigation system features multiple display modes, including map, 3D, and driver's view modes. A split screen option makes it easy to see upcoming turns, while giving you the big picture for directions down the road. Precise geocoding and Point Addressing provide extremely accurate locations when you're trying to find a single address. The navigation system records frequently traveled roads so it'll take your preferences into account when providing instructions.
You can control many features of the navigation system using voice commands. The voice recognition system boasts a large library that lets you get directions by saying the city name, street name, and house number. The AVIC-Z3 will announce most street names as you're approaching your turn, so you'll know where to turn without having to take your eyes off the road. The advanced program helps the system pronounce many tricky names correctly, instead of phonetically as some systems do.
XM NavTraffic
Add a compatible XM NavTraffic radio and subscribe to XM's innovative NavTraffic service. You'll receive continuously updated traffic information, including traffic accident alerts, road closure info, and the average speed of traffic on the roads along your planned route. You can prepare for traffic snags well in advance, and adjust your route accordingly. NavTraffic is currently available in most major metropolitan areas.
Music and multimedia
This versatile receiver reserves up to 10 gigabytes of the hard drive's memory to store the music it rips from your standard CDs. The preloaded Gracenotes® software will even display the disc, artist, and track names for most CDs. It's like having a virtual jukebox of up to 200 discs, ready whenever you get in the car.
For a multimedia fix, use the 7" screen to watch your favorite DVD videos while you're parked. Connect a rear-seat video screen and wireless headphones, and the folks in back can keep watching while you're on the road. "Tri-Zone" capability means you can listen to the radio or another source up front, play a movie in back, and the AVIC-Z3 will continue navigating. Add an optional rear-view camera and you'll have a clear view behind your vehicle when backing up — providing a nice measure of safety in driveways or crowded parking lots.
System expansion
Add an optional iPod® adapter to play your iPod through the AVIC-Z3, and control it using the touchscreen. Add a satellite radio tuner for even more variety in your entertainment. If you have a Bluetooth cell phone, Pioneer's optional Bluetooth cell phone adapter lets you make and receive phone calls without taking your eyes off the road to dial.
Note: If you're going to use your iPod with this receiver, be sure to check "Details" for the iPod adapter for specific iPod model compatibility.
READ LESS
Product highlights:
General features:
in-dash DVD receiver/navigation system with built-in amplifier (14 watts RMS CEA-2006/50 peak x 4 channels)
fits double-sized dash openings
motorized 7" video screen with touch-panel controls
optional remote control
Navigation features:
turn-by-turn map and voice guidance
built-in 30GB hard drive (20GB for navigation functions, 10GB for music storage)
voice command capability; microphone included
text-to-speech technology announces the names of most roads
learning capability: remembers frequently traveled roads and suggests familiar routes
smart routing algorithm takes data such as posted speed limits and number of turns into account to suggest the most efficient route possible
navigation antenna included
approximately 12 million points of interest
Audio/Video features:
plays DVDs, DVD-R/RWs, CDs, CD-R/RWs, and MP3 discs
selectable high-pass filter (50, 80, 125 Hz) for speaker or preamp outputs
Supertuner IIID AM/FM tuner
tri-zone capable
3-band parametric EQ
Expandability:
XM's NavTraffic premium service available in most cities with your XM subscription (not available with a SIRIUS subscription)
compatible with XM and SIRIUS Satellite Radio, Pioneer's iPod interface adapter and Bluetooth adapter
inputs: audio/video input, rear-view camera input
outputs: audio/video output, 6-channel preamp outputs (front, rear, and subwoofer)
Other features:
warranty: 1 year
designed for use with "Region 1" coded DVDs
MFR # AVIC-Z3
What's in the box:
Pioneer AVIC-Z3 owner's manual
Double-DIN DVD/HDD/Navigation receiver with 7" LCD monitor
Trim frame
Power wiring harness (has in-line 10A fuse)
RCA connector harness 1
RCA connector harness 2
16.25' Speed signal extension lead (pink wire)
16.25' Reverse signal extension lead (purple/white wire/has in-line fuse resistor)
GPS antenna with attached 16.25' cable
Self-adhesive metal sheet (2.75" square)
5 Self-adhesive metal clamps
Waterproof pad
8 Pan-head ISO-DIN screws (M5 x 6mm)
8 Flat-head ISO-DIN screws (M5 x 6mm)
Plastic stylus
Wire splicing clamp
5 Self-adhesive cable clips
Microphone with 13' cable (right-angle 2.5mm sub-mini plug)
Microphone clip
Adhesive pad
Quick Start Guide
Operation Manual
Installation Manual (English/French)
Hardware Manual
Warranty sheet
"Warning" sheet concerning battery connection
Registration card
Note concerning LCD backlighting lamp
Pioneer AVIC-Z3 reviews
Average review:
Customer photos
More details on the Pioneer AVIC-Z3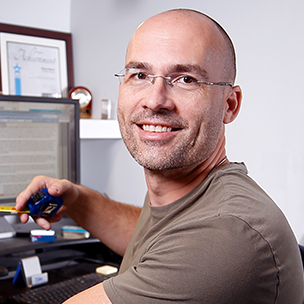 Researched by Crutchfield's

Stacey B.
Product Research
General Features
Navigation Features
Music Library Features
External Device Controls
Inputs and Outputs
General Features
Hard Disk Drive (HDD): The Pioneer AVIC-Z3 has a built-in 30 GB hard disk drive which contains the entire Tele Atlas navigation database, including nearly 12 million points of interest. The unit uses 10 GB of the HDD for storing music ripped from your CDs for instant access.
Disc Compatibility: The AVIC-Z3 is compatible with DVD-Video (including DVD-R and DVD-RW recorded in Video mode), CDs, and CD-R/RW recorded with MP3 files.
Motorized Video Display: This unit is equipped with a motorized 7" color TFT active matrix, widescreen LCD that serves as a video monitor and system information display. The display has a 16:9 aspect ratio, and a resolution of 1440 (480 x RGB) x 234 for a total of 336,960 pixels.
Touch Screen Controls: This unit has touch screen controls with interactive video graphics, making menu navigation easy. The screen is non-glare and smudge-resistant.
Display Angle Adjustment: You can adjust the display's angle for better visibility. The bottom of the display gradually slides out to a maximum of 1-7/8" and the screen's maximum angle is 110°. Furthermore, the unit memorizes the angle setting each time it is powered off, and returns to that angle when the unit is powered up again.
Display Adjustment: You can adjust the display's brightness, contrast, and dimmer settings.
Display Dimming: The LCD screen dims to a preset level when the vehicle's lights are turned on. The dimmer level can be adjusted in the Picture Adjustment menu. The orange/white wire in the main harness must be connected to the vehicle headlight circuit in order for this to work properly.
Wide Modes: You can choose from the following wide modes:
Full: a 4:3 picture is enlarged in the horizontal direction only, enabling you to enjoy a 4:3 picture without any omissions
Just: the picture is enlarged slightly at the center and the amount of enlargement increases horizontally toward the ends of the picture
Cinema: a picture is enlarged by the same proportion as Full or Zoom in the horizontal direction and by an intermediate proportion between Full and Zoom in the vertical direction
Zoom: a 4:3 picture is enlarged in the same proportion both vertically and horizontally; ideal for a 16:9 screen
Normal: a 4:3 picture is displayed as it is
CEA2006 Compliant: The power specifications for the AVIC-Z3 are compliant with the CEA2006 Mobile Amplifier Power Testing and Measurement standards from the Consumer Electronics Association (CEA). These standards were developed as a way to equitably compare power specs from model to model and between manufacturers. The power output specs for the AVIC-Z3 are as follows:
CEA2006 Specs: 14 watts RMS x 4 channels (at 4 ohms, 20Hz-20kHz, 1% THD-N)
Continuous Power Output: 22 watts RMS x 4 channels (at 4 ohms, 50Hz-15kHz, 5% THD)
Maximum Power Output: 50 watts x 4 channels (or 50 watts x 2 channels at 4 ohms + 70 watts x 1 channel at 2 ohms for subwoofer)
Easy EQ Curves: This model features 6 preset EQ curves: Super Bass, Powerful, Natural, Vocal, Flat, Custom1 and Custom2. The Custom curves allow you to create and store EQ settings in memory. A separate Custom 1 curve can be created and stored in memory for each source, while a Custom 2 curve common to each source can also be created and stored.
3-Band Parametric Equalizer:
This unit includes a 3-band parametric EQ with Selectable Q Factor. You may select a low (40Hz, 80Hz, 100Hz, or 160Hz), mid (200kHz, 500kHz, 1kHz, or 2kHz) and high frequency (3.15kHz, 8kHz, 10kHz, or 12.5kHz) to boost or cut within a range of -12dB to +12dB. The Q factor (slope of the boost or cut) may be selected from one of the following four options: 2N (narrow), 1N, 1W and 2W (wide). Selecting a narrow (steep) Q factor results in frequencies around the center frequency to be affected less by the boost or cut than they are with a wide Q factor. This feature is useful for taming frequency response problems caused by the dimensions, materials and speaker locations of a vehicle.
Adjustable Loudness:
You can select one of three different levels of loudness compensation. A "low" loudness contour provides a +3.5dB boost at 100Hz and +3dB boost at 10kHz. A "mid" boost is +10dB (100Hz) and +6.5dB (10kHz). A "high" loudness contour is +11dB at both 100Hz and 10kHz.
Note: These Loudness contours use a reference volume level of -30dB.
Source Level Adjustment (SLA):
This function lets you adjust the volume level of each source to prevent radical changes in volume when switching between sources. Settings are based on the volume level of the FM tuner, which remains unchanged.
High-pass Filter:
When you don't want sound in the subwoofer frequency range output from the front and rear speakers, you may activate the built-in 12dB per octave high-pass filter. You may select a filter frequency of 50Hz, 80Hz, or 125Hz.
Subwoofer/Non-fading Preouts:
In addition to the front and rear preamp outputs, there is one set of outputs that may be set for "subwoofer" or "non-fading" output. When set to "non-fading", the signal is full-range and the output level is user selectable from -6 to +6. When set to "subwoofer", the outputs are non-fading, and they may be set for normal or reverse phase, 50Hz/80Hz/125Hz low-pass output (18dB per octave), and the level is user selectable from -6 to +6 (+/-12dB).
Supertuner IIID AM/FM Tuner:
The Supertuner IIID features Feed Forward Control, which avoids multi-path interference. This pre-detection of interference enables quick filter control and results in less distortion. In addition, the Supertuner IIID creates enhanced stereo during multi-path interference, unlike conventional tuners that collapse to mono.
MP3 Playback: This unit can play MP3 files recorded on CD-ROM, CD-R, and CD-RW discs in ISO9660 Level 1/Level 2, Joliet, and Romeo formats. MP3 files with a bit rate from 8-320 kbps are supported. The unit is not compatible with WMA or AAC files.
Dual Zone Capability: The AVIC-Z3 allows you to enjoy two totally different types of media between the front of the vehicle and the back. For example, while you are listening to your favorite radio station, the kids can be watching their favorite DVD on an optional rear monitor, while listening through headphones. All this can be done while navigating your route at the same time.
Optional Aux Input: When used with item 130CDRB10 (sold separately) or item 130CDRB20 (sold separately), this unit can accept input from an auxiliary source, such as a portable CD or MD player. When item 130CDRB10 is used, a CD changer cannot be connected to this unit. Item 130CDRB20 allows you to connect an optional Pioneer IP-Bus external device (satellite radio, CD changer, Bluetooth) and an auxiliary source to this unit.
Cellular Mute: This feature mutes or attenuates the unit's audio output when a cellular call is received, then restores the level once the call is over. To use this feature, you must have a cellular phone with a muting output that can be connected to the muting input wire (yellow/black lead) of this unit.
Bluetooth Wireless Technology: With the optional ND-BT1 Bluetooth Adapter (item # 130NDBT1), the AVIC-Z3 can interface with Bluetooth wireless-enabled cellular phones for easy and safe hands-free operation. You can make and receive calls by speaking through the headunit's microphone and listening to the other party through your vehicle's speaker system. The system automatically mutes any other audio during incoming and outgoing calls. You can store numbers in the memory and access them by voice or the touch screen display. In addition, you can access phone numbers associated with the POI database, and call the location you are being guided to. Note: Not all Bluetooth-capable phones are compatible.
Changing Background Picture:
In the menu operation screen, you can indicate a picture you like on the background. Some pictures are already stored in the head unit's HDD: Pioneer Original, Aurora, Carbon, City, Dolphin, Freeway1, Freeway2, Manta, Orca, Ripples, Sky, Spiral, Spiral2, Steel, Ticker, Wood. You can also import JPEG pictures by using CD-R/RW discs. There are three types of background pictures that can be changed: Splash Page, Navigation Background and AV Background.
Optional Remote Control: The AVIC-Z3 is compatible with the optional CD-SR100 (130CDSR100) steering wheel-mount wireless remote control. The unit also has a 3.5mm minijack on the rear panel that allows you to use one of the optional Pioneer wired remote controls: CD-MR70 or CD-MR80D (items 130CDMR70 and 130CDMR80).
Optional Steering Wheel Control Compatibility: The unit's 3.5mm wired remote input can be used with the optional PAC SWI-PS steering wheel control interface (item #127SWIPS).
Navigation Features
Positioning Accuracy: The AVIC-Z3's navigation system accurately measures your current location by combining the positioning by GPS and Dead Reckoning. The unit includes an 8-channel GPS (Global Positioning System) using a network of satellites orbiting the Earth. The accuracy of the GPS depends upon the number of satellites that can be received at any given time (at least 3 are required). The 3D Hybrid Sensor in the navigation system also calculates your position by detecting driving distance with the speed pulse, the turning direction with the Gyrosensor and inclination of the road with the G sensor.
Navigation Maps: The unit comes with the large "Tele Atlas" database stored on the Hard Disk Drive. The map database, which covers the entire United States (including Alaska and Hawaii) and portions of Canada, enables the unit to provide a large network of turn-by-turn routable roads. The maps provide approximately 12-million points-of-interest throughout the United States and Canada.
XM NavTraffic Ready: XM NavTraffic, powered by NAVTEQ Traffic, allows the unit to monitor real-time traffic conditions and routes the driver to the destination avoiding traffic congestion, using the optional GEX-P10XMT XM NavTraffic Satellite Radio tuner (item # 130P10XMT). The traffic information is provided through a continuous satellite broadcast with data from leading commercial traffic data providers, government departments of transportation, police and emergency services, road sensors, cameras, and airborne reports. Separate subscriptions to XM Radio and XM NavTraffic are required.
Voice Guidance: In addition to graphical directions, the AVIC-Z3 provides voice guidance with TTS (text-to-speech) technology and turn-by-turn directions. This provides "eyes free" navigation while you're driving.
Voice Recognition: The AVIC-Z3's advanced voice recognition lets you search for destinations by saying a name, such as "L-A-X", without having to specify a category, such as "airport." Full address searches can be done by saying the city name, street name, and address. Voice commands for A/V sources and other attachments like Bluetooth-enabled cellular phones can also be used.
Learning Capability: The system can "remember" frequently traveled roads and uses historical information to help you navigate. The system can suggest which routes will be most familiar to you.
Smart Routing Algorithm: The AVIC-Z3 uses a "smart routing algorithm" to analyze and assess routes by taking into account current road data, such as posted speed limits, number of turns to the destination, etc., and recommends the most efficient path.
Display Modes: There are three types of map display and two additional view modes:
Map Mode: displays the standard map
Driver's View: displays a map from the driver's point of view
2D or 3D Twin Map View: lets you split the screen vertically in half: the right screen and the left screen can display the map in different scales in 2D or 3D.
Guide Mode: the standard map of your surroundings is overlaid with the name of the street you will turn onto next, and 2 arrows: the larger one to the left indicating the direction of your next maneuver and how far you are from approaching it, and the smaller one to the right indicating the direction of your second to next maneuver and how far you are from approaching it.
Route View: displays the name of the street you will next travel along and an arrow indicating the direction of travel
Vehicle Dynamics Display: displays three instruments that indicate the status of your vehicle. You can change the values displayed by the instruments on the left and right of the Sensor View, allowing you to choose from the following: voltage, acceleration, side acceleration, angular velocity, slope, direction, or clock
Rear View: if you have installed a rear view camera, and the camera is set to "On", the rear view image is displayed on the left-hand side of the screen, while the map of your surroundings is indicated on the right
Enlarged Map of the Intersection: When "Close-up View" in the Settings menu is On, an enlarged map of the junction appears while driving. It can be viewed as a 2D or 3D map.
Display During Freeway Driving: In certain locations of the freeway, lane information is available, indicating the recommended lane to be in to easily maneuver the next guidance. When driving on the freeway, freeway exit numbers and freeway signs may be displayed when in the vicinity of interchanges and exits.
City Map: When driving in a city, the detailed city map is indicated if the map scale is set to 0.05 mi (50 m) or lower (only those cities whose detailed city maps are registered in the map disc).
Scroll Mode: Touching anywhere on the map for at least 2 seconds changes the map to Scroll mode and the map begins scrolling in the direction you touched. The scrolling stops when you remove your finger from the screen. At this time, the cross pointer appears at the center of the screen. Also, a line connecting between the current location and cross pointer appears.
Location Information: An icon appears at registered places (home location, specific places, address book entries) and places where there is a POI icon. You can place the cross pointer over the icon to view detailed information.
Address Book: The Address Book can store up to 400 registered locations. These can include home location, favorite places, and destinations you have already searched.
Music Library Features
HDD Music Library: The AVIC-Z3 can use up to 10 GB of its Hard Disk Drive space for a music library. The system allows you to listen to music while at the same time ripping and storing music at 4 times playing speed. The unit's built-in Gracenote CDDB Music Recognition Service automatically tags the recorded music with the artist's name, song title, genre, and album title. Using Voice Recognition, you can directly access the music library's content by simply saying the artist name, song title, genre, or album title.
Auto Recording: When you play a music CD that is not recorded on the AVIC-Z3's HDD, the system automatically begins recording that CD to the music library. You can record the entire CD, or selected tracks. The unit can record up to approximately 200 music CDs onto the HDD. Note: Only CDs that contain 44.1 kHz, 16-bit stereo PCM digital audio can be recorded. It will not record MP3 files or music from CD-Rs or CD-RW.
Music Organization: The music library is organized into three levels: groups, playlists, and tracks. There are 4 types of groups: Albums, Artists, Genres, My Favorites.
Playback Controls: Using the Touch Key panel, you can perform the following playback functions: Play/Pause, Track Skip (forward/backward), Fast Forward/Fast Backward, Repeat play (track, playlist, or currently selected group), Random play (track, playlist, or currently selected group), and Scan play (track, playlist, or currently selected group).
External Device Controls
iPod Adapter Ready: If you have an iPod, you can control it from the AVIC-Z3's touch screen with the optional CD-IB100II iPod Interface adapter (130IB100II). The adapter is compatible with iPods that include the Dock Connector. The unit's display features the following: song number, album title, artist name, play time, song title, info on current song. You can search for songs by playlists, artists, albums, songs, and genres. The adapter does not allow you to view videos from your iPod on the unit's screen.
Satellite Radio Ready: You can add either XM or SIRIUS satellite radio to the AVIC-F700BT. Up to 18 stations can be set as presets (6 each for 3 XM or SIRIUS bands). The AVIC-F700BT can control optional XM or SIRIUS satellite radio tuners:
XM: Pioneer GEX-P920XM (130P920XM) or GEX-P10XMT (130P10XMT)
SIRIUS:

SiriusConnect Universal Tuner (607SCC1) + Pioneer CD-SB10 SiriusConnect interface (130CDSB10); package item number 700SIRPION
SiriusConnect Dock 'n Play receiver + SiriusConnect Vehicle kit (607SCVDOC1) + Pioneer CD-SB10 SiriusConnect interface (130CDSB10)

Note: Subscriptions to XM or SIRIUS are required.
Rear View Camera: The head unit features a function that automatically switches to the rear camera image (Rear View Camera In jack) when a rear camera (such as 130NDBC2) is installed on your vehicle. When the shift lever is in the reverse position, the screen automatically switches to the rear view camera. You can also see the image of the rear view camera during normal driving, allowing you to keep an eye on a trailer or boat you may be towing. Note: The Violet/white wire in the power/speaker harness must be connected to the backup light lead circuit in order for the unit to automatically switch to the camera view when the vehicle is in reverse gear.
CD Changer Controls: The AVIC-Z3 can control a Pioneer IP-Bus CD changer such as the CDX-P680 or CDX-P1280. When used with a CD Text compatible Pioneer CD changer, this unit will display the titles of CD Text encoded discs that are played in the changer. When using the on-screen Touch Key panel, you can perform the following functions: Play/Pause, Track Skip (forward/backward), Fast Forward/Fast Backward, Disc Skip (forward/backward), Repeat Play (track, disc), Random Play (track, disc), and Scan Play (track, disc), and Direct Disc selection.
DVD Operation: This unit can also control an optional Pioneer DVD player or DVD changer.
Inputs and Outputs
Back Panel of Head Unit:
GPS In: jack for use with supplied GPS antenna
Digital Out: Optical output for connecting optional multi-channel audio processor (DEQ-P8000)
AV-BUS In: 11-pin jack that allows you to connect an optional Pioneer TV tuner (GEX-P5700TV)
Extension In: multi-pin jack for connecting XM NavTraffic Satellite Radio tuner (GEX-P10XMT)
IP-BUS In: 11-pin jack that allows you to connect an optional Pioneer changer or IP-BUS accessory (Aux Input, iPod Adapter, etc.)
Telephone: multi-pin jack for connecting the optional ND-BT1 Bluetooth unit
Mic In: 2.5mm sub-mini jack for use with the supplied microphone
Guide SP Out: (not used)
Power Supply: 16-pin jack for use with supplied power wiring harness
Connector 1: 20-pin connector for supplied harness which includes 3 pairs of preamp outputs, the audio/video input, and cellular mute.
Connector 2: 16-pin connector for supplied harness which includes rear monitor A/V outputs, rear view camera input, and wired remote input (for items such as #127SWIPS OEM steering wheel control interface).
FM/AM Antenna In: female Motorola jack