About the JL Audio C5-570
Change how you listen in your car
JL Audio's Evolution™ C5 premium component speaker systems reproduce your music with impressive fidelity and power. Your music will sound smooth and balanced, from the splash of a cymbal to the thump of an electric bass, and everything in between.

Change how you listen in your car
JL Audio's Evolution™ C5 premium component speaker systems reproduce your music with impressive fidelity and power. Your music will sound smooth and balanced, from the splash of a cymbal to the thump of an electric bass, and everything in between.
The C5-570 5"x7" component system features a pair of silk dome tweeters that broadcast all the musical details without a hint of harshness. JL Audio built the 5"x7" woofers for extended cone travel so they'll move more air, putting more oomph in your music when the rhythm section kicks in. These woofers use the same patented cooling technology developed for the ZR Series speakers, allowing the C5 speakers to play with a wide dynamic range at all volumes.
The C5 crossovers feature 4-position tweeter and 3-position midrange levels that give you 12 possible adjustment combinations for exceptional control over the final sound.
Installation note: You'll need a pair of our universal backstraps to install the tweeters in the factory locations.
Grilles are not included; the factory grilles should be suitable for most applications.
READ LESS
Product highlights:
component speaker system includes two 5"x7"" woofers, 2 tweeters, and two external crossovers
mineral-filled polypropylene woofer with butyl rubber surround
cast alloy frame with Elevated Frame Cooling
3/4" silk dome tweeter
2-way external crossover with 4-position tweeter level and 3-position midrange control
4-ohm impedance
handles up to 75 watts RMS (225 watts peak power)
frequency response: 48-25,000 Hz
sensitivity: 90.5 dB
depth: 2-7/16"
grilles not included
warranty: 1 year
MFR # 99102
What's in the box:
JL Audio C5-570 owner's manual
2 C5-570cw Woofers
2 C5-075ct Tweeters (with attached 6" speaker wires)
2 Tweeter flush-mount cups
2 C5-570-XO Crossovers
2 Bottom mount adapter rings
2 Self-adhesive JL Audio badges
2 Tweeter mounting rings
Adhesive putty
2 Metal spring clips for tweeter fixtures
Two 1-1/8" pan-head machine screws
4 Crimp-on 2.8mm male quick slides
Twelve 1-1/4" self-tapping screws
8 Speed clips
12 Crimp-on spade connectors
2 Crimp-on 6.4mm female quick slides
2 Crimp-on 4.7mm female quick slides
Owner's Manual
Woofer cutout template
JL Audio C5-570 reviews
Average review:
Customer photos
More details on the JL Audio C5-570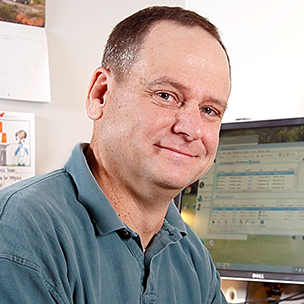 Researched by Crutchfield's

Pat M.
Features & specs
The JL Audio C5-570 replaces these items:
Product Research
Woofer Features
Tweeter Features
Crossover Features
Woofer Features
Cast Alloy Baskets: The Evolution C5 component speakers feature cast alloy woofer baskets, while incorporating JL Audio's patented "Elevated Frame" cooling system. This cooling technology, also found on the flagship ZR component systems and W7 and W6v2 subwoofers, allows air to flow directly across the top plate and onto the voice coil windings to greatly improve linearity at all listening levels.
Motor Structure: The DMA (Dynamic Motor Analysis)-optimized motor structure achieve outstanding linearity.
Woofer Cones: The cone and suspension elements were designed and manufactured by the world-famous Dr. Kurt Müller & Co of Germany. The speakers feature low-mass, mineral-filled polypropylene cones with butyl rubber surrounds. The cone and surround are inherently well damped to deliver neutral midrange without any coloration. The speakers are also equipped with symmetrical-roll, hybrid-weave spiders.
Mounting: The C5-570 can be top or bottom mounted. Bottom mounting requires using the included adapter ring. The adapter ring can be used (optionally) when top mounting, adding approximately 4/10" to the mounting height and subtracting approximately 4/10" from the mounting depth.
Power Handling: JL Audio publishes several power specifications for this speaker, 75 watts continuous power handling (RMS), 225 watts peak music power, and 25-150 watts recommended amplifier power (RMS). We've listed the conservative combination of 25-75 watts RMS in the specs table.
Tweeter Features
Silk Domes: The C5 component system's 3/4" silk dome tweeters is incredibly smooth on- and off-axis for accurate imaging and a big, stable soundstage.
Neodymium Magnets: The small neodymium magnets and small chassis give it excellent placement flexibility.
Performance: Each pair of C5 tweeters is tested and matched to within 1 dB of JL Audio's reference curve to ensure optimum system performance.
Mounting Options: The tweeters come mounted in JL Audio's RSR mounting system to permit precise angling of the tweeters after installation. There are five available positions for angling the tweeter inside the flush mount. The mounting dimensions are as follows:
Mounting Depth: 0.56" (1.67" screw depth)
Mounting Height: 0.36"
Frame Diameter: 1.758"
Cutout Diameter: 1.49"
Crossover Features
Two-way Crossover System: The C5 component system utilizes a true 2-way crossover system:
High Pass: On the tweeters is a second order high-pass filter utilizing premium Mylar capacitors combined with an air-core inductor. Four tweeter level settings are selectable via jumper pins: +2.0dB, Reference, -1.5dB, and -3.0dB.
Low Pass: The low-pass section features a first order filter with three levels of user-definable midrange presence: Low, Reference, and High.
Polyswitch: Polyswitch tweeter protection is incorporated into each C5 component system crossover system.
Barrier Strips: Connections to each crossover network are made via protected nickel-plated barrier strips.
Dimensions: The C5 crossover systems have the following dimensions: Width=3.367", Height=4.72", Depth=1.44"
Connection Note: The C5 component system comes with no speaker wire. Instead, a number of spade connectors and quick slides are included in the hardware pack to be crimped onto speaker wire you provide.
The JL Audio C5-570 replaces these items

Adding...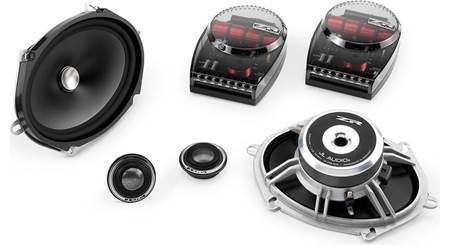 Evolution™ ZR Series 5"x7" component speaker system
Also fits 6"x8" openings
mineral-filled polypropylene woofer with butyl rubber surround
1" aluminum dome tweeter
25-85 watts RMS power range