About the Sennheiser RS 135-9
Watch TV or listen to music on your own time
As the parent of a three-year-old, I have to pick and choose when I watch my favorite special effects-filled TV shows. It's not like I can turn on Game of Thrones in the middle of playtime. The Sennheiser RS 135-9 wireless headphone systems lets you watch TV with exciting, detailed sound, even when others are asleep. (The wireless transmitter connects to your TV's headphone jack or analog audio output.)
Watch TV or listen to music on your own time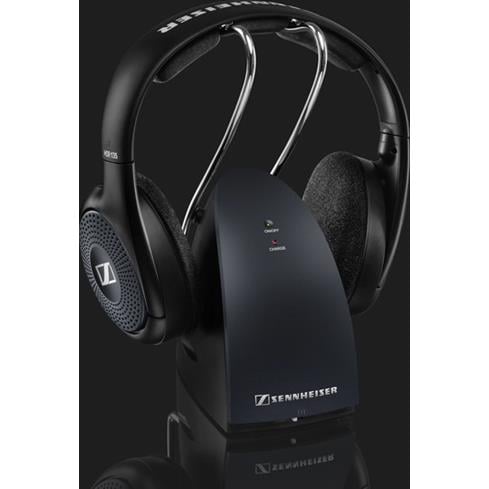 Plug the transmitter into a 3.5mm minijack audio output on your TV or a headphone output on your stereo system.
As the parent of a three-year-old, I have to pick and choose when I watch my favorite special effects-filled TV shows. It's not like I can turn on Game of Thrones in the middle of playtime. The Sennheiser RS 135-9 wireless headphone systems lets you watch TV with exciting, detailed sound, even when others are asleep. (The wireless transmitter connects to your TV's headphone jack or analog audio output.)
The on-ear headset has an open-back design for spacious sound from movies, shows, and music. Some sound does escape. But they're certainly more sleep-friendly than blasting the volume on your TV or stereo system
Huge wireless range and rechargeable headset batteries
You plug in the included transmitter the same way you would connect a set of wired 'phones. It connects to your TV's stereo RCA or 3.5mm minijack audio output, and you also get a 1/4" adapter to accommodate a full-size headphone jack on a stereo system. The radio frequency (RF) transmitter has a maximum range of 330 feet and can send its signal through walls and ceilings. The headphones are powered by included "AAA" rechargeable batteries. With the batteries inserted, just hang the headphones atop the transmitter and charging will automatically begin. You'll get up to 20 hours of use with a full charge.
Soft padding and earcup dials for easy control
When you're binge-watching TV or listening to music for long stretches, comfort is key. The RS 135-9's lightweight headset features soft cloth earcups that rest on your ears. Extra padding lines the top of the headband. The volume control is built for leisure, too — it's located on the right earcup, along with a tuning dial to keep the wireless signal strong, so you don't have to get up to make adjustments.
READ LESS
Product highlights:
on-ear, open-back design
included wireless transmitter delivers high-quality audio to the headphones
transmitter features an attached cable to connect to the stereo RCA output on your TV or audio system

3.5 mm stereo minijack adapter included
1/4" adapter also included

900 MHz RF (radio frequency) wireless transmission
wireless range: up to 328 feet
transmitter also serves as a docking station to recharge the headphones
battery life: up to 20 hours with a full charge using the included batteries
volume and tune dial on headphones
includes 2 "AAA" NiMH rechargeable batteries batteries for the headphones
frequency response: 22-19,500 Hz
headset weight: 7 oz. (with batteries)
warranty: 2 years
MFR # 508678
What's in the box:
Sennheiser RS 135-9 owner's manual
HDR 135 On-ear wireless headphone
TR 135 Transmitter with attached 82" audio cable (stereo RCA plugs)
Stereo RCA-to-3.5mm plug adapter
3.5mm-to-1/4" plug adapter
2 "AAA" NiMH rechargeable batteries (1.2V 600mAh each)
AC adapter (NT9-3A) with attached 5' DC output cord (DC output: 9V 0.34A)
Instruction Manual
Safety Guide
Info card on connecting to TV
Diagram for connecting AC adapter
Sennheiser RS 135-9 reviews
Average review:
Customer photos
More details on the Sennheiser RS 135-9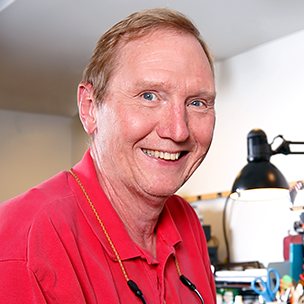 Researched by Crutchfield's

Mark G.
Product Research
Features
Overview: The Sennheiser RS 135 RF Wireless headphone system consists of a pair of wireless headphones (HDR 135) and a radio frequency (RF) transmitter (TR 135). The system is designed to enhance the sound of your TV or home audio source, and to give you the freedom to walk around your home with the headphones on.
Wireless Headphones: The HDR 135's wireless headphones feature an open, supra-aural (on-ear) design. The soft-padded ear cups and headband provide hours of listening comfort. The headphones have the power control left ear cup, and volume and tuning controls on the right ear cup. Two charging contacts are located on the inside of the headband. With the batteries installed, the HDR 135 headphones weigh 7.9 ounces.
TR 135 Transmitter: The transmitter connects to your television's or audio system's audio output via the attached RCA cable (82" length). The audio is transmitted on the 900 MHz band (926.15 to 927.55 MHz) with FM stereo modulation. The extended transmission range is approximately 328 feet (100 meters) with reception through walls and ceilings. The transmitter is powered by a 9-volt DC power supply/AC adapter. The transmitter features a convenient charging stand for the headphones that extends above the top of the transmitter. Two keyhole slots are provided on the back to allow you to wall-mount the transmitter, if desired.
Audio Connections: The transmitter has an attached audio cable with stereo RCA plugs. Two adapters are included: a female stereo RCA-to-male 3.5mm (1/8") plug, and a female 3.5mm-to-1/4" (6.3mm) plug.
Rechargeable Batteries: The headphones are powered by two (included) "AAA" rechargeable NiMH batteries (1.2V, 600mAh). The batteries fully charge in approximately 18 hours when placed on the charging stand. Typical battery life is approximately 20 hours of use. Standard, non-rechargeable "AAA" batteries should not be used in the headphones.
Additional Headsets: The optional Sennheiser HDR 120 wireless headphones, sold separately, can be used as a second set of headphones for the RS 135-9 system. They operate on the same frequency band with FM stereo modulation. Multiple pairs of headphones can be used simultaneously with the RS 135-9 wireless system.
Specifications:
Frequency Response: 22Hz - 19,500Hz
Maximum Sound Pressure Level: 106dB at 1kHz, 1 Vrms
Total Harmonic Distortion: <0.7% at 1 kHz, 100dB SPL
Transmission Range: Up to 330 feet (100 meters)
Dimensions:

Headphones (Earcups): Width 3.163", Height 4.013", Depth 1.721"
Transmitter: Width 3.32", Height 5.25" (8.875" including charging stand), Depth 5.24"
The Sennheiser RS 135-9 replaces these items

Adding...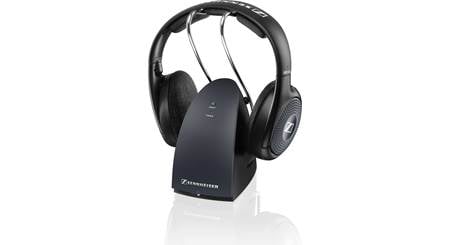 Wireless on-ear headphones with transmitter
wireless, on-ear headphones with open-back design
included wireless transmitter delivers high-quality audio to the headphones
transmitter connects to your TV or stereo and recharges the included headphone batteries
3 questions already asked
Q
Will the speakers on the TV turn off if I plug in my headphones?
[ Bill Feb 18, 2021 ]
A
We have a Samsung tv and , "no" the tv speakers do not turn off , you have to push "mute " to turn off the tv speakers .
[ Stan Feb 19, 2021 ]
A
If you plug the headphones into your cable box, say, then no, the sound to the tv is still available - we use that so my boyfriend can listen to cable sports and I can watch and listen to something streaming on the same set - but if you *want* the sound off, all you have to do is mute the television.
[ DAEMON Feb 19, 2021 ]
A
Yes, cuts off all other speakers. Still amazed at the quality of my treasured Sennheisers.
[ James Feb 18, 2021 ]
A
Yes. Download the manual and you'll see what connection options you can expect.
[ Nicholas Feb 18, 2021 ]
A
No. In fact, when I turn the headphones on, I have to mute the TV speakers if I don't want to have that sound.
[ KAREN Feb 18, 2021 ]
A
TV speakers stay o, but I just turn their volume to "0" so the sound only comes thru headphone. But I can turn tv volume up so that speakers and earphones can e heard simultaneously.
[ steve Feb 18, 2021 ]
Q
Cannot get sound out of headphones. All that I hear is static. What have I done incorrect?
[ Tony Jan 10, 2021 ]
A
When this happens , your thumb may have touched and moved the "TUNE" wheel ,or someone has placed the T.V. on pause , and after a few seconds , you will hear static .
[ Stan Jan 12, 2021 ]
A
Reset the headphones by removing the batteries. These are under one of the ear pads. Reinstall after half an hour. Check the connections to your tv output. Make sure the batteries are charged per manual. Then, try a new transmission frequency setting - small switch at front lower lip of the base. After you turn on the earphones fine tune the reception to these (control on the right hand earphone under the volume. Oh, make sure you have everything surge protected. My set got "fried" after a bad storm.
[ Nicholas Jan 11, 2021 ]
A
I returned mine. Sound was fine but they were uncomfortable.
[ Forrest Jan 10, 2021 ]
A
There are two dials on the right ear side, one is for volume, the one below helps you connect with the tv, move the second dial below up and down and it solves the static problem with me
[ PATRICK Jan 10, 2021 ]
A
slowly adjust the tuner wheel (below the volume control wheel on right ear) . That should get the signal and you will get the sound. Try with a talk show to get constant talking.
[ steve Jan 10, 2021 ]
Q
willl RS 135-9 prevent losing sync with the picture?
[ steve Nov 14, 2020 ]
A
No it won't. I was advised to swap out my Xfinity tv box for a new one to resolve the problem of the audio/video being out of sync
[ Jim Nov 14, 2020 ]
A
No
[ WILLIAM Nov 14, 2020 ]
A
I've had the ear phones about four weeks now, and have not experienced a screen shut down.
[ Gary Nov 14, 2020 ]
A
In the beginning,, there were a few occasions, I found slightly out of sync, however, that didn't last and I haven't had that issue for months of use daily. In fact I purchased a second unit for my 88 year old mother-in-law. The sync issue only related to the first headset, she has had zero issues. Great headset, good luck
[ 87JEEPIN Nov 14, 2020 ]
A
Yes, it has for me.
[ Forrest Nov 14, 2020 ]
A
I have never had a problem with it losing sync but it might depend on how you hook it into the system. I am running off of the headphone output mini jack.
[ JOHN Nov 14, 2020 ]