About the MantelMount MM700
Pull your TV down to eye level
A TV mounted above a fireplace looks great. But having to continually look up to watch that TV can get uncomfortable — fast. And you might not be viewing it at an angle to enjoy the best picture quality. The MantelMount MM700 lets you simply pull down your TV to watch it at eye level, and push it back in place when you're done.
Pull your TV down to eye level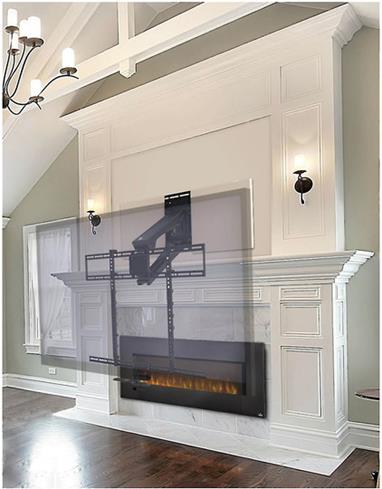 The mount brings lets you bring your TV down over your fireplace mantel for viewing.
A TV mounted above a fireplace looks great. But having to continually look up to watch that TV can get uncomfortable — fast. And you might not be viewing it at an angle to enjoy the best picture quality. The MantelMount MM700 lets you simply pull down your TV to watch it at eye level, and push it back in place when you're done.
This innovative mount positions your TV at eye level, so you can watch in comfort and enjoy all the contrast and detail your TV can produce. When you're done, just lift it up and back to the wall. A sophisticated counterbalance design and powerful hydraulics let just about anyone move the TV easily.
Swivel and tilt
The MM700 can be tilted down as much as 3° to eliminate glare. And once the mount's extended, you can swivel your TV up to 35° each way or up to 60° one way.
Safety features
Vertical stops prevent the mount from extending too far down and damaging your mantel. Side stops keep your TV from swiveling into your mantel and getting damaged.
The hand grip is heat-sensitive and turns red if the temperature is above 110°. If you have your TV in front of your fireplace while a fire's lit, it can warn you when the temperature reaches a dangerous level for your electronics.
Great for home or office
The MM700 includes a built-in bracket for a sound bar. Paintable covers hide the wall assembly, making for a more finished appearance when the mount's pulled down. And this mount isn't just for over-mantel installations. It's also great for a school or business. It keeps the TV up and out of the way, and can easily be pulled down for presentations.
READ LESS
Product highlights:
designed for TVs 45"-90"
supports 30-115 lbs.
holds TV 5" from wall when retracted
maximum drop: 27"
clearance from back wall: 12-3/4"-16-3/4"
automatic straightening and stabilization
counterbalanced with hydraulic pistons for easy pull-down
swivel range: up to 35° both ways and up to 60° one way
tilt: up to 3° downward
vertical and side stop screws to ensure that neither the mount nor TV touches your mantel
built-in sound bar attachment
in-arm wire channel conceals cables without inhibiting movement
heat-sensing pull down handle
paintable covers to hide wall assembly
stud-mounting required
mounting hardware included
37-1/2"W x 26"H x 8-1/4"D
weight: 38 lbs.
warranty: 5 years
MFR # MM700
What's in the box:
MantelMount MM700 owner's manual
Lifting mechanism
TV brace
Horizontal brace
2 Vertical braces
2 Brace extenders
Wall-plate
2 Wall-covers
Center-handle
2 Cable routing boxes
2 Side swivel kit brackets
Four M5 x 12mm bolts
Four M5 x 30mm bolts
Four M5 x 40mm bolts
Four M6 x 16mm bolts
Four M6 x 30mm bolts
Four M6 x 40mm bolts
Four M8 x 15mm bolts
Four M8 x 25mm bolts
Four M8 x 45mm bolts
8 Large hex-bolts
6 Medium hex-bolts
4 Small hex-bolts
4 Set-screws
Four Safety-bolt
4 Lag-bolts
4 Self-tapping screws
2 Side swivel kit bolts
Safety-nut
Eight M6 nuts
2 Side kit swivel kit nuts
Eight M5/M6 washers
Four M8 washers
2 Side swivel kit washers
Four M5/M6 spacers
Sixteen M8 spacers
4 Cable-ties
2 Cable-tie anchors
8 Hook-and-loop strips
Installation Instructions
MantelMount MM700 reviews
Average review:
Customer photos
More details on the MantelMount MM700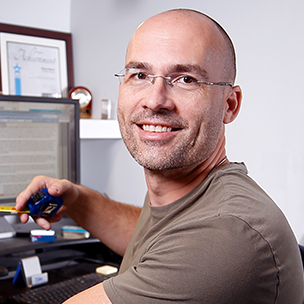 Researched by Crutchfield's

Stacey B.
Product Research
Features
Pull-Down TV Mount: The MM700 pull-down TV mount features MantelMount's patented construction which combines high-quality automotive pistons with heavy-duty 3mm steel construction and state-of-the-art counterbalance technology, allowing virtually anyone to easily pull a large flat screen TV down off the wall, suspend it at eye-level in front of their fireplace, and swivel it left or right. MantelMount is built-in on three main principles -
(1) Smooth, easy, consistent operation.
(2) Safety of the TV and electronics.
(3) Safety of the home and mounting environment.
Note: The MantelMount MM700 is designed for use only with decorative fireplaces that are not the primary heat source for a house. Temperature at the front edge of mantle should never exceed 110° Fahrenheit
TV Compatibility: The MM700 supports 45" to 90" flat-panel TVs that weigh between 30 lbs to 115 lbs. The flat-panel TV must have M5, M6, or M8 threaded wall-mount inserts on the back that measure 200mm-800mm (horizontal) x 100mm-550mm (vertical). Spacers are also provided in case your TV has an irregular back-panel. There are gas spring adjustments that will need to be made to accommodate the specific weight of the TV (refer to installation instructions).
Note: MantelMount's VAL100 LG Non-VESA adapter kit (sold separately) is required for LG Curved OLED TV's with 200mm x 300mm x 120mm mounting hole patterns (such as the 65EG9600, 55EF9500 and 65EF9500).
Exclusive MantelMount Features: The MM700 pull-down TV mount includes exclusive MantelMount features that ensure proper operation & safety of your mounted television.
Horizontal Brace w/ Handle: Today's TVs are getting thinner and more fragile. The Handle on the MantelMount MM700 directs all of the pulling forces directly to the mount instead of pulling on the frame of the TV itself.
Adjustable Stops: Vertical & swivel stops prevent your from hitting your mantel or walls when lowering, swiveling or raising your television. These adjustable stops prevent any part of the mount from hitting the wall or mantel. The bottom travel stop is adjusted with two screws and locknuts, so the TV and mount do not lower all the way into the mantel. The side-to-side swivel stops are also adjusted with two screws and locknuts, so that the TV doe not swivel into the mantel.
Auto-Straightening: The MM700 MantelMount's patented auto-straightening technology to "flatten" the TV as it is raised to the upper position to prevent rotation into the wall. Raising your TV from a swiveled position could easily cause a collision between the TV and wall. However, the MantelMount's Auto-Straightening feature prevents this from happening. Even from a swiveled positions, the MantelMount MM700 automatically straightens the TV when raised so that it never touches your wall.
Auto-Stabilization: MantelMount uses enhanced auto-stabilization with gas springs to ensure that if one spring is stronger that the other over time, it won't effect the mount. The stronger gas piston will automatically take on more of the force from the TV's weight and motion, thus maintaining a level TV over time.
Heat-Sensing Pull-Down Handles: The MantelMount MM700 includes exclusive heat-sensing handles that turn red if the temperature above your fireplace exceeds a safe 110° Fahrenheit - warning you if the heat from a burning fireplace is about to damage your mounted television. If the handles turn red, you should immediately bring the mount and TV to the raised position and turn off your fireplace.
Articulating Range: The MantelMount MM700 extends your TV from the wall and lowers it over your fire place. It also offers downward tilt, left or right swivel, and centering. The MM700 ensures that you always get the perfect viewing angle.
Lowering: The MantelMount lowers your television up to 26". You are able to stop your mounted TV anywhere along the 26" vertical travel path and lock it into place.
Extension: The MM700 mounts 5" from the wall and extends forward up to 16.75" off the wall (half-drop) or 12.75" off the wall (full 26" drop). Your mantel must not extend from the mounting surface more than 12.75"-16.75" (depending on how far of a drop you desire). The MM700 cannot extend past a mantel that is larger than 16.75" (at half-drop) or 12.75" (at full-drop).
Tilt & Center: The MantelMount features an adjustable 3° downward tilt in either the raised or lowered positions, so you get the perfect viewing angle. Your mounted TV can also be slid to the left or right (up to 2") to center the television with your mantel.
Swivel: The MM700 lets you swivel your mounted television 35° left or 35° right. Wider televisions and deeper mantels will reduce the amount of left-or-right swivel. For situations where more swivel to one side is desired, a side swivel kit is provided which allows for up to 60° in one direction (left or right - but not both). The side swivel kit is only designed for smaller TVs and installations where there is no mantel present. The Auto-Straightening features does not work with the side swivel kit installed.
Built-In Soundbar Attachment: Brace extenders allow you to create enough room beneath your TV and above the MM700's handles to easily attach your soundbar speaker directly to the mount's horizontal brace, eliminating the need for any 3rd party sound bar attachment. Your soundbar will need mounting holes on the back that are spaced no wider than 31.5" apart and situated no higher than 2.5" from the bottom of the speaker.
Note: Some soundbars will require the purchase of a proprietary wall-mount bracket to use in conjunction with the MM700 soundbar attachment (additional hardware also required). For example the Sonos Playbar will need the Sonos Wall-Mount Kit (sold separately) and optional hardware (not included).
Paintable Covers & Cable Management: The MantelMount MM700 comes with two paintable covers that hide the wall-mount plate and hardware for a clean, neat, and professional looking installation. It also comes with cable ties and cable tie anchors to help manage your TV's connector cables. In addition, cable routing boxes attach to metal conduit so that cables can be routed behind the wall without touching hot fireplace components and possibly causing a fire. They provide a permanent passageway so cables can be easily fed through the wall as new components are added.
Installation: The MantelMount MM700 comes with mounting hardware for wood stud frame installation (requires two wood studs with 5/8" thick or less wall covering). If you have a brick or concrete wall you will need to purchase wall anchors suitable for your wall type. Wall anchors should be available at your local hardware store. The space above the mantle must be taller than the TV. You will need a little over one inch of clearance above the TV and 3"-8" of clearance between the your mantel and the MM700, depending on the size of your mantel (refer to the installation manual).
Required Tools:

Awl
#2 Phillips screwdriver
Electric drill
11/64" drill bit
Set of Allen wrenches (4-5mm)
Bubble level
Stud finder
6mm open-end/box-end wrench
6mm socket wrench

Optional Tools:

Hack saw
Drywall keyhole saw
1-1/2" Hole saw
Paint brush
Notes:

The MantelMount SSB40 Single Stud Wall Adapter (sold separately) serves as a direct replacement for the included wall-plate when it can't reach existing stud placement or when you want to attach to a single centered stud.
The MantelMount AB40 Adapter Bracket (sold separately) will serve as a pass-through support when mounting to thin brick facades or simulated stone panels made from foam, neither of which are strong enough to support the weight of a the mount.
Q
Crutchfield asked: Why did you buy this?
A
We have a fireplace and are going to install mantel. After reading reviews and watching videos, I made the choice to purchase this one. It will allow the TV to move above the mantel to use it for fires and them go back to the position that it currently resides (in front of the fireplace) when the fire is not in use. It also allows to swing to the dining room
[ Keith Nov 18, 2018 ]
A
I need a TV wall mount that fits over a fireplace mantle. The MantleMount, to my knowledge, is the only one that exists.
[ Theodore Apr 03, 2018 ]