About the Kicker 46CXA1200.1
High-level bass power
Do you like your bass loud? Kicker's CXA1200.1 mono subwoofer amplifier can put out up to 1,200 watts RMS, so your sub will really push some air. The quality of the bass tone matters as much as the volume, so a variable low-pass filter helps get maximum performance from your sub/enclosure combination, and a fixed subsonic filter removes the extreme low resonances that cause distortion. A variable bass boost allows you to add some extra low-end punch if you want. An optional
wired remote
lets you conveniently adjust the bass level from your front seat.
High-level bass power
Do you like your bass loud? Kicker's CXA1200.1 mono subwoofer amplifier can put out up to 1,200 watts RMS, so your sub will really push some air. The quality of the bass tone matters as much as the volume, so a variable low-pass filter helps get maximum performance from your sub/enclosure combination, and a fixed subsonic filter removes the extreme low resonances that cause distortion. A variable bass boost allows you to add some extra low-end punch if you want. An optional wired remote lets you conveniently adjust the bass level from your front seat.
Hooks in almost anywhere in almost any position
This amplifier works with 1-ohm loads, so you won't have to worry too much about matching impedances when you add a second or third sub to your system. Kicker's Fail-Safe Integration Technology (FIT™) keeps this amp's input free from noise or interference, so you can tap into your vehicle's speaker wiring for an input signal without a worry. A 3-second turn-on/turn-off delay eliminates system pops and other noises. The CXA1200.1 comes with hardware that lets you mount it vertically, so you can put it in a location that takes up very little floor space and looks cool too.
Note: This amplifier can draw large amounts of current (up to as much as 100 amps), so you may have to upgrade the electrical system in your vehicle in order to effectively power the amp.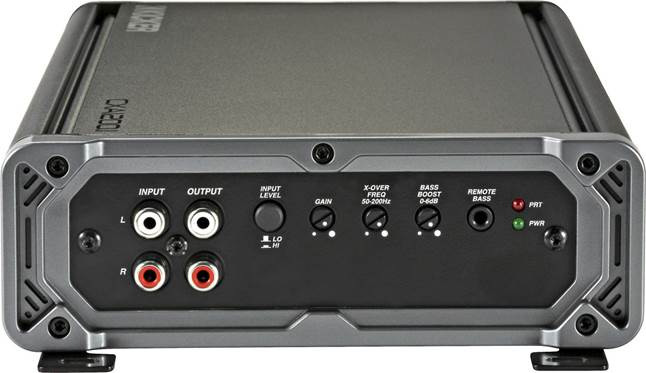 CXA1200.1 input and control panel
READ LESS
Product highlights:
mono subwoofer amplifier

600 watts RMS x 1 at 4 ohms (1200 watts RMS x 1 at 2 ohms)
1200 watts RMS +/-10% x 1 at 1 ohm

CTA-2006 compliant
Class D amp technology
frequency response: 25-200 Hz
variable low-pass filter (50-200 Hz, 12 dB/octave)
fixed subsonic filter (25 Hz, 24 dB/octave)
variable bass boost (0-6 dB at 40 Hz)
Other Features:
preamp inputs and outputs
speaker-level inputs (speaker wire to RCA adapters required)
optional remote bass level controller available
3-second delay for turn-on and turn-off
includes hardware for vertical mounting
wiring, fuse, and hardware not included with amplifier

4-gauge power and ground leads and a 150-amp fuse recommended

dimensions: 12-5/8"W x 2-3/8"H x 6-3/4"D
warranty: 2 years (extends to 3 years when purchased with a Kicker 4-gauge wiring kit)
MFR # 46CXA12001
What's in the box:
Kicker 46CXA1200.1 owner's manual
Mono amplifier
2 Vertical mounting brackets
3mm Allen wrench
Four 3/4" Screws
Owner's manual
Power chart
Certified Power certificate
Kicker 46CXA1200.1 reviews
Average review:
Customer photos
More details on the Kicker 46CXA1200.1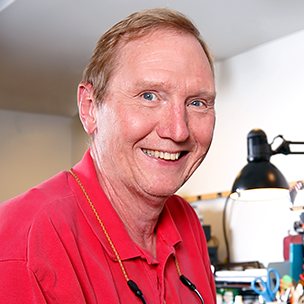 Researched by Crutchfield's

Mark G.
Features & specs
The Kicker 46CXA1200.1 replaces these items:
Product Research
Features
CEA-2006 Compliant: CEA-2006 is a system of testing and measurement for mobile audio amplifiers. This voluntary standard advocates a uniform method for measuring an amplifier's RMS power output. The criteria for measuring amplifier power uses a DC input voltage of 14.4 volts and the RMS power output is measured over a frequency range of 20 Hz to 20 kHz (for full range amplifiers), with 1% or less Total Harmonic Distortion plus noise (THD+N). Signal-to-Noise ratio is measured in weighted absolute decibels (dBA) at a reference of 1 watt into 4 ohms. CEA-2006 standards allow consumers to compare car amplifiers and receivers under the same conditions (apples to apples).
CEA-2006 Specifications:
Power Output: 600 watts RMS x 1 into 4Ω
Signal to Noise Ratio: 70 dBA (measured at 1 watt into 4Ω)
Other Specifications:
Power Output:

2Ω: 1200 watts RMS x 1 (14.4 volts, ≤1.0% THD+N)
1Ω: 1200 watts RMS x 1 (14.4 volts, ≤1.0% THD+N)

Signal to Noise Ratio: 95 dB (at rated power output)
Controls:
Input Level: 2-position switch; select high (speaker-level) or low (line-level)
Input Gain Control: rotary input Gain control; continuously variable from 250mV to 10V with the input level switch set to low; 1V to 40V with the input level switch set to high
Crossover Frequency: continuously variable rotary dial; set the low pass crossover point between 50Hz and 200Hz; the crossover slope is 12 dB/octave
KickEQ Bass Boost: increase the bass level between 0dB and +6dB via the rotary control; centered at 40Hz
Subsonic Filter: The amplifier features a non-defeatable 25Hz Subsonic Filter with a 24dB/octave slope. The Subsonic Filter rolls off extremely low frequencies that can't be cleanly reproduced by the amplifier and subwoofers. This reduces distortion and helps the amp run more efficiently.
Mounting: The efficient Class-D Kicker CX Series amplifiers can be mounted vertically, if desired, with the included mounting brackets. When mounted vertically, the dimensions are:
Height: 6⅞"
Length: 12⅝"
Width: 2⅜"
Auto Turn-on: The amplifier has two methods of turning on: +12V and DC Offset. The preferred method is to run an 18-gauge wire from the remote turn-on lead of the source unit to the Remote (REM) terminal on the amp. When a +12V signal is detected on the wire, the amplifier will turn on. If your source unit lacks a remote turn-on lead (a factory head unit, for example), you can choose to turn on the amplifier via the DC Offset method. When a DC offset is detected (>2.5 volts) on the speaker-level inputs, the amplifier automatically turns on.
Wire Connections: The CXA1200.1 has set screw terminals for power, ground, and turn-on (REM). The power and ground terminals will accept up to 4-gauge wire (recommended), and the turn-on lead will accept up to 8-gauge (18-gauge recommended). The set screws are loosened/tightened with the supplied 3mm Allen wrench. The speaker outputs are slotted, screw-down terminals, which will accommodate bare wire or spade connectors. The speaker slots are 0.335" wide.
External Fuse: The amplifier does not include a built-in fuse, therefore an external fuse should be placed on the power wire, within 18" of the battery. It is recommended that a 4-gauge amplifier wiring kit and a 100-amp external fuse be used when installing the amplifier.
Input Signal: The CXA1200.1 accepts either high (speaker-level) or low (line-level) input signals on the RCA inputs, selectable using the input level switch on the end of the amp. When using a speaker-level input signal, add the optional Kicker KiSL speaker-level to RCA adapter. The input sensitivity is 250mV-10V (low) or 1V-40V (high).
Preamp Output: Using either a speaker-level or line-level input feeds the stereo RCA output, which passes the audio signal to another amplifier or component. This allows you to daisy-chain another amplifier without having to run RCA cables from the head unit to the second amp.
Optional Wired Remote: The optional CXARC remote bass level control can be added to remotely control the output level of the amplifier. The CXARC's control knob can be mounted near the driver's seat, and the control's cable extended to the amplifier location.
Certified Power: Each amplifier is tested when it comes off of the assembly line. Tests are run for Total Harmonic Distortion, Signal-to-Noise Ratio, Protection Circuit, and Total Power Output. A Certified Power certificate with model and serial number is included with each amp with the measured power output figure, and a pass/fail grade for the other tests.
The Kicker 46CXA1200.1 replaces these items

Adding...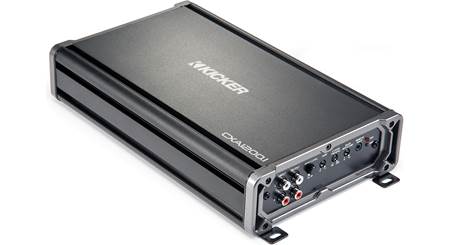 CX Series mono subwoofer amplifier — 1200 watts RMS x 1 at 2 ohms
600 watts RMS x 1 at 4 ohms
includes hardware for vertical mounting
preamp and speaker-level inputs