Q me up another set, C-field!
Sage from Galveston, TX on 1/29/2019
2014 Ford F-150 XL
After nickel and diming together my first system in one of my vehicles ever (unsure of how into car audio I would get), I was regretful that I didn't pony up on higher quality items, because, as my wife would say, "You're obsessed with that stuff now. Ugh." So I've circled back a couple of times at this point, attempting to upgrade everything semi-frugally, but figuring out which set to use as my fronts had been a challenge. At least I've got a lot of spare items for emergency repair/replacement, right? Anyway, like I was saying, I've purchased several component sets at this point, and these Kicker Q-Class are phenomenal. If the Q in Q-Class doesn't stand for Quality, well, it should. Hilarious, right? You're welcome for that. I'm powering them with a JL Audio Nex RD 400/4, which seems to be almost a perfect match, but I'm sure they'd be even more impressive with more power. I'm forever tinkering with my system, replacing or adding things here and there, running new wiring, etc. but I can definitely say this: This Kicker Q-class set has not been touched since I initially installed them several months ago. This Kicker set has effectively made my commute to work 20% less miserable. Worth every penny in my estimation. I highly recommend them, and would also love it if more people had a set to call their own, as reviews were scarce when I bought them. Just buy them, you dorks. Ok? Ok.
Pros: -Sleek design and packaging -Versatile set up, allowing tweeter mounting directly in center of woofer -Soundz real gud
Cons: -I can't afford another set at the moment. -Unedible (as far as I can tell)
18 of 22 found this helpful
Great Components, but measurements are misleading
Chris from Georgetown, TX on 11/15/2018
2011 Dodge Challenger
Would have givin 5 stars but a 6.5 inch component set these are not. These are the reboots of the older QS 60.2 components. These (in measurement) are a 6 inch driver. I've been installing professionally for over 26 years, and have been around Kicker products most of my career and knew something wasn't right when I opened the box. Check the performance specs in the 2 following photos. So if you are looking for replacements for your older QS65.2 you'll need to purchase the newer QSS 6.75" drivers. As far as how these sound, with the right power and a clean signal, these things are absolutely breathtaking.
Pros: Great sound, and outstanding build quality. I'd recommend these all day long.
Cons: Not true to size as far as being sold as a 6.5" component set, but are actually the same as the older QS 60.2 6" components.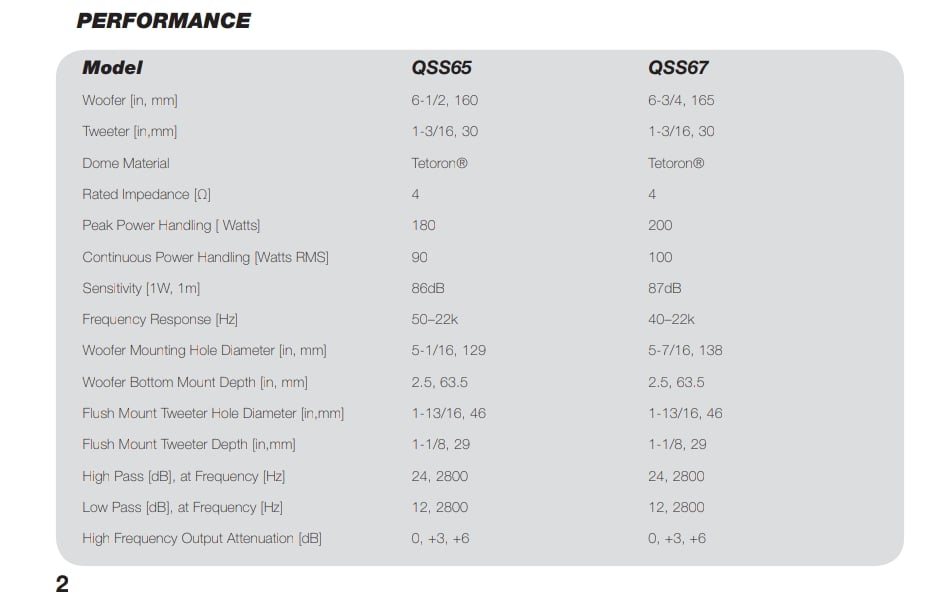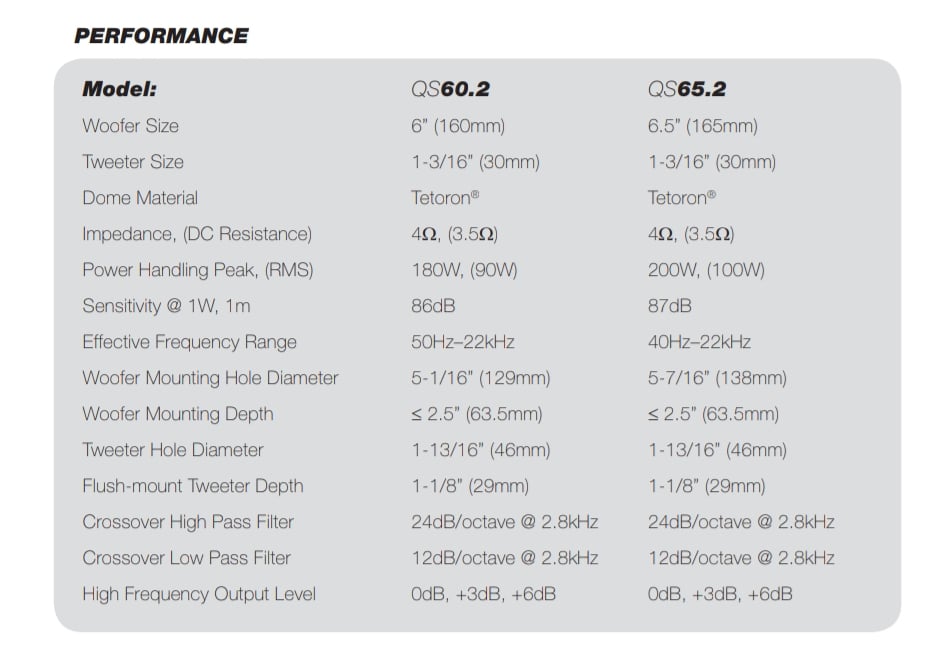 21 of 23 found this helpful