About the Wharfedale D330
Big sound from a slender tower
If space were no issue in my home, I'd have floor-standing speakers that stretch to the sky. But since my 1920s bungalow isn't as palatial as I might like, smaller, more practically sized speakers are in order. Cue the Wharfedale D330. This slender tower is ideal for any stereo or home theater system where you want great full-range sound, but are limited in space.
Big sound from a slender tower
If space were no issue in my home, I'd have floor-standing speakers that stretch to the sky. But since my 1920s bungalow isn't as palatial as I might like, smaller, more practically sized speakers are in order. Cue the Wharfedale D330. This slender tower is ideal for any stereo or home theater system where you want great full-range sound, but are limited in space.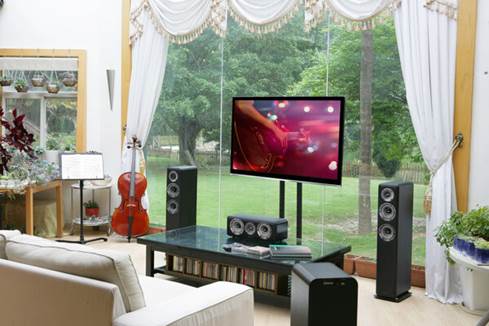 Use a pair of the D330s as part of a Wharfedale home theater system.
High-performance drivers for music and movies
The D330 uses high-quality materials to deliver the natural, revealing, and ultra-smooth sound that Wharfedale is known for.
5" woven Kevlar® midrange and bass cones complement a 1" soft dome tweeter that together sound wonderful with music and movie soundtracks alike.
What's a "2-1/2-way" speaker, anyway?
The D330 is considered a full-range "2-1/2-way" speaker instead of a traditional two-way model because its 5" woofers don't cover the same frequency range.
The topmost 5" cone handles the upper midrange, and because it's physically closest to the tweeter, you get a seamless blend of mid- and high-frequency sounds.
The other 5" cone covers the lower midrange and bass frequencies — all the way down to 40 Hz.
Bi-amp or bi-wire for even better sound
On the back of the D330 you'll find two sets of speaker input terminals. These let you bi-amp or bi-wire your speaker to get the best sound out of it.
READ LESS
Product highlights:
2-1/2 way design
1" soft dome tweeter
5" woven Kevlar midrange driver
5" woven Kevlar bass driver
frequency response: 40-20,000 Hz (±3dB)
recommended amplifier power: 25-120 watts
sensitivity: 88 dB
nominal impedance: 4 ohms
bass reflex design with downward-firing port
binding posts accept pins, banana connectors, or bare wire
two sets of input terminals allow bi-amping or bi-wiring
removable magnetic grilles
7-7/8"W x 38"H x 13-5/16"D
weight: 40.2 lbs.
warranty: 5 years
MFR # WHD330BLK
What's in the box:
Wharfedale D330 owner's manual
Floorstanding loudspeaker
Tweeter grille (pre-installed)
2 Woofer grilles (pre-installed)
4 Spiked feet (pre-installed)
2 Jumper-straps (pre-installed)
User's Manual
Installation Guide
Wharfedale D330 reviews
Average review:
Customer photos
More details on the Wharfedale D330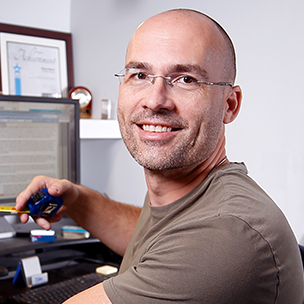 Researched by Crutchfield's

Stacey B.
Product Research
Features
1" WFR Tweeter: Wharfedale's WFR (Wide Frequency Response) tweeter incorporates its own "cabinet - a precisely shaped rear chamber damped with a fiber filling. An over-sized ceramic magnet, selected to give a smoother transition from midrange to high frequencies, is attached to a pole piece with copper cap for flux control. The pole piece is vented through to the rear chamber to achieve a low resonant frequency, ensuring excellent linearity and allowing the textile dome, sited within a dished waveguide, to contribute to a wonderfully lucid midrange as well as smooth, pure and richly defined high-frequency detail.
Dual 5" Woven Kevlar Cone Woofers: For the bass/midrange drivers, the latest generation of Wharfedale's long-established woven Kevlar cone is bonded to a super-lightweight surround made of high-tech foamed polyether, delivering remarkable clarity, texture and musical expression. The woofer cone is driven by a super-long-throw voice coil motor system, enabling low-frequency linearity and accuracy. The use of a specially shaped one-piece pole plate fitted with a copper cap reduces inductance and controls the magnetic flux, ensuring low distortion through the critical midrange area. Oversized ceramic magnets (a technology pioneered by Wharfedale in the 1960s) ensure high sensitivity, smooth response, and absolute control of cone movement over lower bass frequencies. The driver assembly is mounted in a specially designed basket with a network of ribs to increase rigidity, thus improving transient impact.
Fine-Tuned Crossover Components: The output of the tweeter and woofers are carefully combined by a thoroughly researched crossover developed using Wharfedale's Advanced Software and Listening Iteration system. Each crossover is carefully evaluated using a wide range of music, with the emphasis being on the lifelike reproduction of voices and instruments in addition to the dynamics of the musical performance. Crossover components feature low-loss polypropylene capacitors and laminated core inductors for optimum transfer of the music signal.
Acoustically Profiled Cabinet: The acoustically profiled speaker cabinet features a 28mm-thick front baffle profiled at the edges to reduce diffraction edge reflections at mid to high frequencies. Critical bracing of the cabinet panels contributes to the eradication of audible resonance and, combined with the rounded cabinet edges, yields a rigid base on which to mount the tweeter and woofer. In addition, the cabinet walls are lined with a specially developed internal fiber, chosen for its outstanding absorbent qualities across a wide bandwidth. The result is that the listener hears the speaker's output unsullied by unwanted colorations caused by panel vibration or internal resonances, revealing more of the detail of the musical performance.
P-EQ Bass Reflex Port: The D300 Series' P-EQ (Pressure Equalization) port system is critical to the speakers' deep and controlled bass performance. Low bass frequencies emitted from the rear surface of the bass driver travel through a downward-firing port in the base of the speaker, with precisely curved openings to smooth airflow. These frequencies exit into the room omni-directionally through a gap between the cabinet and the integrated plinth (base). This reduces the pressure differential between the high pressure in the port and the low pressure in the room, thus eradicating the turbulence and audible "chuffing" suffered by conventional ported systems. The result is a natural recreation of the fundamental notes of bass instruments, matching the realistic sound of the midrange and treble characteristics. It also allows you to position D300 Series speakers closer to a rear wall than would be possible with conventional rear-ported speakers, helping to make them less obtrusive in a room setting.
Triple Grilles: The floorstanding loudspeaker features a separate cloth grille for the tweeter and woofers. The speaker can be used with or without the grilles installed.
Dual Binding Posts: The floorstanding loudspeaker has two sets of binding posts connected by jumper-plates. The binding posts will accept bare wire (up to 10AWG), pin connectors, spade connectors, & banana plugs (single only). Using these dual binding posts, you can bi-amp or bi-wire the speakers. Bi-wiring or bi-amping the speaker provides improved bass & treble performance.
Bi-Wiring: Bi-wiring can provide noticeable improvements in the overall transparency of your loudspeakers. Run separate speaker wires to the low & high frequency drivers from a single amplifier (the upper set of binding posts are for the high frequency drivers; the lower set of binding posts are for the low frequency drivers).
Bi-Amping: Bi-amping allows you to use separate amplifiers for the high & low frequency sections of your loudspeaker for greater dynamic range & lower distortion. We recommend that your separate amplifiers have identical gain to preserve the speaker's voicing balance.
Note: If you decide to bi-wire or bi-amp, you must remove the jumpers between the terminal posts (failure to do this could result in damage to your amplifier and loudspeakers).
Spike Feet: The Warfedale D300 Series floorstanding loudspeaker comes with four pre-installed spike for carpeted flooring. These spike feet can cause damage to hardwood, tile, vinyl, and laminate flooring. If you will be using this speaker on a hard floor surface, make sure to place protective discs (not included) under the spike feet to prevent damage to your floor.
Note: The Wharfedale floorstanding loudspeaker should always be used with the spike feet installed for optimum sound performance and maximum stability. Make sure to use some sort of protective discs (not included) under the spike feet to protect your hardwood, tile, and laminate, and vinyl floors.
Applications: The Wharfedale D300 Series floorstanding loudspeaker is an excellent choice for 2ch stereo music and multichannel home theater applications.
2Ch Stereo Placement: The D300 Series can be utilized in a 2ch stereo music application. Try to position the loudspeakers equidistant (6.5' to 13') from one another and the main listening position. The speakers should ideally be positioned so that the tweeters are roughly at ear level to a seated listener. The speakers should be "toed" or angled (15° to 40°) into the main listening position.
Home Theater Placement: The D300 Series can be used as front and/or surround speakers in a home theater application. When used as front speakers, they should be placed equal distant on either side of the television screen (6.5' to 13' apart) and positioned at ear level. The front speakers should be angled (15° to 40°) slightly so they are aimed towards the main listening position. When used as surround speakers, they should be placed behind or to the side of the main listening position.
D300 Series: Despite the speakers' compact size, the Wharfedale D300 Series produce a substantial and engaging soundstage with expressive midrange definition, high-frequency detail, and controlled bass. The D300 Series line-up consists of one floorstanding loudspeaker (D330), two bookshelf loudspeakers (D310 / D320), and a center-channel loudspeaker (D300C).