About the Rockford Fosgate PM300X2
A versatile amp for variable conditions
Rockford Fosgate designed their PM300X2 2-channel amplifier for marine, motorcycle and powersport applications. This rugged, versatile amp can drive a pair of coaxial speakers, a set of component speakers, or a subwoofer.
A versatile amp for variable conditions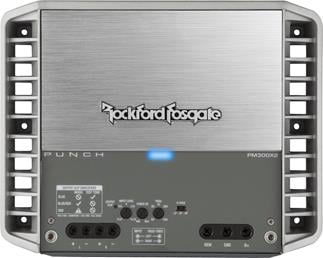 Removing the water-resistant cover reveals the PM300X2's top-mount controls.
Rockford Fosgate designed their PM300X2 2-channel amplifier for marine, motorcycle and powersport applications. This rugged, versatile amp can drive a pair of coaxial speakers, a set of component speakers, or a subwoofer.
Built tough for outdoor adventures
Using a Class AB design, the PM300X2 delivers outstanding performance from a compact package. It's built to stand up to outdoor life, too, with conformal-coated circuitry that withstands moisture and dirt and stainless steel hardware that won't succumb to corrosion. Rockford also uses the innovative Maximum Efficiency Heat Sink Application (MEHSA3) construction process, which yields up to five times better heat transfer than traditional mounting techniques. As a result, this amp will rock out without overheating, even when tucked into a compact space.
Level setting made easy
The PM300X2 uses Rockford Fosgate's CLEAN level setting technology, so there's no more guesswork while setting your gain levels. Easy-to-see LED indicators identify clipping so you can set your amp up for maximum performance while eliminating distortion.
READ LESS
Product highlights:
marine/powersports 2-channel amplifier
100 watts RMS x 2 at 4 ohms
150 watts RMS x 2 at 2 ohms
300 watts RMS x 1 at 4 ohms (bridged)
Class AB amp technology
conformal-coated circuit board — suitable for powersports and marine applications
built-in Punch EQ with +18dB boost @ 45Hz
C.L.E.A.N. set-up technology with LED input/output indicators
hidden top-mount control panel
marine-grade stainless steel hardware
speaker-level inputs (speaker wire to RCA adapter required)
variable low-pass and high-pass filters
fuse rating: 50A x 1 (fuse not included)
frequency response: 20-20,000 Hz
dimensions: 9-15/16"W x 2-7/16"H x 8-13/16"D
warranty: 1 year
MFR # PM300X2
Rockford Fosgate PM300X2 reviews
Average review:
Customer photos
More details on the Rockford Fosgate PM300X2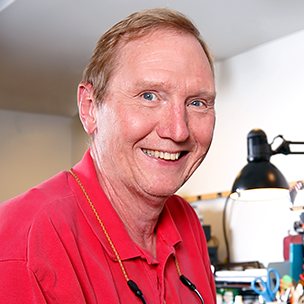 Researched by Crutchfield's

Mark G.
Product Research
Features
CEA-2006 Compliant: CEA-2006 is a system of testing and measurement methods for mobile audio amplifiers. This voluntary standard advocates a uniform method for determining an amplifier's RMS power output and signal-to-noise ratio. The criteria for measuring power uses a DC input voltage of 14.4 volts and the RMS power output is measured into a 4Ω load with 1% or less Total Harmonic Distortion plus noise (THD+N). CEA-2006 allows consumers to compare amplifiers and receivers under identical conditions. The CEA-2006-rated RMS power output is 100 watts RMS x 2 channels. Additionally the power output into 2Ω is 150 watts RMS x 2 channels and the bridged output is 300 watts RMS x 1 channels (into 4Ω).
Cast Aluminum Heatsink: The cast aluminum heatsink dissipates heat generated by the amplifier's circuitry. Casting improves cooling efficiency approximately 30% over conventional extruded heatsink designs.
Dynamic Thermal Management (DTM): DTM evenly distributes excess heat across the amplifier's entire heatsink.
MEHSA³ (Maximum Efficiency Heat Sink Application-3rd Generation): MEHSA is a Rockford Fosgate proprietary process that increases the heat transfer from the MOSFET devices to the heatsink. The multi-layer insulated metal MEHSA substrate operates with minimal thermal resistance, spreading heat both downward and outward to quickly dissipate heat from each device across the heatsink. This allows greater power output, enhanced thermal stability, and maximum reliability.
Trans-ANA (TRANSconductance Active Nodal Amplifier): Trans-ANA is a circuit that allows the audio signal to pass through the amplifier at low voltage. The signal is directly level-shifted to the fixed high voltage rails via a pair of drive transistors. Signal linearity is assured by an active node formed by the drive transistors at ultrasonic frequencies. The result is crystal clear sound quality.
NOMAD (NOn-Multiplying Advanced Decision): NOMAD is an intelligent protection circuit that uses an analog computer to make real time decisions regarding temperature, voltage, current and impedance. The amplifier is protected without limiting sound output unless needed.
DSM (Discrete Surface Mount): High speed robotics are used in the manufacturing process to place 1% tolerance parts and large board traces. DSM improves the efficiency of the circuit, decreases cross-talk from other discrete components and lowers operating temperature.
CLEAN Set-Up: Rockford's integrated level setting technology, CLEAN (Calibrated Level Eliminates Audible Noise), replaces sophisticated test equipment with input/output clip LEDs, allowing you to match the source unit's output to the amp's gain, and optimize the amp's output. The input clip indicator works in conjunction with the audio source volume, illuminating red when the source reaches it's clipping point. The output clip indicator works in conjunction with the input level dial on the amp, illuminating the appropriate color depending on the audio content used for the setup.
Balanced Differential Inputs: Differential inputs eliminate noise picked up by signal cables by measuring the voltage of both the (+) and (-) input signal, then subtracting the voltage common to both conductors (noise), resulting in only the clean signal entering the amplifier.
Controls
Input Level: To accommodate the varying range of signal levels from today's factory and aftermarket radios, the input level is adjustable from 150mV to 12V.
Crossover: The amplifier's internal crossover slope is 12 dB/octave and it can be set to high-pass, all-pass (full range), or low-pass operation. The crossover point is variable from 50 Hz to 250 Hz.
Punch EQ: The function of the Punch EQ circuit changes with the crossover switch. When the crossover is set to low-pass, the Punch EQ acts as a variable bass boost; 0-18 dB at 45 Hz. When the crossover is set to high-pass, the Punch EQ acts as a variable treble boost, 0-14 dB at 12.5 kHz. When the crossover is set to all-pass, both the bass and treble boost circuits are active.
Connections
Power Connections: The power and ground terminals are captive c-clamp wire connectors and will accommodate up to 4-gauge wire. An external 50-amp fuse (not included) must be installed on the power wire. The remote turn-on terminal will accept up to 14-gauge wire. A Phillips head screwdriver (not supplied) is required to tighten/loosen the terminals.
Fuse: The amplifier does not have an on-board fuse. A 50 amp fuse should be placed on the power wire within 18" of the battery.
Speaker Connections: The speaker output terminals are also captive c-clamps and will accept up to 8-gauge wire. A Phillips head screwdriver (not supplied) is required to tighten/loosen the terminals.
Signal Input: The RCA inputs will accept either a line-level or speaker-level input. A speaker-level signal can be connected using a Speaker Wire to RCA adapter (sold separately). When using a speaker-level input signal, the auto turn-on feature is active and the remote turn-on terminal becomes a 12 volt output to turn on/off an additional amplifier or other component.
Line Level Output: The amplifier has a pair of RCA line level pass-thru outputs to feed another amplifier. The pass-thru output is passive (the same signal present at the amp's input) and the amp's crossover has no effect on the signal.
Punch Level Control (PLC): An RJ-45 jack is provided for connecting an optional wired remote PLC2 (item number 575PLC2, sold separately), allowing remote control of the output level of the amplifier. A second RJ-45 jack is the PLC output, used to daisy-chain additional amplifiers controlled by a single remote.
Note: Previous model PEQ, Punch Bass, and Para-Punch remotes will not work with this amp.