About the Rockford Fosgate X317-STG3
Upgrade the sound on your Maverick X3
Rockford Fosgate's Stage 3 audio upgrade kit brings great sound and cool RGB LED lights to your Can-Am Maverick X3. With a digital media receiver, a pair of speakers, a 4-channel amp, and a 10" subwoofer, this Color Optix™ system really rocks. Each component is tough enough for trail duty, so whether you're racing up a sand dune or blasting through a mud pit, you won't have to worry about your audio gear getting swamped.
Upgrade the sound on your Maverick X3
Rockford Fosgate's Stage 3 audio upgrade kit brings great sound and cool RGB LED lights to your Can-Am Maverick X3. With a digital media receiver, a pair of speakers, a 4-channel amp, and a 10" subwoofer, this Color Optix™ system really rocks. Each component is tough enough for trail duty, so whether you're racing up a sand dune or blasting through a mud pit, you won't have to worry about your audio gear getting swamped.
Rockford Fosgate designed this Element Ready™ kit to fit right into your Maverick X3, with no cutting and no modification needed. It also comes with all the parts and pieces needed for a smooth, hassle-free installation.
A versatile, rugged receiver
Rockford Fosgate's PMX-2 digital media receiver gives you a nifty array of entertainment options in a compact, water-resistant package. You can stream music with built-in Bluetooth connectivity, check weather and news on the AM/FM/WB radio, or connect a music player or thumb drive to the USB input. This receiver works with Apple® or Android™ smartphones to let you enjoy downloaded music or stream your favorite Pandora playlists. You can easily see what's playing on the 2.7" color display.
Cool Color Optix™ speakers
The custom-designed front speaker enclosures are loaded with Rockford Fosgate M1-65B 6-1/2" speakers. These Color Optix™ RGB LED speakers are designed for off-road and marine use, but they're also made to sound great in any environment. The treated poly cone withstands moisture and sunlight, as does the 1" dome tweeter in the grille. They're really easy to install, too, thanks to the direct-fit speaker enclosures. Made from a fiber-reinforced composite blend, they bolt right in using the factory mounting holes. No drilling needed!
Big bass from a 10" sub
The marine-rated M1D2-10IB 10" sub fits into your Maverick X3 with help from a direct-fit mounting kit that uses the factory glove box space to create a seamless, custom-looking installation. The bolt-on vented enclosure is made from a durable composite material that blends right into your RZR's interior.
Control your colors
The Color Optix™ speakers and sub bring cool, colorful lighting to your off-road adventures. You can control the lights and chose your own color patterns using the Color Optix™ Controller (sold separately) along with the free RF Connect app.
A 4-channel amp with plenty of power
A system like this requires serious juice, and the 4-channel M5-800X4 amplifier has all you need for the speakers and sub. The kit includes mounting plates and an 8-gauge amp wiring kit.
Bluetooth note: Use of this receiver's Bluetooth features will depend upon your phone's Bluetooth capabilities. Learn more in our article explaining Bluetooth profiles.
READ LESS
Product highlights:
sound system includes a digital media receiver, 6-1/2" speakers, a 4-channel amp, and a 10" subwoofer
also includes front and rear speaker pods, sub enclosure, wiring, amp kit and mounting plate
Rockford Fosgate PMX-2
marine digital media receiver with AM/FM/WB tuner (does not play CDs)
built-in amplifier (25 watts RMS/50 peak x 4 channels)
works with Apple and Android smartphones
USB port and aux input
built-in Bluetooth for music streaming (will not make calls)
warranty: 2 years
Rockford Fosgate M1-65B 6-1/2" 2-way front speakers
Color Optix-compatible
marine-rated speakers pre-loaded in custom-fit enclosures
power handling up to 75 watts RMS (150 watts peak)
salt-, fog-, and UV-resistant Santoprene rubber surround
integrated 1" dome tweeter
warranty: 2 years
Rockford Fosgate M1D2-10B 10" marine subwoofer w/ enclosure
power handling: 300 watts RMS (1200 watts peak)
rugged, UV-stable injection-molded plastic construction
dual 2-ohm voice coils
durable Santoprene rubber surround
warranty: 1 year
Rockford Fosgate M5-800X4 4-channel amp
100 watts RMS x 4 at 2 or 4 ohms (400 watts peak)
200 watts RMS x 2 at 4 ohms in bridged mode
variable low- and high-pass filters (50-250 Hz at 12 dB/octave)
front and rear tone controls (45 Hz, 12,500 Hz)
warranty: 2 years
MFR # X317-STG3
What's in the box:
This Rockford Fosgate package contains 8 individually boxed items:
PMX-2 Digital Media Receiver:
Marine digital media receiver
Trim-ring
Mounting plate
Mounting bracket
Wiring harness
Backstrap
4 Machine screws
4 Hex-nuts
Installation/Operation booklet
M1-65B 6.5" Speakers:
Two 2-way marine speakers
Two 11" LED power harnesses with 4-pin Deutsch connectors on one end
Twelve 1-1/4" Stainless steel Allen head screws
Two 3mm Allen head bits
3.5mm Drill bit
Instruction manual (English/ French/ Spanish/ German/ Italian)
Rockford Fosgate contact information
M5-800X4 Amplifier:
4-Channel powersports amplifier
11" Power/ground/turn-on & speaker output harness (installed on amp)
11" Input harness (installed on amp)
Two 14" RCA-to-Molex input adapters
Power/ground/turn-on adapter plug
Two 7.5" speaker output harnesses
3mm Allen key
Owner's manual
Performance certificate
Contact information
X317-M1FWE 10" Subwoofer:
Custom enclosure loaded with one M1D2-10B 10" subwoofer
2 Mounting brackets
9.5' 2-Wire harness
Fourteen 8" wire ties
Four 6.5" wire ties w/push-fasteners
Six 12mm hex-socket screws
Contact information
PMX-RGB Light Controller:
PMX-RGB LED Controller w/ attached 17" LED cables and 17" power/ground harness (inline 2A ATC fuse)
6" Power/ground harness adapter
Two 3/4" machine-screws
2 Nuts
2 Lock-washers
Installation manual
X317-DK Dash Kit:
Radio housing
Trim ring
Rear support plate
35" Speaker harness
6' Wire antenna (Motorola plug on one end / bare-ended wire on other end)
Two 24mm screws
Eight 1/2" screws
Twelve 8" wire-ties
Contact information card
X317-FSE Speaker Enclosures:
2 Unloaded speaker enclosures
35" Left front speaker harness
52" Right front speaker harness
Five 8" wire ties
One 30mm bolt
1 Flat washer
1 Nut
2 Warning decals
Contact information
RFX3-K8 Amplifier Wiring Kit:
11' 8 AWG Wiring harness (inline 60A maxi-fuse) w/attached 4' RCA/speaker harness
Mounting plate
2 Brackets
Fourteen 8" Wire ties
Four 6.5" wire ties w/push-fasteners
Four 10mm screws
2 Hex nuts
1 Flange nut
Installation instructions
We don't have any reviews, yet.
Be the first to review this product
Customer photos
More details on the Rockford Fosgate X317-STG3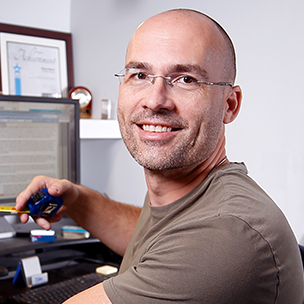 Researched by Crutchfield's

Stacey B.
Product Research
Compatibility
Media Receiver & Dash Kit
M1-65B Front Speakers & Enclosures
Amplifier & Amp Wiring Kit
Subwoofer
Color Optix LED Controller
Vehicle Compatibility: The Rockford Fosgate X317-STG3 can be used with the following Can-Am Maverick vehicles:
Make
Model
Year
Can-Am
Maverick X3 Turbo
2017-2021
Maverick X3 Turbo R
2017-2021
Maverick X3 DS Turbo
2018-2021
Maverick X3 DS Turbo R
2018-2021
Maverick X3 X DS Turbo
2017-2020
Maverick X3 X DS Turbo RR
2018-2021
Maverick X3 RS Turbo R
2017-2021
Maverick X3 X RS Turbo
2017-2020
Maverick X3 X RS Turbo RR
2017-2021
Maverick X3 X MR Turbo²
2018-2021
Maverick X3 MR Turbo RR²
2018-2021
Maverick X3 X RC Turbo
2018-2021
Maverick X3 X RC Turbo RR¹
2018-2021
Maverick X3 MAX Turbo
2017-2020
Maverick X3 MAX Turbo R
2017-2020
Maverick X3 MAX DS Turbo
2018-2021
Maverick X3 MAX DS Turbo R
2017-2021
Maverick X3 MAX DS Turbo RR
2018-2021
Maverick X3 MAX RS Turbo R
2017-2021
Maverick X3 MAX X RS Turbo RR
2018-2021
Maverick X3 MAX X MR Turbo RR²
2018-2021
¹Front speakers require removal and reinstallation of Intrusion Bar.
²Snorkel obstruction (if applicable) prevents rear speakers from being mounted inside the roll-cage. If mounting on the outside, use caution as the speakers can be damaged by trees and other trail obstacles.
Marine Certified: Rockford Fosgate's PMX series of source units are fully tested against UV radiation degradation as well as tested to IPX water intrusion standards. They are also fully tested for ever changing environmental conditions such as temperature extremes, as well as vibration testing to make sure they can take a bump and keep performing. The PMX-2 is protected against Dust, UV, Temperature, Water, Corrosion & Vibration.
Dust: The unit's display and motor structure are sealed up tight so they look as clear as possible and perform day in and day out no matter how many times you hit the trails.
UV Inhibitor Materials: Centrex and ASA plastic materials are used for UV radiation resistance and components are tested in accordance with ASTM D4329 testing and certification procedures.
Thermal Shock Tested: Tested for extreme temperature operation as well as severe fluctuations in ambient temperature. Components are taken to both low and high temperature extremes and then tested to ensure operational capabilities.
Water Tested: IPX5 and IPX6 Ratings allow for the components to be directly sprayed with water without water incursion.
Corrosion Protection: Two part epoxy coated PCB boards prevent corrosion of critical components due to exposure in moisture rich environments.
Vibration: Subjected to full vibration and shock testing to ensure that it will take abuse and keep performing to our stringent standards.
Applications: The PMX-2 digital media receiver is designed for marine and motorsports systems.
Optically Bonded LCD: The Rockford Fosgate PMX-2 features a 2.7" TFT color LCD for optimum viewing, even in full sun, that is optically wet bonded to prevent any dust or moisture penetration. There are two brightness settings for the LCD screen.
Water Resistant Control Knob: The PMX-2 uses a water resistant rotary encoder knob, along with push-button controls that feature white LED illumination.
Voltage Gauge & Warning: You can check the voltage of your system through the PMX-2's menu. The unit also provides a Low Voltage Warning Alert.
EEPROM (Electrically Erasable Programmable Read-Only Memory): The Rockford Fosgate PMX-2 features an EEPROM memory system which retains settings (including Audio & Bluetooth settings) even when power is removed.
Bluetooth Music Streaming: The Rockford Fosgate PMX-2 offers built-in Bluetooth (version 3.0+EDR) for wireless music playback from your Bluetooth-enabled Apple iPod/iPhone/iPad, Android smartphone/tablet, Windows phone, Blackberry, and more. You are able to stream stored music and music apps from your Bluetooth device to the PMX-2 marine receiver. You can control basic playback functions like Play/Pause, Previous Next/Track and Repeat/Shuffle for stored music and music apps on your device. When using a Bluetooth AVRCP 1.4 compatible device like the Apple iPhone (iOS 5.0+) or an Android smartphone (OS 4.0+), you can even browse your stored music by category (Playlist/Artist/Song/Genre). The PMX-2 will also display your device's song/artist information with album art.
Note: This unit does not support Bluetooth hands-free communication for phone calls.
Optional Wired Remotes: The PMX-2 features a wired remote input which is compatible with Rockford Fosgate's PMX-1R & PMX-0R wired remote controllers (both sold separately). In most cases you will need one of Rockford Fosgate's extension cables (sold separately) to connect a wired remote controller. Up to 3 remotes can be added to one marine receiver using PMXYC Y-cable (sold separately).
USB Port: The Rockford Fosgate features a rear-panel USB (type-A) port for connection of a USB mass storage class device, like a USB thumbdrive or flashdrive. The unit supports playback of MP3 and WMA music files loaded onto a USB MSC device (up to 32GB). You are able to browse your music by folders, as well as control basic playback functions like Play/Pause, Previous/Next Track and Repeat/Random.
Note: The unit's USB port is not compatible with Android.
iPod/iPhone Direct Connection: The Rockford Fosgate PMX-2's USB port can be used to connect your Lightning-connector or 30-pin dock connector iPod/iPhone to the head unit. Simply use the cable that came with your iPod/iPhone device or a 3rd party Apple certified cable (sold separately). The PMX-2 supports audio playback, music navigation, information display (including album art), and charging of your compatible Apple device.
Music Control: The PMX-2 lets you navigate your Apple device's stored music by Playlist, Artist, Album, Song, Genre, Podcast, Composer, or Audiobook. The head unit also offers basic playback functions like Play/Pause, Previous/Next Track, and Random/Repeat. Newer Apple devices with iOS 6.0+ will remain unlocked while connected, so you can access music apps on your device. Older Apple device's clickwheels & touchscreens will lock when connected to the PMX-2.
Song/Artist Info + Album Art: The head unit will display your iPod/iPhone's stored music file information; including Track number, Elapsed playing time, Song title, and Artist/Artist name. It will also display album art.
Charging: The head unit's USB connection provides 1A of current to power and charge your connected iPod/iPhone when your vehicle's ignition switch is set to the 'ACC' or 'On' position (if your iPod/iPhone has no initial battery charge, then the unit will not recognize it).
Apple Device Compatibility Chart: The Rockford Fosgate PMX-2 is "Made for iPod/iPhone" compatible and supports the following iPod/iPhone model features (as of 7/23/2019):
Apple Device
Generation
Tested Version
Media Type
Control Type
Display Type
Bluetooth
Charge
Audio
Video
Head Unit
iPod/iPhone
Pandora
Album Art
Artist/Song Text
Track Info
Phone
Audio
iPhone
3GS
5.1.1
Y
N
Y
N
N
Y
Y
Y
N
Y
Y
4
7.1.2
Y
N
Y
Y
N
Y
Y
Y
N
Y
Y
4S
9.3.5
Y
N
Y
Y
Y
Y
Y
Y
N
Y
Y
5/5C
10.3.3
Y
N
Y
Y
Y
Y
Y
Y
N
Y
Y
SE/5S
12.3.1
Y
N
Y
Y
Y
Y
Y
Y
N
Y
Y
6/6+/6S/6S+
12.3.1
Y
N
Y
Y
Y
Y
Y
Y
N
Y
Y
7/7+/8/8+
12.3.1
Y
N
Y
Y
Y
Y
Y
Y
N
Y
Y
XSMax/XS/XR/X
12.3.1
Y
N
Y
Y
Y
Y
Y
Y
N
Y
Y
touch
3rd
5.1.1
Y
N
Y
N
N
Y
Y
Y
N
Y
Y
4th
6.1.2
Y
N
Y
Y
N
Y
Y
Y
N
Y
Y
5th
9.3.5
Y
N
Y
Y
Y
Y
Y
Y
N
Y
Y
6th
12.3.1
Y
N
Y
Y
Y
Y
Y
Y
N
Y
Y
nano
6th
1.2 PC
Y
N
Y
N
N
Y
Y
Y
N
N
Y
7th
1.02 PC
Y
N
Y
N
N
Y
Y
Y
N
Y
Y
Note: Apple iPod/iPhone software updates may change functionality results. If you download a newer software version, you may need to reset the head unit and your iPod/iPhone to regain functionality. If this doesn't work, you may need to wait until a newer software update is available.
Aux Input: The Rockford Fosgate PMX-2 is fitted with a rear-panel stereo RCA AUX input to connect an external audio source. You can give the Aux input a custom name.
AM/FM Tuner: The PMX-2 features a built-in AM/FM tuner with manual, seek, and preset tuning. You can store up to 18 FM and 12 AM preset stations; these presets can be stored manually or automatically. You can set the tuner to Local or Distance tuning. The Local option tunes to nearby radio stations with sufficiently strong signals for good reception. In areas where reception is poor, switching to Distance tuning enables the unit to tune in to more distant stations. You can choose between US or European tuning.
Weather Band: The Rockford Fosgate PMX-2 is also equipped with a built-in weather band tuner. Select from weather band frequencies between 162.40 to 162.55.
Pandora Internet Radio: The free Pandora App (either from Apple's App Store or Google Play) lets you play music from the Pandora music service through the Rockford Fosgate PMX-2 using your USB-connected or Bluetooth-paired Apple iPhone (iOS 9.0+), or Bluetooth-paired Android smartphone. Your Apple iPhone must be connected to the PMX-2 via the appropriate the Dock-/Lightning-cable that came with your iPhone or via Bluetooth. Your Android smartphone must support A2DP/AVRCP/SPP Bluetooth profiles and be paired with the marine receiver. Your iPhone or Android smartphone will also need an active Data Plan account with connection to the Internet via 3G, EDGE, or WiFi. The PMX-2 provides control over the Pandora music service and displays Artist, Album, and Song information.
Station List: You can select Pandora stations from your Station List by date or alphabetically.
New Station: Based on a currently playing track or artist, you can create a new station and save it to your Pandora account.
Skip Songs: You can skip song tracks within a station. You cannot skip back to a previous song. Pandora limits the number of skips allowed.
Thumbs Up/Down: You can give songs a thumbs up or thumbs down to help Pandora personalize stations to suit your preferences.
Bookmarking: The song or artist currently being played can be bookmarked & stored in your Pandora account.
Note: Access to these online service will depend on the availability of a cellular and/or WiFi network for purposes of allowing your iPhone or smartphone to connect to the Internet. Pandora is not supported in Canada and only available in the United States.
MOSFET Amplifier: The PMX-2 is equipped with a MOSFET amplifier. Compared to conventional power supplies, the MOSFET amplification circuit is smaller and more efficient, and it delivers increased power with less distortion and absolutely zero on/off switching noise. More power means louder and cleaner music at higher volumes because you're not pushing the limits of the amplification circuit.
Full Bandwidth Power: 25 watts RMS x 4 channels (at 4 ohms, 20-20kHz, 1% THD)
Maximum Output Power: 50 watts x 4 channels (200 watts total)
Note: The power specifications for the marine receiver are compliant with the CEA2006 Mobile Amplifier Power Testing and Measurement standards from the Consumer Electronics Association (CEA). These standards were developed as a way to equitably compare power specs from model to model and between manufacturers.
4V/4Ch Preouts: The Rockford Fosgate PMX-2 is equipped with two pair of 4-volt preamp outputs (Front & Rear/Sub). You can configure the Rear/Sub pre-out for rear speakers with fading capability or as a non-fading sub output. You can turn off the unit's internal amplifier, you plan on using only external amps.
Equalizer: The PMX-2 is equipped with a variety of EQ presets, and 7-Band EQ, and Rockford Fosgate's Punch EQ.
Presets: Select between seven EQ presets - FLAT, ROCK, CLASSIC, ACOUSTIC, DANCE, ELECTRONIC, or HIP-HOP.
7-Band EQ: Use the built-in 7-band EQ to custom tailor the sound of your music to your liking.
Punch EQ: Punch EQ is an onboard equalizer with up to +18dB at 45Hz and/or up to +12dB boost at 12.5kHz.
High-Pass & Low-Pass Crossovers: The PMX-2 provides a high-pass crossover for the front & rear channels which can be set to 60Hz, 80Hz, 120Hz, or Full-Range. The unit also provides a low-pass crossover for the subwoofer output that can be set to 60Hz, 80Hz, 120Hz, or Full-Range.
Sub Control: When the sub out is activated, you can independently adjust its volume level from 0 to 20.
Source Gain: You can adjust the gain of each source so they all play at the same volume level. Select between -3dB, -2dB, -1dB, 0dB, +1dB, +2dB, or +3dB for each source.
Key Beep: A beep tone will sound with any press of a button on the receiver. This can be turned on or off.
Dimensions: The receiver has the following dimensions:
Chassis:

Diameter: 2.945"
Depth: 4.25"

Nose:

Width: 4.475"
Height: 4.195"
Depth: 1.25"

Trim Ring:

Width: 4.455"
Height: 4.095"
Depth: 0.675"
Screw Hole Pattern: The faceplate has two mounting holes across the top of the face-plate, and two holes on the bottom of the faceplate for securing the unit to the bulkhead. The included trim-ring covers the screws holes for a neat installation. The screw hole spacing is as follows.
Width (Top & Bottom): 4.035"
Height (Between Top and Bottom Row): 3.505"
Screw Mounting Depth: 0.75"
Media Receiver Dash Kit: The Rockford Fosgate X317-DK dash kit is designed to facilitate the addition of the included Rockford Fosgate PMX-2 digital marine source unit into select 2017-2021 Maverick X3 model ATVs. The dash kit includes a main dash housing, an outer trim ring, speaker output wiring, and mounting hardware.
Marine Tested: Rockford Fosgate uses industry standard tests (ASTM B117 salt/fog and ASTM G154 UV) to ensure the M1-65B speakers are durable in the difficult marine environment.
Tweeters: The 1" balanced dome tweeters are made of LCP (liquid crystal polymer), a high strength/light weight material. The tweeters are bridge mounted, useful in a marine speaker because no opening through the middle of the woofer for the mounting post is needed.
Color Optix LEDs: There are red, green, and blue LEDs in the back of the tweeter casing, to create a glow on the woofer cone. The LEDs can be powered individually, or in any combination you like. Depending on what combination of LED wires is connected, they light red, green, blue, yellow, pink, aqua, or white. The LEDs can be controlled using the included Rockford Fosgate PMX-RGB LED controller. Two LED power wire harnesses are included with 4-pin waterproof Deutsch DT Series connectors that plug into the speaker frames.
Speaker Terminals: In addition to standard male quick slide terminals, each speaker also has 2-pin waterproof Deutsch terminals. Speaker wire harnesses with 2-pin waterproof Deutsch DT Series connectors are not included.
ICC Crossover: The ICC (Integrated Concealed Crossover) simplifies installation and protects the crossover by concealing it inside the basket, creating a cleaner look and easier installation. The crossover has a 6 dB/octave slope.
VAST Surround: The Vertical Attach Surround Technique (VAST) increases a speaker's effective radiating cone area without increasing the size of the basket.
Klippel Verified: The Klippel distortion analyzer, a device that uses a laser and sophisticated software to do large-scale analysis of drivers in motion, lets Rockford Fosgate optimize the speaker's motor structure, voice coil alignment, and suspension to yield the best possible performance.
Stainless Steel: The mounting hardware is stainless steel to resist corrosion.
RFX317-FSE Speaker Enclosures: The RFX317-FSE enclosures feature an injection-molded design that offers seamless construction, and are texture and color matched to the vehicle's interior. The RFX317-FSE speaker brackets get mounted into the front driver and passenger side dash areas using the OEM mounting holes, with minimal drilling required for installation. Two included pre-loomed speaker wire harnesses are designed to plug directly into the included M5-800X4 amplifier. The other end of the speaker wire is terminated in female slip-on terminals for attaching to the speakers.
Amp Overview: The Rockford Fosgate M5-800X4 is a 4-channel powersports amplifier with a rated power output of 100 watts per channel at 4-ohms or 2-ohms. This Element Ready amplifier can be used on motorcycles, ATVs, UTVs, or boats, and can withstand harsh environmental conditions.
CEA-2006 Compliant: CEA-2006 is a system of testing and measurement methods for mobile audio amplifiers. This voluntary standard advocates a uniform method for determining an amplifier's RMS power output and signal-to-noise ratio. The criteria for measuring power uses a DC input voltage of 14.4 volts and the RMS power output is measured into a 4Ω load with 1% or less Total Harmonic Distortion plus noise (THD+N). CEA-2006 allows consumers to compare amplifiers and receivers under identical conditions. The CEA-2006-rated RMS power output is 100 watts RMS x 4 channels. Additionally the power output is 100 watts RMS x 4 channels into 2Ω and 200 watts RMS x 2 channels bridged (into 4Ω).
Element Ready: Rockford Fosgate's Element Ready Amplifiers are protected against dust, UV rays, and corrosion. Marine-grade, two-part epoxy-coated circuit boards are used to prevent corrosion due to exposure in moist and humid places. In addition, stainless hardware is used to help prevent rust and corrosion of all electrical connections. The M5-800X4 carries an IPX6 rating, making it impervious to water spray.
Class-AD: The M5-800X4 features Rockford Fosgate's proprietary Class-AD technology, which allows the amplifier to produce more power with less current draw from the vehicle's charging system.
MEHSA 4 Cooling: The amplifier features Rockford Fosgate's MEHSA 4 (Maximum Efficiency Heat Sink Application) technology that reduces MOSFET temperatures, lowers distortion, increases durability, and prolongs the output circuitry's life span.
DSM (Discrete Surface Mount): High speed robotics are used in the manufacturing process to place 1% tolerance parts and large board traces. DSM improves the efficiency of the circuit, decreases cross-talk from other discrete components and lowers operating temperature.
CLEAN Set-Up: Rockford's integrated level setting technology, CLEAN (Calibrated Level Eliminates Audible Noise), replaces sophisticated test equipment with input/output clip LEDs, allowing you to match the source unit's output to the amp's gain, and optimize the amp's output. The input clip indicator works in conjunction with the audio source volume, illuminating red when the source reaches its clipping point. The output clip indicator works in conjunction with the input level dial on the amp, illuminating the appropriate color depending on the audio content used for the setup.
PRESET: The M5-800X4 features Rockford Fosgate's PRESET setting (On/Off) that eliminates the need to set-up the amplifier when used with the Rockford Fosgate Stage 3 audio kit. When set to On, the PRESET circuitry automatically optimizes the front & rear input levels, Punch EQ, and crossover settings. If manually setting these adjustments, the PRESET switch should be set to the Off position.
Input Level: The amplifier has dual input level controls for the front and rear channels, conveniently accessible from the top. To accommodate the varying range of signal levels from today's factory and aftermarket radios, the input levels are adjustable from 150mV to 12V. A small flat-head screwdriver (not supplied) is needed to adjust the levels.
Input Switch: With the input switch in the 2-channel position, connecting only the front inputs will send the signal to both the front and rear sections of the amplifier. In the 4-channel position, both front and rear inputs must be used.
Crossover: The amplifier has dual built-in crossovers for the front and rear channels, variable from 50Hz to 250Hz with a slope of 12dB/octave. They can be independently set to high-pass, all-pass (full range), or low-pass operation. The rotary frequency settings can be adjusted with a small screwdriver.
Punch EQ: The amplifier has dual Punch EQ functions that change with the crossover switches. When the crossover is set to low-pass, the Punch EQ acts as a variable bass boost; 0 to +18dB at 45Hz. When the crossover is set to high-pass, the Punch EQ acts as a variable treble boost, 0 to +14dB at 12.5kHz. When the crossover is set to all-pass, both the bass and treble boost circuits are active.
Power Connections: The M5-800X4's power, ground, and remote turn-on terminals are located on a single 11" harness with matching adapter. The adapter accepts up to 8 AWG wire (recommended) and features set-screws for locking the wire in place. The power/ground harness is combined with the speaker output harness and attached to the amp in one large connector that's held in place with 2 hex-socket screws.
Speaker Connections: The amplifier is equipped with two 11" speaker output harnesses which are combined with the power/ground harness to one connector at the amplifier. Two 7.5" speaker harnesses plug into the output harnesses and provide bare-ended wire for connection to your speakers. Speaker outputs can be bridged to provide two 2 x 400W @4Ω outputs, or be wired for a 3-channel mode with only 2 speaker outputs bridged.
Signal Input: The amplifier's Differential Inputs will accept either a line-level or speaker-level input on the Molex-style connectors. A single amp connector, secured with hex-socket screws to the amp, features two 4-pin Molex connectors on the other end for connecting the included input adapter harnesses. Each input adapter harness has a 4-pin Molex plug on one end and dual RCAs on the other end. Front and rear line-level signals can simply be connected via RCA cables from the source unit to each input harness. For a speaker-level signal, you can cut the RCA connectors from the input harnesses and splice the wires to the speaker wires of the source unit. When using a speaker-level input signal, the auto turn-on feature is active and the remote turn-on terminal becomes a 12 volt output, which can be used to turn on/off an additional amplifier or other component.
X317-K8 Amplifier Wiring Kit: The X317-K8 amplifier wiring kit allows you to add a Rockford Fosgate M5-800X4 amplifier to select Rockford Fosgate Can-Am audio systems. The included amp mounting bracket bolts directly to the ATV's factory mounting holes (no drilling or cutting required), and all wiring is designed for plug-and-play installation.
X317-M1FWE Subwoofer: The Rockford Fosgate X317-M1FWE is Rockford's 3rd generation subwoofer enclosure designed for select Maverick X3 vehicles. Loaded with one M1D2-10B 10" subwoofer, the down-firing enclosure can be mounted under either the front driver or passenger seat without interfering with the seat's up-and-down travel. The suspended mounting design features the optimum clearance between the floor-board and the enclosure, providing excellent bass response.
LED Controller: The Rockford Fosgate PMX-RGB Color Optix controller lets you illuminate and control up the lighting on the included M1-65B speakers. Featuring a completely encased housing, rubberized wiring, and Element Ready watertight connectors, the PMX-RGB is IPX7 waterproof certified, making it impervious to even the harshest marine environments.
App Control: The PMX-RGB can be controlled from your smartphone using Rockford Fosgate's proprietary RF CONNECT App, available from the Apple App and Google Play stores. After connecting your smartphone wirelessly to the PMX-RGB controller, you'll be able to choose from 30 different color scrolling options or choose a fixed color from the color wheel. Scrolling speed and brightness controls are also available for customizing the lighting.
Plug&Play: The Rockford Fosgate PMX-RGB controller features easy configuration and connection via proprietary Element Ready connectors that provide a secure, watertight seal. It features 8 individual 17" RGB output cables for lighting up to 8 Rockford Fosgate Color Optix marine speakers (maximum 2A total current draw). Each connected speaker requires an extension cable and Y-adapters are optional to add routing flexibility to your installation.
Powering: The PMX-RGB controller includes a 17" power and ground harness with inline 2A fuse, and has an operating voltage range of 9-24VDC.
PMX-RGB Specifications:
RGB Control Outputs: 8
Maximum Amp Draw (Total): 2A
Operating Voltage: 9-24VDC
Waterproof Rating: IPX7
Control Module Dimensions: W = 2.411", H = 0.913", D = 5.050"
Overall Length: 38.5"
The Rockford Fosgate X317-STG3 replaces these items

Adding...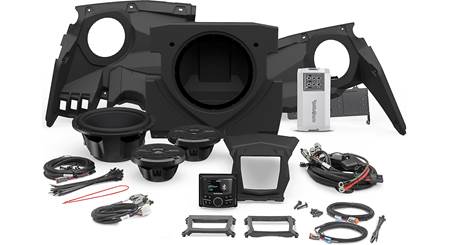 Stage 3 audio upgrade kit for select Can-Am Maverick X3 models: includes receiver, 2 speakers, a 4-channel amplifier, and a subwoofer
system includes marine digital media receiver, 2 speakers, 10" subwoofer, speaker and sub enclosures, installation parts and wiring
compatible with Smart-Lok
2.7" colour display