About the Logitech® Harmony® 650
A truly simple remote
Maybe you've got your home theater system figured out and know which remotes control what — but chances are your other family members, houseguests, and babysitters don't. The Logitech Harmony 650 keeps things intuitively simple, so everyone in the household can operate the audio/video system.
A truly simple remote
Maybe you've got your home theater system figured out and know which remotes control what — but chances are your other family members, houseguests, and babysitters don't. The Logitech Harmony 650 keeps things intuitively simple, so everyone in the household can operate the audio/video system.
All the great Harmony remotes we've seen over the years are based on one simple, powerful idea: you tell the remote exactly which brand and model your components are, and then it will know exactly how to make your system do what you want it to do.
One-touch commands
Operate your system by tapping a single activity button. Touch the "Watch TV" icon, for example, and the Harmony 650 automatically assesses the status of your TV, receiver, and cable or satellite box to make sure they're all turned on with the proper settings. Your system's ready for TV viewing.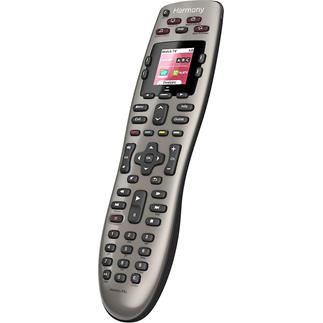 Smart color screen
The Harmony 650's eye-catching color screen can display channel icons, letting you quickly jump to your favorite news, sports, or movie channel. It also displays quick commandsrelated to your chosen activity, for convenient access to commonly used functions. Plus, it provides on-screen help when you need it with just the touch of a button.
Easy setup
You can control up to eight devices with the Harmony 650 remote. The system works with over 5,000 brands and 225,000 entertainment devices, including lighting controls, game consoles, multi-room systems, and more.
To get started, just download the free MyHarmony software to your Mac or PC. Then connect the Harmony 650 to it via the provided USB cable. MyHarmony will help you program your remote by asking some simple questions about your system and how you use it. It then downloads the commands and command sequences to your Harmony 650. And you can use MyHarmony to update your remote whenever you upgrade your system with new gear.
READ LESS
Product highlights:
smart color screen displays most-used commands and selections
one-touch activity buttons such as "Watch TV," "Listen to Music," and much more
up to 50 one-touch favorite channel icons
contoured backlit buttons grouped by function
controls up to 8 devices
comfortable, ergonomic design
USB port for downloading commands from MyHarmony (USB cable included)
can learn IR codes from existing remote controls
requires 2 "AA" batteries (included)
2-3/8"W x 1-5/16"H x 8-13/16"D
warranty: 1 year
MFR # 915-000159
What's in the box:
Logitech® Harmony® 650 owner's manual
Universal remote control
26" USB cable (with a male mini-USB type-B connector on one end and a male USB type-A connector on other end)
2 "AA" batteries
Setup Guide
Important Information
Support Information
Logitech® Harmony® 650 reviews
Average review:
Customer photos
More details on the Logitech® Harmony® 650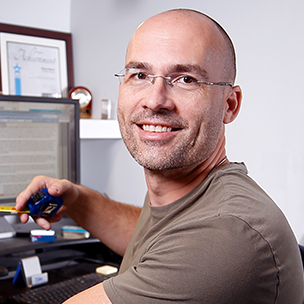 Researched by Crutchfield's

Stacey B.
Product Research
Features
Universal Remote Control: The Harmony 650 is a universal IR remote control which combines up to 8 remotes into 1 simple controller. Control your TV, cable or satellite box, DVR, Blu-ray player, sound system, and more from this one remote control.
Desktop Software Setup: The Harmony 650 is programmed by connecting the universal remote to your laptop or desktop computer using the supplied USB cable, and downloading the MyHarmony desktop software. The MyHarmony desktop software will guide you through entering the manufacturer and model numbers of your home devices so the Harmony 650 understands how to control them. It then helps you create your Watch TV Activity (or scene) for one-button control.
Note: The Harmony database has over 270,000 electronic devices from more than 6,000 manufacturers.
System Requirements: In order to use the MyHarmony desktop software your computer will need to meet the following system requirements:
Windows-based PC:

Microsoft Windows 10, 8, 7, Vista
USB type-A port
Internet access

Intel-based Mac Computer:

Macintosh OS X 10.6 or later
USB type-A port
Internet access
Infrared (IR): The Harmony 650 controls your devices using infrared (IR) light meaning that there must be a direct line of sight between the Harmony remote and your component's IR eye or external IR receiver. The remote has an IR transmission range of up to 50'.
Color LCD: The Harmony 650 features a 1.5" LCD with a resolution of 128 x 128 pixels and 65,000 colors. See just what you need, like icons for your favorite channels and the commands you need for the devices you're using.
Intuitive Design: Buttons are grouped by how you use them, shaped so you can feel your way around and backlit so you can navigate your home entertainment anywhere, even in the dark.
One-Touch Activity Control: The Harmony Touch uses Activity Control to give you one-touch control of your entertainment system. For example, you can use one of the Activity buttons to power on your TV, DVD player, A/V receiver, set all your inputs and even activate play without having to program time consuming macros. Once all of your equipment is "on", the buttons on the remote are also automatically configured for the appropriate operation. There are 3 activity buttons - Watch TV, Watch a Movie, & Listen to Music. You can also power off all your devices with one button press.
Note: To help keep the Harmony 650 in sync with your devices, avoid turning your television, set top box, and other devices on and off manually or by using their original remote control.
Favorite Channels: The Harmony 650 allows you to program your favorite TV, satellite, and cable stations (up to 23) into the remote's memory for easier access through its LCD screen a backlit buttons. You can even store and view station icons.
Button Customization: The Harmony 650 allows you to customize what each of the physical buttons on the remote does, and each of these customizations are unique for every Activity. For example; you may want the Channel Up button to change channels on your set top box when watching TV, but have the Channel Up button tune to different stations with Listening to Radio using your stereo.
More Controls: With the Harmony 650 universal remote control you can easily access guides, menus, and recorded programs; as well as control playback, with dedicated buttons.
Help Button: A designated help button walks you through solutions when problems arise.
Teach Function: If there's a command on your original remote that doesn't appear on the Harmony 650 remote, or doesn't work properly, you can use your original remote to teach the command to the Harmony remote.
Battery Powered: The Harmony 650 universal remote control is powered by two "AA" batteries (included).
Q
Crutchfield asked: Why did you buy this?
A
I had Logitech remotes in the past and was quite pleased with their performance and reliability. Since I was now in the market for a new one, choosing Logitech again made sense, especially after reading Crutchfield's review of the product.
[ A. David Jan 18, 2019 ]
A
seemed to be best for my needs
[ Peter Dec 31, 2018 ]
A
I needed a remote that would operate other tv components, recommended by advisor
[ B Dec 19, 2018 ]
A
Purchased same model last year for Xmas gift. Genius idea/easy to use. But one must be careful if dropped excessively (buttons don't work as well). Paid almost $80 last year; however, now it is 30% off, so I am getting one for my father.
[ Carrie Brennan Dec 16, 2018 ]
SHOW MORE
SHOW LESS
20 questions already asked