About the Logitech® Harmony® 665
A smart remote that's simple to use
We're big fans of home theater here at Crutchfield, but we know the remotes can add up quickly. That's why we like the Logitech Harmony 665. It lets you consolidate controls for up to 10 components into a single remote. Its intuitive layout and operation make it family-friendly. Spouses, kids, houseguests, and babysitters can watch TV and movies without an advanced tutorial from you.
A smart remote that's simple to use
We're big fans of home theater here at Crutchfield, but we know the remotes can add up quickly. That's why we like the Logitech Harmony 665. It lets you consolidate controls for up to 10 components into a single remote. Its intuitive layout and operation make it family-friendly. Spouses, kids, houseguests, and babysitters can watch TV and movies without an advanced tutorial from you.
One-touch commands
Operate your system by tapping a single activity button. Touch the "Watch TV" icon, for example, and the Harmony 665 automatically assesses the status of your TV, receiver, and cable or satellite box to make sure they're all turned on with the proper settings. Your system's ready for TV viewing.
Smart color screen
The remote's color screen can display channel icons, letting you quickly jump to your favorite news, sports, or movie channel. It also displays quick commands related to your chosen activity, for convenient access to commonly used functions. Plus, it provides on-screen help when you need it with just the touch of a button.
Easy setup
The Harmony system works with over 6,000 brands and 270,000 entertainment devices, including lighting controls, game consoles, multi-room systems, and more.
To get started, just download the free MyHarmony software to your Mac® or PC. Then connect the remote to your computer via the provided USB cable.
MyHarmony will help you program your remote by asking some simple questions about your system and how you use it. It then loads the correct IR commands and sequences to your Harmony 665. And you can use MyHarmony to update your remote whenever you upgrade your system with new gear.
READ LESS
Product highlights:
smart color screen displays commonly used commands and selections
one-touch activity buttons such as "Watch TV," "Listen to Music," and much more
up to 23 one-touch favorite channel icons
contoured backlit buttons grouped by function
controls up to 10 devices via IR (infrared) commands
comfortable, ergonomic design
USB port for downloading commands from MyHarmony (USB cable included)
requires 2 "AA" batteries (included)
2-3/8"W x 1-15/16"H x 8-13/16"D
weight: 11.2 oz.
warranty: 1 year
MFR # 915-000293
What's in the box:
Logitech® Harmony® 665 owner's manual
Universal remote control
23" USB Cable (Type-A to micro-B / 2.0)
2 AA Batteries
Setup guide (Eng / Fren)
Warranty and safety information (Eng / Span / Fren / Port)
Logitech® Harmony® 665 reviews
Average review:
Customer photos
More details on the Logitech® Harmony® 665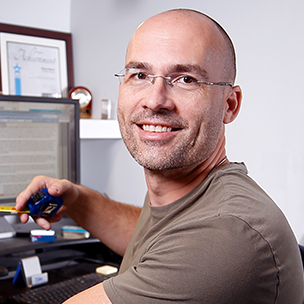 Researched by Crutchfield's

Stacey B.
Product Research
Features
Harmony 665 Universal Remote Control: The Harmony 665 universal remote control provides maximum flexibility for operating your home entertainment gear. The Harmony 665 universal remote lets you replace up to 10 remote controls, for simplified A/V control. The remote measures 2.36" (W) x 1.30" (H) x 8.81" (L).
Desktop Software Setup: The Harmony 665 is programmed by connecting the universal remote to your laptop or desktop computer using the supplied USB cable, and downloading the MyHarmony desktop software. The MyHarmony desktop software will guide you through entering the manufacturer and model numbers of your home devices so the Harmony 665 understands how to control them. It then helps you create your Watch TV Activity (or scene) for one-button control.
Note: The Harmony database has over 270,000 electronic devices (and growing) from over 6,000 manufacturers. Click here to check compatibility with specific devices.
System Requirements: Your PC or computer will need to meet the following system requirements.
Windows-based PC:

Microsoft Windows 8 or higher
USB type-A port
Internet access

Intel-based Mac Computer:

Macintosh OS X 10.10 or higher
USB type-A port
Internet access
Infrared (IR): The Harmony 665 controls your devices using infrared (IR) light meaning that there must be a direct line of sight between the Harmony remote and your component's IR eye or external IR receiver. The remote has an IR transmission range of up to 50'.
Full-Color Display: The included remote's 1.6" full-color display gives you an easy-to-read view of the remote's commands and activities, while buttons on either side of it allow quick access to those functions displayed.
Tactile Buttons: The Harmony 665 features tactile rubberized buttons, for added comfort and control. All of the buttons are brightly backlit, making it easy to find the right control in low lighting.
One-Touch Controls: The Harmony 665 uses Activity Control to give you one-touch control of your home entertainment system.
Entertainment Activities: You can create Activities that manage how you use your devices together. For example, if you have a TV, AV receiver, and cable or satellite box, you will want to control all of these devices when you watch TV. To control all of these devices together, create a Watch TV Activity. When you have completed adding your Watch TV Activity, you can add the other Activities that you want your Harmony Ultimate to control. The types of Activities that MyHarmony offers you depends on the types of devices you have added. You can add multiple Activities based on each type of Activity offered, such as Watch TV, Watch Movie, or Play Game.
Custom Activities: Most Activities should fit into one of the Activity types offered. The Custom Activity type is recommended only for home appliances such as light controllers, fans, climate control devices, etc. The Custom Activity does not provide optimized defaults such as button customizations, Activity icons, and Favorite Channels as the other predefined Activity types do. These may be configured manually from MyHarmony.
One Touch System Off: The Off button on the Harmony 665 remote powers off all of the devices for an Activity with one touch. For example, in a Watch TV Activity that uses a TV, Cable Box, and AV Receiver, pressing the Off button will power off all three devices at the same time.
Note: The Harmony 665 knows the current state of the devices it controls by remembering the last Activity you selected. For example, if you switch from watching cable TV to watching a Blu-ray, the Harmony Ultimate knows that it doesn't need to power the TV off and back on; it just leaves the TV turned on. It also it knows that it needs to power off the cable box and power on the Blu-ray player.
Favorites: The Favorites screen allows you to view your predefined favorite TV channels and station icons (when available). Using the MyHarmony desktop software program, you can select up to 23 Favorite Channels to display on the remote. Selecting a Favorite Channel will start your "Watch TV" Activity, if it's not already started, and tune directly to that channel. Using the color display controls, you can add, remove and reorder your Favorite Channels right on the remote.
Command Customization: The Harmony 665 remote allows you to customize the commands that each button sends, or what commands appear in your Activity list. These button mappings may be unique for each of your Activities. This allows each button or screen to have different functions based on context. For example, in your Watch a Blu-ray Activity, the yellow button may perform the eject command, while in your Listen to Music Activity this same yellow button may be used to pull up your Favorite preset.
Help: If you have a problem completing an activity function, the help button will guide you through the fix using the color display and controls.
Note: To help keep your Harmony in sync with your devices, avoid turning your television, set-top box and other devices on and off manually or by using their original remote control
Sleep Timer: Use the sleep timer feature to fall asleep and let the Harmony 665 take care of shutting down your equipment for you.
Batteries: The Harmony 665 remote control use 2 AA 1.5V batteries (included).
The Logitech® Harmony® 665 replaces these items

Adding...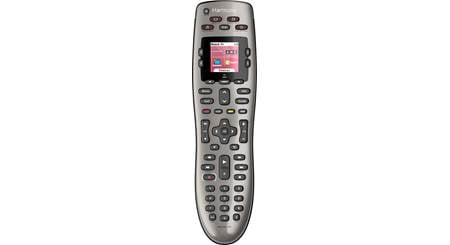 Universal remote with colour screen
colour screen
one-touch activity icons such as "Watch TV," "Listen to Music," and much more
up to 50 one-touch favourite channel icons
3 questions already asked
Q
I have this model but now it won't lower and raise the volumn on the tv...how to fix fit??
[ Carolynn Feb 04, 2020 ]
A
I have my tv,cable box, and home theater receiver all connected. With this set up, the receiver controls the volume of the tv, rather than the tv controlling its own volume. Sounds crazy! What I do is choose the devices button on the Harmony and choose the receiver to control volume. To change tv channels, I choose devices and cable box to do channels. It seems extra, but for now, it works for me. Hope it helps you.
[ Scott Feb 10, 2020 ]
A
First, reprogram the remote with your tv via the MyHarmony app. Then turn on your tv using the Harmony remote. Done! If the tv still doesn't respond, hit "Help" on the remote and it will correct the problem on its own.
[ Brandon Feb 05, 2020 ]
A
I had a similar issue. Press the horizontal bar button just below the remote screen until the screen reads devices just above the horizontal bar. Press once more and the screen should not display the devices you programmed in. My screen shows a 1/3 in the upper right hand corner since I have 3 screens of "devices." Scroll through the devices until you see you see your TV icon. Press the bottom next to this icon. Now try the volume. Should now control the volume on the TV. You might also be able to program it directly if you TV is new enough.
[ EVAN Feb 04, 2020 ]
A
Maybe this will help: 1. Log on to your MyHarmony account and pull up your devices list. Make sure you have the exact model number of your TV listed. If not, remove the old TV and add in the corrected number. 2. Remove the batteries from the remote (this reboots the remote), then re-install them 3. Connect the remote to the computer using the cable they provided. The "Synch" block in upper left should turn from yellow to blue. 4. Click on "Synch". You should see a screen with a bar showing synch status. If you don't you may need to re-install the MyHarmony software, reboot the computer, logon again and reboot the remote as above and try again. I ended up using a different computer. Fortunately, I just did a lot of this today, and solved different problems. Good Luck!
[ Steven Feb 04, 2020 ]
A
If you have paired it correctly, it should do everything the regular remote does. Have you tried unpairing it and redoing it? Do either of them have updates pending or recently updated? Could be any of that messed it up.
[ Kimberly Irene Feb 04, 2020 ]
Q
will this work with cable?
[ Jon Dec 04, 2019 ]
A
Yes it will. I have ATT and a Cisco box. It works very well.
[ GARY L Dec 04, 2019 ]
A
Absolutely it will work with cable. It also controls home theater receiver, blu-ray dvd, tv, and an old VCR! I like it because on the screen, it gives you step by step help in case an item does not power on or off.
[ Scott Dec 04, 2019 ]
A
We have a satellite DVR. The Harmony turns it on and off but we have to use the DVR remote to select recorded shows or set up a show to record.
[ Daniel Dec 04, 2019 ]
A
Yes
[ Donald Dec 04, 2019 ]
A
Yes, as long as your cable box uses an IR remote, this will work with it in my experience.
[ Brian Dec 04, 2019 ]
A
Yes. We have Xfinity and it works fine. I did need Logitech help in setting up all devices. My receiver is very old.
[ ROBERT B Dec 04, 2019 ]
A
Yes. I have cable and it works great. John T
[ JOHN E Dec 04, 2019 ]
A
Yes it will, you will need to the manufacturer and model number in order to program it!
[ roger Dec 04, 2019 ]
Q
Will this control direct tv?
[ Mike Oct 26, 2019 ]
A
yes
[ EVAN Feb 04, 2020 ]
A
Yes.
[ Brian Dec 04, 2019 ]
A
Yes
[ Charles Oct 29, 2019 ]
A
We use our Logitech to control the Direct TV receiver
[ ROBERT E Oct 27, 2019 ]
A
This remote controls my satellite box excellently! I have Dish by the way. All you have to do is program the remote to the features of your satellite box and you're good to go. Simply look up what box you have and plug in the information into the Logitech.
[ Brandon Oct 26, 2019 ]