About the AudioQuest JitterBug™
An easy sonic upgrade for your USB DAC
We're big fans of AudioQuest's award-winning DragonFly® plug-in USB DACs (digital-to-analog converters). Now AQ has developed the JitterBug, an innovative device made to enhance the performance of the
DragonFly Red v1.0
,
DragonFly Black v1.5
, or any other USB DAC. You simply plug the ultra-compact JitterBug into the USB port of any computer, DAC, receiver, streamer, NAS device, or car stereo to reduce noise and restore your music's clarity, dynamics, and warmth. You can even connect it to your smartphone.
An easy sonic upgrade for your USB DAC
We're big fans of AudioQuest's award-winning DragonFly® plug-in USB DACs (digital-to-analog converters). Now AQ has developed the JitterBug, an innovative device made to enhance the performance of the DragonFly Red v1.0, DragonFly Black v1.5, or any other USB DAC. You simply plug the ultra-compact JitterBug into the USB port of any computer, DAC, receiver, streamer, NAS device, or car stereo to reduce noise and restore your music's clarity, dynamics, and warmth. You can even connect it to your smartphone.
How does it work?
The JitterBug is a dual-function filter that cleans up noise in both the power and data portions of the USB interface. It performs like a line conditioner for the USB voltage bus, as well as acting as a signal filter for the USB data bus. In both cases it suppresses electrical noise that interferes with your DAC's sensitive circuitry. The JitterBug can reduce timing jitter as well, but it doesn't re-clock the digital audio stream to eliminate jitter.
Slightly smaller than the DragonFly, the JitterBug has a male USB plug on one end and a female USB port on the other. If you already own a DragonFly, the JitterBug is an easy, affordable upgrade. Simply plug JitterBug into any of your computer's available USB ports, then plug the DragonFly into JitterBug's USB port. If you're using a different USB DAC, you plug the JitterBug into an available USB port, and use a USB cable to connect the JitterBug to your DAC.
Shop our selection of AudioQuest USB cables.
READ LESS
Product highlights:
dual-function noise filter cleans up both the data and power lines of USB ports
USB Type A connections (male plug on one end, female port on the other)
can be used with compatible USB-equipped home audio components, computers, car stereos, and portable devices
reduces timing jitter and packet errors
removes parasitic resonance — a form of resonant distortion
presents a more dynamic, vivid, and dimensional listening experience
warranty: 1 year
MFR # JITTERBUG
AudioQuest JitterBug™ reviews
Average review:
Customer photos
More details on the AudioQuest JitterBug™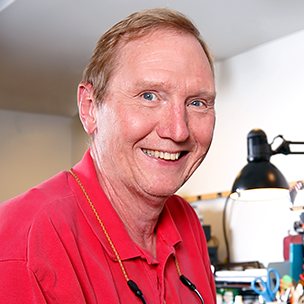 Researched by Crutchfield's

Mark G.
Product Research
Features
USB Data & Power Noise Filter: The Audioquest JitterBug is designed to remove unwanted noise currents and parasitic resonances from both the data (communication) and Vbus (power) lines of USB ports. JitterBug meets all USB 2.0 speed specifications. JitterBug's excellent performance is the result of careful design and craftsmanship, comprehensive technical measurements, and thorough listening tests. As a result the JitterBug improves dynamic contrast, warmth and resolution of your audio.
Dual Discrete Noise-Dissipation Circuits: JitterBug's dual-circuitry works on both the data (communication) and vbus (power) lines of USB ports. The latter reduces noise and prevents EMI and RFI from contaminating the associated digital-to-analog converter (DAC) and/or cable. The former minimizes parasitic resonances created by the computer and USB bus, and is optimized to remove noise above the USB 2.0 frequency specification, making it ideal for audio playback.
Note: When used with USB 3.0 devices, the JitterBug purposely decelerates the device to USB 2.0 specifications.
Jitter Reduction: The JitterBug also measurably reduces jitter and packet errors (in some cases, packet errors are completely eliminated). The result is a clearer and more compelling sound and overall better audio experience.
USB 2.0 Connectors: The JitterBug features a female USB 2.0 (type-A) port on one end and a male USB 2.0 (type-A) connector on the other end.
Applications: JitterBug is extremely easy to use and will offer reliable results for many years to come. It can be used with external USB digital-to-analog converters (DACs), mobile phones and portable media devices, and network streaming/storage devices. Use the Audioquest JitterBug in the following applications.
Use one JitterBug in line with any computer and USB DAC (digital-to-analog converter).
Use an additional JitterBug in parallel with the first for improved playback performance.
Use JitterBug with other locally connected USB devices; such as hard drives, printers, and cameras, to effectively reduce audio interference.
Use JitterBug with USB-enabled network devices, such as routers, NAS devices, and streamers.
Use JitterBug with mobile devices into audio systems in the home and in the car.
Note: The JitterBug draws no power from the source. It will not inhibit your mobile device's ability to charge its battery
Optional DragonFly: Audioquest's DragonFly (703DGNFLY2, sold separately) is a digital-audio converter and headphone amplifier with an onboard 64-step analog volume control. It has a USB plug at one end and a 3.5mm minijack at the opposite end. It connects to any Mac or Windows PC and bypasses the computer's compromised audio circuitry to deliver cleaner, clearer, more naturally detailed sound to headphones, powered desktop speakers, or complete audio systems. Insert JitterBug the in series with DragonFly to further reduce noise and resonances.
Q
Crutchfield asked: Why did you buy this?
A
Just to ensure I'm not missing anything and getting the most out of my investment. Won't hurt to try.
[ OSCAR A Aug 01, 2019 ]
A
I have static when using the AudioQuest Dragonfly Black. I hope this helps to resolve the issue.
[ DAVID R Feb 15, 2019 ]
A
Users and some audio websites strongly recommended to pair the AudioQuest DragonFly Red with the JitterBug. I listen to digital music from a MacBook Pro using Grado 325 headphones and want the cleanest sound possible. Loved the reviews of both the DragonFly and Jitterbug on Crutchfield so decided to order both products.
[ Christopher Dec 31, 2018 ]
A
I chose the AudioQuest jitterbug to act as a filter between my head unit and USB flash drive. AudioQuest quality is outstanding!
[ Tom Oct 09, 2018 ]
SHOW MORE
SHOW LESS
1 question already asked
Q
can I connect it between an integrated amplifier and CD payer?
[ George Mar 18, 2017 ]
A
If your CD player has an USB out that streams and your Integrated amp has an USB input and a builtin DAC for streaming in. First try to connect the CD player to the Integrated amp without the jitterBug before you buy if that works? Then your chances of the Jitter Bug working in line are very good. Note some times some units do not hand shake with the jitter Bug inline, see AudioQuest Forums.
[ JAY Mar 19, 2017 ]
A
Probably not
[ FRED E Mar 19, 2017 ]
A
The Jitterbug is placed in a USB pathway; for example: computer USB out > Jitterbug > DAC. The Jitterbug cleans up the USB signal, eliminating jitter.
[ DONALD Mar 19, 2017 ]
A
No, Not unless the CD player has a USB output, not saying that might not exist somewhere, but that's nothing I've ever seen. I use my Jitterbug in line & in conjunction with a Dragonfly DAC at a USB output from a MacMini personal computer.
[ Stephen Mar 19, 2017 ]