About the Klipsch T5 True Wireless
No wires, and all Klipsch
True wireless earbuds are extremely popular these days, and this is the first we've seen from Klipsch. So you get that familiar black-and-copper color scheme and timeless, adrenaline-rush sound. But what jumps out at me is the battery life. The T5 True Wireless offer up to eight hours of wireless music listening on a full charge, the longest I've seen so far in this category.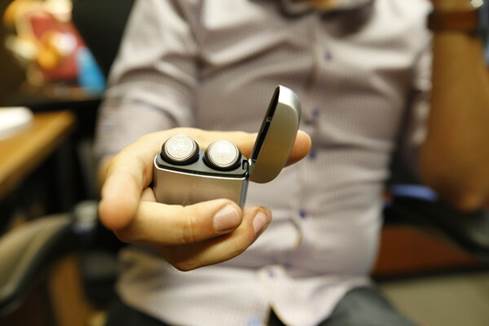 The Klipsch T5 True Wireless case banks 24 hours of power to wirelessly recharge the earbuds.
No wires, and all Klipsch
True wireless earbuds are extremely popular these days, and this is the first we've seen from Klipsch. So you get that familiar black-and-copper color scheme and timeless, adrenaline-rush sound. But what jumps out at me is the battery life. The T5 True Wireless offer up to eight hours of wireless music listening on a full charge, the longest I've seen so far in this category.
"We're not making a bigger battery and shoving it in your ear," said Vlad Grodzinskiy, the head of their headphone division. "We can get eight hours because Qualcomm's new Bluetooth chip uses so much less energy."
Worth the wait
I spoke to Vlad earlier this year when I visited Klipsch's headquarters in Indianapolis. He explained that — in true Klipsch fashion — they bucked the trend of rushing to market. "Since we're in the business of making products that last a long time and work really well," said Vlad, "we decided to wait."
The state-of-the-art built-in Bluetooth chip not only uses less energy, but it also allows each earbud to make a strong, independent Bluetooth connection to your phone or other audio device. That makes it less of a hassle for you to use. You can grab either earbud to make a quick call, or use both to listen to music. Either way, pairing is hassle-free.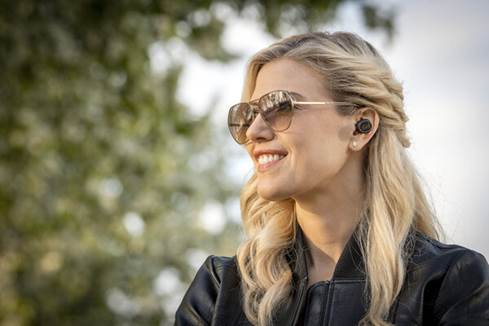 Klipsch's patented oval-shaped ear tips ensure a secure, comfortable fit with better noise isolation for sound.
Tuned for classic Klipsch sound
Vlad also explained that the new Bluetooth technology helps Klipsch provide the audio performance they're known for. Basically, a stronger wireless connection equals better sound. It allows the 5mm drivers inside the T5 True Wireless earbuds to do their thing. They deliver that famous Paul W. Klipsch sound — high on detail, low on distortion — with a nice helping of bass for your on-the-go listening.
Soft oval ear tips for patented comfort
Of course, Vlad knows that just because they're the first to use this new Bluetooth chip, soon other companies will have access. But those other earbuds won't include Klipsch's patented oval ear tips. Klipsch includes three sizes of these soft silicone earbud covers that slide in easily and comfortably. I find they avoid pressure points and create one of the best noise-isolating seals out there — crucial for getting solid bass response.
On my tour of Klipsch HQ, I saw firsthand that they didn't just stumble onto this design. Vlad pulled out several tackle-boxes full of rubber-ish molds of actual people's ear canals. "Back in 2007, we were looking for a common similarity among different ear types," he said. "And we noticed an oval cross section in each mold – no matter the size."
A thoughtful in-ear fit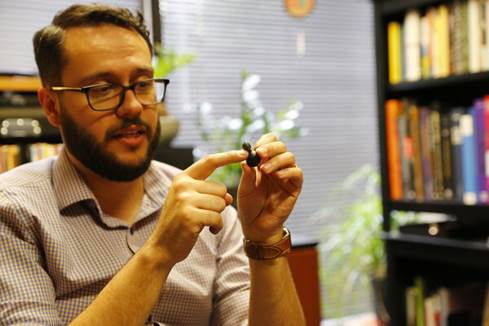 Klipsch's Vlad Grodzinskiy shows off the streamlined in-ear design of the T5 True Wireless earbuds.
During their 2007 study of human ear shapes, Klipsch learned that they needed to stay within strict size guidelines to make a comfortable ear tip. The drivers used in the T5 True Wireless earbud nozzles houses are pushing the limits. "So we engineered a nozzle that has a little 'step' in it," said Vlad. "And that 'step' lets you insert the ear tip directly, butted up into the nozzle. And it snaps in." That means those oval ear tips have even more room and are more malleable, for even better comfort and sound.
A cool retro-styled case
Another display of Klipsch's thoughtfulness? The T5's metal recharging case. Like most true wireless headphones, the earbuds sit inside the case to refuel. But Klipsch gave the case the fun, familiar design of a classic lighter. Its substantial lid and powerful magnets help keep the headphones in place, so you can be sure your earbuds are secured and charging. And the hinged lid opens and closes with a satisfying snap.
READ LESS
Product highlights:
100% wire-free headphones

no connecting cord between left and right earbuds

IPX4 splash-resistant
5mm dynamic drivers voiced similarly to Klipsch speakers

detailed full-range sound with striking dynamics
deep, punchy bass
Wireless audio and calls:
Bluetooth 5.0 for wireless music listening and phone calls

aptX® and AAC decoding provides high-quality music streaming from compatible devices

free Klipsch Connect app for Apple® and Android™ allows you to adjust settings and customize the sound
built-in microphones for clear phone calls

four-mic system designed to better capture your voice in noisy or windy conditions
Battery and charging info:
built-in rechargeable batteries offer 8 hours of listening
carrying case banks up to 24 hours of power to wirelessly recharge headphones
USB-C cable included for charging case
General info and specs:
includes 3 sizes of patented Klipsch oval ear tips for a secure, noise-isolating fit

streamlined design fits natural shape of ear canal and avoids pressure points
offers up to 22dB of noise attenuation

controls on each earbud let you answer calls and control music and volume

large, tactile buttons for use on the go

frequency response: 10-19,000 Hz
weight: 1.88 oz. (both earbuds)
warranty: 2 years
What's in the box:
Klipsch T5 True Wireless owner's manual
Left and right wireless ear buds
3 Pairs of silicone ear tips (1 pair installed)
40" USB charging cable (USB-C plugs on both ends)
USB-C (female) to USB Type A (male) adapter
Charging case
Klipsch T5 True Wireless reviews
Average review:
Customer photos
More details on the Klipsch T5 True Wireless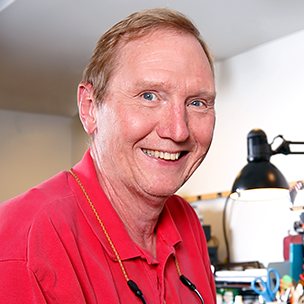 Researched by Crutchfield's

Mark G.
Features & specs
General
Fit Style
True Wireless
Earcup Type
Closed
Earcup Width x Height
0.86" x 0.745"
Noise-canceling
No
Bluetooth
Yes
Bluetooth Version
5.0
Single-earbud Operation
---
Mic For Taking Calls
Yes
Voice Assistant Access
Amazon Alexa
No
Google Assistant
No
Siri
No
Connectors
3.5mm
No
1/4"
No
Lightning
No
4.4mm balanced
No
XLR4 balanced
No
2.5mm
No
Other
None
Specs
Frequency Response
10-19k Hz
Sensitivity
N/A dB
Impedance
N/A
Weight
0.4 ounces
Cord Length
N/A
Parts Warranty
2 Years
Labor Warranty
2 Years
Product Research
Features
Overview: The Klipsch T5 True Wireless earphones are two independent wireless ear buds that deliver the legendary Klipsch sound comfortably and without wires. The ear buds feature Klipsch's contoured oval ear tips to ensure they stay in place for hours, even during rigorous activities. They're also rated at IPX4 to withstand rain, moisture, and sweat. The T5 earphones include 3 pairs of ear tips, a stainless Charging Case for storage and recharging the ear buds, and a USB-C charging cable (with USB-A adapter).
Drivers: The T5 Wireless earphones feature the same driver as all of the T5 series earphones from Klipsch (including the T5 Sport, T5 Neckband, and T5M Wired). The drivers were engineered from the ground up to give you the most performance from the smallest form factor. The T5's 5mm dynamic moving coil micro-driver are designed to deliver the high quality Klipsch sound with high output and full bass extension. The ear buds are ergonomically shaped for a deeper fit and better hold, so they'll stay in your ears, whether you're working out or relaxing.
Microphones: The earphones feature four microphones with cVc 8.0 (Clear Voice Chat) technology which enhances the clarity of your voice while actively reducing external noise. This makes your phone calls loud and clear.
Ear Tips: The patented, oval-shaped Comfort Fit silicone ear tips fit the natural shape of the ear canal, ensuring a deeper fit and good seal for excellent noise isolation (-22dB). Three pairs of silicone ear tips are included to help you find the best fit.
Bluetooth 5.0: The earphones feature Bluetooth 5.0, the latest in wireless technology, with a range of up to approximately 33 feet (10 meters). Bluetooth profiles include A2DP 1.3, AVRCP 1.6, HSP 1.2, and HFP 1.7. The headphones include SBC, aptX HD, and AAC codecs for high-fidelity audio streaming. Multi-point pairing lets you pair two devices at once.
On Board Controls/Indicators: Control of the T5 True Wireless has controls on the outside of each ear bud for music playback and phone calls. The charging case and each ear bud has LED indicators for battery level, charging, pairing, and power status.
Digital Voice Assistant: You can stay connected to your personal Digital Voice Assistant with a push of a button. The T5 True Wireless is compatible with Alexa, Google Assistant, and Siri.
Battery: Each T5 True Wireless ear bud is powered by a 55mAh rechargeable battery. The ear buds are charged when placed inside the supplied Charging Case, which has a 360mAh Lithium Ion rechargeable battery. The case's battery can be charged via USB (5.0V, 0.5A) with the supplied USB-C charging cable. If the charging device does not have a USB-C port, the included USB-C to USB-A adapter can be used. The earphones, when fully charged, provide up to 8 hours of battery life. The case's battery provides enough reserve power for three full charges, or 24 additional hours. When the T5 True Wireless is paired with an iOS or Android device, the battery status is visible on the device's screen.
Klipsch Connect App (Coming Late 2019): The Klipsch Connect App is currently under development, and will be designed to provide even more performance and potential for the T5 True Wireless earphones. With the app, you'll be able to adjust the sound of your music with EQ settings. You'll also be able to check the battery status at a glance. To keep your earphones working in top shape, any firmware updates will be delivered through the app.
Specifications:
Frequency Response: 10 Hz - 19 kHz
Ear Bud Dimensions: Width 0.86", Height 0.745", Depth 1.127"
Charging Case Dimensions: Width 1.941", Height 1.932", Depth 1.225"
Driver Diameter: 5mm
Weight: 0.4 ounces (0.2 ounces each); Case: 3.4 ounces
1 question already asked
Q
Is it possible to use these with TV watching? My wife complains I have the volume to loud.
[ Rick Sep 12, 2019 ]
A
I was not able to verify if it is possible to connect the Klipsch T5 to my TV. I have a Samsung smart TV. I could not find a Bluetooth setting or icon anywhere in the TV's menu screen. I can personally say that, while using the Klipsch T5 earbuds on my phone or tablet they sound great. The fit and form factor took some getting used to, cause of the very long protrusion of the speaker that goes into your ear canal. But, watching videos wether streaming or downloaded there is no noticeable lag and listening to music it sounds great. Sorry I couldn't be more help. Wish I could have found or verified that my tv has a Bluetooth connection.
[ Ryan Yoshio Sep 13, 2019 ]
A
I don't really know. If you can pair these to your TV via Bluetooth, I don't see why not.
[ Marilou Sep 13, 2019 ]
A
Don't see y not
[ James Sep 12, 2019 ]
A
It's possible, but the experience would be poor. The issue is that there's maybe a quarter second of delay between when the video has the sound, and when you hear it. Lips don't sync to words, explosions are at the wrong time, etc. My understanding is that most (all?) "true wireless" earbuds have the same issue, but I've only tried a few other sets.
[ Troy Sep 12, 2019 ]
A
Absolutely.... BUT, Your TV must have Bluetooth meaning recognition. It will be in the menu. Most newer sets have this ability.
[ Dan Sep 12, 2019 ]