About the Definitive Technology Demand Series D9
Great looks and stellar sound
Definitive Technology has created something that I think our music-loving customers will really enjoy. Their D9 bookshelf speakers combine an attractive cabinet design with high-tech driver technology for natural, full-bodied sound that looks great in your room.
Great looks and stellar sound
Definitive Technology has created something that I think our music-loving customers will really enjoy. Their D9 bookshelf speakers combine an attractive cabinet design with high-tech driver technology for natural, full-bodied sound that looks great in your room.
These sharp-looking speakers feature an aluminum front baffle, along with a top-mounted passive radiator. They're the mid-sized model in Def Tech's Demand Series lineup.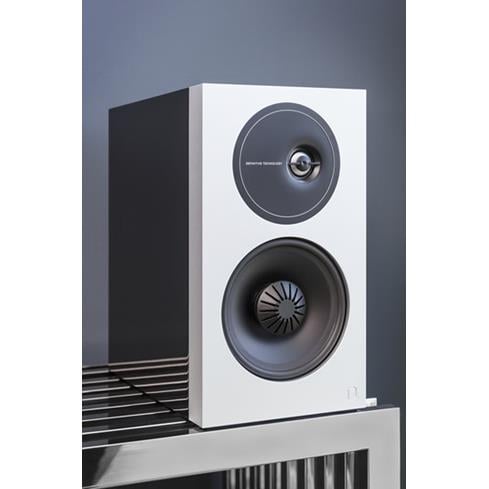 Each D9 speaker uses an offset tweeter for precise stereo imaging and a wide sweet spot (right speaker shown with grille removed).
A tweeter designed with music in mind
One of the coolest parts of the D9 is its all-new tweeter design. Each speaker uses a 1" annealed (heated and then slowly cooled) aluminum tweeter for super-smooth, natural highs. Each tweeter is offset from its corresponding woofer by 5°, which helps it deliver a precise center image — a crucial component of the stereo listening experience.
Def Tech employs its Linear Response Waveguide™ on each tweeter, which helps create a wide "sweet spot" and a lifelike soundstage. Each speaker is labeled as "right" or "left" to optimize stereo playback (and for visual reference, the left speaker's tweeter is offset to the left of the woofer, and vice versa for the right speaker).
Solid midrange and bass
The D9s sport a 5-1/4" Balanced Double Surround System (BDSS) polypropylene woofer in each cabinet. These custom-designed drivers deliver articulate midrange and punchy bass.
Each speaker also features a 5" x 9" racetrack-shaped passive radiator, and a rear-firing port for increased low-end extension.
Get the most out of your stand-mount speakers
I'm a proponent of using high-quality speaker stands with bookshelf speakers. They help improve the sound by giving your speakers a stable, vibration-free platform. When shopping for stands, remember that the ideal height will place the tweeters roughly level with your ears, for maximum clarity.
Speaker stands also give you more placement flexibility, since you won't be limited to a space on your shelf or table. Keeping your speakers away from the wall or the corner of a bookshelf can also prevent excessively boomy bass. Many stands even offer built-in cable management for a neat, clean install.
The Sanus SF22 steel stands are an excellent choice to use with the D9s, but feel free to contact one of our Advisors for a specific recommendation for your setup.
READ LESS
Product highlights:
pair of high-performance bookshelf speakers for music or home theater
1" aluminum dome tweeter with 20/20 Wave Alignment Lens™ for excellent high-frequency performance

laterally offset tweeter assembly helps creates a precise center stereo image

5-1/4" BDSS™ (Balanced Double Surround System) polypropylene woofer for smooth midrange and punchy bass

Linear Response Waveguide provides smooths off-axis frequency response and even sound dispersion

5" x 9" racetrack-shaped passive radiator for increased bass extension
frequency response: 64-22,000 Hz (-3dB)
recommended amplifier power: 20-150 watts
sensitivity: 88 dB
impedance: 8 ohms
5-layer piano black high-gloss finish
aluminum front baffle
removable magnetic grille
two sets of 5-way binding posts for bi-amping or bi-wiring
6-9/16"W x 11-13/16"H x 12-7/16"D each
warranty: 5 years
MFR # MFBA-A
Definitive Technology Demand Series D9 reviews
Average review:
Customer photos
More details on the Definitive Technology Demand Series D9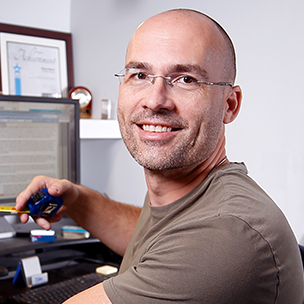 Researched by Crutchfield's

Stacey B.
Product Research
Features
1" Aluminum Dome Tweeter: The 1" annealed aluminum tweeter is precision engineered to articulate nuance and detail in the high-frequency bands for a crystal-clear listening experience. Offsetting the tweeter by 5° delivers a more precise center stereo image by eliminating undesirable symmetric diffraction off the corners of the front baffle.
20/20 Wave Alignment Lens: Coupled with Definitive's new 20/20 Wave Alignment Lens, the 1" annealed aluminum dome tweeter delivers smoother high frequency response and improved dispersion for a rich and balanced listening experience.
Linear Response Waveguide: A patented Linear Response Waveguide extends both on and off axis frequency response, while improving dispersion for more natural mid-range timbre and more precise imaging.
Note: Because the tweeters are offset, the bookshelf speakers are labeled for left (L) and right (R) on back of the cabinet.
5.25" BDSS (Balanced Double Surround System) Midrange/Woofer: A patented 5.25" Balanced Double Surround System (BDSS) polypropylene midrange/woofer provides greater excursion and output that results in superior midrange detail and punchier bass compared to drivers of similar size. The speaker's balanced double surrounds support the cone at two points to provide better mechanical stability for longer, more linear excursion, and improved damping to suppress cone resonance.
Passive Bass Radiator: A top-mounted oval 5" x 9" passive bass radiator in each bookshelf speaker produces superior low-end extension. Plus, the addition of a larger spider reduces rocking and increases linearity for deep, tight, clean bass response.
Hand Crafted Cabinet: The speaker cabinets are constructed from MDF with an extruded natural bead-blasted aluminum front baffle. The cabinets are hand-crafted, meticulously sanded, painted with five layers of premium gloss paint, and then buffed for a near-mirror finish (Level 6) for an uncompromising look in your home.
Acoustically Transparent Magnetic Grille: Each bookshelf loudspeaker also comes with an acoustically transparent magnetic grille. The included acoustically transparent magnetic speaker grilles provide natural, uncolored sound when placed on the speaker, and remove easily when you want to enjoy looking at them fully uncovered.
Gold-Plated, Dual Binding Posts: Each bookshelf speaker has two sets of gold-plated, 5-way binding posts connected by jumper-straps. The gold-plated binding posts will accept bare wire (up to 10AWG), pin connectors, spade-lugs, & banana plugs (single or dual). Using the dual posts, you can bi-wire or bi-amp the speakers. Bi-wiring or bi-amping the speaker provides improved bass & treble performance.
Bi-Wiring: Bi-wiring can provide noticeable improvements in the overall transparency of your loudspeakers. Run separate speaker wires to the low & high frequency drivers from a single amplifier (the upper set of binding posts are for the high frequency drivers; the lower set of binding posts are for the low frequency drivers).
Bi-Amping: Bi-amping allows you to use separate amplifiers for the high & low frequency sections of your loudspeaker for greater dynamic range & lower distortion. We recommend that your separate amplifiers have identical gain to preserve the speaker's voicing balance.
Notes:

If you decide to bi-wire or bi-amp, you must remove the jumper-straps between the terminal posts on both speakers (failure to do this could result in damage to your amplifier and loudspeakers).
In order to use banana plugs, you must completely unscrew the binding-post terminals and remove the rubber caps. Once you have removed the rubber caps, you can fully screw down the binding-post terminals and connect your banana plugs (sold separately).
Mounting Options: The Demand Series D9 bookshelf speakers can simply be placed on a speaker stand, desk, table or shelf. Definitive offers a speaker stand (735DST1, sold separately) specifically designed for the Demand Series bookshelf speakers. Integrated rubber pads on the bottom of the speakers provide stability and protection. You can use the Pinpoint side-clamping brackets (sold separately - see Accessories tab) to wall mount the speakers.
Note: This speaker does not offer a threaded insert or keyhole slot for wall-mounting.
Placement: The D9 bookshelf loudspeakers and your main listening position should be setup in an equilateral triangle that measures 7-10' from each speaker and the listening position. The speakers should be placed approximately 2-6' from side walls and 2-4' from back walls. The speakers should be mounted as close to ear level as possible with the listening position. Toeing the speakers in slightly, toward your listening area will provide stronger stereo imaging.
Demand Series: The Definitive Technology Demand Series loudspeakers deliver full-range, room-filling sound and precise imaging in a modern, elegant styling. Featuring technology advancements to both Definitive's aluminum dome tweeter and midrange/woofer sections, these speakers deliver an unrivaled sweet spot, smoother high-frequency reproduction, and three-dimensional imaging for a technically-advanced, premium listening experience. Definitive Technology's Demand Series consists of two floorstanding loudspeakers (D15/D17), three bookshelf loudspeakers (D7/D9/D11), and a center-channel loudspeaker (D5C).
Optional Powered Subwoofer: Add one of Definitive Technology's powered subwoofers (sold separately - see Accessories Tab) for bigger, deeper, and more dynamic bass response.
Q
Crutchfield asked: Why did you buy this?
A
I love DEfTech products!!
[ Christopher Dec 10, 2018 ]
A
Def Dec.,Tech. is one of the better speakers out there.In my living room I've been running all, Def tech for the last 5 years with no problems the system is powered a 250 watt Marantz...................................I still have a place in my Heart for Polk Audio..................
[ Gary Ridenour Oct 08, 2018 ]