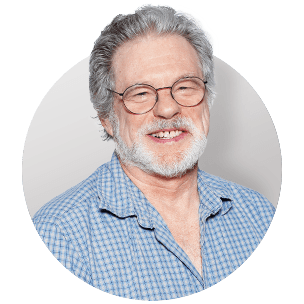 Buck Pomerantz
I've been tinkering with electronics ever since I was a kid – starting with taking apart and putting back together televisions and radios. I always got them back together again and working. I took courses in radio and electronics as a teenager, and became a ham radio operator. I worked in my high school's stage crew, running sound, lights, and a movie projector. After college, I joined a rock 'n roll band as the soundman and learned how to lug around and operate the gear that helps make music sound good and loud.
Working in a music store in Austin, Texas, I spent a few years manufacturing, installing, repairing, and operating sound systems. Our customers were recording studios, nightclubs, and touring bands. Eventually I moved back to Charlottesville, Virginia and opened a small demo recording studio. In 2006, I finally came to my senses and got this job at Crutchfield. They actually pay me to ramble on, rant, and explain the things I love about music, electronics, and getting good sound.
Given my background, they put me to work writing about some of the most complex electronic products Crutchfield sells: car amplifiers, digital signal processors, wiring, professional sound mixers, and PA systems.
More about Buck
Started at Crutchfield in 2006
Completed our thorough in-house Advisor training, learning about the ins and outs of our various products
Designed and organized Crutchfield's subwoofer wiring diagrams
Stays up-to-date by attending vendor training sessions for new products
Earned MECP (Mobile Electronics Certified Professional) certification
Authored dozens of Crutchfield articles and hundreds of product presentations, primarily focused on car audio amplifiers and pro audio gear
Answers the many customer questions posted in the comments on his articles
Semi-retired soundman with decades of experience making other people sound good
From 1999 to 2018, also worked as a sidelines video camera grip for University of Virginia football and basketball games