Bluesound PowerNode 2
Streaming music player with built-in stereo amplifier, Wi-Fi®, and Bluetooth® (Black)
Item # 813PNODE2B | MFR # PowerNode 2 Black
In Stock
Buy now

Our North American experts can help.
Overview
Our take on the Bluesound PowerNode 2 by Crutchfield's Ralph Graves
Wireless music for the audio enthusiast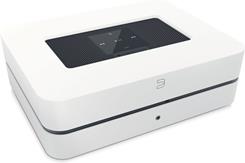 If you're serious about your music and its sound quality, here's good news. With the Bluesound system you can play your high-resolution music and enjoy the convenience of wireless multi-room audio throughout your home. Bluesound was designed by the makers of NAD electronics and PSB speakers, both experts when it comes to delivering high-performance audio.
Ready for your most demanding speakers
The Bluesound Powernode 2 is a wireless music player with a high-performance stereo amplifier built in. With 120 watts of total system power, it can drive virtually any pair of speakers you choose — even floor-standing speakers. Its advanced amplifier delivers finely detailed sound from your digital music sources, even at extremely high and low volume levels.
HybridDigital™ Amplifier technology reduces noise and distortion
Bluesound's HybridDigital Amplifier features a 32-bit/192kHz digital-to-analog converter (DAC) coupled with 1GHz ARM multi-core processors for highly detailed and blazing fast signal processing Your high-resolution digital files will sound clear and richly textured.
High-quality Bluetooth
The PowerNode 2 features aptX® audio coding, an advanced form of Bluetooth that allows higher-fidelity sound with compatible Bluetooth devices. The system is backward-compatible with earlier forms of Bluetooth, too. Bluetooth is a convenient way to play the sound from any app you might be using on your mobile device, including Netflix® and YouTube™. You can even share that Bluetooth source with other Bluesound music players around your house that are connected to the same network.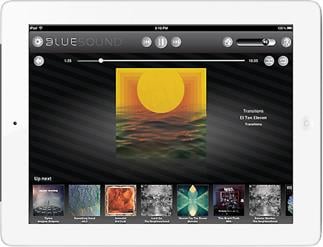 Control the system through Bluesound's free app for your smartphone or tablet.
A universe of music options
Bluesound is compatible with virtually all digital music formats — including high-resolution files up to 24-bit/192kHz. Access the music stored on your computer or a networked hard drive. Stream from Internet radio stations and online services like Spotify®, Rhapsody, and TIDAL. You can also enjoy downloads from high-res music sites such as HDtracks. The player is also compatible with MQA, an up-and-coming high-resolution audio format. The PowerNode 2 also features a USB input for playing files "locally" from a thumb drive or hard drive — ideal when friends come over with their own music.
Create a high-resolution multi-room music system
Combine multiple Bluesound players to enjoy high-end sound throughout your home.
Control in the palm of your hand
In addition to creating high-end music players, Bluesound also developed free apps for Apple® and Android™ so you can control the system easily with your portable device. Pull up the app on your smartphone or tablet and you can select songs and adjust volume. Play music in one room, all rooms, or different tracks in different spaces around your home.
Product Highlights:
built-in stereo amplifier rated at 120 watts total (60W x 2) into 8 ohms
HybridDigital™ amplifier renders digital music sources with ultra-fine detail, even at extreme high and low volumes
communicates with other communicates with other Bluesound players via your home network (wired or wireless) players via your home network (wired or wireless)
control the system with a free app for your smartphone, tablet, or computer (Android™, iOS®, Kindle Fire, Windows®, and Mac®)
plays MP3, AAC, WMA, OGG, WMA-L, FLAC, MQA, ALAC, WAV, and AIFF files

supported sample rates: 32kHz to 192kHz
supported bit depths 16-24
plays Internet radio stations from TuneIn Radio and iHeart Radio

Spotify Connect lets you play Spotify's streaming music library through your Bluesound system via your smartphone or tablet (requires Spotify app and a premium subscription; firmware and app version 1.10.0 or higher)
plays streaming music from TIDAL, Rdio™, HighResAudio, HDtracks, Deezer, JUKE, Slacker Radio, Qobuz, and Murfie
Bluetooth wireless audio streaming with aptX support for better sound with compatible devices
play music in multiple rooms when you add other Bluesound players
top-mounted controls for volume and muting
binding post speaker terminals
USB port for connecting a thumb drive with music files
combination mini-optical/stereo minijack audio input
audio output:

headphone stereo minijack
subwoofer RCA mono

built-in Wi-Fi (2.4GHz only)
Ethernet port (Ethernet cable included)
compatible with Windows® (XP or higher operating system)
compatible with Mac®
requires AC power (detachable cord included)
8-5/8"W x 2-13/16"H x 8-3/4"D
weight: 3.8 lbs.
warranty: 1 year
requires smartphone or tablet with free Bluesound app for control of system playback
requires high-speed Internet connection
What's in the Box:
Bluesound PowerNode 2 Owner's manual
Network music amp
6' AC power cord (120V)
6" AC power cord (240V)
6.5' Ethernet cable
Optical-to-3.5mm adapter
Quick Setup Guide
Warranty Sheet
"Important" booklet
"Spotify Premium" note
I purchased the Powernode 2 to drive a pair of Elac UB5 bookshelf speakers for my average sized home office. These speakers require a fair amount of power 40-140 WPC (sensitivity 85 db) but the Powernode 2 has no problem driving them very successfully with its 60 WPC / 8 ohms output.

Gregory M, Sterling, VA
Details
Product Research
Features
Bluesound Wireless High-Resolution Audio Eco-System: The PowerNode 2 network music amplifier is part of Bluesound's wireless high-resolution audio eco-system. The Bluesound wireless high-resolution audio eco-system consists of music players, amplifiers, hard-drives, and wireless speakers to playback your high-res and low-res music files, along with your favorite online music services throughout your home using your home's WiFi network. With an advanced WiFi antenna design and blazing ARM Cortex9 Processors, Bluesound ensures a solid connection in every corner of your home. Play your music in perfect sync or play different music simultaneously to any Bluesound device in any room.
Note: Up to 16 Bluesound devices can be connected in a strictly wireless environment. If you want to connect more than 16 Bluesound devices, you will need to connect the Bluesound devices to your network using a wired connection. Bluesound can then control up to 64 devices in a strictly wired environment.
Audiophile-Grade Components: Sate-of-the-art, audiophile-grade HybridDigital amplification and DAC technologies bring dynamic power and high-current delivery to your high-res music experience, resulting in the ability to play louder than ever before, with zero-distortion precision audio performance.
HybridDigital Amplifier: The built-in HybridDigital amplifier is rated at 60 watts x 2 channels (into 8Ω with 0.02% THD and 100dB signal-to-noise ratio) for rich, clear, and distortion free sound at any volume.
32-Bit/192kHz DAC: The Bluesound Node 2 employs a 32-bit/192kHz DAC (digital-to-analog converter) to ensure that your lossless high-res music playback is flawless, with precision and clarity.
Note: The Bluesound D30 2.1 Sub/Sat system (813D30B/W, sold separately) makes the perfect companion for the PowerNode 2.
Wired or Wireless Network Connection: The Bluesound PowerNode 2 can be connected to your home network and Internet provider via a hardwired Gigabit Ethernet (RJ-45) jack connector or wireless WiFi (802.11 b/g/n) connection. Either network/internet connection allows you to stream music from your Windows or Mac computer and NAS drive (such as the Bluesound Vault, sold separately); as well as stream select online music services.
Note: Bluesound operates only on 2.4GHz WiFi (not 5GHz).
Bluesound Controller App: The free Bluesound Controller App turns your Apple iOS (7.0+) iPod/iPhone/iPad, Android (OS 4.0+) smartphone/tablet, Windows (Vista or newer) PC or Mac (OS X 10.7+) computer into a full-featured remote control for the Bluesound wireless music system. The Bluesound Controller App on your compatible device uses your home's WiFi network to connect with Bluesound devices, so you can play all the music you love anywhere in your home for a wireless multiroom music experience. Get on-demand access to your music libraries on your home network, stream live Internet radio from almost any place in the world, or listen to one of the many music services available on Bluesound, all from the palm of your hand with the easy-to-use Bluesound Controller App.
Supported Music Formats: The Bluesound wireless audio system supports both low-res and high-res audio files; including MP3, AAC, WMA, OGG, FLAC, ALAC, WMA Lossless, MQA, WAV, and AIFF. Bluesound has been designed to work with today's larger music collections, and has indexed libraries up to 100,000 songs in demonstrated practice (this will depend on the music's metadata & artwork). Bluesound also offers gapless playback by default for all supported file music types.
Compression
File Type
Sampling Frequency
Bit Rate or Bit Depth
Compressed
Lossy
MP3
16-48kHz
192-320 kbps
WMA
AAC
OGG
Lossless
WMA-Lossless
up to 96 kHz
up to 24-bit
FLAC
192 kHz
up to 24-bit
ALAC
MQA
Uncompressed
AIFF
up 192 kHz
up to 24-bit
WAV
Notes: Bluesound cannot index or play AAC files with the extension ".m4p". These files were purchased in iTunes prior to 2009 and are subject to copy protection. Apple Consumers with an iTunes Match subscription can delete and re-download these files free of charge from their iTunes Cloud
MQA (Master Quality Authenticated): Bluesound is the first wireless multiroom audio system to support MQA (Master Quality Authenticated). MQA is a revolutionary end-to-end technology that captures and delivers master quality audio in a file that's small enough to stream or download. Bluesound worked closely with MQA to implement technology inside each Bluesound component to ensure the listener will hear MQA encoded music and streams exactly like the source and the way the artist intended you to hear it when it was approved in the studio.
Note: MQA (Master Quality Authenticated) support will require a firmware update.
Online Music Services: With a network and internet connection, the PowerNode 2 lets you access select online music services & internet radio. The Bluesound Controller app on your Apple iOS or Android device will serve as the controller for these apps and provide song/artist information with Album Art.
Amazon Prime: With a Prime Music subscription, you can access over 2 million songs ad-free and on-demand, as well as curated playlists and personalized stations. Upgrade to an Amazon Music Unlimited subscription to access tens of millions of songs.
Spotify Connect: If you subscribe to Spotify Premium and have the Spotify App on your Apple iOS or Android smartphone, you can stream Spotify to the Bluesound system. Spotify is a digital music service that gives you on-demand access to one of the largest music libraries in the world (over 15 million tracks and counting). Spotify makes it easier than ever to discover, manage, and share music with your friends. You can browse music by artist, album, track, or most popular; and create your own music library with customized playlists.
TIDAL: TIDAL is a global streaming service that offers over 30 million songs in high-fidelity CD sound quality. TIDAL has two pricing tiers; either $9.99 or $19.99 a month. Both pricing levels allow you to access TIDAL's entire music library. The $19.99 tier has the added benefit of high-fidelity sound at CD-level quality
TuneIn: The Bluesound system includes access to more than 70,000 free internet radio streams from all corners of the globe via the TuneIn radio service. Just select the TuneIn logo from the main Music menu and browse among the 70,000 stations neatly organized into popular categories and select a station that appeals to your mood.
iHeart Radio: iHeartRadio is a free, all-in-one digital radio and music streaming service that lets you listen to thousands of live stations from across the country and allows you to create personalized custom stations featuring songs from the artist you select and similar music.
Napster: Napster is a streaming music subscription service (starting a $10 per month) that allows you to play the full-length songs you choose on demand from a collection of over 10 million songs, without ads and without having to purchase or download the music.
Slacker: Get the sound quality that you deserve with the new Slacker Radio® music library available in high-quality AAC audio on Bluesound. Listen to music streams at a bitrate of 320kbps and enjoy all your favorite Slacker stations in pristine MP3-quality.
Note: Availability of online music services may vary by region. Not all services may be available at time of purchase. Some services may be added or discontinued from time to time based on decisions of the music service providers or others.
Music Library From Your Mobile Device: From the Bluesound Controller App, you can stream music directly over WiFi from your Apple iOS or Android device to the Bluesound PowerNode 2 and the rest of your Bluesound components around your home. The app gives you complete control of your compatible mobile device's music library with song/artist information and album art.
Computer Audio: The Bluesound wireless music system will pull music from an existing digital music library across the network on your Windows PC or Mac computer using Windows or SMB File Sharing (SAMBA) and the Bluesound Controller App for Windows & Mac.
Windows: Music files stored on a Windows desktop or laptop can be accessed by Bluesound using Windows File Sharing. You will need to download the Bluesound Share Utility for Windows - Bluesound Share Utility Windows v1.6.zip. This utility will work on Windows Vista, 7, 8 and 10.
Mac: Music files stored on an Apple iMac or MacBook can be accessed by Bluesound using SMB File Sharing. You will need to download the Bluesound Share Utility for OS X - Bluesound Share Utility OSX v1.2.zip.This utility will work on any version of Apple OS X 10.8.x and higher.
Bluetooth w/ aptX: The Bluesound PowerNode 2 features built-in Bluetooth 4.0 with support for wireless music streaming from your Bluetooth-enabled Apple iPod/iPhone/iPad, Android smartphone/tablet, Windows PC/Phone, Mac computer/laptop, and more. You'll be able to stream stored music and music apps on your Bluetooth-enabled device to the PowerNode 2. In addition, the PowerNode 2 offers aptX for CD-quality sound from Android (OS 4.0+) devices. You can even distribute Bluetooth audio to the rest of your Bluesound wireless audio system throughout your home or office over WiFi.
Outputs: The Bluesound PowerNode 2 features a set of speaker output terminals for connecting a pair of speakers, a mono-sub out for adding a powered sub, and a headphone jack for private listening.
Binding Post Speaker Terminals: The Bluesound PowerNode 2 is equipped with four binding post speaker terminals to connect a pair of loudspeakers. The terminals will accept single or dual banana plug connectors or bare wire. The plastic terminal caps must first be removed in order to use banana plugs.
Sub Output: The PowerNode 2 also features a mono-RCA subwoofer output for adding a powered sub. The sub output is full-range; you will need to use the low-pass crossover in your powered sub.
Headphone Output: A 3.5mm headphone jack is located on the front of the PowerNode 2 for private listening with a set of headphones. The PowerNode 2's output will be muted when headphones are connected.
Inputs: The Bluesound PowerNode 2 is fitted with a USB (type-A) port for playback of music files stored on a mass storage class (MSC) device, as well as a 3.5mm Aux input that serves as a digital or analog input.
USB Port: The Bluesound PowerNode 2 features a USB (type-A) port to directly connect your USB mass storage class (MSC) device; such as a thumbdrive or external hard-drive. The unit's USB port supports music playback from these compatible USB devices formatted in FAT 32 or NTFS. Not only can USB audio be played back on the PowerNode 2, but can also be wirelessly distributed to the rest of your Bluesound components throughout your home for multiroom playback. USB mass storage devices that require more than 0.5A of power will require a separate power supply. The USB port is not compatible with the direct connection of an Apple iPod/iPhone/iPad or Android devices.
Optical/Analog Input: The PowerNode 2 is fitted with a 3.5mm Aux input which can be used as an analog or digital connection. As an analog input, simply connect a stereo minijack audio cable from your analog source to the PowerNode 2's Aux input. As a digital input, use the included 3.5mm-to-Optical adapter along with an optical digital cable (sold separately) to connect your digital source to the PowerNode 2's Aux input. As an analog or digital input, the unit's Aux input supports 2ch PCM audio (not Dolby Digital or DTS). Audio from the Optical/Analog Aux input can be played back at the PowerNode 2 and wirelessly distributed to other Bluesound components in your home for multiroom playback.
Soft-Touch Controls: The Bluesound PowerNode 2 offers soft-touch, top-panel controls to operate basic playback functions like Volume Up/Down, Play/Pause, and Previous/Next Track.
IR Input: An infrared extender (sold separately) can be connected the PowerNodes 2's IR input (3.5mm) to allow for programmable learning remotes to control volume and source selection when the PowerNode 2 is stored in a way that the front-panel IR sensor is not visible.
AC Power: The Bluesound PowerNode 2 operates off of standard household current using its internal power supply and the included 6' detachable AC power cord.
Our Product Research Team
At Crutchfield, you'll get detailed, accurate information that's hard to find elsewhere. That's because we have our own in-house Product Research team. They verify what's in the box, check the owner's manual, and record dimensions, features and specs. We stay on top of new products and technologies to help people make informed choices.