Polk Audio UltraFit 3000
In-ear sports headphones for iPhone® and iPod® (Black and Red)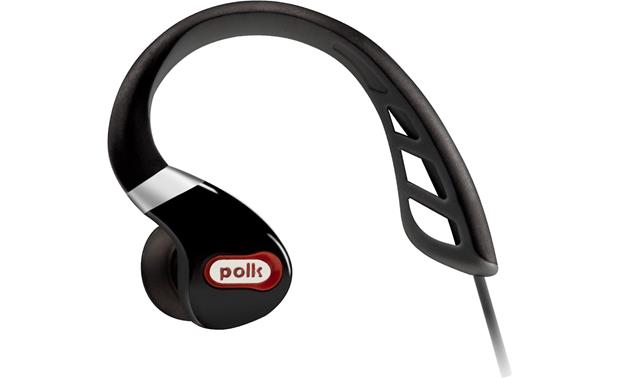 Polk Audio UltraFit 3000 - Black and Red

Polk Audio UltraFit 3000 - Alternate view

Polk Audio UltraFit 3000 - Product package (Black and Red)
Crutchfield: Polk Audio Ultrafit headphones
From Polk Audio: Headphones
From Polk: UltraFit Headphones

Polk Audio UltraFit 3000 - Shown with included accessories (Black and Red)

Polk Audio UltraFit 3000 - White and Gray
Item # 107UF3000B | MFR # AM3100-A
In Stock
Was: C$96.99
Sale: -C$37.00
Buy now

Our North American experts can help.
Overview
Our take on the Polk Audio UltraFit 3000 by Crutchfield's Dave Bar
Get solid performance, exceptional comfort, and rugged durability with Polk Audio's UltraFit 3000. These versatile in-ear sports headphones make it easy to enjoy great sound quality anywhere you go — to the gym, on the road, or off the trail; the same sound quality that made Polk speakers famous. Their moisture-resistant design stands up to your active lifestyle, and the wide variety of included eartips ensures you'll get a snug-yet-comfortable fit. These 'phones are made to go deeper in your ears than Polk's other UltraFit in-ear models, which means they naturally reduce outside noise. Soft, bendable ear clips keep them firmly in place so you can keep on rocking out no matter how tough the going gets.
Control your iPhone® or iPod® with ease
The UltraFit 3000's in-line remote lets you switch seamlessly between phone calls and music on select Apple® devices, without interrupting your workout. You can answer and end calls, control your music's volume, and pause, play, or skip through your songs. Plus, a built-in microphone lets you enjoy hands-free conversations on your iPhone.
Pick the cable length that's right for you
The UltraFit 3000 includes two tangle-resistant, Kevlar®-reinforced cables to match your listening style. A long 41" cable lets you wear your music player on your waist or in your pants pocket, while the short 14" cable makes a convenient connection to an iPod tucked into an armband holder or shirt pocket. Or, you can unplug the extension cables altogether, and hook the headphones straight into an iPod nano®, iPod shuffle®, or other MP3 player clipped to your shirt collar. The UltraFit 3000s come with a soft, zippered case for storage, and a clothing clip to help keep them in place while you're on the move.
Product Highlights:
in-ear design provides natural sound isolation
moisture-resistant construction for long-term durability
in-line microphone and built-in 3-button remote control for use with iPod®, iPhone®, and iPad®
bendable SecureFit™ Supports help headphones stay securely in place for on-the-go listening
detachable 41" straight cord with mic/remote and angled stereo mini (3.5mm) plug
short, detachable 14" cord included for convenient connection to armband-mounted portable music players
Nokia® connection adapter
StrainGuard™ Kevlar®-reinforced core and connections help eliminate cable failure
flat, ribbon-like cord design resists tangles
includes three pairs of StayFit™ silicone eartips (S/M/L), two pairs of triple-flange silicone eartips (S/L), and two pairs of memory foam eartips (S/L) for a comfortable custom fit
frequency response: 18-24,000Hz
impedance: 16 ohms
sensitivity: 118
includes soft, zippered carrying case and clothing clip
warranty: 1 year
What's in the Box:
Polk Audio UltraFit 3000 Owner's manual
Sports in-ear headphones (with attached 14" cord terminated by a male 3.5mm connector)
41" Headphone extension cable with in-line remote/mic (female 3.5mm jack on one end and a right-angle male 3.5mm connector on other end)
14" Headphone extension cable (with a female 3.5mm jack on one end and a male 3.5mm connector on other end)
3 Pairs of round silicone ear-tips (S/M/L)
2 Pairs of 3-flange silicone ear-tips (S/L)
2 Pairs of memory foam ear-tips (S/L)
6.75" Mobile phone adapter (with a female 3.5mm jack on one end and a right-angle male 2.5mm connector on other end)
Shirt clip
Protective case
Owner's Manual
Quick Fit Guide
Online product Registration
Details
Product Research
Features
UltraFit Series Sports Headphone: Polk Audio designed their new UltraFit Series Sport Headphones to enhance your headphone listening experience while enduring your most demanding workouts, comfortably. The Polk Audio UltraFit Series Sport Headphones are engineered for comfort, performance, and durability. You'll appreciate how they fit and stay put even through the roughest workouts. You'll also be impressed and delighted by the dynamic sound quality of the UltraFit Sport Headphones. The UltraFit 3000 even offers an in-line remote + mic, so you can control your iPod or answer your iPhone on the go.
Dynamic Balance: Co-developed with the Johns Hopkins Center for Non-Destructive testing, Dynamic Balance is a design tool that enables Polk Audio engineers to pinpoint the elements that negatively impact driver performance. These same engineers then carefully control materials, interfaces, and geometries; resulting in a headphone with great sound.
Dynamic Balance Polymer Drivers: UltraFit Sport Headphones employ dynamic drivers much like those in a Polk Audio full size speaker; they're just a lot smaller (6mm). To meet Polk's predetermined performance parameters, their engineers took the same care designing these drivers as Polk Audio large speaker drivers; even adding a discrete crossover filter to each driver to naturalize the high frequencies.
Ported Enclosures: UltraFit Sports Headphones are ported, since there is the port (ear piece) you put in your ear. There are also very small channels in the back of the driver enclosure, beneath the Polk logo. These are crucial to tuning the driver's frequency response peaks. And that means a better sounding pair of headphones.
Moisture Shield: The UltraFit 3000 headphones employ Moisture Shield to protect the headphones during your workout. Moisture Shield consists of a thin scrim on UltraFit 3000 driver screen. This filter material resists moisture that could get to the driver; so the headphones can keep performing through strenuous activity. Moisture Shield also provides an acoustic barrier to help smooth frequency response.
SecureFit Support: SecureFit Support is a flexible ear hook that wraps around your ear, so the earpiece stays in place. With SecureFit Support, you'll experience a snug yet comfortable fit. Now, you can put your headphones on and forget about them during your workout.
StayFit Eartips: Properly fitted eartips help you to eliminate extraneous noise, experience greater bass response, and enjoy better tonal balance. Eartips that fit correctly also feel more comfortable. No two person's ears are exactly the same, so Polk includes a variety of StayFit silicone and memory foam eartips to ensure a secure and comfortable fit for optimum audio performance.
Silicone Eartips: 3 pair of round silicone eartips (Small/Medium/Large) and 2 pair of three-flanged silicone eartips (Small/Large) are included.
Memory Foam Eartips: 2 pair (Small/Large) of memory foam ear tips are also included.
Noise Reduction: The UltraFit 3000 provides a high level of noise reduction, thanks to the sealed inner-ear fit you get from the included silicone and memory foam eartips.
Ultra Flexible Tangle-Free Planar Audio Cable: Standard round headphone cables always coil up and twist; and are a constant source of annoyance, because they get in the way of your workout. Eventually repetitive twisting means the cable will break or pull out at the end. The UltraFit's planar design (with oxygen-free wire for better conductivity) completely eliminates coiling, so the headphone cables won't tangle up during a workout, or when stored away. The planar design also eliminates micro-phonics, the tendency of an electronic device to turn a mechanical vibration into "noise," which you would hear, in this case, through the headphones.
StrainGuard: Sports headphones get a lot of abuse. UltraFit Sports Headphones have been designed with this in mind. StrainGuard is a protective system that addresses the areas where sports headphones fail most often. A Kevlar core that houses the speaker wire provides extra tensile strength to prevent the wire from being pulled apart at common failure points. The other points of common failure in sports headphones are at transitional points between cable lengths and at connection points. In the UltraFit Series, all transitional connections are computer designed to strengthen the points where they fail most.
3 Cable Lengths: UltraFit Series headphones come with three cable length options, so you can wear your music device the way that works best for you. The attached 14" headphone cable lets you clip your portable music player to your shirt collar (with included shirt-clip), an included 41" headphone extension cable enables you to wear your music player on your waist or pants pocket, while the supplied 14" headphone extension cable lets you wear your iPod nano, iPod shuffle, or other MP3 players on a t-shirt sleeve.
Note: The 41" headphone extension cable is the only cable that included the in-line remote/mic.
3.5mm Connector: All UltraFit Sports Headphones employ a gold-plated 3.5mm connector that has been designed to fit through the opening on most portable audio player cases.
Note: A 2.5mm adapter is also included for select mobile devices, such as Nokia.
3-Button Remote Control + Mic: The UltraFit 3000 features a 3-button remote & microphone (located on the 41" headphone extension cable) so you can use your iPod, iPhone, or iPad on the go with in-line controls. The in-line remote lets you initiate play/pause, change tracks, adjust volume, or take a call (iPhone only) without ever touching your player. The in-line microphone supports both voice control (for iPod/iPhone/iPad) and hands-free communication (iPhone only). The UltraFit 3000 is "Made for iPod/iPhone/iPad" compatible and supports the following models and functions (as of 12/28/2011).
iPod Model
Generation
Tested Version
Audio Output
In-Line Remote
In-Line Mic
3.5mm Connector
Audio Playback
Playback Controls
Answer/End Call
Voice Control
Hands-Free Communication
Shuffle
1st
n/a
Y
Y
N
N
N
N
2nd
n/a
Y
Y
N
N
N
N
3rd
n/a
Y
Y
Y
N
N
N
4th
n/a
Y
Y
Y
N
N
N
dock connector
3rd
2.0.2
Y
Y
N
N
N
N
clickwheel
color
4th
3.1.1
Y
Y
N
N
N
N
mini
1st
1.4.1
Y
Y
N
N
N
N
2nd
1.4.1
Y
Y
N
N
N
N
video
5th
1.3
Y
Y
N
N
N
N
classic
80GB
1.1.2
Y
Y
N
N
N
N
120GB
2.0.1
Y
Y
Y
N
Y
N
160GB
2.0.4
Y
Y
Y
N
Y
N
nano
1st
1.3.1
Y
Y
N
N
N
N
2nd
1.1.3
Y
Y
N
N
N
N
3rd
1.1.3
Y
Y
N
N
N
N
4th
1.0.4
Y
Y
Y
N
Y
N
5th
1.0.2
Y
Y
Y
N
Y
N
6th
1.1 PC
Y
Y
Y
N
Y
N
touch
1st
2.2.1
Y
Y
N
N
N
N
2nd
4.2.1
Y
Y
Y
N
Y
N
3rd
5.0.1
Y
Y
Y
N
Y
N
4th
5.0.1
Y
Y
Y
N
Y
N
iPhone
2G
3.1.3
Y
Y
N
N
N
N
3G
4.2.1
Y
Y
N
N
N
N
3GS
4.3.5
Y
Y
Y
Y
Y
Y
4
5.0.1
Y
Y
Y
Y
Y
Y
4S
5.0.1
Y
Y
Y
Y
Y
Y
iPhone
1
5.0.1
Y
Y
Y
N
Y
N
2
5.0.1
Y
Y
Y
N
Y
N
Note: Apple iPod/iPhone software updates may change functionality results. If you download a newer software version, you may need to reset your iPod/iPhone to regain functionality. If this doesn't work, you may need to revert to the older software version or wait until a newer software update is available.
Moisture Resistant Soft Case: The UltraFit Sports Headphones include a moisture resistant soft case for storage, transport, and protection of the headphones and its included accessories (extension cables, in-line remote/mic, ear-tips, 2.5mm adapter, shirt clip).
Our Product Research Team
At Crutchfield, you'll get detailed, accurate information that's hard to find elsewhere. That's because we have our own in-house Product Research team. They verify what's in the box, check the owner's manual, and record dimensions, features and specs. We stay on top of new products and technologies to help people make informed choices.