Onkyo TX-NR1030
9.2-channel home theatre receiver with Wi-Fi®, Bluetooth® and Dolby Atmos®
Item # 580TXN1030 | MFR # TX-NR1030
This item is no longer available.
Overview
Our take on the Onkyo TX-NR1030 by Crutchfield's David Brown

Home theater sound goes vertical
Raise your home theater's sound to the roof...or at least the ceiling. Add overhead sound with the Onkyo TX-NR1030 home theater receiver and Dolby Atmos®. This ground-breaking surround sound technology makes movie soundtracks more lifelike and immersive. Equipped with a nine-channel amplifier, this receiver offers lots of options for Dolby Atmos setups, conventional five-, seven-, or nine-channel systems, or a multi-zone system to power speakers in as many as three room. Built like a tank, the 'NR1030 is optimized to make all your music and movie soundtracks explode with realism and detail.
Prepare for liftoff with Dolby Atmos
Fasten your seat belt, sit back, and hold on: Dolby Atmos is about to take your home theater experience to thrilling new heights. The TX-NR1030 has connections for one or two pairs of in-ceiling speakers or Atmos enabled upward-firing speakers that reflect sound off your ceiling. Dolby Atmos processing uses these "height" speakers in conjunction with a conventional surround-sound setup to place sounds in your listening area with incredibly accuracy and an almost 3D audio effect. Plus, it's great for overhead effects that increase the height of your system's soundstage, enveloping your whole room in spine-tingling sound.
The TX-NR1030 offers multiple setup options for Dolby Atmos. For instance, you can add two overhead or up-firing speakers to a conventional seven-channel system — this is referred to as a 7.1.2 Dolby Atmos setup. Here's a breakdown of all the Dolby Atmos speaker configurations this receiver supports:
7.1.2 - seven conventional surround speakers, one powered subwoofer, and two overhead or height speakers
5.1.4 - five conventional surround speakers, one powered subwoofer, and four overhead or height speakers
5.1.2 - five conventional surround speakers, one powered subwoofer, and two overhead or height speakers
You can use as many as four subwoofers with any of these configurations.
Wi-Fi and Bluetooth offer lots of music choices
Music is increasingly delivered from sources other than shiny discs. Smartphones, tablets, computers, Internet radio, and subscription services offer a wealth of listening options. You can take advantage of all of them with the TX-NR1030. Stream music from smartphones and tablets over Bluetooth, to play audio from any app through your home theater speakers. If you have a digital music library stored on a networked PC or storage drive, Wi-Fi lets you play those tunes over your home network. There's also built-in support for Spotify®, Pandora® Internet radio, SiriusXM, and free Internet radio streams via TuneIn radio. With so many choices, you'll never have trouble finding something to listen to. Plus, Onkyo's Music Optimizer helps flesh out the sound of compressed files and Bluetooth streams.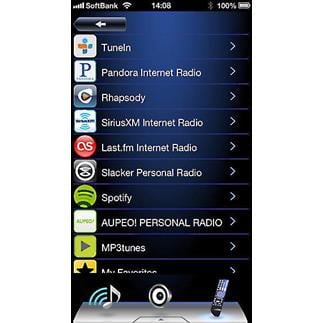 Listen to music from online music services using Onkyo's free remote app for Apple and Android smartphones.
Emphasis on sound
The 'NR1030 is about more than just convenience and versatility. Onkyo has always put a premium on sound quality. This receiver features their Wide Range Amplifier Technology, which provides plenty of current to ensure smooth sound even during large swings in dynamics. This reduces distortion while ensuring music and movie soundtracks have plenty of punch. THX® certification means you'll get reference-quality sound for movies, even when you need to crank up the volume to fill a large room. If you've downloaded high-resolution music from sites like HDtracks, you'll appreciate this receiver's ability to decode high-res files like FLAC, WAV, Apple Lossless, and DSD. Or kick it old school by connecting your turntable and enabling Pure Direct Analog Path to turn off all digital circuitry for top-shelf analog playback.
Multi-room audio and video
If you'd like to add speakers to an adjoining bedroom, kitchen, or porch, you can plan ahead with the TX-NR1030. Powered outputs for Zones 2 and 3 let you use as many as four of the receiver's amplifier channels to drive additional sets of speakers in other rooms. Two of the HDMI outputs operate independently, so you can even watch different video content on a second TV. While the kids enjoy a Blu-ray movie in the home theater, you can catch the ballgame on cable in the bedroom. When feeding a second TV via Zone 2 HDMI, you can use the TV's speakers — or for better sound, consider hooking up your old receiver to some additional speakers in that second room. The 'NR1030 also has line-level Zone 3 outputs for even more multi-room flexibility.
Simple setup and control
The tiny microphone that's included with the TX-NR1030 is your key to properly calibrated home theater sound. Plug it into the front of the receiver, and let Onkyo's AccuEQ optimize your system for your room and speaker setup. This ensures you'll get the best possible sound in your room, even if its odd layout forces you to place speakers in less than ideal locations. Before you start exploring this receiver's features, be sure to download the Onkyo remote app to your Apple® or Android™ smartphone. It offers easy control of the receiver's most important functions, as well as giving you instant access to Internet radio and other online music choices.
Highlights:
Power and Processing:
9-channel amplifier
135 watts per channel into 8 ohms (20-20,000 Hz) at .08% THD, with 2 channels driven
Dolby® and DTS® surround sound decoding, including Dolby Pro Logic® IIz
Dolby Atmos processing for use with in-ceiling or "height" speakers for more enveloping home theater sound
THX Select2 Plus certified for uncompromised home theater sound
analog-to-HDMI video upconversion (up to 1080p and 4K) with Marvell Qdeo video processing
AccuEQ automatic speaker calibration optimizes your system's sound for your room (microphone included)
Digital and Streaming Music Options:
built-in Wi-Fi for listening to music from a networked PC, free Internet radio, and music services

includes support for Pandora, Spotify, SiriusXM, Slacker®, TuneIn, and Aupeo! (subscription required for some services)

built-in Bluetooth for wireless music streaming from a compatible smartphone, tablet, or computer
front-panel MHL-ready HDMI input for playing audio and HD video from select Android smartphones and tablets
DLNA-certified for streaming music with compatible devices and computers
plays high-resolution digital music files via USB storage device or a networked computer (up to 24-bit/192kHz resolution)
plays DSD files (up to 2.8 MHz .dsf files) from network and USB storage devices
Multi-room Audio/Video:
three-room/three-source output

powered stereo audio outputs for 2nd and 3rd rooms
Zone 2 HDMI output allows you to watch different video content simultaneously on two TVs
using powered 2nd- and 3rd-room output allows 5.2 home theater in main room
line-level 2nd- and 3rd-room outputs for use with a separate amplifier or powered speakers
sources connected to the optical and coaxial digital inputs cannot be output to Zones 2 and 3; HDMI sources cannot be output to Zone 3
Audio Performance Features:
high-current amplifier design with large power transformer
independent block construction separates the preamp/processor from the power amplifier to minimize interference for cleaner sound
Pure Direct Analog Path disengages all digital circuitry for clean playback of analog sources
24-bit/192kHz Burr-Brown digital-to-analog converters
Music Optimizer function enhances the sound quality of compressed music files
bi-amp capability with compatible front speakers by reassigning "surround back" channels
Connections:
HDMI 2.0 audio/video switching: 8 in, 3 out (includes front-panel MHL-compatible input)
component video switching: 2 in, 1 out
composite video switching: 4 in, 2 out (includes Zone 2 output)
digital audio inputs: 3 optical and 3 coaxial (includes front-panel optical input)
6 analog stereo audio inputs
phono input for direct connection of a turntable
stereo balanced XLR preamp outputs for connection to a stereo power amplifier
11.4-channel unbalanced RCA preamp outputs for connection to a separate power amplifier
front-panel USB port for audio playback from USB storage devices
Ethernet port for network connection
outputs for 11 speakers (Front L/R, Center, Surround L/R, Surround Back L/R, Height 1 L/R, Height 2 L/R)
receiver can power a maximum of nine channels at once
video input for PC
RS 232, IR, and 12-volt trigger connections for use with external controllers
General Features:
free Onkyo remote app lets you use your Apple or Android device as a Wi-Fi remote
InstaPrevue offers live picture-in-picture preview of connected HDMI sources
4K/60p and 3D video pass-through

HDCP 2.2 copy-protection compatibility for future 4K broadcast and streaming content (HDMI 3 input and main output only)

HDMI standby pass-through allows access to all HDMI connected devices without having to power on the receiver
Audio Return Channel function receives digital audio signals from a compatible TV's tuner via HDMI
Phase-Matching Bass optimizes low frequencies to preserve clarity with vocals and movie dialogue
40 AM/FM presets
remote control
17-1/8"W x 7-13/16"H x 18-3/8"D
weight: 45.2 lbs.
warranty: 2 years
What's in the Box:
Onkyo TX-NR1030 Owner's manual
9.2ch AV receiver
6' AC power cord
Wireless remote control (RC-884M)
2 "AA" batteries
Setup microphone
AM loop antenna
FM wire antenna (with push-on "F" connector)
Basic Manual
Product registration card/Warranty information
RIHD-compatibility note
Important Safety Instructions
Important Notice Regarding Software
Sheet of adhesive labels
Onkyo headphones brochure
I upgrade my current receiver to the new onkyo 1030 The Atmos feature is awesome The easy configuration system is great And the sound is amazing I recommend

Ismael, Puerto Rico
Details
Product Research
Audio Features
Video Features
Network/USB/Tuner Functions
Convenience Features
Bluetooth + Remote Control
Audio Features
9 Channel Amplifier: The Onkyo TX-NR1030 AV receiver features a 9-channel amplifier rated at 135 watts (into 8-ohms, at 20Hz-20kHz, with 0.08%, driving 2 channels). The AV receiver's amplifier employs WRAT, Push-Pull design with 3-Stage Inverted Darlington Circuitry, Independent H.C.P.S, and Optimum Gain Volume Circuitry for dynamic, detailed, clear sound.
Separates Construction: Unlike many A/V receivers, the audio and video processors, DAC section, networking, pre-amp, amplifiers, and power supply are all separated inside the Onkyo receiver to minimize electrical interference on audio signals.
Push-Pull Design (with 3-Stage Inverted Darlington Circuitry): The Onkyo TX-NR1030 employs an efficient push-pull amplification design originally created for Onkyo's much higher-end receivers. The TX-NR1030's push-pull amplification design uses different transistors on each channel to separately amplify the positive & negative halves of the waveform. Meanwhile, 3-Stage Inverted Darlington Circuitry helps reduce distortion at the output stage. Together with the push-pull amplifier design, the 3-stage inverted Darlington Circuitry shapes a clean, consistent signal to send to the outputs for ultra-low distortion & greater sound quality.
WRAT (Wide Range Amplifier Technology): WRAT is based around a low negative-feedback circuit topology that works to reduce signal noise and distortion across the frequency range. A "closed ground-loop circuit" design is employed, in which each circuit has a separate link to the power supply. This helps to cancel individual circuit noise and keep the ground potential free of distortion. High Instantaneous Current Capability (HICC) enables WRAT amplifiers to immediately cancel the speakers' reflex energy and instantaneously send out the next signal. The same high current better manages speaker impedance fluctuations, which can negatively affect performance.
Independent H.C.P.S. (High Current Power Supply): Under the anti-resonant cover of any Onkyo receiver, you'll instantly notice the High Current Power Supply (H.C.P.S.) transformers. The Onkyo TX-NR1030 features two independent H.C.P.S (high current power supply) for the amplifier and the audio/video circuitry. With its huge, isolated power supply design and high-capacity filter capacitors, it delivers the large amounts of power necessary for reproducing the wide dynamics of movie soundtracks and the detail and clarity of your music
Optimum Gain Volume Circuitry: Optimum Gain Volume Circuitry adjusts the gain so that less than half the amount of attenuation is needed, ensuring the signal never comes close to the noise floor. This protects the signal against noise, resulting in a dramatically clearer sound.
Amplifier Assignment: The Onkyo AV receiver's 9-channel amplifier can be configured in a number ways to match your type of speaker setup.
9-Channel + 2ch Pre-Out: Assigns all nine internal amplifiers to the receiver's main zone to power the Front, Center, Surround, Surround Back speaker, and Front Height speakers while an external amplifier is used to power Front Wide speakers; creating a 11ch speaker system.
9-Channel Normal: Assigns all nine internal amplifiers to the receiver's main zone to power the Front, Center, Surround, Surround Back speaker, and Front Height or Front Wide speakers.
7-Channel Bi-Amp: Assigns all nine amplifiers of the receiver to the Main Zone with the front speakers bi-amped. The 7ch speaker system will consist of Front, Center, Surround, and Surround Back or Front Height speakers.
7-Channel + Zone 2: The nine amplifier channels of the receiver are assigned to power a 7ch speaker system in the main zone and stereo speakers in Zone 2. The 7ch speaker system in the main zone will consist of Front, Center, Surround, and Surround Back; while Zone 2 consists of stereo speakers.
5-Channel Bi-Amp + Zone 2: Assigns seven amplifiers of the receiver to the Main Zone with the front speakers bi-amped, while two other amplifier channels are assigned to Zone 2. The 5ch speaker system in the main zone will consist of Front, Center, and Surround speakers; while Zone consists of stereo speakers.
5-Channel + Zone 2-3: The nine amplifier channels of the receiver are assigned to power a 5ch speaker system in the main zone and stereo speakers in Zone 2 and Zone 3. The 5ch speaker system in the main zone will consist of Front, Center, and Surround speakers; while Zone 2 and Zone 3 each consist of stereo speakers.
Dolby Atmos: Assigns all internal amplifiers of this receiver for the speaker layout suitable for Dolby Atmos playback. Choose from 5.2ch + 2 Height (5 floor speakers/two ceiling speakers) 5.2ch + 4 Height (5 floor speakers/4 ceiling speakers), 7.2ch + 2ch (7 floor speakers/2 ceiling speakers), 7.2ch + 4 Height (7 floor speakers/4 ceiling speakers; requires external 2ch amplifier).
192kHz/24-bit DACs + Dual 32-Bit DSP Processing: This Onkyo TX-NR1030 is equipped with 192kHz/24-bit Burr-Brown DACs to decode and playback high-resolution recordings with less jitter and clearer sound. The receiver also employs powerful and highly accurate Dual 32-bit processing DSP's (Digital Signal Processor) for better surround sound reproduction.
PLL (Phase Locked Loop) Jitter-Cleaning Circuit Technology: PLL jitter-cleaning circuit technology reduces jitter by comparing the input and output phases of the digital signal and creating an accurate clock waveform. This enhances the precision of digital signal processing and noticeably improves audio quality. Jitter-cleaning technology works both for digital signals input via HDMI and for digital signals converted from analog signals inside the receiver itself
AccuEQ Room Calibration: Calibrating the sound to suit your room's acoustics is simple with Onkyo's AccuEQ auto-room calibration. Once you've connected your speakers, plug-in the included mic and wait a few moments as the TX-NR1030 measures things such as speaker distance, type, crossover, and output, taking into account any reflections from your walls and floor. The system is designed specifically to by-pass your front left and right speakers. The system then optimizes the frequency response of the remaining speakers so you can enjoy balanced surround sound regardless of room shape or furnishing while retaining the characteristics of your front left and right speakers for optimum enjoyment
Multi-Channel Decoding Formats: The Onkyo TX-NR1030 AV receiver supports the following multi-channel (Dolby Digital, DTS, Dolby Pro Logic) decoding formats.
Dolby Digital: Dolby Digital, Dolby Digital EX, Dolby Digital Plus, Dolby TrueHD
DTS: DTS, DTS-ES, DTS-HD Master Audio, DTS-HD High Resolution, DTS Express, DTS 96/24, DTS Neo: 6, DTS Neo:X
Dolby Pro Logic: Dolby Pro Logic II, Dolby Pro Logic IIx, Dolby Pro Logic IIz
Note: Dolby Digital and DTS listening modes can only be selected if your audio source is connected to the A/V receiver via a digital audio connection (HDMI, optical, or coaxial). To enjoy true 7.1ch Dolby Digital TrueHD and DTS-HD surround sound, the receiver must be connected to your Blu-ray player via HDMI.
Dolby Atmos: With Dolby Atmos, sound comes alive from all directions, including overhead, to fill the home theater with astonishing clarity, power, detail, and depth. The Onkyo receiver has the processing power to run a more enveloping 7ch, 9ch or 11ch channel Dolby Atmos layout using 5.2.2, 5.2.4, 7.2.2, or 7.2.4* configurations utilizing ceiling mounted or Dolby Atmos-enabled speakers. A 5.2.2 or 5.2.4 speaker configuration is based upon a traditional 5.2 speaker layout complemented by 2 or 4 overhead or Dolby Atmos-enabled speakers. A 7.2.2 or 7.2.4 configuration is based on a 7.2 speaker layout with either 2 or 4 overhead or Dolby Atmos-enabled speakers (a *7.2.4 configuration will require an external stereo amplifier).
Ceiling Mounted Speakers: Ceiling speakers are used for maximizing effects in Dolby Atmos listening mode. Install these speakers midway between the position just above the listening position and the position just above the front speakers, or simply install them just above the listening position.
Dolby Enabled Speakers: There are two types of Dolby Enabled Speakers; one is to be placed on the top board of other
speakers such as front speakers and surround speakers; the other is integrated within the front or surround speakers. Dolby Enabled Speakers are designed with their output facing toward the ceiling to create an elevated audio effect in the Dolby Atmos mode by providing sounds echoing off the ceiling.
Note: Globally, more than 100 cinema blockbusters have been released featuring Dolby Atmos soundtracks in the past two years, and many more are on the way. Major Hollywood studios are partnering with Dolby to create home video versions of both current box office releases and previously released favorites for release starting in 2014
Dolby Surround: Dolby Surround offers an enhanced cinema experience to your Dolby Digital (Plus/TrueHD) and DTS (ES/HD) movie soundtracks using your existing 7.1ch or Dolby Atmos speaker setup. Dolby Surround enhances audio definition by improving the spatial dimension and overall audio definition of movie soundtracks. It does this by using four distinct surround zones that provide greater control over the exact placement of each detail in a movie sound track, so audio can be matched more accurately to the video on screen; this means more depth and greater realism for your movies. As a result, individual sounds are clearer and more distinct. It also improves the surround sound experience across the entire theater by widening the listening "sweet spot".
THX Select 2 Plus Certified: The TX-NR1030 AV receiver is THX Select 2 Plus certified. Founded by George Lucas, THX develops stringent standards that ensure movies are reproduced in movie theaters and home theaters just as the director intended. From early design concepts to product rollout, THX works with its manufacturing partners at each step of product development. Every detail is meticulously mapped to the THX performance standards. And THX engineers spend countless hours testing and analyzing each product for sound quality, usability and interoperability. The result of this collaborative process is a THX Certified receiver, amplifier or pre-amplifier designed from the ground-up to present your favorite movies, music, and games in 5.1ch to 7.1ch surround sound loud and clear at studio reference volumes. THX Select 2 Plus is specified for rooms where the screen-to-seat viewing distance is 10-12' and the room volume is 3,000 cubic feet or greater. Additional features of THX Select 2 Plus certification includes:
Timbre Matching: The human ear changes our perception of a sound depending on the direction from which the sound is coming. In a movie theater, there is an array of surround speakers so that the surround information is all around you. In a home theater, you may only have two speakers located to the side of your head. In this case, the Timbre Matching feature filters the information going to the surround speakers so that they more closely match the tonal characteristics of the sound coming from the front speakers. This ensures seamless panning between the front and
Adaptive Decorrelation: In a movie theater, a large number of surround speakers help create an enveloping surround sound experience. If a home theater only has two sidewall surround speakers, the surround speakers may sound similar to headphones lacking spaciousness and envelopment. Surround sounds will also collapse toward the closet speaker as you move away from the middle seating position. Adaptive Decorrelation slightly changes one surround channel's time and phase relationship with respect to the other surround experience as in a movie theater using only two speakers.
Advanced Speaker Array: ASA is a proprietary THX technology which processes the audio on the two side and two back surround speakers for the optional surround sound experience. When you set up your home theater system using eight speaker outputs (Front Left, Center, Front Right, Surround Right, Surround Back Right, Surround Back Left, Surround Left, and Subwoofer), be sure to go to the THX Audio Setup screen and choose the setting that closely corresponds to the back speaker spacing. This will reoptimize the surround sound field. ASA is used in three modes: -THX Select2 Cinema, THX Select2 Music and THX Select2 Games.
THX Surround EX: The THX Surround EX mode further expands 5.1ch sources for 6.1ch or 7.1ch playback.
THX Loudness Plus: THX Loudness Plus compensates for the tonal and spatial shifts that occur when the volume is reduced by intelligently adjusting ambient surround channel levels and frequency response. With THX Loudness Plus, home theater audiences can experience the rich details in a surround mix at any volume level.
Boundary Gain Compensation: If your listening room layout (for practical or aesthetic reasons) locates most of the listeners close to the rear wall, the resulting bass level can be sufficiently reinforced by the boundary that the overall sound becomes "boomy". THX Select2 Plus receivers contain a Boundary Gain Compensation (BGC) feature to improve bass balance.
Onkyo Original DSP Modes: Onkyo's Original DSP Modes, combined with Dolby Digital/DTS/Dolby Pro Logic processing, produce more realistic, powerful sound effects for your movie and music sound tracks based on the type of content and your home theater setup. You can choose from the following:
Orchestra: For classical or operatic music.
Unplugged: For acoustic instruments, vocals, and jazz.
Studio-Mix: Suitable for rock or pop.
TV Logic: Adds realistic acoustics to TV shows.
Game: The receiver offers four different Gaming modes - RPG, Action, Rock, and Sports.
All Ch Stereo: Stereo sound from all speakers. Ideal for background music.
Full Mono: All speakers output the same sound in mono.
Theater-Dimensional (T-D): Theater-Dimensional circuitry takes the complexity out of conventional surround-sound setups and lets you experience the excitement of surround sound from as few as two ordinary speakers. Theater-Dimensional's unique multi-speaker modes let you place up to five speakers conveniently by the TV, for the most realistic virtual-surround sound possible.
Audiophile Listening Modes: The Onkyo TX-NR1030 offers two audiophile listening modes which bypass the receiver's tone & DSP processing for higher sound quality performance. In Direct mode, audio from the input source is output without surround-sound processing. This mode delivers pure sound with minimum sound quality adjustment and filtration. In Pure Audio mode, the display and video circuitry are turned off, minimizing possible noise sources for the ultimate in high-fidelity audio reproduction.
Surround Parameters: The Onkyo TX-NR1030 lets you tweak and fine tune specific surround sound modes to suit your preference.
Dolby Pro Logic II Music Settings: While listening in the Dolby Pro Logic II Music format, there are three further enhancements you can adjust; Panorama: (broadens the front stereo image to the surround speakers to provide a wraparound effect), Dimension (allows you to move the sound field forward or backward), and Center Width (allows you to adjust the width of the center channel).
Center Image: In the Neo:6 Music mode, the Center Image feature adjusts the output of the left and right channels relative to the center channel, allowing you to make the center channel more or less dominant as needed. This improves the image of the center channel, especially when the listener is off-center. Adjustment varies from 5 (nothing subtracted from the L/R channels) to 0 (L/R channel output is cut in half).
Pro Logic IIz Height Gain: The Height Gain Control in Dolby Pro Logic IIz enables the listener to select how much gain is applied to the front high speakers. There are three settings, "Low", "Mid" and "High", and the front high speakers are accentuated in that order. While "Mid" is the default listening setting, the listener may adjust the Height Gain Control to their personal preference.
Listening Angle: While listening in the Theater Dimensional mode you can adjust the listening angle to either Wide (if listening angle is 40°) or Narrow (if listening angle is 20°).
Audio Enhancements: The Onkyo TX-NR1030 receiver provides various audio enhancements to deliver a high-quality listening experience every time.
CinemaFilter: Using the CinemaFilter you soften overly bright movie soundtracks. Movie soundtracks are typically mixed for a large theater (relative to your home theater) with lots of soft seats and thick curtains on the walls. Home theater settings often lack these high frequency absorbing wall treatments, making the soundtrack sound too bright. CinemaFilter accounts for this and for many movies sounds more natural at home.
Music Optimizer: The Music Optimizer function enhances the sound quality of compressed music files. The Music Optimizer function only works with PCM digital audio input signals with a sampling rate below 48kHz and analog input signals.
Late Night Feature: The Late Night feature limits the dynamic range of Dolby Digital recordings. Limiting the dynamic range makes it easier to find a volume that ensures the quiet sounds are not too quiet and the loud sounds are not too loud for night time listening. This allows you to comfortably listen to without the need to constantly adjust the volume to keep from waking family/neighbors. The choices are: Off, Low, and High. This feature only works with Dolby Digital Encoded software and the depth of the feature will vary based on the individual software package.
Bass Management: The Onkyo AV receiver offers Tone Control and Phase Matching Bass technology to get the most bass impact out of your system.
Tone Controls: You can independently adjust the Bass (50Hz) and Treble (20kHz) of the TX-NR1030 from -10 to +10 dB.
Phase Matching Bass: Onkyo's Phase-Matching Bass optimizes low frequencies while preserving mid-range clarity. This means that powerful bass plays back with clear vocals; it doesn't overpower them.
Double Bass: You can also activate the Double Bass function in order to boost bass output even more by feeding bass sounds to the front left/right speakers, center-channel, and powered subwoofer.
Volume Setup: The Onkyo AV receiver provides the following volume settings.
IntelliVolume: With IntelliVolume, you can set the input level for each input (+/-12dB) selector individually. This is useful if one of your source components is louder or quieter than the others. This function does not work in Zone 2.
Maximum Volume: Use this feature to set the receiver's maximum volume level. This feature is useful to avoid turning the volume too loud by mistake. You can set the Max Volume from 30-79 (max), or Off (disabled).
Power On Volume: Use this feature to set the volume level when the power is turned on. You can choose between Last (same as the volume when the unit was turned off), Min (0), or 1-79.
Headphone Level: With this setting, you can specify the headphone volume (+/-12dB) relative to the main volume. This is useful if there's a volume difference between your speakers and your headphones.
Audio Inputs/Outputs: The Onkyo AV receiver offers a variety of analog and digital audio inputs/outputs.
Assignable Digital Inputs: The Onkyo receiver is equipped with three optical digital inputs (2 rear/1 front) and three coaxial digital inputs. All digital inputs are assignable. You can choose auto decoding , PCM, or DTS for the digital audio inputs. Auto will decode the signal in its original form (Dolby Digital, DTS, PCM, etc), PCM decodes the signal to 2-channel, while DTS decodes only DTS formatted sources.
Phono Input: The Onkyo AV receiver is fitted with a Phono input and ground terminal for connection of a turntable (MM).
Binding-Post Speaker Terminals: There are color-coded binding-post terminals for all speaker connections (Front, Center, Surround, Back, Height 1, and Height 2). The binding post terminals will accept bare-wire, pin-connectors, and banana plugs (single/dual). Use 4- to 16-ohm speakers.
11.4ch Pre Outs: The Onkyo TX-NR1030 features 11.4ch pre-amp outputs (Front, Center, Surround, Back Height 1, Height 2, and Sub 1-4) for connection of an external power amplifier. The four parallel sub outputs share the same input signal and are not discrete. There is also a set of stereo XLR outputs for the front left & right channels.
Headphones: When headphones are plugged into the full-size 1/4" jack on the front panel, all the speakers are automatically muted.
Video Features
8 HDMI Inputs/3 HDMI Outputs: The TX-NR1030 has seven HDMI inputs (7 rear/1 front) and three HDMI outputs for connecting Blu-ray/DVD players, Satellite/Cable boxes, Game Consoles, and other video components to your TV. The front HDMI input is fixed as the Aux input, while the six rear-panel HDMI inputs are assignable to any of the other inputs. The two parallel HDMI outputs distribute the same video signal simultaneously to two separate displays, while the third discrete HDMI output allows you to play a different audio/video source in another zone (video is output at the resolution supported by both TVs). The HDMI jacks can accept and switch 480i, 480p, 720p, 1080i, 1080p, or 4K video signals to a HDTV. All HDMI jacks will also support uncompressed standard or high definition digital video along with the following audio signals; 2-channel linear PCM, Multichannel linear PCM (up to 7.1ch), and Bitstream (Dolby Digital/DTS, etc.). Additional HDMI features include -
4K/60Hz + HDCP 2.2 (HDMI 2.0):The All of the receiver HDMI inputs and outputs are version 2.0 compliant and support 4K/60Hz with 21:9 display. The HDMI 3 input and main HDMI monitor output also supports HDCP 2.2 DRM copy protection. By implementing these new HDMI technologies, the TX-NR1030 will be able to support future 4K streaming content from internet service providers (like Netflix) and UHD terrestrial/satellite broadcasts (not yet available).
3D-Ready: All HDMI jacks will accept 3D video from your 3D-ready Blu-ray player and output the video signal in 3D to your 3D-ready flat-panel television.
ARC (Audio Return Channel): The receiver's main HDMI output features ARC (Audio Return Channel). This feature allows audio to be sent from your compatible HDTV to your receiver through the same HDMI cable already being used to send audio and video to your HDTV. This eliminates the need for extra cables connected to your television. The sub HDMI monitor output does not support this feature.
Auto Lip-Sync: The Lip-Sync function can automatically synchronize HDMI audio and video (for any HDMI jack) that has gotten out of sync due to the complex digital video processing being performed by your HDMI-compatible TV. With HDMI Lip-Sync, the audio delay required to synchronize the audio and video is calculated and applied automatically by the AV receiver. You can also manually correct the audio delay from 0 (no delay) to 800 milliseconds; in 10 millisecond steps.
Marvel Qdeo Video Chip for 4K Upscaling: The Onkyo TX-NR1030 utilizes a Marvel Qdeo Video Chip for 4K upscaling and video processing. The Marvel Qdeo Video Chip produces quiet and natural video, free from noise and artifacts. Analog component/composite video signals are converted to HDMI, so you only need one cable to connect the receiver to your TV. Any video signal from the receiver's component/composite video inputs and any HDMI video signal can be scaled to a higher resolution set in the menu. You can set the AV receiver to upscale analog and HDMI video to 480p, 720p, 1080i, 1080p, 4K, Auto (automatically scaled to the highest resolution supported by the display), or Through (no scaling). Upconversion and upscaling is only supported by the main HDMI video output.
MHL-Compatible HDMI Port: The front-panel HDMI input is MHL compatible. This MHL compatible HDMI port provides easy, direct connection of MHL compatible Android smartphones. Playback of up to 1080p video and multi-channel audio from the phone is supported. The receiver will also charge your connected phone. Play, Stop, and other basic operations can be controlled from the AV receiver's remote control. Check here for a list of compatible MHL-enabled Android phones.
Note: The front-panel HDMI input, along with the receiver's front-panel USB port can also be used to connect your Lightning or 30-pin connector Apple iOS device via Apple's Lightning Digital AV adapter or 30-pin digital AV adapter; you'll also need the USB cable that came with your Apple iOS device, and a HDMI cable (sold separately). This type of connection provides "screen mirroring", audio/video playback, and charging of your Apple iOS device through the Onkyo receiver and your HDMI-connected TV. All control of your Apple iOS device will be done through its own touchscreen (not the receiver). See AV adapter links for specific Apple iOS compatibility.
HDMI Through: When enabling the HDMI Through function, regardless of whether the AV receiver is "on" or in "standby" both audio and video streams from an HDMI input will be output to your television, via the receiver HDMI monitor output. You can select between 3 HDMI Through functions modes.
Auto: Detects the signal and automatically selects the input sources.
Source: Selects the input source (BD/DVD, VCR/DVR, CBL/SAT, Game, PC, Aux, TV/CD, Port) for which the HDMI Through function in enabled.
Last: The HDMI Through function is activated on the input source selected at the time of setting the AV receiver to the "standby" mode.
InstaPrevue: InstaPrevue technology provides a live video thumbnail of the available content on your devices connected to the receiver via HDMI. As a result, you can preview audio/video streams coming from up to five HDMI inputs previously assigned to input selectors on your HDMI connected TV. Even with multiple components connected to receiver through HDMI, you can easily switch between inputs as their previews are displayed on a single screen on your television. You can even use the InstaPrevue feature for Picture-in-Picture. You can specify the number of preview thumbnails, as well as their positioning on-screen.
Note: If no video signal are present, the thumbnails will be filled in black. With 3D video signals, the image may not be properly rendered on the preview thumbnails of InstaPrevue.
Analog Video Inputs: The receiver features four composite video inputs (3 rear/1 front), one composite video monitor output, and one composite video Zone 2 output which support 480i video signals only. There are also two component video inputs and one component video output which support up to 1080i video signal.
Picture Adjust: Using the Picture Adjust feature, you can adjust the picture quality and reduce any noise appearing on your TV screen.
Wide Mode: Auto, Full, Zoom, Wide Zoom, or 4:3.
Picture Mode: Custom (Brightness/Contrast/Hue/Saturation/Color Temp), Cinema (for movies), Game (for gaming), Through (changes resolution), Direct (no adjustment).
Picture Settings: Film Mode (video or film), Edge Enhancement (sharpens image), Noise Reduction (reduce noise).
ISF (Imaging Science Foundation) Video Calibration: The Onkyo TN-NR1030 offers ISF (Imaging Science Foundation) video calibration for optimal video performance. The receiver has been designed to incorporate setup and calibration standards established by the Imaging Science Foundation (ISF). The ISF has developed carefully crafted, industry-recognized standards for optimal video performance and has implemented a training program for technicians and installers to use these standards to obtain optimal picture quality from the receiver. Accordingly, Onkyo recommends that setup and calibration be performed by an ISF Certified installation technician.
Network/USB/Tuner Functions
Wired or Wireless Network Connection: The Onkyo TX-NR1030 AV receiver supports a wired or wireless network connection. Via the AV receiver's network connection, you can enjoy music files stored on your computer and listen to internet radio through a variety of online services.
Ethernet (LAN) Jack: The Onkyo AV receiver is equipped with an Ethernet (RJ-45) jack for connecting the player to your home network and computer. Connecting the A/V receiver's Ethernet port to a 100Base-TX switched Ethernet network is recommended for best results. Use a shielded CAT-5 Ethernet cable to connect the receiver to your home network.
Built-in Wireless LAN: The AV receiver also features built-in WiFi that allows you to wirelessly connect to your home network, so you can enjoy the benefits of a cable-free network environment. A wireless connection requires a home network with a WiFi-enabled access point (IEEE 802.11 b/g/n). Supports WPS, WEP, and WPA security.
Note: Network setup requires that the receiver be connected to your TV via HDMI for display of the on-screen menu. The receiver's network setup cannot be accessed through its front-panel display.
Streaming Music Files: You can stream a variety music files from your Windows PC, DLNA-certified music server, or a USB mass storage class device. Compatible music file formats include MP3 (8-320kbps; 16-48kHz), WMA (47-320kbps), WMA Lossless (16/24-bit; 44.1-96kHz), WAV (8/16/24-bit; 8-192kHz), AAC (8-320kbps; 8-96kHz), FLAC (8/16/24-bit; 8-192kHz), Apple Lossless (16/24-bit; 8-96kHz), Ogg Vorbis (48-500kbps; 8-48kHz), DSD (2.8224MHz), and LPCM (16-bit; 44-48kHz). You can control basic playback functions of your music library from the included remote control and receiver's on-screen menu; such as Folder/File Select, Play/Pause, Stop, Fast Forward/Rewind, Previous/Next Track, and Repeat/Random.
DLNA Certified: Because the TX-NR1030 is DLNA certified, you can play back music files stored on your Windows PC (w/ Windows Media Player 11 or 12) or a DLNA (ver.1.5) compatible media server through the AV receiver. Playback control can be done from the receiver's remote control or your DLNA-certified computer/server.
USB Mass Storage Class: This AV receiver is equipped with a front-panel USB (type-A) port that allows you to enjoy a variety of music files from a USB mass storage class memory device; such as your Android smartphone (Froyo/Gingerbread OS only), portable MP3 player, or USB thumbdrive (all formatted in FAT 16/32). USB portable audio players that can be charged via USB will be charged when plugged into the AV receiver's USB port (5V/1A); even in standby mode. USB hubs and USB devices with hub functions are not supported. MP3 players containing music files that are managed with special music software are not supported. Apple iPod, iPhone, and iPad devices are not supported via USB.
Note: Total of 20,000 music files/folders is supported. Gapless playback is also supported.
Internet Radio: The Onkyo TX-NR1030 lets you access various Internet Radio providers through its wired or wireless network connection. The TX-NR1030 will display station name and program-related information; such as artist name, song/album title, and elapsed playing time. You can preset up to 40 of your "favorite" Internet radio stations for easy recall.
| | |
| --- | --- |
| Music Service | Description |
| TuneIn | With more than 70,000 radio stations and 2 million on-demand programs registered, TuneIn is a service where you can enjoy music, sports and news from all over the world. |
| Pandora | Pandora is a free, personalized Internet radio service that plays the music you know and helps you discover music you'll love. You can select Internet radio stations by Artist, Song, or Genre. |
| Spotify | Spotify is a digital music service that gives you on-demand access to one of the largest music libraries in the world (over 15 million tracks and counting). Spotify makes it easier than ever to discover, manage, and share music with your friends. You can browse music by artist, album, track, or most popular; and create your own music library with customized playlists. A Spotify Premium subscription is required. |
| SiriusXM | SiriusXM Internet Radio lets you listen to over 120 channels of commercial-free music, talk radio, news, sports, and more. |
| Slacker | Slacker is a free, personalized Internet radio service that lets you choose the music you want to listen to. You can choose Internet radio stations by genre, or create custom station by Artist name or Song title. |
| AUPEO! | AUPEO! Personal Radio is a music streaming service based in Berlin that is available worldwide. With AUPEO! Personal Radio, you can listen to free music on the web. AUPEO! lets you play lots of music and choose the playlist based on your personal taste. The basic concept is based on personal music DNA, which allows you to 'love' or 'ban' songs. The highly advanced software then remembers this and adjusts as necessary. As a result, we offer over 100 compilation genre channels, as well as thousands of artist channels. Listen to music online based on your tastes and preferences or use our one-of-a-kind 'Mood Tuner' to fit how you're feeling. |
Note: To receive Internet radio, your Ethernet network must have Internet access. Internet URLs in the following formats are supported: PLS, M3U, and podcast (RSS). However, depending on the type of data or audio format used by the Internet radio station, you may not be able to listen to some stations.
AM/FM Tuner: With the built-in tuner you can enjoy AM and FM radio stations. You can store your favorite stations as presets for quick selection. You can store a combination of up to 40 of your favorite FM/AM radio stations as presets. You can also tune directly to a specific station by using the numeric keypad on the included remote control.
Firmware Updates: Future firmware updates are available from the Onkyo website through the receiver's Network or USB connection. The tested TX-NR1030 contained firmware version 1050-3110-1001-0101-0102 (as of 10/28/2014). Visit Onkyo's online Download Center for the latest firmware updates.
Convenience Features
On-Screen Menu w/ Setup Assistance: The Onkyo AV receiver offers an on-screen (GUI) menu system through its HDMI output. The simple on-screen display combines text and graphics that make setup and other operations extremely easy. The initial setup assistant takes you step-by-step through speaker configuration, source connection, remote programming, and network connection. If your TV is connected to the composite video or component video monitor output, you will need to use the AV receiver's front-panel display when changing settings.
Note: Initial setup requires that the receiver be connected to your TV via HDMI for display of the on-screen menu. Many of the receiver's setup functions can only be found via the on-screen menu and not the front-panel display.
Multi-Source/Multi-Zone: The TX-NR1030 offers three Zones; a multi-channel audio/video system in your main listening room (Main Zone), a stereo audio or video system in a second room (Zone 2), and another stereo audio only system in a third room (Zone 3).
Zone 2 Speaker- & Line-Level Output (Audio Only): Zone 2 features line-level and speaker audio outputs for playback of a different analog source in a second room. This way, Zone 2 can be powered by a separate amplifier (keeping 7.2ch playback in your main room) or by the TX-NR1030's built-in amplifier (limiting the main room to 5.2ch). When powering Zone 2 with the receiver's built-in amplifier, listening modes that require surround back or front high/wide speakers are unavailable. You cannot power Zone 2 with the receiver's built-in amplifier, if you are bi-amping your front speakers. The volume of Zone 2 can be controlled from the receiver when using the speaker outputs or line-level outputs, and from your add-on integrated amp when using the line-level outputs.

Compatible Sources: Tuner, Analog, USB, Bluetooth, and Network audio sources.
Incompatible Sources: Optical/coaxial digital audio sources, HDMI sources, and any video source.

Zone 2 HDMI Output (Audio/Video): The Onkyo receiver also provides a Zone 2 HDMI output, so two different HDMI audio/video feeds can be sent to two different displays at the same time directly from the receiver (HDMI 1-4/Aux connected input sources only). HDMI Zone 2 will output up to 4K video and 2-channel audio for the HDMI input source selected.

Compatible Sources: HDMI 1-4/Aux connected input sources only
Incompatible Sources: Tuner, Analog, USB, Bluetooth, Network, and Optical/Coaxial Digital audio sources; plus analog video sources.

Zone 3 (Audio Only): Zone 3 allows playback of a separate analog source in 2-channel stereo in a third room of your home. Zone 3 features line-level outputs only. This way, Zone 3 can be powered by a separate integrated amplifier (keeping 7.2ch playback in your main room). The volume of Zone 3 can be controlled by the AV receiver or your separate integrated amp's remote.

Compatible Sources: Tuner, Analog, USB, Bluetooth, and Network audio sources.
Incompatible Sources: Optical/coaxial digital audio sources, HDMI sources, and any video source.
Notes: As for etwork, USB, and Bluetooth sources; you cannot select different inputs for the main room and Zone 2/3. For example, if a Network source been selected in the main room and then a USB is selected as playback source in Zone 2/3, the input in the main room will also change to the USB source. When listening to AM/FM radio, you cannot select different stations for the main room and Zone 2/3.
Whole House Mode: The Whole House Mode is useful when you want to simply add extra background music to your home party. This mode allows you to enjoy the same stereo music as the main room in separate rooms (Zone 2/3). The Whole House Mode selects the same input source for Zone 2/3 as the main room. During the Whole House Mode, stereo playback is automatically selected for all zones. The Main Zone & Zone 2/3 will play at the same volume level.
Name Edit: You can enter a custom name for each individual input selector and radio preset for easy identification. When entered, the custom name will appear on the display. This function cannot be used for the AM/FM, Network, USB, and Bluetooth input selectors.
Display Dimmer + Screen Saver: The display brightness has three settings; Dim, Dimmer, and Normal. If there is no video signal on the current input source and no operation for a specific time, a screen saver automatically comes on. You can set the time (3min/5min/10min/off) until the screen saver activates itself. Once active, the screen saver will go off and the screen will return to its previous state if the AV receiver is operated in any way.
Timers: The receiver features a programmable Sleep Timer and Auto Standby function.
Auto Standby: The AV receiver will automatically go into Standby mode, if there is no operation for 20 minutes with no audio/video signal input.
Sleep Timer: From the remote, you can set the unit to automatically turn off after as much as 90 minutes or as little as 10 minutes; choices are presented in 10 minute increments.
Hybrid Standby: The Onkyo TX-NR1030 features "Hybrid Standby" mode to save energy and provide greater levels of convenience. Hybrid Standby Mode provides "HDMI through" functionality and maintains a local network connection while the receiver is essentially powered down. This allows the user to watch TV without turning the whole surround system on. Furthermore, when on Hybrid Standby, the home theater may be powered up from "cold" using the Remote Apps for Apple iOS and Android.
Bluetooth + Remote Control
Built-in Bluetooth: The Onkyo TX-NR1030 features built-in Bluetooth (version 2.1+EDR) with support for profiles A2DP 1.2 and AVRCP 1.3. You'll be able to wirelessly stream music from your Bluetooth-enabled Apple device, Android smartphone/tablet, portable audio player, laptop, or PC to the Onkyo receiver. You will also be able to control basic playback functions (Play/Pause, FF/RW, Skip) using the receiver's remote control. Advanced music operation will still need to be handled from your Bluetooth-enable device. There is no song/artist information display on the receiver or connected TV; continue to use your Bluetooth device's screen to view song/artist info.
Note: Due to the differences in Bluetooth technology, some Bluetooth enabled devices may be incompatible, function improperly, or may not support all features when used with the Onkyo receiver.
Onkyo Remote App (for Apple iOS & Android): The Onkyo Remote App (from iTunes Apps & Google Play) allows you to operate the Onkyo AV receiver from your Apple iOS (4.3+) or Android (2.1+) device, using your home's wireless network. The Onkyo Remote App lets you you access Internet Radio stations, AM/FM stations, DLNA content, and Input sources right from your mobile device. Content information will be displayed on the device's touchscreen. You also get to adjust tone controls, listening modes, and speaker volume from your compatible Apple iOS or Android device. The Onkyo Remote App even allows you to wirelessly stream audio stored on your Apple iOS or Android device to the Onkyo AV receiver and lets you control audio output for up to 3 Zones. The Onkyo AV receiver and and your compatible Apple iOS or Android device must be connected to the same home network.
Multibrand/Learning Remote (w/ Macros): The supplied wireless remote is a multibrand/learning remote control. The remote is pre-programmed to operate popular brands of equipment including DVD players, DVD recorders, Blu-ray players, VCRs, TVs, Cable boxes and Satellite receivers. Also, the remote can learn up to 32 commands from infrared remotes of other components. You can sequentially operate Onkyo components via simple commands from a single-button press, using the included IR remote control. There are four Activities buttons (My Movie/My TV/My Music/All Off) that can be programmed to perform a sequence of commands with just one button press; each macro button can perform up to 32 commands.
HDMI-Control: HDMI Control allows HDMI-CEC compatible components or RIHD-compatible components connected via HDMI to be controlled with the TX-NR1030. The AV receiver offers the following HDMI-CEC controls.
The AV receiver will enter Standby mode when the power of the TV is turned to Standby.
You can set on the menu screen of the TV to either output the audio from the speakers connected to the AV receiver, or from the speakers of the TV.
It is possible to output the audio/video from the antenna or from the input jack of the TV from the speakers connected to the AV receiver.
Input to the AV receiver can be selected with the remote controller of the TV.
Operations such as volume adjustment or similar for the AV receiver can be performed from the remote controller of the TV.
Remote Inputs/Outputs: The TX-NR1030 contains RI Control, IR Remote, 12V trigger, and RS-232C connections.
RI Remote Control Jack: The 1/8" RI remote control jack allows you to connect this receiver to other compatible Onkyo components.
IR Input/Output: The 3.5mm IR input jack allows you to control the receiver without line-of-sight access using an optional IR remote control system and locating the remote sensor in sight. The 3.5mm IR output jack allows you to send the control signals to an additional components.
12 Volt Triggers: The two 3.5mm minijack outputs can be connected to the 12-volt trigger input on a power amplifier in Zone 2 or Zone 3. When the zone is turned on, a 12-volt trigger signal is output.
RS-232C Port: The TX-NR1030 has an RS-232C port for connection to external control systems from companies such as AMX or Crestron.
Our Product Research Team
At Crutchfield, you'll get detailed, accurate information that's hard to find elsewhere. That's because we have our own in-house Product Research team. They verify what's in the box, check the owner's manual, and record dimensions, features and specs. We stay on top of new products and technologies to help people make informed choices.