Definitive Technology Mythos ST-L SuperTower®
Floor-standing speaker with built-in powered subwoofer (Graphite)
Item # 735MYSTLG | MFR # VDXC
In Stock
Buy now

Our North American experts can help.
Overview
Our take on the Definitive Technology Mythos ST-L SuperTower® by Crutchfield's Dave Bar
Brains, beauty, and brawn
Take 1200 watts of microprocessor-controlled amplifier power, add a muscular subwoofer and a trio of advanced midrange and high-frequency drivers, then wrap them in a gorgeous brushed aluminum enclosure set atop a solid, machined-aluminum base and you've got the Mythos ST-L SuperTower. Definitive Technology's latest flagship floor-standing tower combines stunning good looks with powerful, high-end sonic performance. And its built-in powered subwoofer delivers truly deep, room-filling bass for big home theater sound without the need for a separate sub.
Advanced design for exceptional sound
Near the top of the cabinet are two 5-1/4" midranges flanking a 1" dome tweeter, all acoustically isolated in their own sub-enclosure to prevent interference from the bass drivers. Each die-cast aluminum frame midrange features Definitive's patented Balanced Dual Surround System (BDSS) technology, which employs rubber surrounds on both the outer and inner edges of each speaker cone, for more stable, precise motion, resulting in exceptional clarity. The Mythos ST-L's new magnesium/aluminum alloy dome tweeter features a special ceramic coating to deliver extended highs without a trace of edginess. And it boasts a rubber surround, an all-new motor structure, and new throat geometry to radically reduce distortion for impressively detailed sound.
---
Praise for the Definitive Technology Mythos ST-L SuperTower from Soundstage! Access

"Definitive Technology's Mythos ST-L SuperTower elevates "lifestyle" speaker design to a new level of performance with its high resolution, clear and neutral midrange, and incredible dynamics. A true high-end design in every respect, it should hold its own against any speaker near its price, and even against some that cost considerably more. Based on its sound alone, the Mythos ST-L is a surefire recommendation. Add its gorgeous styling, and the fact that its built-in subwoofer allows it to fill a room with sound when driven by an amplifier of only modest power, and it's the complete package...".

— From Roger Kanno's May, 2014 review in Soundstage! Access, part of the SoundStage! Network
Read the full review
---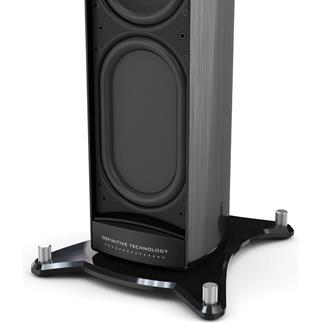 The Mythos ST-L SuperTower's built-in powered subwoofer and aircraft-grade aluminum cabinet give this speaker extraordinary bass slam and accuracy.
Powerful bass built right in
The cabinet's lower section holds a 6" x 10" racetrack-shaped woofer reinforced by two bass radiators. This combination creates a total surface area that's actually greater than that of a traditional 15" woofer, but the three-driver approach provides better low-frequency control, speed, and detail. A built-in 1200-watt amplifier powers the subwoofer, delivering massive bass. Aside from saving you some floor space, the built-in subwoofer ensures balanced sound because the bass is already perfectly blended with the mids and the highs.
Gorgeous aircraft-grade aluminum cabinet
Definitive took a step away from the traditional look of boxy floor-standing speakers, and designed the Mythos ST-L with a sleek, curved cabinet. The enclosure is made of aircraft-grade extruded brushed aluminum, and rests on a solid, machined-aluminum slab to ensure total rigidity and stability. Four knurled and threaded shafts at the corners of the base allow you to easily level and stabilize the speaker on uneven floors. Included carpet spikes or floor glides can be fitted into the leveling shafts.
A remote for more control
The Mythos ST-L includes a wireless remote that allows you to fine-tune the sound of your system from the comfort of your easy chair. You can adjust bass volume to suit your personal taste, or compensate for differences in program sources and room acoustics. Blue LEDs on the tower's logo plate give you visual feedback on bass level settings, then automatically dim out to avoid being a distraction. And when you're using a pair of ST-L towers, you can set bass levels individually for each speaker. This lets you to compensate for variations in sound that come from a speaker's specific placement within the room, such as near a wall or corner where bass output can be louder. There's also a "Stereo Bass" volume setting to adjust both speakers simultaneously, and a "Low Level" control that engages a preset EQ to optimize the sound for listening at low volumes.
Product Highlights:
frequency response: 14-30,000 Hz
sensitivity: 92.3 dB
impedance: 8 ohm compatible
power handling: 20-350 watts
each speaker contains:

one 1" magnesium/aluminum alloy dome tweeter
two 5-1/4" BDSS (Balanced Dual Surround System) midrange drivers
one 6" x 10" woven carbon-polymer fiber long-throw subwoofer
two 6" x 10" passive low bass radiators
built-in 1200-watt subwoofer amplifier with adjustable volume control

front-panel LED status display
subwoofer auto on/off
two pairs of 5-way binding posts (bi-wire or bi-amp ready)
line-level LFE input (optional connection for use with receivers with LFE output)
aircraft-grade extruded aluminum cabinet and machined cast aluminum base to ensure rigidity and stability
adjustable height carpet spikes
wireless remote control
12-3/4"W x 51-5/8"H x 14-1/4"D
warranty: 5 years for speakers, 3 years for amplifier
Tight bass xcellent speakers

Harold, New Yor
Details
Product Research
Features
D'Appolito Ultra-Linear Array: Each Mythos ST-L contains a D'Appolito array consisting of two high-definition 5.25" inch drivers surrounding a 1" magnesium/aluminum alloy dome tweeter housed in an acoustically isolated sealed enclosure. Ultra Linear Array, in which two midrange drivers are tuned to cancel out each other's non-linear motion, yield flatter frequency response and vastly lower audible distortion.
Magnesium/Aluminum Alloy Tweeter: The Mythos ST-L's 1" tweeter is an all-new design that represents a substantial upgrade in performance. The tweeter is a pure magnesium/aluminum alloy dome, which has been heat-treated to relax the crystal structure (annealed) and then coated with a ceramic to produce extended highs that reveal nuance and shimmer without a trace of edginess. The new tweeter design uses a rubber surround, an all-new motor structure and new throat geometry. The result is 10x lower distortion for the best inner detail and most accurate high frequency performance of any tweeter in its class.
BDSS Midrange Drivers: The midrange drivers are 3rd generation patented Balanced Dual Surround System (BDSS) design and feature a larger motor, new surround geometry and a patent-pending Linear Response Waveguide (LRW) made of aluminum, which acts as a heat sink to improve power handling and lower distortion. Balanced Dual Surround System (BDSS) technology supports the speaker cone at both the inner and outer edges for longer, more linear excursion, greater clarity and finely textured inner detail. The driver baskets are die-cast aluminum for its inert, resonance absorbing capability.
Extruded Aluminum Enclosure: The aircraft-grade extruded aluminum enclosure features brushed finish and proprietary damping technologies. The base is milled cast aluminum for low center-of-gravity stability and a rich elegant look. Four knurled and threaded shafts at the corners of the base allow the user to easily level and stabilize the speaker on uneven floors. Either carpet spikes or floor glides can be fitted into the leveling shafts.
Built-in Power Subwoofer: The Mythos ST-L subwoofer system is built around a 6" x 10" racetrack-shaped polymer/carbon composite cone driver powered by a built-in 1200-Watt Class D amplifier w/ built-in 56-bit DSP. This active subwoofer is then pressure-coupled to two 6" x 10" racetrack-shaped planar low-bass radiators. The total bass radiating area is greater than a 15" woofer, but it affords far greater control, definition, and speed than a single larger woofer. A pair of ST-Ls is like having two 15", 300-Watt powered subwoofers in your room but without the clutter. This is real bass that is deep, powerful, and impactful while at the same time producing the kind of tight, controlled, accurate response of the finest audiophile speakers.
Note: The built-in subwoofer system does more than eliminate the need for a separate freestanding subwoofer. First, the Mythos ST-L's built-in subwoofer system simply translates into far more bass output. But more important, the subwoofer system is perfectly integrated with the mid/high section. Audiophiles often spend dozens of hours moving and adjusting their subwoofers' crossover and phasing controls in pursuit of perfect subwoofer to main speaker "blending." With the Mythos ST-L you won't have to go through that kind of time consuming drill to achieve audio perfection. Definitive Technology's engineers fine-tuned and preset the crossover and phase between the subwoofer and main speaker sections to achieve seamless blending and life-like sound. All you have to do is set the bass volume to match your room and taste, then sit back and enjoy the Mythos ST-L's extraordinary performance.
Speaker-Level & Line-Level Connections: The Mythos ST-L Super Tower has two sets of gold-plated 5-way binding post which give you tremendous hookup flexibility when it comes to the type of connector you want to use, including spade and pin connectors, single and dual banana plugs and, of course, bare wire (up to 10AWG. The two sets of binding post terminals allow for Bi-wiring or Bi-amping. Bi-wiring or B-amping in effect provides the midrange drivers and tweeter with separate signal paths, improving their damping factor and reproducing recorded material with greater clarity, depth. and detail. The Mythos ST-L is also fitted with a mono-RCA/LFE input for its built-in subwoofer.
Remote Control: The Mythos ST-L gives the listener more control to fine tune their program material through the included IR remote. Bass volume level can be changed from the comfort of your listening position to adjust for differences in program material, room acoustics, and personal taste. LEDs on the each tower's logo plate give visual feedback on bass level settings. In addition, each speaker's bass level (+/-10dB) can be fine-tuned even more to account for bass volume variations due to the speaker's position within the room. Mythos ST-L also offers "Stereo Bass" volume control to adjust both speakers simultaneously and a "Low Level" control that engages a preset EQ to optimize the sound for low level listening.
Note: If the line of sight from your listening position to the IR receiver on the loudspeaker is obstructed, the remote will not work. Connect an IR remote repeater (sold separately) to the IR remote 3.5mm input jack on the back of the loudspeaker, Labeled "IR in."
Adjustable Feet: Mythos ST-L feet can be stabilized using either the rubber-tipped gliders, which are already installed on the knurled thumb screws, or with floor spikes, which are included in the accessory box. The knurled knobs that protrude above the base are threaded, so you can level your speakers while they stand upright. Using the optional spikes will provide much greater stability when placing your loudspeakers on carpeting; and according to many experts, they'll also provide an overall improvement in sonic performance because of mass loading (the spiked feet at 0.3125" to the overall height of the speaker).
Applications: The precise accuracy, wide range response and high impact dynamic range of the Mythos ST-L makes it the perfect choice for systems ranging from audiophile 2-channel music-only to 7.1 channel home theater systems. No matter what genres of music or movies you enjoy, the highly accurate Mythos ST-loudspeaker is a great choice.
Placement: To enjoy the most realistic stereo image and lifelike sound, place the speakers so that an equilateral triangle is created between the speakers and your favorite listening position. If your room arrangement forces you to place the speakers farther apart than the distance from which you are listening, angle the speakers toward the middle. Angling the speakers in (pointed directly at the listener) will result in a somewhat brighter, clearer sound. This angling creates a sharper focus and a more solid central image.
Note: Ideally, the speakers should be placed at one to two feet from room boundaries, such as large pieces of furniture, walls and especially corners. Placing a speaker closer to room boundaries increases bass, but may result in a "boomy" or bass-heavy sound and degradation of stereo imaging.
Break-In Period: The Mythos ST-L SuperTower will sound good right out of the box; however, an extended break-in period of 40-60 hours or more of playing is required to reach full performance capability. The break-in period allows the suspensions to work in and results in full bass, a more open midrange, and smoother high frequency reproduction.
Our Product Research Team
At Crutchfield, you'll get detailed, accurate information that's hard to find elsewhere. That's because we have our own in-house Product Research team. They verify what's in the box, check the owner's manual, and record dimensions, features and specs. We stay on top of new products and technologies to help people make informed choices.