Yamaha MusicCast WX-030
Wireless streaming speaker with Wi-Fi®, Bluetooth®, and Apple® AirPlay® (White)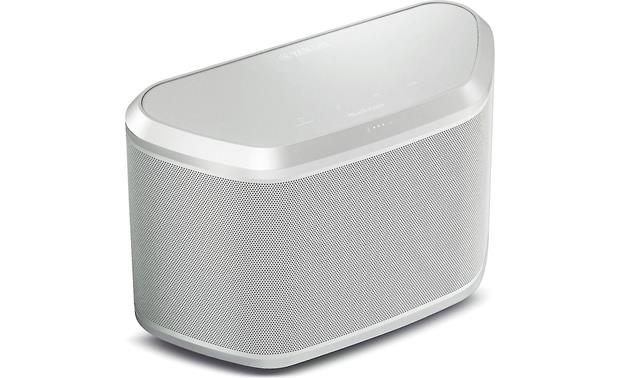 Yamaha MusicCast WX-030 - Front

Yamaha MusicCast WX-030 - Back (Shown in Black)

Yamaha MusicCast WX-030 - Easily select music for one room or a group of rooms with the MusicCast app for your phone or tablet
Crutchfield: Yamaha MusicCast wireless multi-room audio
From Yamaha: Welcome to MusicCast
From Yamaha: WX-030 MusicCast Powered Speaker

Yamaha MusicCast WX-030 - Play and choose your music with the free MusicCast app (phone not included)

Yamaha MusicCast WX-030 - Small enough to fit neatly in most rooms
Item # 022WX030WH | MFR # WX-030WH
In Stock
Buy now

Our North American experts can help.
Overview
Our take on the Yamaha MusicCast WX-030 by Crutchfield's Jeff Miller
Add wireless music to every room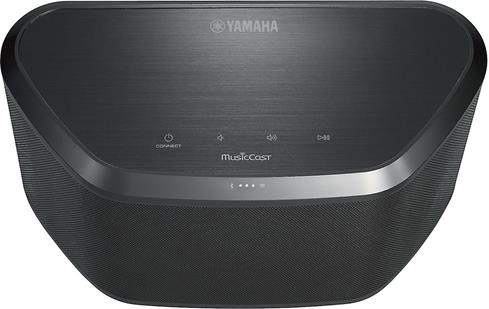 The Yamaha MusicCast WX-030 features a compact design and simple top-panel controls. (Keep in mind — you'll need to plug it into an AC outlet.)
Yamaha has a hand in all things music — instruments, studio recording, home stereos. So it's only natural they'd make it easy to enjoy music through your whole home. The Yamaha MusicCast WX-030 delivers rich, clear sound and puts a world of wireless music options at your fingertips. And it works together with other Yamaha MusicCast speakers and components so you can put together an easy-to-use whole-house music system. Rock out with the same song in the living room and the den, while a family member chills to their favorite playlist in a different part of the house.
MusicCast lets you choose how to listen
MusicCast gives you lots of sources to choose from. Access your personal digital music library, Internet radio, and popular streaming services. There's support for Pandora® and SiriusXM. If you're a Spotify® Premium subscriber, Spotify Connect lets you access all your favorite albums and playlists. MusicCast even supports high-resolution audio formats.
Built-in 2-way Bluetooth for even more freedom
Discover a new band on SoundCloud? Find a sick DJ set on Mixcloud? A classic music video on YouTube™? Use Bluetooth to stream sound from your phone through the MusicCast system — no restrictions! You can also send audio from the WX-030 speaker to other Bluetooth-enabled hardware. That means you can play MusicCast sound through portable speakers and wireless headphones.
A free app puts the control in your hand
Control all your MusicCast speakers and components with the free app for Apple® and Android™ smartphones or tablets. It lets you select rooms, browse music sources, and start and stop playback with an intuitive interface.

More MusicCast components to build a whole-home music system
Yamaha home theater receivers - Play MusicCast through your stereo and send sound from connected sources like TV, CD, or vinyl to other MusicCast components.
MusicCast YSP-1600 sound bar - Immersive TV sound and MusicCast wireless music from a single slim bar.
MusicCast SRT-1500 sound system/TV platform - Space-saving sound platform sits under your TV and plays home theater sound and MusicCast wireless music.
Product Highlights:
connects to your Wi-Fi network for wireless music listening
built-in Bluetooth lets you stream directly from compatible devices

also sends audio wirelessly to Bluetooth-enabled speakers or headphones

free MusicCast app lets you control the player and play music with your Apple or Android device
support for online music services, including Spotify, Pandora, SiriusXM, and thousands of free Internet radio stations (subscription required for some services)
connects wirelessly to other Yamaha speakers and receivers with MusicCast to play the same song through multiple speakers or different songs in different rooms
plays MP3, AAC, WMA, FLAC, ALAC, WAV, and AIFF files
supports high-res playback for PCM-based files up to 24-bit/192kHz
built-in music enhancer for smoothing out the sound of over-compressed MP3 files
Apple AirPlay® for streaming from compatible Apple devices and computers running iTunes®
DLNA support for streaming music from compatible networked computers and NAS drives
wirelessly pair two WX-030s (sold separately) for stereo speakers (firmware update may be required)
Ethernet port for a wired connection to a home network
supports 802.11 b/g/n Wi-Fi (2.4 GHz)
9-9/16"W x 6-3/16"H x 4-1/2"D
weight: 4.9 lbs.
requires AC power (AC adapter provided)
warranty: 2 years
What's in the Box:
Yamaha MusicCast WX-030 Owner's manual
Wireless speaker
10' AC power cord
Cable cover
Owner's Manual (En/Fr/Sp)
Supplement for Rhapsody
Supplement for AirPlay
Supplement for Spotify
Supplement for SiriusXM
US Warranty Card
Canada Warranty Card
Online Product Registration Card
"Yamaha Worldwide Representative Offices" note
"Spotify Premium" sheet
Great speaker, excellent price!

Julie, MI
Details
Product Research
Features
Wireless Streaming Speaker: The Yamaha WX-030 wireless streaming speaker is part of Yamaha's MusicCast multiroom audio eco-system. Start with a single MusicCast WX-030 speaker and add more over time, or add other MusicCast products like AV receivers and soundbars. Up to 10 MusicCast devices can be connected.
Two-Way Driver Design: The MusicCast wireless speaker provides exceptional sound clarity thanks to the two-way speaker design (1.125" tweeter + 3.5" woofer) coupled with a large passive radiator that enables deep, rich bass to be produced from such a compact system.
Built-in Amp: The WX-030 speaker's built-in amplifier is rated at 30 watts (6Ω, 1 kHz, 10% THD) and provides clean, distortion free sound at all volume levels.
Music Enhancer: The onboard music enhancer smoothes out the stretched-out highs and muddled mids associated with over-compressed MP3 files.
MusicCast from Yamaha: MusicCast from Yamaha, brings music to every room in your home wirelessly with control provided by a free app on your Apple iOS or Android device. Designed to easily work with your existing home WiFi network, MusicCast offers access to a huge range of audio content. This content includes select online music services, Internet radio, digital music libraries, and Bluetooth audio. Yamaha AV receivers and soundbars which feature MusicCast even offer multiroom streaming of connected external sources; such as TVs, cable/satellite boxes, Blu-ray/DVD Disc players, CD/SACD players, and USB thumbdrives. MusicCast can even select terrestrial AM/FM radio stations for playback throughout the home when linked to a tuner-enabled MusicCast device (like an AV receiver). MusicCast is enabled on many 2015-up Yamaha components like their AV receivers, wireless speakers, soundbars, and other HiFi components.
Note: Yamaha's new MusicCast system is not compatible with Yamaha's old MusicCAST system.
Wired or Wireless Network Connection: The Yamaha MusicCast WX-030 supports both WiFi (802.11 b/g/n; 2.4GHz) and wired Ethernet (RJ-45) connections, so you can choose to build a wireless or wired network, or a combination of both if desired. Network setup is completed through the free MusicCast app on your compatible Apple iOS or Android device.
Note: If you want to install a MusicCast device to a location that is out of range of your wireless router, connect another MusicCast device to the router with a network cable to extend the range ("Extend Mode").
MusicCast App: The free MusicCast app can be downloaded for Apple (iOS 7.1+) iPod/iPhone/iPad and Android (OS4.1+) smartphones/tablets. The MusicCast app puts control of your whole home listening experience in the palm of your hand from your Apple iOS or Android device. You'll be able to quickly select the room or rooms you want to listen to music in, select the source or sources you want to listen to, browse music content from your music library and online music services or Internet Radio, plus control music playback functions.
Rooms: Choose which room or rooms you want to listen to music in. You can select a different source for each room, group certain rooms together for playback of the same source, or link all rooms together so the same source is played back throughout the house.
Source Selection: From the app you can select which source or sources you want to listen to; choose from network-connected devices, select online music services, Internet Radio or Bluetooth for the WX-030. If you have incorporated a Yamaha AV receiver or soundbar with MusicCast into your system, you can also select from USB, Aux, Phono, analog and digital inputs.
Music Browsing: You can browse music libraries from your network-connected devices; like your smartphone, tablet, computer, or laptop. You can also browse music content from select online music services and search Internet Radio stations from the MusicCast app. If your MusicCast device features a USB port, you can also browse music files on your USB-connected thumbdrive.
Playback & Song/Artist Info: From the MusicCast app on your compatible Apple iOS or Android device you get Volume Up/Down, Play/Pause, and Previous/Next Track; as well as song/artist information and album art.
Favorites: Internet radio stations, content from select online music services, plus playlists and songs from your network-connected device's music library can be saved as "Favorites" for quick recall within the MusicCast app.
Sound Settings: You can adjust the speaker's 3-band EQ (High/Mid/Low) from the app on your Apple iOS or Android device for a more personalized sound.
Personalization & Customization: With the app's unique personalization features, you can choose from preloaded room images or change the color of buttons to represent each room in the home, or even take pictures of their own home and assign the images to each button. The content source buttons can also be customized to rename, remove or reorder selections for easier operation.
High Resolution Audio: MusicCast supports true high-resolution audio formats to deliver more accurate reproduction of sonic details. The MusicCast eco-system is compatible with Apple Lossless (ALAC) up to 96kHz/24-bit, as well as FLAC, AIFF and WAV music files up to 192kHz/24-bit. It also supports lower resolution music files like MP3, WMA, and AAC up to 48kHz.
| | | | |
| --- | --- | --- | --- |
| File | Sampling Frequency | Bit-rate or Bit-depth | Gapless Playback |
| MP3 | 32/44.1/48 kHz | up to 320 kbps | N |
| WMA | 32/44.1/48 kHz | up to 320 kbps | N |
| AAC | 32/44.1/48 kHz | up to 320 kbps | N |
| WAV (PCM) | 32/44.1/48/88.2/96/176.4/192 kHz | 16/24-bit | Y |
| FLAC | 32/44.1/48/88.2/96/176.4/192 kHz | 16/24-bit | Y |
| AIFF | 32/44.1/48/88.2/96/176.4/192 kHz | 16/24-bit | Y |
| ALAC | 32/44.1/48/88.2/96 kHz | 16/24-bit | Y |
Note: When multiple MusicCast devices are "linked" for multiroom audio playback, the Master room device's playback is at the native sampling rate (up to 192kHz/24-bit), while the other rooms and MusicCast devices down-converted to 48kHz
Streaming Music Partners: MusicCast includes Pandora, Spotify Connect, Napster, and SiriusXM Internet Radio streaming services, as well as thousands of free local and international Internet radio stations from vTuner. TIDAL and Deezer will be available through a firmware update available in late spring of 2017.
Music Service
Description
Pandora
Pandora is personalized radio that plays music and comedy you'll love. Just start with the name of one of your favorite artists, songs, comedians or composers and Pandora will create a custom station that plays similar tracks. You can also rate (thumbs up/thumbs down) songs as they play, and Pandora will adapt stations to your feedback. You can create up to 100 stations and easily switch between your favorites.
Spotify Connect
With the Spotify app (premium account required) on your Apple iOS or Android smartphone, you've got instant access to millions of songs. And now you can stream those same songs from your smartphone to the Yamaha AV receiver by using Spotify Connect; simply hit play on the app to start streaming music. What's more, when you've been listening to Spotify on your smartphone outside and come inside, the song immediately begins to stream to the system for uninterrupted music enjoyment. You can also personalize playlists and receive phone calls while listening to music.
SiriusXM
SiriusXM Internet Radio lets you listen to over 120 channels of commercial-free music, talk radio, news, sports, entertainment, and more.
TIDAL
(requires firmware update)
Tidal is accessible through the Yamaha MusicCast app for Apple iOS & Android. TIDAL is a global streaming service that offers over 30 million songs in high-fidelity CD sound quality. TIDAL has two pricing tiers; either $9.99 or $19.99 a month. Both pricing levels allow you to access TIDAL's entire music library. The $19.99 tier has the added benefit of high-fidelity sound at CD-level quality.
Deezer
(requires firmware update)
Deezer is an online music service offering over 43 million tracks starting at $9.99 a month. Discover the perfect playlist or make your own, as well as browse curated collections by genre.
Napster
Napster is a streaming music subscription service (starting a $10 per month) that allows you to play the full-length songs you choose on demand from a collection of over 10 million songs, without ads and without having to purchase or download the music.
vTuner
You can also listen to Internet radio stations using the vTuner Internet Radio Station database service particularly customized for this unit, providing a database of numerous radio stations around the world. You can search for Internet Radio stations by Location, Genre, New, Popular, or Podcast.
Bluetooth Audio: The Yamaha MusicCast WX-030 offers built-in Bluetooth (v.2.1+EDR) for wireless music streaming & control. This allows you to stream stored music and music apps on your Bluetooth-enabled Apple iPod/iPhone/iPad, Android smartphone/tablet, Windows Phone/PC, Mac computer/laptop, and more to the MusicCast WX-030 speaker.
SBC + AAC Codecs: In addition to support for the standard SBC Bluetooth audio codec, the WX-030 speaker offers support of AAC. By supporting AAC, the WX-030 offers better audio performance of the music streamed from your Apple iPod, iPhone, or iPad.
Linked Playback Mode: With Linked Playback Mode, music streamed via Bluetooth to one MusicCast device can then be wirelessly streamed to multiple MusicCast devices for multiroom audio. Bluetooth is limited to the SBC codec during Linked Playback mode.
Bluetooth Output: The Bluetooth Output feature allows you to wirelessly stream audio from a non-Bluetooth source of a MusicCast device to another Bluetooth speaker or headphones (regardless of manufacture), making it even more convenient to add the MusicCast eco-system to your existing audio gear. Bluetooth is limited to the SBC codec during "Bluetooth Output" Playback mode.
AirPlay: AirPlay lets you stream your favorite songs directly from your Apple iOS (4.3.3+) device or from your iTunes (10.2.2+) library on your Windows PC or Mac computer to the Yamaha MusicCast WX-030 speaker, over your home's WiFi network connection. From your Apple iOS device you are able to stream stored music and music apps on your device to the Yamaha MusicCast speaker. From your Windows or Mac you can stream your stored iTunes music library on your computer to the MusicCast speaker.
Note: AirPlay is not available for multiroom audio playback.
DLNA: The MusicCast WX-030 speaker supports DLNA (Digital Living Network Alliance) 1.5, allowing access to DLNA-compatible Windows 7/8 computers (with Windows Media Player 11 or 12) and network attached storage (NAS) devices. You'll be able to wirelessly stream the music libraries on your computer, laptop, or NAS to the Yamaha MusicCast speaker system.
Note: Digital Rights Management (DRM) content cannot be played back.
Alexa Compatible (Firmware Update Required): Alexa-enabled devices (including the Amazon Echo, Echo Dot, Tap and Echo Show) will soon be able to control key functions of a MusicCast system using voice commands. A firmware update (available early 2018), will be available for download that allows key functions of MusicCast products to be controlled using your voice through Alexa-enabled devices (sold separately).
Alexa Skill: The MusicCast skill for Alexa will allow you to power MusicCast products on and off, control basic playback functions, make selections from a playlist of favorite music, adjust the volume, and use the Link function for playback of multiple MusicCast products simultaneously.
Echo Source Input: In addition or alternatively, an Echo device can be used as a music/audio source for a MusicCast system. All MusicCast devices offer a Bluetooth input. Just pair your Echo, Echo Dot or Echo Show with any MusicCast wireless speaker, sound bar or AV receiver and the sound will play from the MusicCast device. Using the MusicCast app, you can then select the Bluetooth input and link multiple MusicCast devices for playback, allowing you to hear it throughout your home. Many MusicCast products also offer inputs which can be connected to Echo Dot via its line output, if a wired connection is preferred over Bluetooth. This requires using an optional analog audio cable (sold separately). Using the MusicCast app, you can select the wired input and link multiple MusicCast devices for playback, allowing you to hear sound from Echo Dot throughout your home.
Note: You will need an Alexa-enabled device (Amazon Echo, Echo Dot, Tap, or Echo Show - all sold separately) to operate certain functions of your MusicCast products via voice-command. The MusicCast components and the Alex-enabled devices must be on the same network.
Stereo Pairing: A recent firmware update allows two individual WX-030 speakers to be paired for stereo reproduction. One WX-030 speaker can be set as the left speaker and another WX-030 (sold separately) can be set as the right speaker. Once the firmware update is completed, you will be able to use a combination of buttons to enable stereo left or right playback or to cancel stereo pairing.
Mounting Options: The compact and clean design of the MusicCast WX-030 wireless streaming speaker makes it perfect for use in the kitchen, bedside or anywhere space is limited. The speaker can simply be placed on a tabletop, shelf, stand, or other piece of furniture with a flat surface. You can even mount it on a wall using the integrated 1/4"-20 threaded mounting hole and an optional wall-mount bracket (sold separately).
Firmware Updates: Firmware Updates for the MusicCast device can be made through its network connection and the MusicCast app on your Apple iOS or Android device. The app will notify you when a firmware update is available.
AC Power: The Yamaha MusicCast WX-030 wireless streaming speaker operates off of standard household current using its internal power supply and detachable 10' power cord. This speaker is not battery powered.
Auto Standby & Sleep Timer: The MusicCast speaker will automatically enter standby mode after approximately 20 minutes of no audio playback and no operation. You can set the unit's Sleep Timer to 30, 60, 90 or 120 minutes from the app on your compatible mobile device.
Our Product Research Team
At Crutchfield, you'll get detailed, accurate information that's hard to find elsewhere. That's because we have our own in-house Product Research team. They verify what's in the box, check the owner's manual, and record dimensions, features and specs. We stay on top of new products and technologies to help people make informed choices.
Staff Reviews
Product reviews from the Crutchfield Labs
MusicCast is Yamaha's wireless multi-room audio system. Connect a compatible products to your home network, and you can listen to music and control it from your phone.
What are the Labs?