Cambridge Audio DacMagic 100
Stereo DAC with asynchronous USB input (Silver)
Item # 779DAC100S | MFR # C10500
In Stock
Buy now

Our North American experts can help.
Overview
Our take on the Cambridge Audio DacMagic 100 by Crutchfield's Dave Bar
Add a little magic to your music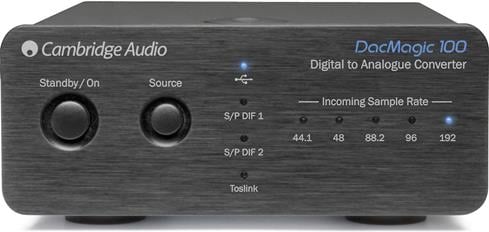 Whether it's a CD player, computer, digital music streamer, or set-top box, here's a fantastic way to improve the sound quality coming from any of these digital sources. Simply plug the DacMagic 100 digital-to-analog converter in between your source's digital audio output and your receiver, amp, or powered speakers. You'll instantly hear greater detail and clarity, plus a real sense of scale and drama. This versatile little DAC will bypass the one inside your PC or audio component, and magically transform those cold hard zeroes and ones into warm, organic sound.
There's magic on the inside
The DacMagic 100 comes packed with high-tech engineering designed to extract better sound from all your digital sources. Its latest-generation Wolfson DAC provides superb resolution that really brings out the fine details in your tunes, for a truly breathtaking listening experience.
Asynchronous USB means better sound from your computer
Standard USB outputs from most computers pose a serious limitation to sound quality. That's because while you're trying to listen to music, your PC is busy performing virus scans, data backup, and other background tasks that may take priority over your tunes, causing it to alter the data rate to suit its own needs. Unfortunately, this situation results in timing errors within the digital data stream — known as "jitter" — that adversely affects sound quality. Jitter can make your music sound harsh and edgy, and smear subtle details.
The DacMagic 100 solves this problem by reaching out to your computer through the USB interface, and instructing it to relinquish control of the data stream timing. In its place, this advanced DAC inserts its own separate, or asynchronous, clock to precisely control the timing of the data rate, reducing jitter to the vanishing point. You'll hear a stunning improvement in low-level ambient detail along with a wider, deeper soundstage.

Enjoy full-resolution USB audio
Along with all the sonic benefits the DacMagic 100 provides for your compressed and CD-quality music files, it also has another trick up its sleeve — it decodes high-resolution data streams with up to 24-bit/192kHz resolution through its USB connection, so you can enjoy better-than-CD audio quality. (Free USB driver download required for Windows® PCs.) If you download high-res music files from HDtracks and other audiophile sources, this DAC will ensure that you hear them in all their glory.
---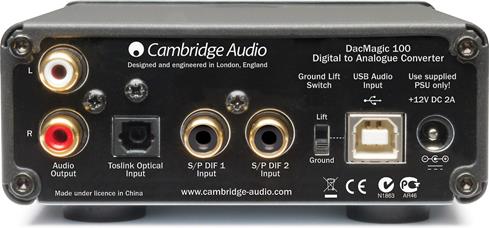 The DacMagic 100 offers multiple digital inputs for your sound sources.
Plenty of connections for your gear
DacMagic 100 lets you connect multiple digital source components to your home audio or desktop system:
two coaxial digital inputs: ideal for connecting a CD or DVD player, Logitech Squeezebox™ Touch, Sonos® Connect, or any other digital audio component with coax out, and taking advantage of the DacMagic 100's high-performance processor for better sound.
one optical digital input: ready to take on a set-top box, most HDTVs, a game console, or other digital audio sources with optical digital output, and feed a high-quality audio signal into your stereo system.
Type B USB jack feeds digital audio from your computer into the DacMagic 100's onboard digital-to-analog converter, bypassing your computer's sound card to yield much clearer sound with stored music files and Internet radio.
A pair of gold-plated RCA outputs lets you connect the DacMagic 100 to your home audio system's receiver or integrated amp. Or feed a set of powered speakers for a high-end, compact desktop stereo.
---
Product Highlights:
latest-generation Wolfson Microelectronics 8742 24-bit digital-to-analog converter
asynchronous USB technology for reduced timing jitter and better sound with computer audio sources
incoming sampling rate indicator helps verify source quality
full-metal case design with thick brushed aluminum front panel
ground lift switch to eliminate potential ground hum
three digital audio inputs: one optical (Toslink) and 2 RCA coaxial (S/PDIF)
USB (Type B) input for connection to a computer
supported sample rates:

USB: 44.1kHz, 48kHz, and 96kHz (24-bit/192kHz supported with downloaded USB driver and WASAPI, ASIO, or kernel streaming modes)
optical: 32kHz, 44.1kHz, 48kHz, 88.2kHz, 96kHz, and 192kHz
coaxial: 32kHz, 44.1kHz, 48kHz, 88.2kHz, 96kHz, and 192kHz

built-in driver for USB 1.0 connection (up to 24-bit/96kHz)
dedicated Cambridge Audio USB 2.0 driver required for 24-bit/192kHz playback on a Windows® PC (free USB driver download available from Cambridge Audio website)
Mac OSX 10.5 or later supports 24-bit/192kHz USB output natively, so no dedicated driver is required
frequency response: 20Hz to 20kHz (±0.1 dB)
THD: less than 0.0025%
signal-to-noise ratio: 113 dB
external power supply included
4-1/4"W x 1-13/16"H x 6-1/16"D
weight: 1.1 lbs. (without power supply)
warranty: 2 years
If connecting to a TV, please make sure you can select "PCM" output in its audio menu. This DAC is not compatible with Dolby® Digital signals.
What's in the Box:
Cambridge Audio DacMagic 100 Owner's manual
External digital-to-analog converter
AC power adapter (with attached 4' DC cord)
3 AC power plugs (US/EU/UK)
28" USB (type-B) to USB (type-A) cable
Cloth pouch
Quick Start Guide
Important Safety Instructions
Works great, sounds great. Excellent value. Highly recommended.

PacNW, Bethesda, MD
Details
Product Research
Features
Overview: The Cambridge Audio Azur DacMagic 100 is a high-quality, external digital-to-analog converter featuring a USB (type-B) digital audio input, a Optical (toslink) digital audio input, and two Coaxial (RCA) digital inputs. The Cambridge Audio DacMagic 100 takes the digital audio output from your computer, game console, digital iPod dock, or Blu-ray DVD player and converts it into a high-resolution analog signal for your home's integrated amplifier or A/V receiver.
Full Metal Casework: The DacMagic 100 features full metal casework design with a brushed aluminum front-panel to prevent any audio distortion caused by vibration.
Wolfson WM8742 24-bit DAC: The DacMagic 100 employs the latest generation Wolfson WM8742 24-bit DAC (digital-to-analog converter) for exceptional sound quality.
Digital Input Sampling Frequencies: The Cambridge Audio DacMagic 100 supports the following digital input sampling frequencies through its USB (type-B) and Coaxial (RCA) digital inputs - 32, 44.1, 48, 88.2, 96, and 192 kHz. The Optical (toslink) digital input only supports 32, 44.1, 48, 88.2, and 96 kHz.
Asynchronous USB Transfer: The DacMagic 100 provides Asynchronous USB transfer for very low jitter USB Audio input, allowing streaming of up to 24-bit/192kHz audio from a computer.
Controls
Standby/On: The Cambridge Audio Azur DacMagic 100's front-panel Standby/On button turns the unit On or Off. When in Standby (Off) mode, the unit draws less than 1-watt.
Source Button: The Cambridge Audio DacMagic 100 features a front-panel Source button. You can press this button to cycle through the DAC's four inputs - USB (type-B), Toslink (optical), S/P-DIF 1 (coaxial), and S/P-DIF (coaxial). The corresponding LED will light up to show which source you have selected.
Incoming Sample Rate LEDs: In the presence of an incoming digital stream, the relevant LED will light up to indicate the incoming digital sampling frequency (44.1, 48, 88.2, 96, 192 kHz). For 32kHz material, the DacMagic 100 will still operate, but no LED will be lit.
Ground/Lift Switch: The DacMagic 100 features a rear-panel Ground/Lift switch. When Grounded, the DacMagic 100 is connected to the earth connection of the PC directly. When Lifted the ground connection is made via a network designed to break any hum loops that may be caused by the source equipment. The Grounded setting is recommended, unless audible hum is experienced.
Connections
USB Port: A rear-panel 24-bit/192kHz USB (type-B) port enables the DacMagic 100 to be connected to your Windows PC or Mac computer. The DacMagic 100 will act as a very high-quality DAC/sound-card with very low jitter for your computer, offering genuine Hi-Fi-quality playback from your stored music and Internet radio. The DacMagic 100 is both USB 2.0 (Hi-Speed) and USB 1.1 (Full-speed) USB port compatible. It will also work with the new USB 3.0 ports where the PC will simply treat the DacMagic 100 as if it were a USB 2.0 or 1.1 device. The DacMagic 100 also supports two USB Audio protocols (not the same as the port types themselves) USB Audio 1.0 (which works over USB 1.1 ports and supports up to 24-bit/96kHz) or USB Audio 2.0 (which requires a USB 2.0 port and can support up to 24-bit/192kHz).
PC Compatible: With the DacMagic 100 switched to USB Audio 1.0 (this is the default setting), the DacMagic 100 will work with the native Windows XP, Vista or 7 Audio 1.0 driver (no need to load any new driver) and accept audio up to 24-bit/96kHz. With the DacMagic 100 switched to USB Audio 2.0, the DacMagic 100 needs the Cambridge Audio USB Audio 2.0 Driver to be loaded and can then accept up to 24-bit/192kHz (and support ASIO and WASAPI Exclusive if required).
Mac Compatible: No extra drivers are required to connect your Mac computer. With the DacMagic 100 switched to USB Audio 1.1, the DacMagic 100 will work with the native Mac OS-X 10.5 (Leopard) or above Audio 1.0 driver and accept audio up to 24/96kHz. With the DacMagic 100 switched to USB Audio 2.0 the DacMagic 100 works with the native Mac OS-X 10.5 (Leopard) or above Audio 2.0 driver and can accept audio up to 24/192kHz.
Digital Inputs: The DacMagic 100 is fitted with three rear-panel 24-bit digital inputs; one Optical (toslink), and two Coaxial (RCA). The optical and coaxial digital inputs allow a wide range of digital source (CD, DVD, Game Console, etc.) to be connected to the DacMagic 100.
Note: This unit only accepts two-channel LPCM digital audio (Stereo PCM or Dolby Digital 2.0). You cannot connect a Dolby Digital 5.1 or a DTS signal, as they will not be recognized. If you wish to connect a DVD or similar device, please ensure that the sound output of your player is set to two-channel PCM.
Unbalanced RCA Outputs: The DacMagic 100 features an unbalanced stereo analog RCA audio output for connecting your stereo receiver or amplifier.
Auto Power Down (APD): The DacMagic 100 has an Auto Power Down (APD) mode that shuts the unit off after a period of time if the unit isn't receiving a digital signal. The APD is a requirement in order to comply with power regulations. The APD can be disabled by pressing and holding the Source button for 5 seconds.
Power Requirements: The Cambridge Audio DacMagic 100 operates off of standard household AC current, using the supplied AC power adapter. The external power adapter is separate from the digital-analog-converter to further improve sound quality. The supplied AC power adapter includes AC power plug inserts for North America, Europe, and the United Kingdom.
Input: 100-240V~50/60Hz, 0.55A
Output: 12V - 2A
Our Product Research Team
At Crutchfield, you'll get detailed, accurate information that's hard to find elsewhere. That's because we have our own in-house Product Research team. They verify what's in the box, check the owner's manual, and record dimensions, features and specs. We stay on top of new products and technologies to help people make informed choices.
Looking for more? Check out the next model in this lineup.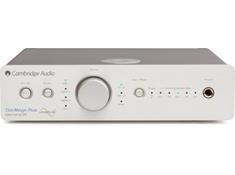 Enjoy even greater versatility and performance
The Cambridge Audio DacMagic Plus offers these features:
a built-in volume control and headphone amp
balanced XLR audio outputs for connection to high-end audio gear
sophisticated Adapted Time Filter 2 technology that upsamples incoming digital audio to 24-bit/384kHz to resolve extremely fine detail