Panamax M8-AV-PRO
Power line conditioner and surge protector
Item # 299M8AVPRO | MFR # M8AVPRO
In Stock
Buy now

Our North American experts can help.
Overview
Our take on the Panamax M8-AV-PRO by Crutchfield's Ralph Graves
The Panamax M8-AV-PRO shields your audio/video system from harmful spikes and surges in your home's AC power. It also filters out the RF (radio frequency) and electromagnetic noise that can keep your audio/video system from looking and sounding its best.
Protection for a variety of inputs, plus expansion options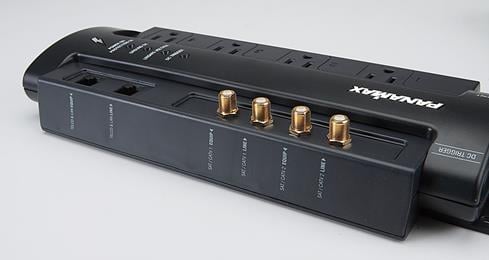 The M8-AV-PRO has eight outlets separated into two isolated filter banks to reduce the possibility of interference between components. One bank of four outlets is designed for equipment with higher current demands, such as home theater receivers and powered subwoofers. The other bank of outlets protects the rest of your gear.
You also get three sets of protected coaxial input/output jacks for your cable TV and antenna feeds, plus one input/output for your telephone or Ethernet connection. The M8-AV-PRO's versatile design lets you protect even more components by adding optional Panamax modules.
The MOD-SPKP protects outdoor speakers or keypad or other control lines, while the MOD-DBSTV provides more protection for components with coaxial connections, like additional satellite receivers or cable boxes.
Quick reaction time saves your gear
When a power spike hits, the M8-AV-PRO reacts in less than a nanosecond, breaking the connection to protect your equipment. When the AC voltage returns to a safe level, the Panamax automatically reconnects power.
Product Highlights:
total of 8 protected AC power outlets in two isolated banks
includes 4 high-current outlets for receivers, amps, and powered subs
2 sets of coaxial RF input/output jacks
1 set of phone line and Ethernet input/output jacks
12-volt trigger input for high-current outlets
LED overvoltage and power status indicators
8-ft. power cord with right-angle plug
1875-joule surge protection
UL 1449 Rating: 500V
response time: less than 1 nanosecond
wall-mountable (mounting hardware and brackets included)
12-1/16"W x 1-13/16"H x 5"D
weight: 3.5 lbs.
lifetime $5,000,000 connected equipment warranty (covers equipment damaged by an AC or signal line surge while connected to properly installed Panamax surge protector); valid only in the United States and Canada
warranty: lifetime on M8-AV-PRO
What's in the Box:
Panamax M8-AV-PRO Owner's manual
Surge protector with attached 8.25' power cord (terminated by a right-angle 3-prong AC plug)
42" Coax (RG-59) cable (terminated by screw-on F-type connectors)
3 Mounting screws
3 Drywall anchors
3 Spacer eyelets
Installation Instructions (En/Fr/Sp)
Warranty and Connected Equipment Policy Information
I have had a Panamax M8-AV-PRO for a couple of years now and it works great. This is my second one. Here in Florida there are a lot of thunder storms and brown outs. It has saved my TV and surround sound system many times. I highly recommend the Panamax M8-AV-PRO.

James, Cocoa, FL
Details
Product Research
Features
Overview: The Panamax M8-AV-PRO Surge Protector features 8 AC outlets controlled by the unit's power switch. The M8-AV-PRO also provides protection for coaxial and telephone connections. It is recommended to work with your High Definition TV. In addition, this surge protector is equipped with 4 diagnostic LEDs. The LEDs indicate Power On/Protection OK, Ground OK, Unsafe Voltage, and DC Trigger.
8 AC Outlets: The 8 AC outlets provide power protection with transformer spacing between outlets.
Noise Isolation: The M8-AV-PRO features two isolated outlet banks to eliminate cross-contamination between components. Outlets 1-4 (on the top of the unit) feature "Balanced Double L" filtration, and are isolated from Outlets 5-8 (on the side of the unit), designed for high current equipment like amplifiers and powered subwoofers. Any noise created by an A/V component in one bank cannot contaminate the power to the equipment plugged into the other outlet bank.
AVM (Automatic Voltage Monitoring): The M8-AV-PRO utilizes an AVM (Automatic Voltage Monitoring) system to protect your connected equipment against prolonged over/under voltages by disconnecting the power when unsafe voltages are detected, and reconnecting it when safe power returns. The M8-AV-PRO will protect your A/V system from catastrophic surges.
Cleaning/Filtration: Common symptoms of "dirty" power include loss of detail, hisses, hums, and visual artifacts. The Power Cleaning and Premium Filtration circuits help your A/V equipment perform to its full capability by eliminating line noise inherent in household current. The result is improved picture and sound quality.
Power Cord: The surge protector features an attached 8 ft power cord with a right-angle, 45-degree offset three-prong plug. The
Telephone/LAN Protection: The M8-AV-PRO has two RJ-45 jacks for use with telephone and LAN lines. The RJ-45 jacks are designed to accept both standard telephone modular plugs, as well as the larger RJ-45 plugs found on Ethernet cables and LAN lines. The unit will protect connected equipment from electrical surges that travel over telephone and network lines.
Note: The telephone/LAN protection circuits operate in one direction only. The jacks are clearly marked "Equipment" and "Line" to help you avoid connecting them incorrectly.
Coax/Satellite Protection: The unit has two separate in/out pairs of coaxial connectors designed to protect your connected equipment from electrical surges that travel over Cable, Satellite, and Antenna lines. The coaxial connectors are bi-directional, so you may connect your equipment into either jack.
12-Volt DC Signal: In addition to surge protection, the M8-AV-PRO has a 3.5mm input for a 12-volt DC signal. When a 12-volt DC signal is received from a source component, the high-current outlets (outlets 5-8) will be turned on. Power to these four outlets is turned off when the DC voltage signal is no longer being received.
Power Switch/Circuit Breaker: The M8-AV-PRO has an On/Off Power Switch and Circuit Breaker. In addition to turning on and off the 8 AC outlets, the circuit breaker disconnects the AC power from the connected equipment when the amp rating for the unit (15 Amps) has been exceeded.
Add-on Signal Line Modules: If your connected equipment has more signal lines that can be protected by the base unit alone, you can add on optional Panamax signal line modules. The MOD-DBSTV (item # 299MODDBST) is for Satellite, CATV, and Cable Modems, while the MOD-SPKP (299MODSPKP) is for Outdoor Speakers and Control Lines.
Mounting: The M8-AV-PRO Surge Protector can be placed on the floor, on a shelf, or inside a cabinet. The M8-AV-PRO can also be wall-mounted using the integrated wall-mount brackets, key-hole slots, and supplied hardware.
Lifetime $5,000,000 Connected Equipment Warranty: Panamax will replace or repair equipment that is damaged by an AC or signal line surge while connected to a properly installed Panamax surge protector (up to $5,000,000).
Specifications
AC Specifications:

Auto-resetting Overvoltage Shutoff: 144V +/-8V
Auto-resetting Undervoltage Shutoff: 90V +/-6V
Line Voltage: 120VAC, 50/60Hz
Initial Clamping Level: 200V Peak, 141V RMS,
Voltage Protection Rating (UL1449 3rd Edition, 3000A): 500V
Protection Modes: L-N, L-G, N-G
Maximum Current Rating: 15A (1800W)
EMI/RFI Noise Filtration: 53dB (100kHz-1MHz)
Response Time: <1ns
Single Pulse Energy: 1875 Joules
Peak Impulse Current: 65,000 A

LAN Protection:

Compatibility: 10/100bT
Clamping Level: 7V
Suppression Modes: Differential & Common Ground
Wires Protected: Pins 1, 2, 3, & 6
Connectors: RJ-45 shared with Telco

Telco Protection:

Clamping Level: 260V
Capacitance: 30 pf (approximate)
Suppression Mode: Metallic and Longitudinal
Wire Protected: 2-wire, 1-pair (4, 5)
Connectors: RJ-45 Shared with LAN (compatible with RJ-11)

Universal Cable/Satellite Protection:

Clamping Level: 75V
Frequency Range: 5MHz-2GHz
Insertion Loss: <0.5dB
Connections: Female "F"-type, gold-plated
Our Product Research Team
At Crutchfield, you'll get detailed, accurate information that's hard to find elsewhere. That's because we have our own in-house Product Research team. They verify what's in the box, check the owner's manual, and record dimensions, features and specs. We stay on top of new products and technologies to help people make informed choices.