AudioQuest DragonFly® v1.2
Plug-in USB DAC/headphone amplifier
Item # 703DGNFLY2 | MFR # Dragonfly 2.0
In Stock
Was: C$179.99
Discount: -C$30.00
Buy now

Our North American experts can help.
Overview
Our take on the AudioQuest DragonFly® v1.2 by Crutchfield's Dave Bar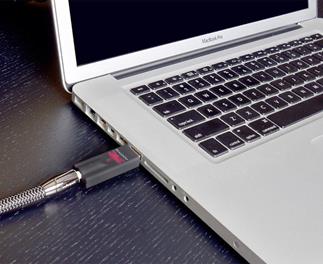 The tiny DragonFly v1.2 makes an easy, plug-and-play upgrade for your computer-based music listening.
An instant audio upgrade for your computer
AudioQuest's original DragonFly DAC set the world on its ear, opening people's eyes to the astonishing levels of performance that could be packed into such a tiny, USB thumb drive-sized package. Now AudioQuest has upped the ante with its DragonFly v1.2, which keeps all of the features and capabilities of its predecessor, while offering enhanced sonics and even better value. Plug this compact, easy-to-use device into your computer's USB port, and it will instantly transform your digital files into warm, organic sound with increased detail, clarity, and impact.
What's new in version 1.2?
Starting with the original's audiophile-grade 24-bit ESS Sabre™ conversion chip, the DragonFly v1.2 has been re-engineered with a more direct signal path between the DAC and the analog output stage to deliver greater transparency and immediacy. AudioQuest also upgraded the DragonFly's power supply to give your music more "weight" and improved dynamics.
Asynchronous USB means better sound from your computer
The standard USB connections on most computers pose a serious limitation to sound quality. That's because while you're trying to listen to music, your PC is busy performing virus scans, data backup, and other background tasks that can make your music sound harsh and edgy and smear subtle details.The DragonFly v1.2 solves this problem by using its own separate ("asynchronous") clock to precisely control the music playback, reducing timing errors to the vanishing point. You'll hear a stunning improvement in low-level ambient detail along with a wider, deeper soundstage.

Enjoy high-res USB audio
Along with all the sonic benefits the DragonFly provides for your compressed and CD-quality music files, it also decodes high-resolution data streams with up to 24-bit/96kHz resolution, so you can enjoy better-than-CD audio quality. If you download high-res music files from HDtracks and other audiophile sources, this DAC will ensure they sound terrific. The dragonfly-shaped logo on the DAC's exterior even lights up and changes color to verify the resolution of the incoming signal.
---
" Lo and behold, the progeny of the original DragonFly has arrived; version 1.2 sounds better than ever, and costs far less. You know what I like more than the sonic improvements? The price: At $149, even the most cash-strapped of music lovers can afford this DAC."

— From Spencer Holbert's review in The Absolute Sound, February, 2014

Read the full review
---
Connections and controls
Plug your headphones directly into the DragonFly v1.2's stereo mini audio output jack for high-energy private listening. You can also use an optional stereo mini-to-mini cable or mini-to-RCA adapter to feed a line-level signal to a pair of powered speakers, power amplifier, or receiver for more robust, room-filling sound. The minijack output can be set to either fixed or variable line-level out. And although it's digitally operated from your computer screen, AudioQuest gave the DragonFly v1.2 a high-resolution analog volume control to avoid the reduction in resolution and sound quality that plagues many digital volume controls. Plus, the DAC's analog circuits are direct-coupled from the Sabre converter chip's output, avoiding the need for any sonically degrading components in the signal path.
All of these refinements add up to music with a natural solidity and clarity that sounds dramatically better than what you would hear from your computer on its own.
Traveling with your DragonFly?
If you plan on taking your DragonFly with you (it is highly portable, after all), you'll want to play it safe. AudioQuest's flexible DragonTail USB extender provides strain relief that can protect your computer's USB port if someone bumps into your laptop on a plane or in the coffee shop. The DragonTail also helps take some of the strain off that port when you're plugging in headphones with a heavy cable.
Product Highlights:
24-bit/96kHz ESS Sabre™ digital-to-analog conversion chip
tiny "USB flash drive" type design plugs directly into a computer's USB port
powered by USB connection — no need for external power supply
asynchronous USB Class 1 data transfer using Streamlength™ protocol for reduced timing jitter and better sound
3.5mm stereo minijack provides:

headphone output (minimum 12 ohm headphone impedance recommended)
variable line-level output for driving powered speakers or power amp
fixed line-level output for connecting to a preamp or receiver

60-position analog volume control (digitally controlled using your computer)
incoming sample rate LED indicator for 44.1kHz, 48kHz, 88.2kHz, and 96kHz sampling rates
input bit depth: 16 bits, 24 bits
dual master clocks used to minimize jitter
direct-coupled audio circuitry from DAC chip through analog output driver and volume control for cleaner sound
durable metal construction with rubberized coating
output voltage: 2 Vrms
soft storage pouch included
no cables included
compatible with Mac® OS X Mavericks, Mountain Lion, Lion, & Snow Leopard
compatible with Windows® XP, 7, & 8
3/4"W x 1/2"H x 2-3/8"D
warranty: 1 year
I purchased some music from HD Tracks. I plugged the Dragonfly into my computer and connected it to home system. WOW! The detail in the music was incredible. Much better than a CD.

David, N. Brookfield,MA
Details
Product Research
Features
USB DAC + Preamp + Headphone Amp: The AudioQuest DragonFly (v1.2) is a USB digital-to-analog converter that delivers far superior sound by bypassing the poor quality sound card that is built into most computers. DragonFly (v1.2) is a sleek, flash-drive sized DAC that connects to a USB (type-A) jack on a Mac computer or Windows PC, turning any computer into a true high-fidelity music source. Its 3.5mm port is designed specifically to connect to an external audio system such as headphones, powered desktop speakers, or your audio/video system.
Note: DragonFly (v1.2) is compatible with Mac OS X Mountain Lion, Lion, & Snow Leopard. DragonFly (v1.2) is also compatible with Windows 8, 7, and XP. Currently, DragonFly (v1.2) is incompatible with Windows Vista and RT (as of 12/10/2013).
Version 2.0 Improvements: Among the improvements to the DragonFly (v1.2), is the circuitry between the DAC chip and the analog output stage has been refined to create a more direct signal path, leading to even greater transparency and clarity. Also, the DAC's power supply has been fortified, which gives the sound greater dynamic contrast.
24-Bit ESS Sabre DAC: At the heart of DragonFly (v1.2) is a 24-bit ESS Sabre DAC chip, a high-performance solution that's typically found in higher-end CD and Blu-ray players. DragonFly (v1.2) can accept audio and music files ranging from MP3s (128/256/320kbps) and CD-standard 16-bit/44kHz to native 24-bit/96kHz high-resolution, regardless of music file format. DragonFly (v1.2) will accept almost any audio you want to play on your computer and make it sound dramatically better, whether your listening pleasure is iTunes or streaming music services such as Mog, Spotify, or Pandora.
Asynchronous USB: Timing errors such as "jitter" have long been the plague of digital audio playback; never more so than in recent years as computers have been pressed into service as audio source components. DragonFly (v1.2) uses a very sophisticated "asynchronous" USB audio data transfer protocol. Rather than sharing crucial audio "data clocking" functions with the computer, DragonFly (v1.2) alone commands the timing of the audio data transfer, dramatically reducing digital timing errors.
Two Clocks: Not all audio content is encoded at the same native resolution or "sample rate". DragonFly (v1.2) uses two discrete onboard "clocks" so that the math algorithms used to convert the digital audio data to analog are always optimized for the native sample rate (up to 24-bit/96kHz) of the audio file or stream being played. This ensures the least amount of mathematical manipulation to the native audio data, which results in fewer errors and better sound.
Compatible Sampling Frequencies: DragonFly (v1.2) will play music or audio data at 44.1kHz, 48kHz, 88.2kHz, or 96kHz. However, for the best sonic results the computer should be configured so that it sends music and audio data to DragonFly (v1.2) that matches the "native rate" of the music. For example, since all CDs and music files purchased from iTunes are at a 44.1kHz sample rate, for many people 44.1kHz will be the best sample rate since this is the "native rate" of most digital music. Choosing a higher sample rate will convert your native music and audio data using mathematical approximations that can potentially decrease the sound quality. Conversely, if you have purchased high-resolution music files (96kHz), such as those available from HDtracks.com, configuring your computer for 44.1kHz (or any other lower sample rate) will cause the computer to down-sample your music to a lower resolution. When possible, always configure the computer to output the native sample rate of the music you are listening to.
Note: If you have purchased a file that has a higher sample rate than 96kHz you need to configure your computer to send DragonFly (v1.2) audio data at a resolution no greater than 96kHz, and for the best performance the sample rate you choose should be exactly half the sample rate of the file you're playing. For example; if you purchased a 24-bit/176.4kHz file, 88.2kHz should be selected, whereas if you purchased a 24/192kHz file, 96kHz should be selected. Directly divisible sample rates prevent the computer from doing sonically degrading, complex math in its conversions and allows DragonFly (v1.2) to sound its best.
High-Resolution Analog Volume Control: DragonFly (v1.2)'s high-resolution analog volume control carries out the instructions in the analog domain for the best sound quality. When the music player's (Windows Media/iTunes/etc.) volume is set to maximum and the computer's main volume control is used, DragonFly (v1.2)'s onboard 64-position analog-domain volume control is able to preserve full resolution and maximum sound quality.
Direct Coupled Analog Circuits: DragonFly (v1.2)'s analog circuits are direct-coupled from the ESS converter chip's output, avoiding the need for any extraneous, sonically degrading components in the signal path.
3.5mm Output: DragonFly (v1.2)'s 3.5mm minijack connector can drive a variety of devices or systems depending on how it's connected and used.
Headphone Out: DragonFly (v1.2) is versatile enough to drive virtually any headphone on the market today. DragonFly (v1.2) can drive any headphone from 10-ohm impedance on up. DragonFly (v1.2) has enough output to drive even the lowest efficiency headphones.
Variable Out: DragonFly (v1.2) can be used in "variable" output mode with computer-controlled analog volume control when connected directly to powered speakers or a power amplifier.
Fixed Out: Connecting to a traditional preamplifier or AV receiver, DragonFly (v1.2) can be set to a "fixed" output mode by turning the volume to maximum, allowing it to behave like a CD or Blu-ray player.
LED Indicator: A smart LED indicator behind the DragonFly (v1.2) icon shows the resolution of the incoming signal - 44.1kHz (green), 48kHz (blue), 88.2kHz (amber), and 96kHz (magenta). Red indicates standby mode.
Our Product Research Team
At Crutchfield, you'll get detailed, accurate information that's hard to find elsewhere. That's because we have our own in-house Product Research team. They verify what's in the box, check the owner's manual, and record dimensions, features and specs. We stay on top of new products and technologies to help people make informed choices.