Definitive Technology ProSub 1000
Powered subwoofer
Item # 735PSUB1KB | MFR # NDMA
In Stock
Buy now

Our North American experts can help.
Overview
Our take on the Definitive Technology ProSub 1000 by Crutchfield's Kristen Schaub
Double the thrill with room-thumping bass
Definitive's ProSub 1000 brings all of your movie soundtracks and music to life with high-impact bass. A front-mounted 10" woofer works together with a pressure-coupled low bass radiator on the bottom of the enclosure to produce hard-hitting bass. The combined output of this pair is comparable to that of a traditional 12" woofer, but with greater speed, musicality, and control. The woofer is encased in an incredibly rigid basket engineered to hold the massive magnet structure and large voice coil in absolute alignment. And the non-resonant cabinet uses multiple internal bracings to make sure that you hear clean bass without sound-muddying vibrations.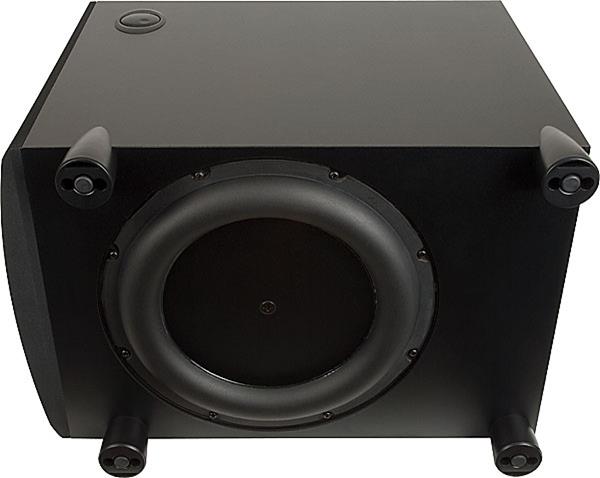 Advanced crossover system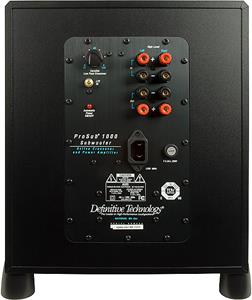 A 300-watt amplifier and advanced crossover ensure accurate bass response. The continuously variable low-pass crossover allows you to precisely control the frequencies that your subwoofer handles. And the built-in high-pass crossover is a nice touch: it prevents your main speakers from overloading with low frequencies if you hook them up through the subwoofer's speaker-level outputs. A side volume control makes adjustments fast and easy, so you can seamlessly blend the ProSub 1000 in with the rest of your system.
Product Highlights:
bass-reflex (passive radiator) enclosure
10" woofer pressure-coupled to a 10" low bass radiator
built-in 300-watt amplifier
frequency response 18-150 Hz
continuously variable low-pass 40-150 Hz crossover
auto on/off
speaker-level inputs and outputs
80 Hz fixed high-pass crossover for speaker-level outputs
LFE input for use with home theater receiver's subwoofer output
matte black finish
12-1/16"W x 14-3/8"H x 19-1/8"D
warranty: 5 years woofer, 3 years amplifier
The sub handles bass very well and I am happy with the level of sound it produces. It didn't get 5 stars because the grille had to be replaced because it raddled.

Anthony, Frisco, TX
Details
Product Research
Overview: The Definitive Technology ProSub 1000 is an advanced state-of-the-art technology powered subwoofer with a built-in high-power, high-current amplifier and sophisticated electronic crossover, in combination with an active front-firing 10-inch high excursion woofer and 10-inch bottom-mounted passive radiator for massive bass with superior speed, control, and detail. The Definitive Technology ProSub 1000 is a compact, high quality, powered subwoofer that can be used in your home theater or music speaker system.
Features
Passive Radiator Design: The ProSub 1000 features a 300-watt (RMS) amplifier driving a high-excursion 10-inch front-mounted direct-radiating woofer that is pressure-coupled to a 10-inch low-bass passive radiator on the bottom of the enclosure. The net radiating area of the ProSub 1000 is 39% greater than a single 12 inch woofer but with better speed, pitch definition, and control.
PowerField Technology Amplifier: The ProSub 1000 incorporates Definitive's proprietary PowerField technology, by which the amplifier is specifically engineered in conjunction with the driver for optimum load matching and power transfer characteristics. The Definitive ProSub 1000 powered subwoofer incorporates a unique, patented, digitally-coupled infinite power source amplifier with a high-current direct coupled power supply and discrete MOSFET output devices to ensure perfect high-definition resolution and reproduction of the most dynamic program material and demanding sub-bass transients. Construction quality is absolutely state-of-the-art, with only the highest quality components used including mil-spec glass epoxy circuit boards and precision resistors and capacitors for many years of faultless superior performance.
High-Definition Subwoofer: The powerful, high-definition 10" polymer subwoofer driver is specifically engineered by Definitive Technology to deliver rock-solid low distortion bass, reaching down to the lowest subsonic frequencies (18-150Hz), with superior transient response. The special ultra-stiff, low-mass cone (for super-fast transient response) is joined to a specially formulated surround and long-throw voice coil and spider. The ultra-rigid basket is engineered to hold the woofer's massive magnet structure and large voice coil in absolute alignment. The high temperature voice coil is made of aluminum wound with triple insulated ultra-pure copper wire and baked in epoxy for increased power handling.
Non-Resonant Cabinet: The cabinet of a loudspeaker plays a large part in its sonic performance. Resonance and vibration can add unwanted distortion as well as drain away important energy from the system. The Definitive Technology ProSub 1000 powered subwoofer utilizes a monocoque cabinet, which has been specifically engineered to be totally inert and vibration free, to ensure you of pure sonic reproduction. Monocoque means that the cabinet is of a unitized construction where all panels are permanently joined together into one solid structure. The cabinet walls themselves are high-density medite fused together by space-age polymer adhesives. The front and rear baffles are extra thick and the cabinet, itself, incorporates multiple internal braces to ensure total solidity.
Protection Circuits: The Definitive Technology ProSub 1000 features two protection circuits that ensure that the subwoofer can never be overdriven.
Integrated/Adjustable Feet: The ProSub 1000 features four integrated feet with rubber tips so you can place it securely and safely on your home's floor. Each foot's height is adjustable to help you place the powered sub on an uneven surface.
Placement: The Definitive Technology powered subwoofer has been designed to operate at frequencies generally below 150 Hz. Because low-frequency information in this range essentially is non-directional, your subwoofer can be located anywhere in your listening room that is most convenient. Also the continuously variable low-pass filter operate at a very fast roll-off, ensuring great performance wherever you place the subwoofer. There are, however, some general rules that you should bear in mind when locating the powered sub.
For maximum output the subwoofer should be placed in a corner or against the wall.
Corner placement will increase the subwoofer's efficiency, which in turn will increase your system's maximum output and improve the dynamic capability of the subwoofer.
Controls
Volume Control: The ProSub 1000 features a convenient front-side-mounted volume control that makes adjustments fast and easy. This precision level control allows you to perfectly adjust the volume of the subwoofer to match your system and room as well as to fulfill your own personal sonic preferences.
Variable Low-Pass Crossover: The Definitive Technology ProSub 1000 powered subwoofer has a continuously adjustable low-pass filter control which allows you to choose a roll-off of from 40 to 150 Hz for the high end of the subwoofer. This unique "dual stage" roll-off (24dB/oct) is extremely steep which ensures perfect blending with your main speakers as well as eliminating unwanted midrange from the subwoofer. This is especially important because it gives you much greater flexibility in placing your subwoofer in your room without being able to hear where it is located.
Note: The low-pass crossover is only supported by the powered subwoofer's speaker-level inputs.
Auto Turn-On Circuit: The powered subwoofer has a special power circuit which automatically turns the powered subwoofer on when a signal is fed to the loudspeaker and turns it off when there is no signal present, so it does not require an on-off switch.
LED Indicator: The red LED on the back panel of the powered subwoofer will light up when a signal is sensed and the amplifier turns on. It will automatically turn off with the powered subwoofer, a little while after the signal is discontinued.
Connections
Line-Level & Speaker-Level Connections: The Definitive Technology ProSub 1000 powered subwoofer has a complete range of inputs and outputs to allow easy and effective hookup to any system. The ProSub 1000 has a separate direct-in LFE low-level input. Speaker-level inputs are provided in case you do not have a subwoofer output.
LFE Input: The Definitive Technology powered subwoofer has a low-level direct LFE input for Dolby Digital soundtracks, which bypasses the crossover network. If you are connecting the subwoofer to an AV receiver without a dedicated subwoofer or LFE preamp output, but does features a stereo RCA output, you will need to use a stereo RCA cable along with an RCA Y-adapter.
Note: When using the LFE input with a receiver that has an internal x-over, you should set the x-over on the sub to 150Hz.
Speaker Level In: The Speaker Level inputs (binding posts) are designed to be used on receivers or amplifiers that do not incorporate any RCA type subwoofer outputs. If your receiver is equipped with an RCA type subwoofer outputs, these speaker level inputs should not be utilized.
Speaker Level Output: The ProSub 1000 also features speaker level outputs (binding posts), so you can connect your front (main speakers) through the powered subwoofer. The ProSub 1000 has a built-in speaker level high-pass crossover preset at 80 Hz (6dB/oct).
Our Product Research Team
At Crutchfield, you'll get detailed, accurate information that's hard to find elsewhere. That's because we have our own in-house Product Research team. They verify what's in the box, check the owner's manual, and record dimensions, features and specs. We stay on top of new products and technologies to help people make informed choices.
Looking for more? Check out the next model in this lineup.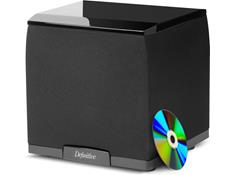 Get bass from an ultra-compact sub
The Definitive Technology SuperCube 2000 offers these features:
takes up even less space in your room
uses a 7-1/2" long-throw woofer pressure-coupled to two 7-1/2" low bass radiators
has a more powerful built-in 650-watt amplifier
has a piano-gloss black finish