Sony UBP-X800
4K Ultra HD Blu-ray player with Wi-Fi® and Bluetooth®
Item # 158X800 | MFR # UBPX800
In Stock
Was: C$399.99
Sale: -C$100.00
Buy now

Our North American experts can help.
Overview
Our take on the Sony UBP-X800 by Crutchfield's Jeff Miller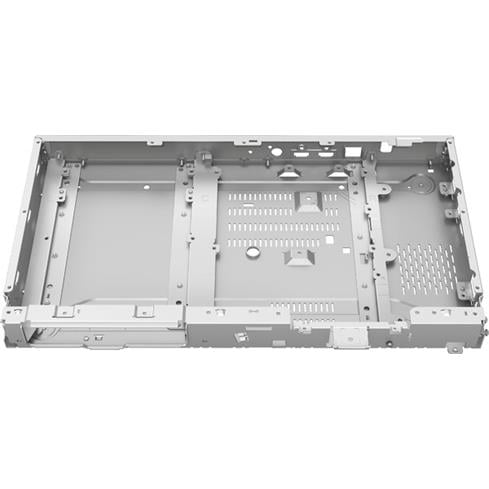 The Sony UBP-X800 4K Blu-ray player has a frame-and-beam chassis for less vibration.
Sony's first 4K Blu-ray player is worth the wait
Sony took their time to release the UBP-X800 Ultra HD Blu-ray player — they wanted to do it right. Good call. They've created a solidly built home theater component that will push your 4K Ultra HD TV to perform its best. This versatile player will serve up Ultra HD Blu-ray discs with their full 4K resolution and wide, vivid color spectrum. It also plays pretty much any other movie and music disc or digital file out there — and yep, it will even stream Netflix® in 4K.
High Dynamic Range gives you the richest picture yet
4K Blu-ray discs with High Dynamic Range (HDR) offer the best picture available today. And the UBP-X800 is ready for them. On compatible Ultra HD TVs (including these from Sony), you'll get deeply detailed picture contrast. We're talking the darkest and brightest content side by side in the same image.
Sound that pulls you into the action
All the top movie sound formats are supported, too. You can send three-dimensional audio formats like Dolby Atmos or DTS:X to a compatible receiver via HDMI. This gives you a home theater sound experience that's worthy of the super-crisp images you'll see on your screen.
A true high-res music player, too
The UBP-X800's high-grade internal digital-to-analog converter ensures all your music sounds clear and detailed. The USB port accepts thumb drives you load with music files — even lossless and uncompressed formats, including high-resolution DSD. Plus, when you connect the player to your network via Wi-Fi, it becomes the gateway to a whole-home audio system.
Dual-band Wi-Fi means smooth 4K video streaming...
Sony Blu-ray players usually offer a decent variety of streaming video services. And this player even offers 4K streaming options, so you can get a better picture from Netflix and Amazon Instant Video.
Dual-band Wi-Fi gives you the strong connection needed for streaming 4K. (Keep in mind, we recommend having an internet speed of 20Mbps or faster for 4K streaming.)
...and multi-room music, too
Along with all the streaming video goodness, this player also turns your connected home theater speakers into a wireless music hub. Download Sony's free SongPAL™ app, and control the player from your iOS® or Android™ device. The app gives you wireless access to the music stored on your phone or a DLNA-connected server, plus streaming services like Spotify® Connect.
You can also control other compatible Sony speakers and components — all from the same SongPAL app. Listen to different songs in each room, or the same thing throughout the house. You can even stream movie or music audio from the UBP-X800 to other rooms.
Beam sound to headphones wirelessly via Bluetooth
The UBP-X800 built-in Bluetooth can transmit the sound of your movies, shows, and other media to a pair of Bluetooth headphones. This is perfect for late night binge-watching. You can catch all the dialogue and hear all the loud, exciting sound effects without waking everyone up.
Product Highlights:
rigid frame-and-beam chassis design for low vibration
plays Ultra HD Blu-ray discs, 3D and standard Blu-ray discs, SACDs, DVD-Audio, DVDs, CDs and rewriteable discs
full 4K resolution video for use with Ultra HD TVs

4K video upscaling for standard Blu-ray and DVDs

supports lower resolutions when used with non-4K TVs
HDR (High Dynamic Range) for extended picture contrast and brightness on compatible TVs
Quick Start/Load mode swiftly queues up a disc from the "off" position
plays high-resolution digital music files via USB storage device; PCM files up to 24-bit/192kHz resolution, and 2.8 MHz DSD files
plays Region A Blu-ray discs and Region 1 DVDs
Wireless Video and Music Features:
dual-band Wi-Fi for smooth wireless streaming

streaming video apps include Netflix, Vudu, and Amazon Instant Video (subscriptions required for some services)

HEVC for watching streamed 4K content from sources like Netflix and Amazon Instant Video (requires internet speed of at least 20Mbps)
Bluetooth transmitter sends audio from the player to Bluetooth-compatible headphones or speakers

LDAC Hi-Fidelity wireless music streaming to compatible sources

Miracast-compatible — screen-mirroring with Miracast-compatible smartphones and tablets
free downloadable Sony SongPAL app (available from iTunes Store and Google Play) helps connect the player to your wireless network and controls playback, and volume

also gives you control over other compatible Sony speakers as part of a multi-room music system

Spotify&reg Connect compatible
Technical Specs and General Info:
selectable video resolution up to 3840 x 2160 pixels
built-in audio decoding for Dolby® Digital, Dolby TrueHD, DTS®, and DTS-HD Master Audio

can pass Dolby Atmos and DTS:X soundtracks when HDMI output is set to "bitstream"

plays AAC, AIFF, ALAC, DSD (.dff and .dfs files), FLAC, MP3, WMA, and WAV audio file formats
front-panel USB port to play music, movies, and images from external hard drives and thumb drives
BD-Live and BonusView support for added bonus features with compatible discs (requires external USB storage device)
2 HDMI outputs for separating audio and video signals

"VIDEO" HDMI output is HDMI 2.0a (connected 4K TV and/or receiver must have an HDCP 2.2-compatible HDMI input, and must have HDMI 2.0a to support HDR)
"AUDIO" HDMI input does not output video signal

coaxial digital audio output
Ethernet port for internet connectivity
remote control
17"W x 2-1/4"H x 10-3/4"D
warranty: 1 year
What's in the Box:
Ultra HD Blu-ray player
Remote control (RMT-VB310U)
2 "AAA" batteries
Operating Instructions
Warranty Information
Online Product Registration
Well pleased, this is my second unit, purchased for TV in my family room. First one is on an LG OLED so is obviously a better picture, new one is on three year old Visio 4-K TV but still impressive.

Rich, Allentown, PA
Details
Product Research
Disc & USB Compatibility
Video Section
Audio Section
Network/Internet Functions
Convenience Features
Remote Control
Disc & USB Compatibility
Disc Compatibility: The Sony UBP-X800 Blu-ray disc player is compatible with many disc types:
| | |
| --- | --- |
| Disc Type | Disc Description |
| Blu-ray | UHD BD-ROM, BD-ROM, BD-3D, BD-R, BD-RE |
| DVD | DVD-Video, DVD-R, DVD-RW, DVD+R, DVD+RW, DVD-Audio |
| CD | CD-Audio, CD-R, CD-RW, SACD |
Ultra HD Blu-Ray: Ultra HD Blu-ray provides these key features and advantages over standard Blu-ray.
4K Resolution: Ultra HD Blu-ray supports resolutions of up to 3840 x 2160 pixels. That's 4x as many pixels as Full HD televisions, and 27x as many pixels as Standard Definition televisions
Wider Color Gamut: Ultra HD Blu-ray can display over 75% of the visible color spectrum; this is known as "Wider Color Gamut". That's more than twice the color range of current HDTVs.
HDR (High Dynamic Range): Ultra HD Blu-ray also supports High Dynamic Range (HDR) video. Dynamic range is the difference between the brightest whites and the darkest blacks on screen. HDR means that scenes with high contrast can be shown with much greater clarity and detail.
Smooth, Realistic Motion: Ultra HD Blu-ray supports progressive frame rates of 24, 25, 50 and 60 frames a second, enabling smoother, more realistic motion.
Greater Capacity & Speed: Ultra HD Blu-ray Discs will be available in a dual layer 66 gigabyte disc and a triple layer 100 gigabyte disc. Ultra HD Blu-ray can stream video up to a maximum of 108/128 Mbps for 66Gb and 100Gb discs.
Backward Compatible: Ultra HD Blu-ray players will play all current Blu-ray Disc & DVD content. When connected to a current HDTV television, the player will output a standard HDTV signal. Ultra HD Blu-ray players will support existing Blu-ray media, as well as provide down conversion and HDR to SDR conversion functionality to match the connected television's capabilities.
Note: Like standard BD, Ultra HD Blu-ray discs use region codes. The region code on your disc must match the region code on your player, otherwise the disc will not play. This Blu-ray player is region A and DVD region 1. Blu-ray Disc uses the Advanced Access Content System (AACS) to prevent unauthorized recording of copyrighted material.
USB Port: The front-panel USB (type-A) port allows you to play photo, videos, and music files on a connected USB device. The player can recognize Mass Storage Class (MSC) Devices that are FAT-compatible and Still Image Capture Devices (SICD) class devices. The player can recognize up to 500 folders/files. The USB port also allows you to enjoy additional content (such as BonusView) on certain Blu-ray Disc titles. Some BD-ROMs have bonus content and other data which can be downloaded to an inserted USB Flash Drive (minimum 1 GB recommended, sold separately).
Compatible Audio/Video/Photo Formats: The Sony UHD Blu-ray disc player supports playback of the following audio/video/photo files recorded on BD-R/RE, DVD+R/RW, DVD-R/RW, and CD-R/RW discs; plus compatible USB memory devices.
Media Format
File Type
Audio
High Resolution: AIFF /ALAC /FLAC / WAV (up to 24-bit/192kHz); DSD (2.8/5.8MHz)
Compressed: MP3 / WMA / AAC (up to 48kHz/320kbps)
Video
AVCHD, AVI, FLV, MPEG-1, MPEG-2, MPEG-4, Motion JPEG, MKV, WMV9, XVID
Photo
JPEG, GIF, PNG, BMP, MPO, WEBP
Direct Stream Digital (DSD): Enjoy studio-quality sound thanks to the Direct Stream Digital (DSD) audio codec; designed specifically for High-Resolution Audio. This 1-bit format utilizes a stream of very high frequency 1s and 0s to recreate audio waveforms at a higher resolution than conventional codecs. The result is clearer, crisper, High-Resolution Audio quality. The UHD Blu-ray player supports DSD 5.6MHz decoding thru BD, DVD, CD, USB, and DLNA.
Video Section
HDMI 2.0a Output + HDMI Audio Only Output: The Sony UHD Blu-ray player is equipped with dual HDMI outputs for separating audio and video signals (the HDMI Out 2 does not output video signal). The HDMI Out 1 can be used to carry both digital video and audio all in one cable, plus it supports the latest HDMI 2.0a spec. You can choose to use the HDMI Out 2 to send audio only to your A/V receiver and the HDMI Out 1 to send only video to your Ultra-HD TV. The HDMI output resolution can be set to 480p, 720p, 1080i, 1080p, or 4K.
Note: Use a premium high-speed HDMI cable with 18 Gbps and above to view 4K and HDR content optimally.
Ultra HD 4K Playback & Upscaling: With stunning UHD 4K, Sony's Ultra HD Blu-ray Player gives you 4x the resolution of full 1080p HD and boasts incredibly life-like images with a level of detail and clarity like never before. You can even upscale your favorite non-4K video content and enjoy it in 4K Ultra-HD (3,840 x 2,160) with this UHD Blu-ray Player and your Ultra HD TV.
Note: To enjoy 4K, you must have a compatible 4K television connected to the UHD Blu-ray player via HDMI.
HDR (High Dynamic Range) Video: With HDR (High Dynamic Range) technology, the Ultra HD Blu-ray Player delivers dynamic UHD content in exceptional quality with a greater range of color contrast and brightness, enhancing details from the original film format. Experience sharp contrasts and brightness with deeper blacks and brighter whites. HDR video signals contain up to 100x the brightness of a standard (SDR) signal, massively increasing peak brightness while retaining deep and highly detailed blacks, for an incredible viewing experience.
Compatible HDR Formats: This Ultra HD Blu-ray player supports HDR 10, but does not support Dolby Vision HDR.
HDR-to-SDR Conversion: When playing 4K HDR content on a 4K SDR television, the UBP-X800 utilizes a unique Sony algorithm to reproduce the proper brightness and color gradations to provide the best picture possible.
BT.2020 Color Spaces: Support for the new BT.2020 color spaces means access to a much wider range of colors than conventional TV signals offer. This ultra-wide color space means content creators can deliver much more saturated and realistic color from deep aquatic blues to natural greens and vibrant reds.
Deep Color: The Sony Blu-ray player supports a color depth of up to 12 bits. Connecting the player and a TV that supports Deep Color via HDMI allows more accurate color reproduction than when connecting it to a TV that does not support Deep Color.
3D-Ready: The Sony UBP-X800 lets you enjoy 3D Blu-ray disc movies in full HD 1080p. 3D viewing requires compatible 3D content, 3D-ready HDTV, 3D emitter and glasses, and a high-speed HDMI cable (supporting at least 10.2 Gbps) connection.
Screen Settings: The Sony UBP-X800 Ultra-HD Blu-ray player features the following screen settings:
TV Type: You can select a 16:9 or 4:3 aspect ratio for the unit's video output to match your connected Television's screen aspect ratio.
Screen Size: For 3D viewing, you will need to set the screen size of your 3D-compatible TV.
Screen Format: You can select the display configuration for a 4:3 screen picture on a 16:9 wide screen television. You can choose Full or Normal (select when connected to a TV with a wide mode function; displays a 4:3 screen picture in 16:9 aspect ratio even on a wide-screen TV) or Normal (changes the picture size to fit the screen size with the original picture aspect ratio).
DVD Aspect Ratio: You can select the display configuration for playback of 16:9 screen pictures on a 4:3 screen TV. You can select from Letter Box or Pan & Scan.
Video Settings: The Sony UBP-X800 Ultra-HD Blu-ray player offers the following video adjustments:
Picture Quality Mode: You can select from 3 preset pictures settings (Direct, Brighter, Theater, Auto, or Custom) for different lighting environment. The Custom mode lets you adjust the contrast, brightness, color, and hue manually.
Noise Reduction: BNR reduces the mosaic-like block noise in the picture, MNR reduces minor noise around the picture outlines (mosquito noise), and FNR reduces the random noise appearing in a picture, while IP Content Noise Reduction enhances low-resolution web videos.
24p Output: Movies are typically recorded on film with a frame rate of 24 frames per second. When a movie is transferred to Blu-ray Disc at 24 frames per second the UBP-X800 will output that signal to the TV (if the TV will accept the 1080p/24 format) with no need for conversion.
Cinema Conversion Mode: The Sony Ultra-HD Blu-ray player offers two Cinema Conversion Modes - (1) Auto mode automatically detects whether the material is video-based or film-based, and switches to the appropriate conversion method. (2) The Video mode is suited for video-based material and will always be selected regardless of the content.
BonusView: The BonusView feature provides picture-in-picture capability with select Blu-ray Disc titles. You can view addition content (such as director/actor commentary) in a small display window while the movie is playing.
Rigid Chassis: The UBP-X800's unique frame-and-beam chassis offers a rigid structure to eliminate micro-vibrations, as well as effective electrical shielding, so all you experience is the highest sound and picture quality.
Audio Section
Surround Sound Decoders: The Sony UBP-X800 UHD Blu-ray player has built-in Dolby Digital and DTS surround processors with support for Dolby Digital Plus, Dolby TrueHD, DTS-HD High Resolution, and DTS-HD Master Audio. Dolby Digital Plus, Dolby TrueHD, and DTS-HD are only output via the player's HDMI output.
Dolby Digital Plus: Dolby Digital Plus was developed as an extension to Dolby Digital. The audio coding technology supports 7.1 channel surround sound. Dolby Digital Plus also includes the standard Dolby Digital bit stream and is compatible with all current Dolby Digital processors using the coaxial digital output.
Dolby TrueHD: Dolby TrueHD is a lossless coding technology that supports up to 8 channels of multi-channel surround sound for the next generation optical discs. The reproduced sound is true to the original source bit-for-bit.
DTS-HD High Resolution Audio: DTS-HD High Resolution Audio supports a maximum sampling frequency of 96 kHz, and 7.1 multi-channel surround. DTS-HD High Resolution Audio has a maximum transmission rate of 6 Mbps, with a lossy compression.
DTS-HD Master Audio: DTS-HD Master Audio has a maximum transmission rate of 24.5 Mbps and uses lossless compression (Lossless), and DTS-HD Master Audio corresponds to a maximum sampling frequency of 192 kHz, and maximum of 7.1ch.
Note: If you have an AV receiver which decodes Dolby Atmos or DTS:X, you will need to set this UHD Blu-ray player's HDMI output to bitstream. It also streams Dolby Atmos movies from built-in apps (service and movie most support Dolby Atmos).
Coaxial Digital Output: In addition to HDMI connectivity, the Sony UBP-X800 is equipped with a coaxial (RCA) digital output. The Audio menu allows you to select the digital audio format that is passed through the coaxial digital output. Settings allow you to transfer Dolby Digital and/or DTS sound tracks, or down-mix surround bitstreams to 2-channel PCM audio.
Note: This player is not equipped with any analog audio outputs.
Bluetooth Audio Transmission: The Sony UBP-X800 features built-in Bluetooth 4.1 with support for A2DP 1.2 and AVRCP 1.3. The UBP-X800 offers wireless Bluetooth audio transmission, so you can use your favorite Bluetooth headphones or speakers to listen to your movie's soundtrack playing on the UHD Blu-ray player. The UBP-X800 can even send audio to your TV via HDMI and to a wireless speaker or headphone over Bluetooth at the same time. In addition to support for the standard SBC Bluetooth codec, the UBP-X800 supports Apple's AAC codec and Sony's LDAC codec. With LDAC technology you can stream without compromising on quality, up to 3x the bandwidth of regular Bluetooth.
Note: The Sony UBP-X800 does not support Bluetooth hands-free phone communication (HFP).
SongPal Link & App: Download the SongPal app onto your Apple (iOS 9.0+) iPod/iPhone/iPad or Android (OS 4.4+) smartphone/tablet and enjoy multi-room audio streaming and functionality between your SongPal Link compatible Sony devices, over your home's WiFi network. Use the SongPal app to group SongPal Link compatible Sony soundbars and speakers to the UHD Blu-ray player, then stream music from your favorite CD, a USB thumbdrive, Internet radio, a PC, or your DLNA network in multiple rooms throughout your home.
DSEE (Digital Sound Enhancement Engine) HX: In addition to playing studio-quality High-Resolution Audio, the UBP-X800 also improves the quality of all your other music. DSEE HX technology upscales the sound quality of CDs, MP3s and other compressed music files, giving you back the full experience of the original recording.
Audio DRC: The player offers three dynamic range compression levels - Auto, On, Off.
Network/Internet Functions
Dual Core Processor: A powerful Dual Core Processor ensures fast, lag-free performance. Web pages load more quickly, movies and media stream faster, and playback appears noticeably smoother. Even navigation is quicker and more responsive, so you can enjoy a frustration-free entertainment experience.
Wired or Wireless Network Connection: The Sony UBP-X800 UHD Blu-ray player supports a wired or wireless network connection. Via the UHD Blu-ray player's network connection your can enjoy music, video, and still-image files stored on your computer. You can also watch movies and TV shows from select online providers.
Ethernet (LAN) Jack: The Sony UHD Blu-ray player is equipped with an Ethernet (LAN) RJ-45 jack for connecting the player to your home network and computer.
Built-in Wireless LAN: The UHD Blu-ray player also features built-in WiFi which allows you to wirelessly access the Internet and your home network. A new dual-band 2.4/5.0GHz WiFi module compatible with MIMO provides improved stability and speed performance for a better streaming experience. With this feature, you can easily connect to a wireless LAN and enjoy the benefits of networking in a cable-free environment. A wireless connection requires a home network with an 802.11 a/b/g/n access point (802.11n recommended) and internet connection. Supports WPS, WEP, and WPA security.
Note: A dual-band Gigabit wireless-N router or better is recommended For 4K streaming. Samsung recommends a home network connection speed of at least 2.5 Mbps for standard definition, 10 Mbps for high definition, and 20 Mbps for ultra-high definition.
Online Entertainment Apps: The Sony ES UBP-X1000ES UHD Blu-ray player offers access to a variety of online entertainment apps. Additional fees and subscriptions will apply for some applications.
Note: Available online content may change without notice.
DLNA Certified: DLNA certification allows you to enjoy various content from your home network, such as music, photo, and video files stored on your Windows 7/8 PC (or other DLNA Certified media server/Android device) through the Sony UBP-X800 - up to 999 files/folders. The UHD Blu-ray player can be connected to your compatible PC using a hardwired Ethernet (LAN) connection or WiFi connection (via built-in WiFi).
Media Format
File Type
Audio
High Resolution: AIFF /ALAC /FLAC / WAV (up to 24-bit/192kHz); DSD (2.8/5.8MHz)
Compressed: MP3 / WMA / AAC (up to 48kHz/320kbps)
Video
AVCHD, AVI, FLV, MPEG-1, MPEG-2, MPEG-4, Motion JPEG, MKV, WMV9, XVID
Photo
JPEG, GIF, PNG, BMP, MPO, WEBP
Note: High Resolution & DSD music files only supported through a wired (Ethernet) connection.
Miracast: Miracast is a "screen mirroring" function which lets you wirelessly send the display from your compatible Windows 8.1+ or Android 4.2+ device (with support for Miracast) through the UHD Blu-ray player and to your TV. This allows you to view pictures and videos that are playing on your compatible Windows or Android device on your TV screen.
Gracenote Metadata Service: The Gracenote metadata service instantly gives you access to detailed information about the movies you are watching through the Ultra-HD Blu-ray disc player internet connectivity. This easy-to-navigate service displays information such as cast information, genre, jacket art and more right on the TV screen.
Note: Requires Internet connectivity. Some disc titles may not be supported by the Gracenote service.
BD-Live: BD-Live technology allows you to download and stream bonus content such as additional scenes, shorts, trailers, movie-based games, and more from a broadband Internet and home network connections (fees may apply). The Sony UHD Blu-ray player features an Ethernet port to connect to the Internet via your home network and features front-panel USB port for additional storage.
Note: You must have a minimum 1GB USB memory device inserted in the unit's front-panel USB port in order to download content from BD-Live.
Convenience Features
Quick Start: Quick Start speeds up the load time on movies, so discs start faster after they're inserted into the UHD Blu-ray player. The Sony Ultra-HD Blu-ray player has a start-up time of approximately 0.4 seconds in Quick Start mode (11.3 seconds in normal mode). In Quick Start mode, it takes approximately 15.1 seconds for a Blu-ray disc to begin playback (27.7 seconds in normal mode).
Note: The Start Up/Play Back Time tests were started with the UHD Blu-ray player initially turned off and in standby mode. The Start Up Time test was stopped when the player's Home Menu screen appeared. The Play Back Time test was stopped when the UHD Blu-ray disc began playback.
On-Screen Display: The Sony UBP-X800 provides an OSD via its HDMI output. The on-screen text can be set to English, French, Spanish, or Portuguese.
Screen Saver: The screen saver image appears when you do not use the player for more than 10 minutes while an on-screen display, such as the home menu, is displayed on your TV screen. The screen saver image helps prevent your display devices from becoming damaged.
Auto Display: The player automatically displays information on your TV screen when changing the viewing titles, picture modes, audio signals, etc..
Auto Standby: If any button on the player or remote is not pressed for more than 20 minutes, the player automatically returns to standby mode.
Parental Control: The Sony UBP-X800 offers Parental Control settings to limit BD, DVD, and streamed Internet video according to the age of the users. You can also Allow or Block all unrated Internet video. The control settings are protected by a custom 4-digit password. You can also lock the disc tray to prevent it from being opened by mistake.
Firmware Updates: Occasionally, Sony may release updated firmware for this unit that may add or improve the way a feature operates. These updates are available free of charge. This unit is capable of checking the firmware automatically when connected to the Internet via broadband connection. Visit the Sony eSupport Site for the latest firmware update information.
Remote Control
Multibrand Remote: The supplied remote operates The UHD Blu-ray player and a Sony TV's power on/off, input select, and volume up/down. The remote even has a dedicated Netflix button for immediate access to your Netflix movies. The remote is also pre-programmed with power, input, and volume controls for several other brand TVs.
HDMI Control (Bravia Sync): Sony & other brand components compatible with the HDMI Control function can be controlled via the HDMI connection. This includes convenient features like One-Touch Play and System Power-Off.
Video & TV SideView App: With Sony's free Video & TV SideView App, you can control the UBP-X800 Blu-ray player and browse its content from your Apple iOS 9.0+ device or Android OS 4.4+ device. The Video & TV SideView App allows your compatible Apple iOS or Android device to act as a remote control and software keyboard for the Sony UHD Blu-ray player. You can also view disc information and search for Sony Bravia Internet apps from your compatible mobile device.
Note: The Sony TV SideView App requires that the Sony UHD Blu-ray player and your Apple iOS or Android device be connected to the same compatible network with the remote device connected through an 802.11 access point (802.11n recommended).
USB Keyboard Compatible: The Sony Ultra-HD Blu-ray player also supports the connection of a USB 101 keyboard, which makes web browsing simpler.
Our Product Research Team
At Crutchfield, you'll get detailed, accurate information that's hard to find elsewhere. That's because we have our own in-house Product Research team. They verify what's in the box, check the owner's manual, and record dimensions, features and specs. We stay on top of new products and technologies to help people make informed choices.