How strong is a Gator case?
To find out, a drummer beats on one with a hammer
Heads up!
Welcome to this article from the Crutchfield archives. Have fun reading it, but be aware that the information may be outdated and links may be broken.
I'm the drummer and equipment manager in a band called Ice House Road. I'm also a supervisor in Crutchfield's advisor group.
When Crutchfield started carrying pro audio gear I was excited to put my knowledge and experience playing music to work – at my day job. Learning about the pro audio gear Crutchfield offers opened my eyes to all the equipment my band needs. First and foremost, we need to upgrade the cases and bags that protect all our stuff.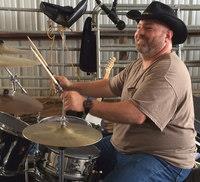 Who better than this hard-hitting drummer to put Gator Cases to the hammer test?
Enter Gator Cases.
When the guys from Gator came to Crutchfield to show us their products, what impressed me most was how much of a beating their cases can take. The trainer handed me a hammer and invited me to wail away on a case. I hit the sides of that thing as hard as I could. I did put a slight dent in it, but nothing that damaged the integrity of the case. I beat on the latches, handles, and hinges, too, and couldn't break them. Several people hammered on this case during a full day of training sessions. Afterward, I got to keep it!
Our band is using the GU-1813-06-WPDF waterproof case (which measures 18" x 13" x 6.9") for our microphones. The customizable foam interior is perfect for all our vocal and drum mics. (I'm also putting one on my motorcycle's luggage rack.)
Disclosure: The author of this article was given the product he reviewed for free.
Want to see a Gator Cases pass a different kind of torture test? Watch the video below: