Cambridge Audio CXN
Stereo digital preamplifier/network player, optional Bluetooth® (Silver)
Item # 779CXNS | MFR # C10786K
In Stock
Buy now

Our North American experts can help.
Overview
Our take on the Cambridge Audio CXN by Crutchfield's Steve Kindig
Cambridge Audio elevates your digital music listening
Some high-performance audio gear seems like it was designed a decade ago, before music downloads and streaming services became the norm. But Cambridge Audio's versatile CXN was clearly engineered with today's audiophiles in mind. Its connections and controls will optimize your favorite digital music sources.
It handles the most popular digital file formats and gives them all a sonic upgrade, from lossy sources like MP3s and Spotify®, to your CD collection, to high-res music files downloaded from HDtracks. Add an optional BT-100 Bluetooth® dongle and stream music from any compatible smartphone or tablet.
Think of the CXN as three components in one. First, it's a digital preamp with an assortment of connections for handling your digital gear. Plus, it's a network player ready to stream your favorite audio sources using either a wired Ethernet or Wi-Fi® connection. And, of course, it's a high-performance DAC with state-of-the-art audio processing to improve the listening experience for all digital formats. While CD-quality or better sources will sound startlingly real, it's a real eye-opener to hear how good a 320kbps Spotify® stream can sound (premium subscription required).
Advanced upsampling and DACs for clean, clear sound from every source
Cambridge's sophisticated Adapted Time Filter 2 technology upsamples all incoming digital audio to a 24-bit/384kHz signal to resolve extremely fine detail. That happens for all incoming audio data — whether it's from an Internet radio stream, a lossless FLAC file on a USB flash drive, or a connected component like a CD transport.
This system performs interpolation and data buffering, and re-clocks the audio signal to almost completely eliminate "jitter" — timing errors in the music signal that can add harshness, compromise clarity and cause instruments and voices to sound less distinct. The upsampled audio signal is then fed through twin Wolfson 24-bit DACs, for clean, detailed, noise-free sound and outstanding stereo imaging with every source.
All the right connections for your digital audio gear

In addition to coaxial and Toslink optical digital audio inputs, the CXN is a network player designed to optimize music streaming and downloads. Connect to your amplifier using the RCA or balanced XLR audio outputs.
The CXN's versatile back-panel connections give you several ways to use its outstanding audio processing and D-to-A conversion to enjoy incredible sound from all your digital audio sources. For starters, there's a digital audio input with your choice of optical or coaxial connections. A coaxial connection is compatible with many CD/DVD players, and it's ideal for a Sonos® Connect player. An optical input should work for your HDTV, Apple TV®, or game console. And you'll find two flavors of USB input: Type A for plugging in a thumb drive, and Type B for connecting to your computer.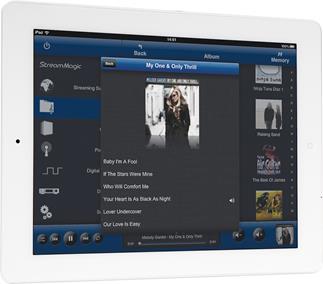 A free app lets you use your tablet or smartphone to select digital music files or switch audio inputs.
Use your Apple® or Android™ device as the controller
While the CXN includes a backlit remote control, and features a large, easy-to-grab control knob on the front for navigating through your music options, you'll have more fun if you get your smartphone or tablet into the act. Cambridge's free Connect app works with your favorite Apple or Android device to integrate all your music choices into a single simple interface. From the music stored on your home network devices, to thousands of Internet radio stations, to streaming services like Spotify®, this app puts everything at your fingertips.
Product Highlights:
Features:
stereo preamp/network player with built-in digital-to-analog converter (DAC)
digital inputs let you connect sources like a computer, disc player, media streamer, or TV and enjoy superior sound
connects to your home network via wired Ethernet or Wi-Fi® (802.11n) for music streaming and downloads
supports Spotify Connect and Apple AirPlay®
provides access to 20,000 Internet radio stations
plays PCM digital audio sources up to 24-bit/192kHz
twin Wolfson WM8740 24-bit digital-to-analog converters in dual differential mode for precise stereo imaging
Anagram Technologies Adapted Time Filtering 2 (ATF2) 24-bit/384kHz audio up-sampling with jitter reduction for resolving fine detail
asynchronous USB technology for reduced timing jitter and better sound
large toroidal power transformer for clean, stable power
all-metal construction to minimize vibration-induced distortion
4.3" color LCD displays track/artist info and album art
illuminated remote control
free downloadable apps for iOS® and Android™ let you use a compatible smartphone or tablet as a remote control
Connections:
Ethernet port for a fast, reliable wired network connection
Bluetooth ready — accepts optional BT-100 Bluetooth dongle for wireless audio streaming from a mobile phone, tablet, or computer
stereo balanced XLR and unbalanced RCA preamp outputs for connecting an amplifier
Toslink optical digital audio (1 in, 1 out) — supports files up to 24-bit/192kHz
coaxial digital audio (1 in, 1 out) — supports files up to 24-bit/192kHz
USB input (Type B) for connecting a Mac or Windows® computer — supports files up to 24-bit/192kHz
3 USB inputs (Type A) for connecting a thumb drive, an optional Wi-Fi antenna, or the optional BT-100 Bluetooth receiver (1 front, 2 rear) — supports files up to 24-bit/192kHz
detachable power cord
If connecting to a TV, please make sure you can select "PCM" output in its audio menu — this DAC cannot decode multichannel Dolby® Digital signals
Specifications:
16-15/16"W x 3-1/4"H x 14-7/16"D (5-1/2"H with antenna)
weight: 7.7 lbs.
warranty: 3 years
What's in the Box:
Cambridge Audio CXN Owner's manual
Network audio player
59" AC power cord
USB-WiFi dongle w/ WLAN antenna
Remote control (RC-CXA/C/N)
3 "AAA" batteries
38" Mono-RCA cable
Quick Start Guide
Important Safety Instructions
"Thank You" card
Spotify brochure
Sounds is excellent easy set up!

sm, Rock Hill, SC
Details
Product Research
Variety of Sources
Audio Section
Remote Control
Variety of Sources
Wired or Wireless Network Connectivity: The Cambridge Audio CXN network audio player offers a wired (Ethernet) or wireless (WiFi dongle) connection to your home network for access to Internet Radio, select online music services, AirPlay, and music libraries stored on your computer.
Ethernet (LAN) Jack: The CXN network music player is fitted with an Ethernet (R-J45) port to connect directly to your home's network hub. Only connect the LAN port of the player to an Ethernet port that supports 10BASE-T or 100BASE-TX.
WiFi Dongle/Antenna: The CXN network audio player includes a USB-WiFi dongle/WLAN aerial antenna which plugs into the player's rear-panel USB port. This USB-WiFi dongle/antenna wirelessly connects the AV receiver to your home network. The CXN supports 802.11 b/g/n (in 2.4GHz only) with WEP, WPA, WPA2 encryption. The unit has a wireless range of 30-98'.
Note: It is not recommended to use a WiFi connection for music files above 16 bits, 44.1/48kHz (if lossless/uncompressed).
Internet Radio & Spotify Connect: The Cambridge Audio CXN gives you access to over 20,000 internet radio stations from around the world; all sorted by Location, Language, and Genre. The CXN also incorporates Spotify Connect. If you subscribe to Spotify Premium , you can play all of your Spotify music and playlists, plus control the CXN with the Spotify Connect app on your Apple iOS or Android device. Access to Internet Radio and Spotify Connect requires the free Cambridge Connect App for Apple iOS (7.1+) and Android (OS 4.0+) devices.
AirPlay Compatible: The Cambridge Audio CXN network audio player is compatible with Apple's AirPlay technology. With AirPlay, the CXN can connect wirelessly to any AirPlay-enabled Apple device. This allows you to stream music wirelessly from your iPod touch, iPhone, iPad, or your computer's (Mac or PC) iTunes library; via your WiFi network.
iTunes Streaming: The CXN network audio player is able to stream audio from your computer's iTunes account via AirPlay technology. When connected to the same network as a computer running iTunes, the CXN can appear as an output option in the pop-up menu at the bottom of the iTunes window. You can then browse your iTunes collection on your computer & stream music to the Cambridge Audio network audio player. You will need a Mac or Windows-based PC running iTunes (10.2.2 or later) connected to the same network as the CXN.
Apple Device Streaming: AirPlay also lets you wirelessly stream music and music apps stored on your iPod touch, iPhone, or iPad to the Cambridge Audio CXN. You will need an iPod touch, iPhone, or iPad (running iOS 4.3.3 or later) connected to the same network as the CXN.
Apple Remote App: Using the Apple Remote App (free download from iTunes) on your iPod touch, iPhone, or iPad and your wireless home network, you don't even need to be in the same room as the components or your computer to play, pause, skip, and stop the songs in your iTunes music library. You will even see the iTunes music information, including your track titles & artist info on your Apple device. You will need an iPod touch, iPhone, or iPad (running iOS 7.0 or later) connected to the same wireless network as the CXN.
UPnP Compatible: The Cambridge Audio CXN network audio player is a UPnP (Universal Plug and Play) AV Client. Being a UPnP Client means the it can connect to UPnP AV servers on a network and browse and playback their music content. A connection to the internet is not strictly needed for this. The CXN just needs to be able to connect to the server to access its content. Most operating systems and/or music playback software now feature UPnP server facilities built-in. This allow you to share the music on the computer's hard-drive with Clients, such as the CXN. Your music library can include digital music located anywhere on your home network such as shared folders on your own computer (Windows or Mac), shared folders on another computer on your network, or music stored on a Network-Attached Storage (NAS) device on your network. Using UPnP, the CXN network player can connect to these devices and play back, or 'stream' non-DRM music files via the network to your home entertainment system. UPnP connection supports up to 24-bit/192kHz and Gapless playback.
Note: Not all servers support serving of all audio formats. Always make sure the server you choose also supports your formats of choice. For example, Windows Media Server does not currently serve FLAC format.
USB Ports: The Cambridge Audio CXN network audio player is fitted with two USB type-A ports (front/rear) to connect a USB flash memory device or portable USB hard drive, and a rear-panel USB type-B port to connect your Windows or Mac computer.
Dual USB (Type-A) Ports: The Cambridge Audio CXN features two USB (type-A) inputs for music playback from a USB flash memory device or portable hard drive (up to 24-bit/192kHz). One USB port is on the front-panel, while the other is on the rear-panel. Your USB device must be formatted in FAT32 or NTFS format with non-DRM music files. The CXN cannot supply greater than 500mA from the USB socket, itself. Good practice is to create folders for Artists within which you should have sub folders for each Album which then contain the tracks for that Album. Libraries with thousands of tracks in one folder will progressively slow down the unit's media browsing.
Asynchronous USB (Type-B) Input: A rear-panel asynchronous USB (type-B) port enables the CXN to be connected to your Windows PC or Mac computer for playback of music files up to 24-bit/192kHz. The CXN will act as a very high-quality DAC/sound-card with very low jitter for your computer, offering genuine Hi-Fi-quality playback from your stored music and Internet radio. The CXN is both USB 2.0 (Hi-Speed) and USB 1.1 (Full-speed) USB port compatible. It will also work with the new USB 3.0 ports where the PC will simply treat the CXN as if it were a USB 2.0 or 1.1 device.

PC Compatible: With the CXN switched to USB Audio 1.0 (this is the default setting), the CXN will work with the native Windows XP, Vista or 7 Audio 1.0 driver (no need to load any new driver) and accept audio up to 24-bit/96kHz. With the CXN switched to USB Audio 2.0, the CXN needs the Cambridge Audio USB Audio 2.0 Driver to be loaded and can then accept up to 24-bit/192kHz (and support ASIO and WASAPI Exclusive, if required).
Mac Compatible: No extra drivers are required to connect your Mac computer. With the CXN switched to USB Audio 1.1, the CXN will work with the native Mac OS-X 10.5 (Leopard) or above Audio 1.0 driver and accept audio up to 24/96kHz. With the CXN switched to USB Audio 2.0, the CXN works with the native Mac OS-X 10.5 (Leopard) or above Audio 2.0 driver and can accept audio up to 24/192kHz.
Note: Click here to download the Cambridge Audio USE Audio 2.0 Driver.
Supported Audio Formats: Cambridge Audio's CXN network audio player supports many of the most popular formats via Network, UPnP, and USB connection. Supported codecs include MP3 (16-320kbps), WMA (32-320kbps), AAC (16-320kbps), WAV (16/24-bit; 32-192kHz), FLAC (16/24-bit; 32-192kHz), ALAC (16/24-bit: 32-192kHz), AIFF (16/24-bit; 32-192kHz), and Ogg Vorbis (32-320kbps).
Note: The CXN does not support WMA pro, WMA lossless, RAW, AU, or other music file types not mentioned.
DSD Audio: The CXN will only support DSD x64 (AKA DSD64 or 64FS) via DoP (DSD over PCM). However this is only possible via USB connection to a computer, using Class 2 USB Audio mode.
Digital Inputs: The Cambridge Audio CXN's optical (toslink) digital input and coaxial (RCA) digital input allows it to act as a high quality upsampling Digital-to-Analog Converter (DAC) to improve the sound from other devices, such as set top boxes, games consoles, or disc players. The optical and coaxial digital connections support up to 24-bit/192kHz, 2ch PCM audio.
Optional Bluetooth Adapter: Simply plug in the Cambridge Audio BT100 Bluetooth Audio Receiver (779BT100, sold separately) into the network audio player's rear-panel USB (type-A) port for wireless music streaming from many of today's most popular Bluetooth supporting devices; such as Apple iPod/iPhone/iPad, Android smartphone/tablet, Windows Phone/PC, Mac computer/laptop, and more. The BT100 even supports the high-quality Bluetooth aptX CODEC, so you can stream audiophile quality music from your Bluetooth-enabled Android (OS 4.0+) device to the Cambridge CXN.
Audio Section
Audiophile Performance: The Cambridge Audio CXN network audio player provides audiophile performance for outstanding reproduction of your streaming music files. The CXN incorporates dual Wolfson digital-to-analog converters with bit-perfect signal path and jitter suppression, as well as Cambridge's advanced ATF2 upsampling technology and Dual Differential Earth Balanced Filter Topology for all sources.
Dual Wolfson Digital-to-Analog Converters: The Cambridge Audio CXN employs two very high-quality Wolfson WM8740 24-bit DAC ICs in dual-differential mode for excellent stereo imaging. Since each channel has its own DAC to process information, completely separate and symmetrical analog filter circuitry can be implemented. This implementation allows both the left- and right-channel circuitry to operate identically, ensuring the CXN delivers fantastic sound-staging and stereo-imaging properties.
ATF2 Upsampling Technology: The CXN utilizes an asynchronous up-sampling process called "Adaptive Time Filtering 2nd Generation" that intelligently interpolates (converts) incoming audio data from 16-24 bits (at any standard sampling frequency between 32-96kHz) to 24-bit/384kHz for dramatically improved musical reproduction. ATF2 will enhance the audio clarity, richness, and dynamic range of your compressed music.
Dual Differential Virtual Earth Balanced Filter Topology: The CXN uses Cambridge Audio's proprietary Dual Differential Virtual Earth Balanced filter topology, configured as a low-order two-pole liner-phase Bessel filter, in order to take advantage of the achieved high-sampling rate. As a result your music will have extreme linearity with greater dynamic range.
Bit-Perfect Signal Path w/ Jitter Suppression: Music stored on computers and other hard drives inherently suffers from jitter, so the CXN implements a host of enhancements such as bit-perfect signal path and jitter suppression to vastly improve the quality of digital music playback. Total correlated jitter is less than 200ps.
All-Metal Chassis & Toroidal Transformer: The CXN network audio player has an all-metal construction to ensure all components are completely isolated for the very best possible performance. The CXN also uses a large toroidal transformer to deliver perfect, low distortion power for all your music.
Digital Pre-Amplifier: By using a digital pre-amplifier, the audio signal remains in the digital domain for much longer, compared to a traditional analog integrated or pre-amplifier. Because the audio signal remains digital, and is only converted to analog at the very last minute, it is far less susceptible to analog signal deterioration. This means that the sound you hear is as close as possible to the original recording.
DSP Controlled Volume: The CXN's digital pre-amplifier uses a powerful 32-bit Blackfin DSP (Digital Signal Processor). Most digital preamplifiers use "bit reduction" to adjust the level of the volume output, however this results in much lower sound quality because digital information is being cut out of the original audio signal. Instead, the CXN's digital pre-amplifier uses the Blackfin DSP to control the level of the volume output, meaning that the entire digital signal remains fully intact for the best possible sound.
Balanced & Unbalanced Outputs: The Cambridge Audio CXN features both balanced (XLR) and unbalanced (RCA) audio outputs to connect to a wide variety of home stereo receivers and amplifiers. The CXN features true balanced XLR analog audio outputs to connect high-end home receivers and amplifiers. XLR is a higher-quality output that can reject noise and interference with equipment with balanced inputs. The CXN also features an unbalanced stereo analog RCA audio output for connecting your stereo receiver or amplifier. The unbalanced and balanced outputs are simultaneously active.
Digital Outputs: The CXN features two rear-panel digital outputs; one optical (toslink) digital output and one coaxial (RCA) digital output. These digital outputs allow pass-through of the selected digital source (no up-sampling performed). These outputs loop or pass-through unprocessed digital audio from the selected digital input. Both digital outputs are always active and can be used to connect and run equipment at the same time.
Ground/Lift Switch: When Grounded, the CXN is connected to the earth connection of the PC directly. When Lifted the ground connection is made via a network designed to break any hum loops that may be caused by the source equipment. The Grounded setting is recommended, unless audible hum is experienced.
Remote Control
IR Remote: The Cambridge Audio CXN includes a slim-line IR remote control for wireless operation of the network audio player. The IR remote also operates other Cambridge Audio devices, like CX series integrated amps and AV receivers.
Cambridge Connect App: The free Cambridge Connect App for Apple iOS (7.1+) and Android (OS 4.0+) gives you full control of the CXN network audio player; including power on/off, source selection, and volume up/down. The Cambridge Connect App also gives you access and control over UPnP servers and NAS drives connected to the same WiFi network, Internet Radio from across the world, select online music services, USB media device plugged into the player, music stored on your Apple iOS or Android device, and Bluetooth audio (requires BT100 adapter). The free app also features a high-resolution display for album art and track information.
Front-Panel LCD: The network audio player's front-panel color LCD displays album art and song/artist information. You can adjust the front-panel LCD's brightness level.
Remote Connections: The Cambridge Audio CXN is fitted with the following custom remote connections.
IR Emitter In (3.5mm): 3.5mm minijack input that enables modulated IR commands from multiroom or IR repeater systems to be received by the CXN.
Control Bus In/Out (RCA): The Control Bus RCA input enables un-modulated commands from multiroom systems or other components to be received by the CXN. The Control Bus RCA output provides control bus output commands for further downstream units. This can be useful if using the iPhone app to control the volume on a Cambridge Audio amplifier.
Firmware/Software Updates: The Cambridge Audio CXN will offer firmware/software updates through its wired (Ethernet) or wireless (WiFi) connection.
Our Product Research Team
At Crutchfield, you'll get detailed, accurate information that's hard to find elsewhere. That's because we have our own in-house Product Research team. They verify what's in the box, check the owner's manual, and record dimensions, features and specs. We stay on top of new products and technologies to help people make informed choices.
Staff Reviews
Product reviews from the Crutchfield Labs
Cambridge Audio's CXN is three components in one. It's a digital preamp, a network player, and a high-quality DAC that makes all your music sound its best.
What are the Labs?