NAD C 356DAC
Stereo integrated amplifier with add-on DAC module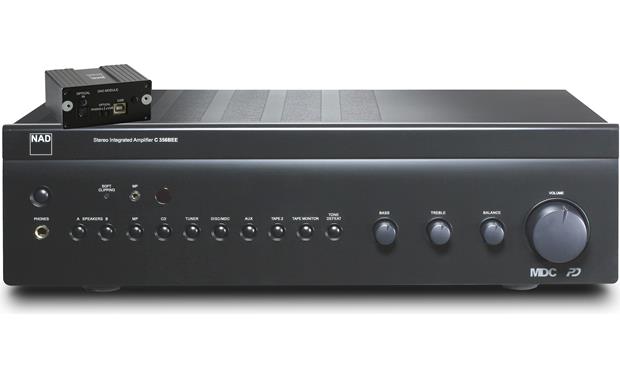 NAD C 356DAC - Front

NAD C 356DAC - Back

NAD C 356DAC - DAC module
Crutchfield: NAD C 356DAC Integrated Amplifier

NAD C 356DAC - DAC module on top of integrated amp for scale

NAD C 356DAC - DAC module, straight on

NAD C 356DAC - Front, higher, from left

NAD C 356DAC - Interior view, DAC module in place

NAD C 356DAC

NAD C 356DAC - Wide interior view, DAC module in placeInterior view, DAC module in place
Item # 745C356DAC | MFR # C356DAC
In Stock
Buy now

Our North American experts can help.
Overview
An integrated amp for your whole music library
Adding a DAC to an acclaimed integrated amp is like taking a slice of warm pie and adding a scoop of vanilla. The point is, it's rare that something couldn't be bettered by adding a complementary item. And NAD has pushed this time-honored philosophy forward into the digital age with the new C 356DAC integrated amplifier.

They've taken one of their popular mainstays, the C 356BEE integrated amp, and added a world-class DAC so that you can treat all your digital sources to the power and control that has made NAD legendary among audio enthusiasts.
Digital sources welcome
This amp features NAD's innovative modular design construction,which allows you to customize your input configuration by adding or swapping modules on the back of the unit. The 356DAC's included DAC module features an asynchronous USB connection that controls the data flow of your computer audio files, reclocking the data stream to minimize jitter. Your music will come to life in three dimensions as the soundstage expands and reveals detail. This module also features an optical input, for use with your CD, DVD, or Blu-ray player, and it supports sample rates of up to 192kHz.
Power to spare
NAD's PowerDrive™ technology allows the C 356DAC to sound even more potent than you would expect from its rating of 80 watts x 2 channels. Like a turbo-charger, the PowerDrive circuitry senses the demands placed on the amp and pours on higher current when it's needed to reproduce peaks of musical energy.
The ins and outs
With enough connections to hook up seven audio components and two pairs of speakers, the C 356DAC can handle your arsenal of audio gear. Should you wish to swap out the DAC module to accommodate a turntable, owners can install an optional NAD PP375 phono input module for listening to vinyl. The included remote gives you easy control of the amplifier and the other NAD audio components in your system.
Separate preamp input/line-level output jacks let you use the C 355DAC as an independent power amplifier (or as a preamp, in the unlikely event that the built-in wattage doesn't produce enough volume for you). If your main stereo speakers don't supply enough bass to disturb the peace, you can easily add a powered subwoofer.
And it's green too
NAD designed the C 356DAC to reduce energy consumption without sacrificing performance. It consumes just 0.5 watts in standby mode and includes a convenient all-off "vacation" switch.
Product Highlights:
80 watts x 2 channels into 8 ohms (20-20,000 Hz) at 0.007% THD
80 watts x 2 channels into 4 ohms (20-20,000 Hz) at 0.007% THD
4-ohm stable for use with a wide range of speakers
signal-to-noise ratio: 101 dB
asynchronous DAC module features Burr-Brown TI PCM 1796 technology
sample rates: 32kHz-96kHz (USB), 32kHz-192kHz (optical)
PowerDrive™ circuit with automatic speaker impedance sensing delivers maximum dynamic power output regardless of speaker load
Soft Clipping™ circuit gently limits amplifier power output to reduce risk of speaker damage due to prolonged high volume operation
1 Modular Design Construction (MDC) bay allows you to swap in the PP375 phono stage or other MDC Modules in the Dac module's place
toroidal power transformer
rotary bass and treble controls with defeat switch for tone control bypass
7 RCA audio inputs including 2 tape in/outs
tape monitor loop for adding an equalizer or signal processor
front-panel minijack input for connecting a portable music player
main-amp input and 2 preamp outputs for connecting a powered subwoofer or separate amplifier for bi-amping
full-size headphone jack
front-panel switching for 2 pairs of speakers
two pairs of speaker binding posts
RS-232 port for operation with third-party controllers
12-volt trigger output
IR input/output
one switched AC convenience outlet
detachable AC power cord
remote control
17-1/8"W x 5-3/16"H x 13-13/16"D
weight: 19.6 lbs.
warranty: 2 years
What's in the Box:
Stereo integrated amplifier w/ DAC
68" AC Power cord
Wireless remote control (SR 8)
2 "AA" batteries
2 Pre-out/Main-in jumpers (installed)
Owner's Manual
Warranty Card
MDC DAC instruction sheet
Engineered with a love for music!!!

Mr Marcus, kcmo
Details
Product Research
Features
NAD PowerDrive Circuit: The C 356DAC use NAD's proprietary PowerDrive amplifier technology that provides high dynamic power and low impedance drive capability. By adding a second high-voltage rail to the amp's well regulated high-current power supply, the amplifier can nearly double its continuous power on a short term dynamic power basis. This uniquely efficient power supply topology provides the real world benefits of high dynamic power that remains uncompromised by low impedance speakers.
FDP Specifications: NAD uses Full Disclosure Power (FDP), the most demanding criterion for performance measurement. FDP specifies distortion under the most extreme conditions of low impedance loads and frequency extremes, rather than the simple and easy 1kHz @ 8 ohms test quoted by many of other manufactures. NAD uses this stricter performance criterion because it more closely matches the demands of real music and real loudspeakers. Maintaining specified distortion at 4 ohms and at 20Hz to 20kHz is a much more difficult achievement. The NAD C 356DAC is rated at 80 watts x 2 channel (@ 20-20kHz, in 4/8-ohm, with 0.007% THD).
Soft Clipping: NAD's Soft Clipping circuit gently limits the output of the C 356DAC to minimize audible distortion when the amplifier is over-driven. While Soft Clipping can be left on at all times to reduce the likelihood of audible distortion from excessive volume settings, you can also turn the circuit off for critical listening if you prefer.
Digital-to-Analog Converter (DAC): The C 356DAC stereo integrated amplifier is fitted with NAD's MDC DAC USB Digital-to-Analog Converter which lets you listen to music stored on or streamed to your computer through your hifi-system without noise or distortion. The C 356DAC uses an 'asynchronous USB' technique and a high precision clock, so your 24-bit/96kHz quality computer music flows smoothly without 'jitter' or harsh distortion.
Modular Design Construction (MDC): Modular Design Construction (MDC) makes future upgrades possible with interchangeable, upgradeable modules.
Controls
Remote Control: The included IR remote control handles the key functions of the C 356DAC. The IR remote can also be used to directly command other NAD products that respond to applicable common remote control codes. This includes other NAD Stereo Receiver, Integrated Amplifier, and Preamplifier models. It has additional controls to remotely operate NAD CD Players, AM/FM Tuners, and dedicated AM/FM/DB Tuners. It will operate up to a distance of 23'. The remote requires two "AA" alkaline batteries (included).
Volume: The Volume control adjust the overall loudness of the signals being fed to t he loudspeakers or headphones. The Volume control does not affect recordings made using the Tape output terminals, but will affect the signal going to the Pre-amp output terminals (Pre Out 1 and Pre Out 2).
Balance: The Balance control adjusts the relative levels of the left and right speakers. The Balance control does not affect recordings made using the Tape output terminals, but will affect the signal going to the Pre-amp output terminals (Pre Out 1 and Pre Out 2).
Tone Controls: The C 356DAC stereo integrated amplifier features independent Bass (100Hz) & Treble (10kHz) controls to adjust the tonal balanced of your system. The Tone control does not affect recordings made using the Tape output terminals, but will affect the signal going to the Pre-amp output terminals (Pre Out 1 and Pre Out 2).
Note: The Tone control circuits can be bypassed.
Input Selector Switch: Slide this switch to select the active input on the DAC module; either Optical for S/PDIF or USB for computer audio.
Note: The Phono input cannot be selected as an active input since there is no Phono input and no room for an additional MDC module.
Connections
USB (Type-B) Port: The C 356DAC stereo integrated amplifier features a rear-panel USB (type-B) port to connect to your computer, so you can listen to music stored on or streamed to your computer (Windows or Mac). The USB input supports audio sampling rates of 32kHz to 96kHz.
Note: The rear-panel DAC Module switch must be set to USB.
Optical Digital Input: The stereo integrated amplifier also features a rear-panel optical (toslink) digital input for connecting of your CD, SACD, DVD, or Blu-ray player. The optical digital input supports audio sampling rates of 32kHz to 192kHz.
Note: The rear-panel DAC Module switch must be set to Optical.
Front-Panel Stereo Minijack: The NAD C 356DAC is equipped with a front-panel stereo minijack (3.5mm) to temporarily connect your portable digital audio player.
Analog Inputs: The NAD C 356DAC stereo integrated amplifier is fitted with 5 rear-panel analog stereo audio inputs (RCA). These inputs are labeled 'MP', 'CD', 'Tuner', 'Disc', and 'AUX'.
Tape Monitor Inputs/Outputs: The NAD C 356DAC is equipped with two stereo Tape Monitor outputs (labeled 'Tape Monitor' and 'Tape 2') for recording purposes.
A-B Speaker Terminals: The NAD C 356DAC is fitted with A & B speaker outputs. You can choose to play back only the A speakers, only the B speakers, or both A-B speakers. The speaker terminals are binding-posts and will accept single banana plugs, pin connectors, or bare wire (16-12 AWG).
Note: The stereo integrated amp will support one pair of 4 to 8-ohm speakers or two pair of 8-ohm speakers.
Preamp Outputs: The C 356DAC features dual stereo pre-amp outputs (labeled 'Pre Out1' and 'Pre-Out 2') to connect the unit to an external power amplifier or power subwoofer.
Main Input: This is a stereo RCA connection which allows the connection of an external preamplifier or processor.
Headphone Output: The C 356DAC is fitted with a front-panel 1/4" headphone jack for connecting a set of headphones (sold separately). The headphone jack will work in parallel with the selected speakers (A and/or B). To listen to only your headphones, de-select Speakers A-B. The volume, tone, and balance controls are operative for headphone listening.
IR Input/Output: There is an IR input (3.5mm), used to control this unit using an optional infrared repeater or the IR output of another component. There is also an IR output (3.5mm) used to control another compatible component.
+12V Trigger Output: The +12V trigger output (3.5mm) lets you turn on/off another device along with the C 356DAC.
RS-232 Port: The rear-panel RS-232 port allows connection to a compatible PC or external whole-house control system from companies such as AMX or Crestron. NAD is a certified partner of AMX and Crestron and fully supports these external devices.
Switched AC Outlet: This convenient outlet can supply switched AC power to another component or accessory. The total draw off all devices connected to this outlet must not exceed 120 watts.
AC Power Cord: The C 356DAC comes supplied with a detachable 68" AC power cord.
Our Product Research Team
At Crutchfield, you'll get detailed, accurate information that's hard to find elsewhere. That's because we have our own in-house Product Research team. They verify what's in the box, check the owner's manual, and record dimensions, features and specs. We stay on top of new products and technologies to help people make informed choices.