Sony BDP-S6700
3D Blu-ray player with 4K upscaling, Wi-Fi®, and Bluetooth®
Item # 158BDP6700 | MFR # BDPS6700
In Stock
Was: C$149.99
Instant savings: -C$50.00
Buy now

Our North American experts can help.
Overview
Our take on the Sony BDP-S6700 by Crutchfield's Jeff Miller
Your home theater system's jack of all trades
I've built a solid Blu-ray collection, so I'm glad to see Sony is still committed to making great disc players. The Sony BDP-S6700 won't play Ultra-HD 4K Blu-ray discs, but it will upconvert standard Blu-ray and DVD discs to near-4K quality for playback on your Ultra HD TV. And this versatile player also offers popular streaming video services and delivers serious picture detail to a 1080p screen.
If you're connecting to a home theater audio system, the BDP-S6700 supports high-resolution movie sound formats, like Dolby® TrueHD and DTS® HD. It will play CDs, SACDs, and music files from a thumb drive. Plus, it offers a wide variety of streaming audio options.
Dual-band Wi-Fi means smooth video streaming...
These days you can watch many of the best shows, movies, and even live sports on streaming services. And Sony has you covered. An extensive library of over 300 online apps includes Netflix®, Hulu®, Amazon Instant Video, and MLB.TV. Dual-band Wi-Fi gives you a strong, quick connection, and Sony's noise reduction technology improves the quality of your streamed videos. On top of that, Miracast™ technology lets you "mirror" what you see on your smartphone or tablet on your TV's big screen.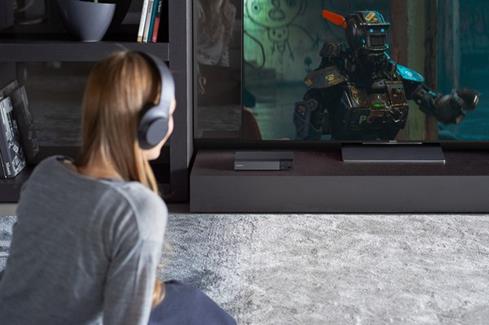 Send sound from the Sony BDP-S6700 to a pair of wireless Bluetooth headphones (not included) for late night viewing.
...and music streaming, too
If you're a Spotify® Premium subscriber, Spotify Connect lets you play your albums and playlists through your connected speakers. Or you can download Sony's free SongPAL™ app for iOS® or Android™. It gives you wireless access to the music stored on your phone, Pandora® Internet radio, and even music stored on a DLNA-connected server.
Beam sound wirelessly to headphones via Bluetooth
The BDP-6700's built-in Bluetooth lets you send the sound of your movies, shows, and other media to a pair of Bluetooth headphones. This helps with late night binge-watching. You can catch all the dialogue and hear all the loud, exciting sound effects without waking everyone up.
Product Highlights:
plays 3D and standard Blu-ray discs, DVDs, SACDs, CDs and rewriteable CDs
4K video upscaling for use with Ultra HD TVs
dual-band Wi-Fi for smooth wireless streaming

300+ apps for playing TV shows, movies, and music, including Netflix, Hulu, Amazon Instant Video, YouTube™, and Pandora (subscriptions required for some services)

Bluetooth transmitter sends audio from player to Bluetooth-compatible headphones or speakers

LDAC Hi-Fidelity wireless music streaming to and from compatible sources

Miracast-compatible — screen-mirroring with Miracast-compatible smartphones and tablets
Quick Start/Load mode swiftly queues up a disc from the "off" position
free downloadable Sony SongPAL app (available from iTunes Store and Google Play) helps connect the player to your wireless network and controls playback, and volume

also gives you control over other compatible Sony speakers as part of a multi-room music system

control the player and stream content from compatible smartphones and tablets with Sony's SideView app for Apple® and Android™ devices (requires both devices to be connected to the same wireless home network)
BD-Live and BonusView support for added bonus features with compatible discs (requires external USB storage device)
remote control
plays Region A Blu-ray discs and Region 1 DVDs
Technical Specs:
selectable video resolution up to 1080p
built-in audio decoding for Dolby® Digital, Dolby TrueHD, DTS®, and DTS-HD Master Audio
plays AAC, AIFF, ALAC, FLAC, MP3, WMA, and WAV audio file formats
front-panel USB port to play music, movies, and images from external hard drives and thumb drives
HDMI output
coaxial digital audio output
Ethernet port for Internet connectivity
10-1/16"W x 1-1/2"H x 8"D
warranty: 1 year
What's in the Box:
Blu-ray player
AC power adapter (w/ attached 5' DC cord)
Wireless remote control (RMT-VB200U)
2 "AAA" batteries
Operating Instructions
Warranty Information
Online Product Registration
DIRECTV brochure
Works as advertised so far.

Bill, Grants Pass, OR
Details
Product Research
Disc & USB Compatibility
Video Section
Audio Section
Network/Internet Functions
Convenience Features
Remote & Bluetooth Control
Disc & USB Compatibility
Disc Compatibility: The Sony BDP-S6700 Blu-ray disc player is compatible with many disc types:
| | |
| --- | --- |
| Disc Type | Disc Description |
| Blu-ray | BD-ROM, BD-3D, BD-R, BD-RE |
| DVD | DVD-R, DVD-RW, DVD+R, DVD+RW |
| CD | CD-Audio, CD-R, CD-RW, SACD |
Blu-ray Disc: Blu-ray provides these key features and advantages.
1080p Video Resolution: Blu-ray disc delivers full 1080p video resolution to provide pristine picture quality.
25GB/50GB Capacity: Blu-ray disc offers up to 5x the capacity of standard DVDs; 25GB for single layer disc and 50GB for dual layer disc.
7.1ch Audio: Blu-ray disc provides as many as 7.1 channels of native, uncompressed surround sound for crystal-clear audio entertainment.
Enhanced Interactivity: Enjoy such capabilities as seamless menu navigation, bonus features, and network/internet connectivity.
DVD Compatible: Blu-ray disc players enable you to continue to view and enjoy your existing DVD library.
Note: The BDP-S6700 plays Region A Blu-ray discs and Region 1 DVDs. Blu-ray Disc uses the Advanced Access Content System (AACS) to prevent unauthorized recording of copyrighted material.
Firmware Updates: Occasionally, Sony may release updated firmware for this unit that may add or improve the way a feature operates. These updates are available free of charge. This unit is capable of checking the firmware automatically when connected to the Internet via broadband connection. Visit the Sony eSupport Site for the latest firmware update information.
SACD: Super Audio CD use a technology called Direct Stream Digital (DSD) to convert music into a digital signal that can be stored on a disc. Compared to the traditional PCM method (the technology used for CD), DSD offers a much higher resolution by following more closely the original waveform of music. With a frequency response of over 100kHz and a dynamic range over 120dB across the audible frequency range - some 64 times higher resolution then CD - Super Audio CD offers music reproduction that reveals details you just cannot hear on a normal CD.
USB Port: The front-panel USB (type-A) port allows you to play photo, videos, and music files on a connected USB device. The player can recognize Mass Storage Class (MSC) Devices that are FAT-compatible and Still Image Capture Devices (SICD) class devices. The player can recognize up to 500 folders/files. The USB port also allows you to enjoy additional content (such as BonusView) on certain Blu-ray Disc titles. Some BD-ROMs have bonus content and other data which can be downloaded to an inserted USB Flash Drive (minimum 1 GB recommended, sold separately).
Compatible Audio/Video/Photo Formats: The Sony Blu-ray disc player supports playback of the following audio/video/photo files recorded on BD-R/RE, DVD+R/RW, DVD-R/RW, and CD-R/RW discs; plus compatible USB memory devices.
| | |
| --- | --- |
| Media Format | File Type |
| Audio | MP3, WMA, AAC, AIFF, ALAC, FLAC, WAV, |
| Video | AVCHD, MPEG-1, MPEG-2, MPEG-4, Motion JPEG, WMV9, XVID |
| Photo | JPEG, GIF, PNG, BMP |
Video Section
HDMI Output: The BDP-S6700's HDMI output simplifies A/V connections by carrying video and digital audio in one cable. The HDMI resolution can be fixed at 480i, 480p, 720p, 1080i, 1080p, 4K, or set to Auto (which selects the highest resolution accepted by your television).
4K UHD Upscale: Experience your favorite movies in up to 4x the detail of Full HD with 4K upscaling. Connected to a compatible 4K TV, an advanced video processor inside the Blu-ray player converts standard video into a signal nearer to 4K resolution (3840 x 2160). With 8 million pixels in the picture, you get sharper, more detailed images, and the higher image quality lets you sit closer to the screen.
4:4:4 Color Subsampling: The Blu-ray player supports 4:4:4, 4:2:2, and 4:2:0 color subsampling. An "Auto" setting detects the connected TV type and switches to the matching color setting. With 4:4:4, luminance (brightness) and chroma (color) are sampled at the same rate, resulting in an RGB color palette as big as the video sampling rate for a video image with more total colors, plus greater color accuracy and detail.
24p Output: Movies are typically recorded on film with a frame rate of 24 frames per second. When a movie is transferred to Blu-ray Disc at 24 frames per second the BDP-S6700 will output that signal to the TV (if the TV will accept the 1080p/24 format) with no need for conversion.
Note: This player does not offer any analog audio/video outputs.
3D-Ready w/ 2D-3D Conversion: The Sony BDP-S6700 lets you enjoy 3D Blu-ray disc movies in full HD 1080p. 3D viewing requires compatible 3D content, 3D-ready HDTV, 3D emitter and glasses, and a high-speed HDMI cable (supporting at least 10.2 Gbps) connection. The Sony BDP-S6700 can also convert 2D (two-dimensional) video content into simulated 3D (three-dimensional) video when connected to a 3D-ready TV, with 3D-glasses. You can make adjustments to the 3D image depth.
Advanced Color Technologies: The Sony BDP-S6700 Blu-ray player features Sony's proprietary Triluminos Color technology & Super Bit Mapping, as well as supports Deep Color.
Triluminos Color: The BDP-S6700 incorporates Sony's Triluminos Color technology to provide a wider color gamut with rich, authentic color and a far more natural viewing experience with a heightened sense of depth.
Super Bit Mapping: Super Bit Mapping reduces color banding by smoothing the gradation of video signals.
Deep Color: The Sony Blu-ray player supports a color depth of up to 12 bits. Connecting the player and a TV that supports Deep Color via HDMI allows more accurate color reproduction than when connecting it to a TV that does not support Deep Color. The Deep Color function can be set to 10-bit, 12-bit, 16-bit, Auto, or Off.
IP Content Noise Reduction Pro: See it all clearly with IP Content Noise Reduction PRO, a combination of picture technologies. Noise reduction enhances low-resolution web videos, while HD Reality Enhancer does pixel-by-pixel analysis for texture and color definition. Enjoy more lifelike images with improved contrast thanks to Pure Picture Control, and smooth color gradation from Super Bit Mapping
Video Settings: The BDP-S6700 offers the following video adjustments:
Picture Quality Mode: You can select from 3 preset pictures settings (Direct, Brighter, Theater, Auto, or Custom) for different lighting environment. The Custom mode lets you adjust the contrast, brightness, color, and hue manually.
Texture & Contrast Remaster: Texture Remaster adjusts the sharpness and detail of the edges, while Contrast Remaster automatically arranges the black and white levels so that the screen is not too dark and the image is modulated.
Super Resolution + Smoothing: Super Resolution improves the overall resolution of picture. Smoothing reduces on-screen banding by smoothing gradations on flat areas.
Clear Black: Adjusts the display of the dark elements of the image. All shading is not suppressed; it allows beautifully reproduced black tones.
Noise Reduction: BNR reduces the mosaic-like block noise in the picture, MNR reduces minor noise around the picture outlines (mosquito noise), and I/P to enhance the picture quality of streamed network content.
Screen Settings: The Sony BDP-S6700 features the following screen settings:
TV Type: You can select a 16:9 or 4:3 aspect ratio for the unit's video output to match your connected Television's screen aspect ratio.
Screen Size: For 3D viewing, you will need to set the screen size of your 3D-compatible TV.
Screen Format: You can select the display configuration for a 4:3 screen picture on a 16:9 wide screen television. You can choose Full or Normal (select when connected to a TV with a wide mode function; displays a 4:3 screen picture in 16:9 aspect ratio even on a wide-screen TV) or Normal (changes the picture size to fit the screen size with the original picture aspect ratio).
DVD Aspect Ratio: You can select the display configuration for playback of 16:9 screen pictures on a 4:3 screen TV. You can select from Letter Box or Pan & Scan
Cinema Conversion Mode: The Sony Blu-ray player offers two Cinema Conversion Modes - (1) Auto mode automatically detects whether the material is video-based or film-based, and switches to the appropriate conversion method. (2) The Video mode is suited for video-based material and will always be selected regardless of the content.
BonusView: The BonusView feature provides picture-in-picture capability with select Blu-ray Disc titles. You can view addition content (such as director/actor commentary) in a small display window while the movie is playing.
Audio Section
Surround Sound Decoders: The BDP-S6700 has built-in Dolby Digital and DTS surround processors; multi-channel PCM Dolby Digital Plus, Dolby TrueHD, DTS-HD High Resolution, and DTS-HD Master Audio are output through the HDMI jack (when encoded on the Blu-ray Disc).
Dolby Digital Plus: Dolby Digital Plus was developed as an extension to Dolby Digital. The audio coding technology supports 7.1 channel surround sound. Dolby Digital Plus also includes the standard Dolby Digital bit stream and is compatible with all current Dolby Digital processors using the coaxial digital output.
Dolby TrueHD: Dolby TrueHD is a lossless coding technology that supports up to 8 channels of multi-channel surround sound for the next generation optical discs. The reproduced sound is true to the original source bit-for-bit.
DTS-HD High Resolution Audio: DTS-HD High Resolution Audio supports a maximum sampling frequency of 96 kHz, and 7.1 multi-channel surround. DTS-HD High Resolution Audio has a maximum transmission rate of 6 Mbps, with a lossy compression.
DTS-HD Master Audio: DTS-HD Master Audio has a maximum transmission rate of 24.5 Mbps and uses lossless compression (Lossless), and DTS-HD Master Audio corresponds to a maximum sampling frequency of 192 kHz, and maximum of 7.1ch.
Note: Dolby Digital Plus, Dolby TrueHD, and DTS-HD are only output via the player's HDMI output.
Digital Music Enhancer: Breathe new life into your digital music with Digital Music Enhancer; a combination of three Sony audio technologies. DSEE (Digital Sound Enhancement Engine), Dynamic Range Recovery, and Advanced Auto Volume combine to restore detail and prevent volume jumps. The result is immersive sound and maximum impact for dialog, movies, and music.
Audio Settings: The BDP-S6700 allows you to adjust the following audio settings:
AV SYNC: Synchronize the picture and sound by delaying the audio output in relation to the picture output; 0 to 120 milliseconds.
Audio DRC: The player offers three dynamic range compression levels - Auto, On, Off.
Digital Audio Outputs: The BDP-S6700 is equipped with a coaxial (RCA) digital output. The Audio menu allows you to select the digital audio format that is passed through the coaxial digital output. Settings allow you to transfer Dolby Digital and/or DTS sound tracks, or down-mix surround bitstreams to 2-channel PCM audio.
Network/Internet Functions
Dual Core Processor: A powerful Dual Core Processor ensures fast, lag-free performance. Web pages load more quickly, movies and media such as YouTube videos stream faster, and playback appears noticeably smoother. Even navigation is quicker and more responsive, so you can enjoy a frustration-free entertainment experience.
Wired or Wireless Network Connection: The Sony BDP-S6700 Blu-ray player supports a wired or wireless network connection. Via the Blu-ray player's network connection your can enjoy music, video, and still-image files stored on your computer. You can also listen to internet radio and watch online movies, via Bravia Entertainment Network.
Ethernet (LAN) Jack: The Sony BDP-S6700 Blu-ray player is equipped with an Ethernet (LAN) RJ-45 jack for connecting the player to your home network and computer.
Built-in Wireless LAN: The Sony Blu-ray player also features built-in WiFi which allows you to wirelessly access the Internet and your home network. A new dual-band 2.4/5.0GHz WiFi module compatible with MIMO provides improved stability and speed performance for a better streaming experience. With this feature, you can easily connect to a wireless LAN and enjoy the benefits of networking in a cable-free environment. A wireless connection requires a home network with an 802.11 b/g/n access point (802.11n recommended) and internet connection. Supports WPS, WEP, and WPA security.
Note: A home network speed of at least 2.5 Mbps is recommended (10 Mbps for HD content). Video quality and picture size vary and are dependent upon broadband speed and delivery by content provider.
Online Entertainment Apps: Once connected to your home's network and internet provider, the Sony BDP-S6700 lets you access a variety online services consisting of TV shows, movies, videos, music, radio, news, sports, and more.
Movies, TV Shows, & Videos: Netflix, Hulu Plus, Vudu, Amazon Video, Crackle, YuppTV, YouTube,

& more.
Music & Radio: Pandora, iHeartRadio, SiriusXM, Qello, Berliner Philharmoniker, & more.
News & Sports: Fox News, TMZ, MLB.TV, NBA Game Time, & more.
Note: Online content may require additional fees and/or PC registration. Available online content may change without notice.
PlayStation Video: Sony's PlayStation Video (previously named Video Unlimited) is the ultimate source for the latest Hollywood blockbusters, all-time classics, and TV shows from almost every major studio. When you sign up for a free account you can browse the available titles, check prices, and watch trailers and previews. You'll then be able to rent or buy videos from Sony's constantly updated range of movies and TV shows in SD or HD.
Opera TV Store: The Opera TV Store provides a collection of additional downloadable web apps that are optimized for TV viewing. These apps range from movies, TV shows, games, music, sports, lifestyle, technology, kids, nature, travel, news, & weather.
Spotify Connect: With the Spotify app on your Apple (iOS 7.0+) iPod/iPhone/iPad or Android smartphone/tablet, you've got instant access to millions of songs. And now you can stream those same songs from your smartphone to the Sony Blu-ray player by using Spotify Connect; simply hit play on the app to start streaming music. What's more, when you've been listening to Spotify on your smartphone outside and come inside, the song immediately begins to stream to the speaker system for uninterrupted music enjoyment. You can also personalize playlists and receive phone calls while listening to music. A Spotify premium account is required.
Miracast & WiFi Direct: Miracast is a "screen mirroring" function which lets you wirelessly send the display from your compatible Windows 8.1+ or Android 4.2+ device (with support for Miracast) through the Blu-ray player and to your TV. This allows you to view pictures and videos that are playing on your compatible Windows or Android device on your TV screen. And thanks to WiFi Direct, no wireless router or access point required.
DLNA Certified: DLNA certification allows you to enjoy various content from your home network, such as photo (JPEG/PNG/GIF), music (MP3/WMA/WAV), and video (AVCHD/MPEG/WMV/XVID) files stored on your Windows 7/8 PC (or other DLNA Certified media server/Android device) through the Sony BDP-S6700 - up to 999 files/folders. The Blu-ray player can be connected to your compatible PC using a hardwired Ethernet (LAN) connection or WiFi connection (via built-in WiFi). This eliminates the need to copy your photo, video, and music files to a separate USB storage device.
SongPal Link & App: Download the SongPal app onto your Apple (iOS 7.0+) iPod/iPhone/iPad or Android (OS 4.0.3+) smartphone/tablet and enjoy multi-room audio streaming and functionality between your SongPal Link compatible Sony devices, over your home's WiFi network. Use the SongPal app to group SongPal Link compatible Sony soundbars and speakers to the Blu-ray player, then stream music from your favorite CD, a USB thumbdrive, Internet radio, a PC, or your DLNA network in multiple rooms throughout your home.
Gracenote Metadata Service: The Gracenote metadata service instantly gives you access to detailed information about the movies you are watching through the Blu-ray disc player internet connectivity. This easy-to-navigate service displays information such as cast information, genre, jacket art and more right on the TV screen.
Note: Requires Internet connectivity. Some disc titles may not be supported by the Gracenote service.
BD-Live: BD-Live technology allows you to download and stream bonus content such as additional scenes, shorts, trailers, movie-based games, and more from a broadband Internet and home network connections (fees may apply). The Sony Blu-ray player features an Ethernet port to connect to the Internet via your home network and features front-panel USB port for additional storage.
Note: You must have a minimum 1GB USB memory device inserted in the unit's front-panel USB port in order to download content from BD-Live.
Convenience Features
Quick Start: Quick Start speeds up the load time on movies, so discs start faster after they're inserted into the Blu-ray player. The Sony Blu-ray player has a start-up time of approximately 0.5 seconds in Quick Start mode (16.3 seconds in normal mode). In Quick Start mode, it takes approximately 15.7 seconds for a Blu-ray disc to begin playback (41.1 seconds in normal mode).
Note: The Start Up/Play Back Time tests were started with the Blu-ray player initially turned off and in standby mode. The Start Up Time test was stopped when the player's Home Menu screen appeared. The Play Back Time test was stopped when the Blu-ray disc began playback.
On-Screen Display: The Sony BDP-S6700 provides an OSD via its HDMI output. The on-screen text can be set to English, French, Spanish, or Portuguese. The unit does not offer a front-panel display.
Screen Saver: The screen saver image appears when you do not use the player for more than 10 minutes while an on-screen display, such as the home menu, is displayed on your TV screen. The screen saver image helps prevent your display devices from becoming damaged.
Auto Display: The player automatically displays information on your TV screen when changing the viewing titles, picture modes, audio signals, etc..
Auto Standby: If any button on the player or remote is not pressed for more than 20 minutes, the player automatically returns to standby mode.
Parental Control: The Sony BDP-S6700 offers Parental Control settings to limit BD, DVD, and streamed Internet video according to the age of the users. You can also Allow or Block all unrated Internet video. The control settings are protected by a custom 4-digit password. You can also lock the disc tray to prevent it from being opened by mistake.
Energy Star Compliant: The Sony BDP-S6700 Blu-ray player meets Energy Star standards. Electric power consumption is significantly reduced during both use and standby.
Remote & Bluetooth Control
Multi-brand Remote: The supplied remote operates the Blu-ray player and a Sony TV's power on/off, input select, and volume up/down. The remote even has a dedicated Netflix button for immediate access to your Netflix movies. The remote is also pre-programmed with power, input, and volume controls for several other brand TVs.
HDMI Control (Bravia Sync): Sony & other brand components compatible with the HDMI Control function can be controlled via the HDMI connection. This includes convenient features like One-Touch Play and System Power-Off.
Video & TV SideView App: With Sony's free Video & TV SideView App, you can control the BDP-S6700 Blu-ray player and browse its content from your Apple iPod touch/iPhone/iPad (8.0+) or Android smartphone/tablet (4.1+). Simply download this app from the Apple's App Store or Google Play Store. The Video & TV SideView App will allow your compatible Apple iOS or Android device to act as a remote control and software keyboard for the Sony Blu-ray player. You can also view disc information and search for Sony Bravia Internet apps from your compatible mobile device.
Note: The Sony TV SideView App requires that the Sony Blu-ray player and your Apple iOS or Android device be connected to the same compatible network with the remote device connected through an 802.11 access point (802.11n recommended).
USB Keyboard Compatible: The Sony Blu-ray player also supports the connection of a USB 101 keyboard, which makes web browsing simpler.
Bluetooth Music Streaming: The Sony BDP-S6700 offers built-in Bluetooth (version 4.1) with support for A2DP 1.2 and AVRCP 1.3, so you can stream the audio of music and movies from the Blu-ray player to a Bluetooth-enabled speaker or set of headphones (sold separately). In addition to support for the standard SBC Bluetooth codec, the BDP-S6700 supports Apple's AAC codec and Sony's LDAC codec. With LDAC technology you can stream without compromising on quality, up to 3x the bandwidth of regular Bluetooth.
Our Product Research Team
At Crutchfield, you'll get detailed, accurate information that's hard to find elsewhere. That's because we have our own in-house Product Research team. They verify what's in the box, check the owner's manual, and record dimensions, features and specs. We stay on top of new products and technologies to help people make informed choices.