Bowers & Wilkins MM-1 computer speakers
Heads up!
Welcome to this article from the Crutchfield archives. Have fun reading it, but be aware that the information may be outdated and links may be broken.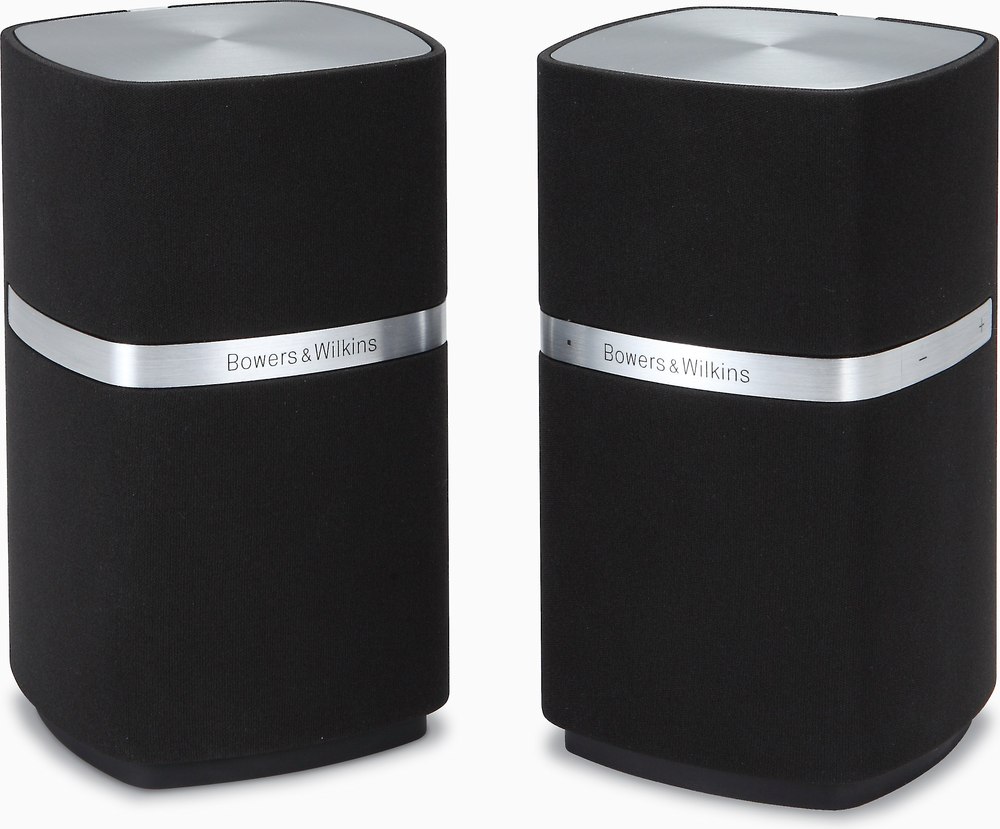 For a long time when someone mentioned "computer speakers" all I could picture were the free speakers that came with our PC. They were lightweight, spindly things with the sound quality of an AM radio.
That's no longer the image I have after taking home the Bowers & Wilkins MM-1 computer speakers for an extensive tryout. Of course, what matters in evaluating any kind of speakers is how they appeal to the ear. But in this case, the MM-1s were equally attractive to the eye and to the hand.
Extraordinary build quality
The first thing I noticed when I took the speakers out of the box was their heft. Each speaker weighs about two lbs, so it felt as substantial as it looks. The casing is made of brushed metal, with fine mesh speaker cloth covering the drivers. Each speaker has a thick rubber base (which serves double duty, as I explain below). When I set these down, I knew I wouldn't accidentally be knocking them over reaching for something else on the desk!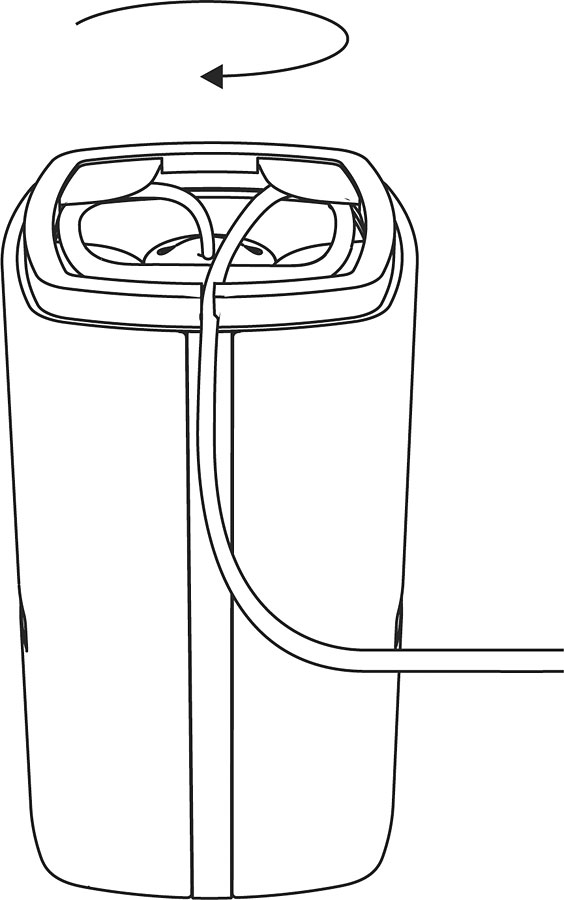 Like most computer speaker systems, the MM-1s have a powered amp in one, and then a speaker wire running to the second. With our old "free" speakers it meant a perpetual tangle of thin cables stuffed behind the monitor. Bowers & Wilkins provide thick, quality cables for their connectors. The rubber feet have notches that hold the cables securely after you plug them into base of the speakers. And as you can see on the diagram at right, the feet also have enough space to store extra cable. So only the length of cable I actually needed ran behind my laptop. And because the cable is thick, it lays relatively flat without tangling.
The pebble remote
Another extra that appealed to both my sense of sight and touch was the compact remote. Bowers & Wilkins provide a small, pebble-like remote, with a smooth black plastic top and a stainless steel backing. It fit very comfortably in the palm of my hand, and occasionally I found myself using it not as remote but as a worry stone.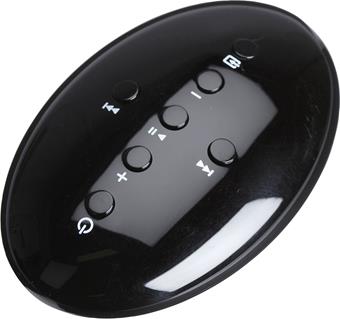 But there's a practical reason for the remote. It provides basic control for the program providing the music (be it iTunes or Windows Media Player). I could pause, resume play, or skip tracks, as well as turn on and off the speakers and adjust the volume. Being able to skip tracks from the remote was handy, as I didn't have to minimize the window I was working in on my laptop to get into iTunes to manage my music.
The MM-1 speakers — what they are and what they aren't
The MM-1 are designed for close-range listening. Each speaker has a 3" woofer and a 1" tweeter, each individually powered by its own amplifier (built into the power speaker). I found the sweet spot for the system to be about two or three feet away from the speakers — perfect when I was seated at my desk facing the MM-1s arrayed on either side of my laptop.
But they won't fill a room with sound. When I got up and moved around, I could still hear the speakers, but the music didn't have nearly as much presence. And when I walked about the house, the overall sound was less distinctive (although often audible). When used properly, the MM-1s delivered first-rate sound. As a system to make your time at the computer more enjoyable, be it in a cube at work, or a home office or den, the MM-1s performed far above my "free" speakers and then some.
Sound quality
Bowers & Wilkins paid as much attention to the construction of the interior of the speakers as they did to the exterior. As I already mentioned, each speaker had an individually powered tweeter and woofer. By using two speakers for each channel, the music had more detail than I normally hear through single-driver computer speakers. The close proximity of the speakers made up for the lack of subwoofer. Sure, my hip-hop tracks didn't rattle the shelves, but because I was sitting a few feet away they didn't have to. The speakers deliver deep, strong bass that sounded perfectly fine when I sat in the sweet spot (that is, my desk chair).
And the same was true of my classical selections. There the bass might be more subtle, but it's equally important. I had no problems hearing the contrabasses and cellos playing in their extreme low registers for the opening of Gorecki's Third Symphony or in the massed ensemble sections of Mahler's Symphony No. 8. And with my classical music, the tweeters did a good job filling out the higher overtones that — while not immediately audible — provide important coloration to the upper registers.
Built-in DAC
Another advantage the MM-1 speakers have is a built-in DAC (Digital-to-Analog Converter) that's better than the average computer sound card. This meant that some of the detail my MacBook's sound card misses is decoded and reproduced by the MM-1s. The speakers come with a USB cable that plugged directly into my computer. This digital connection allows the system to bypass the sound card. When I plugged them in for the first time, I did have to go into the system menu and select the MM-1s as my preferred audio output, but even though I plugged and unplugged my laptop as I moved about throughout the week, I only had to make that selection once.
The speakers also come with a stereo minijack-to-stereo minijack analog cable so you can plug portable devices into the system as well. I actually used that cable for a little experiment. It's one thing to be told that bypassing the sound card is better, but how much better? I picked a track I knew very well and plugged in the system using the USB cable. After listening for a while, I unplugged it, and connected the system using the stereo minijack cable running from the computer's headphone jack to the speakers. With this connection, the music was processed by the Mac's sound card.
What a difference! While the speakers did a good job with both connections, the music simply didn't have the same clarity or presence. It still sounded better than running it through the laptop's speakers, but if there was ever any doubt, that little A/B test put them to rest. Given a choice, I will always bypass my computer's sound card. Because now I've heard what I've been missing.
Testing different sound sources
When I try out any kind of speaker system or headphones with digital music files, I like to run the full range of bit rates. A lot of how "good" or "bad" a track sounds depends a lot on how much compression's been applied to it. Most of my music library is in Apple Lossless format, but I still have a fair number of MP3 files with 256Kbps or even 128Kbps bit rates. And many of the Internet radio stations I listen to stream at 96Kbps or even 64Kbps.
The separately powered speakers and built-in DAC helped each track live up to its full potential — whatever that was as determined by its bit rate. My lossless files sounded full and finely detailed. It was as if there was large sphere of sound encompassing the area around my laptop. My compressed MP3 files still had some detail, but tended to sound thinner and a little harsher — but much better than through the laptop's sound card.
Internet radio stations sounded pretty good. It was as if I was listening to good quality FM stations. The separation between channels was nice, and for the most part, the music had a greater amount of detail than I was normally used to.
Great for the workplace
I've tried other high-end speaker systems with subwoofers, and while they had a great sound, that floor-standing sub sometimes provided a placement challenge in my somewhat cramped home office. By only having the two speakers, I felt like Bowers & Wilkins came out ahead. The woofers more than adequately supplied the bass for my listening needs, and the two compact speakers with retractable cables left plenty of the desktop free to use as a work area.
Sometimes I box up review speakers and get them back to the office right away. This time I think I'll just wait until someone asks for the Bowers & Wilkins MM-1 computer speakers. They're that good.