Definitive Technology W Studio
Powered sound bar with DTS Play-Fi® and wireless subwoofer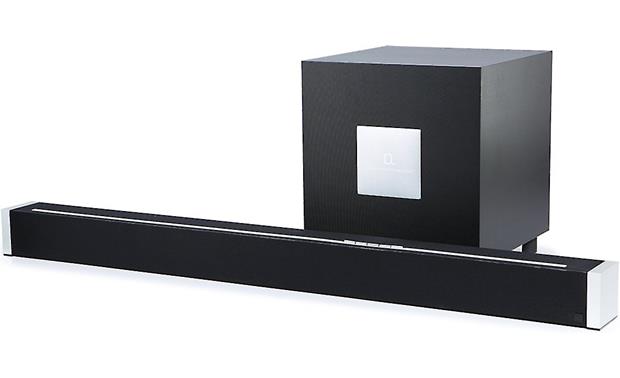 Definitive Technology W Studio - Front

Definitive Technology W Studio - Music streaming and 5.1-channel home theater sound

Definitive Technology W Studio
Definitive Technology W series wireless system
Definitive Technology Wireless Music System
From Definitive Technology: How to Hookup the W Studio
From Definitive Technology: How to select the best router for the Wireless Collection
From Definitive Technology: How to set up W Studio with Android Device
From Definitive Technology: How to set up W Studio with iOS Device

Definitive Technology W Studio

Definitive Technology W Studio

Definitive Technology W Studio

Definitive Technology W Studio

Definitive Technology W Studio - AC Power Required

Definitive Technology W Studio - Remote

Definitive Technology W Studio - Sound bar connections

Definitive Technology W Studio - Sound bar front

Definitive Technology W Studio - Subwoofer close-up

Definitive Technology W Studio - Subwoofer front

Definitive Technology W Studio - Top-panel controls
Item # 735WSTUDIO | MFR # VFBC-A
Out of Stock
Buy now

Our North American experts can help.
Overview
Our take on the Definitive Technology W Studio by Crutchfield's David Brown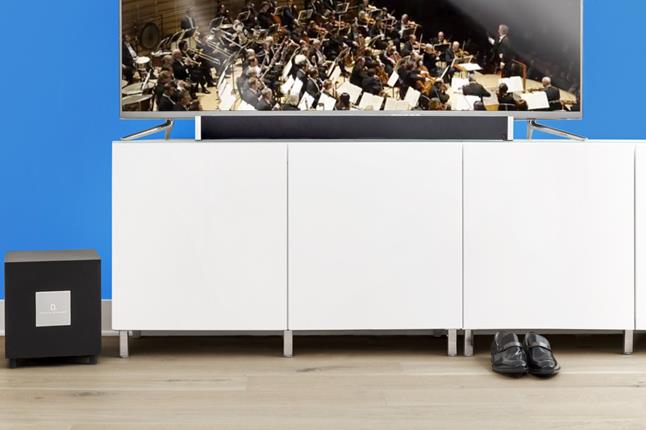 The W Studio sound bar and subwoofer offers thrilling sound with movies, TV, or music. Wireless music listening offers lots of options for streaming tunes from smartphones, computers, and services like Pandora.
Satisfy all your home theater needs
When you make a wish list for home theater features, there's a good chance the Definitive Technology W Studio sound bar will cover lots, if not all, of your wants. 5.1-channel sound? Check. Powerful bass for explosive movie effects? Got it. Built-in Wi-Fi® for playing music from smartphones, computers, and Internet services? That too. The ability to sync wirelessly with speakers in other rooms? Of course. Connections for other devices like Blu-ray players and gaming consoles? Sure. A free app so you can control it with your smartphone? Yep. And before you ask: yes, it's all going to sound wonderful.
True 5.1-channel home theater sound
While some sound bars amp up your TV's sound in stereo, the W Studio offers a true 5.1-channel listening experience. Five discrete channels allow more details to shine through with movies and TV shows. With HDMI connections and built-in Dolby® and DTS® surround processing, this system is ready to show off your Blu-ray discs and DVDs in all their multichannel glory. The bar's nine drivers and Definitive's Spatial Array™ processing create a huge soundstage with realistic surround effects, backed by enough power to fill large rooms. Plus, those HDMI connections make it easy to switch between sources like disc players and streaming media boxes without having to switch your TV's input.
Praise for the Definitive Technology W Studio from Sound & Vision


If you never even utilized the W Studio's Play-Fi feature, it's still a killer soundbar. But when you find out that it offers all of Play-Fi's streaming benefits, you'll think, "Wow! That makes TV and movies sound great! But it does even more than that?!"


— From John Sciacca's March, 2015 review in Sound & Vision [Read the full review]
Play loads of music wirelessly with your smartphone or tablet
If you don't think of sound bars as music players, the W Studio will quickly change your perception. When you connect it to your Wi-Fi network, you'll unlock its music streaming and multi-room potential. A free app for Apple® and Android™ is your hub for accessing music stored on your smartphone or tablet. You can also stream music from networked computers and music servers. If you're one of the millions of Spotify® Premium subscribers, Spotify Connect lets you access all your favorite albums and playlists. There's built-in support for Pandora® Internet radio and SiriusXM (SiriusXM requires Android device; iOS support coming in 2015). Plus, you can choose from over 37,000 free Internet radio streams, for a nearly endless supply of music and other programming.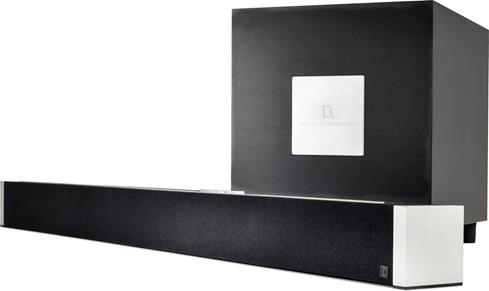 The W Studio is more than just a sound bar system — it offers multi-room wireless music playback when you add more Definitive W-series speakers and components to other rooms.
Play-Fi® turns every smartphone into its own music system
The key to the Definitive Technology W Studio's wireless music capability is Play-Fi. Developed by audio innovator DTS, Play-Fi allows you to send the same song to multiple speakers, play a different song in every room, or let each member of the family control speakers independently with their own device. Play-Fi can transmit lossless audio at CD quality to up to 16 speakers or components on your network. Best of all, the W Studio can work with other Play-Fi speakers from other manufacturers. That means you can mix and match different brands of wireless speakers, offering more flexibility than closed systems.
An update to one of our favorite sound bar systems
The W Studio is based on Definitive Technology's SoloCinema Studio™ sound bar — a favorite of ours that's admired for its looks as well as its sound. Like its predecessor, the W Studio sounds great with movies and music, offering clear, dynamic sound with the subwoofer delivering deep bass impact from just about anywhere in your room. Getting the W Studio set up is a snap with the free Definitive Technology app for your Apple or Android device.
Explore more Definitive Technology W products and build your whole-house music system

W7 - Compact size, great sound, easy wireless music listening with your smartphone or tablet.
W9 - Huge, spacious sound and deep bass make this a formidable wireless speaker.
W Adapt - Add wireless music to your existing stereo.
W Amp - Connect a pair of speakers to this amplified wireless player.
W Studio - This sound bar and subwoofer bring wireless music to your home theater.
Product Highlights:
Sound bar:
powered five-channel sound bar with nine built-in speakers

three 1" aluminum dome tweeters and six 3" midrange drivers

built-in dual-band Wi-Fi allows connection to your wireless home network and wireless communication with other Play-Fi devices (recommended maximum of 16 devices on a network)
DTS Play-Fi software allows speaker to communicate with other Definitive Technology W devices, as well as other Play-Fi components and speakers
plays music stored on Apple and Android smartphones and tablets
supports Spotify Connect, Pandora, SiriusXM, TIDAL, and thousands of free Internet radio stations (subscription required for some services; TIDAL only available with iOS devices, with Android support coming soon)
Spatial Array™ digital sound processing provides an enveloping theater experience
DLNA support for streaming music from compatible networked computers and NAS drives
multi-zone synchronous playback (same music plays in multiple zones simultaneously) or multi-stream playback (music individually selected for each player)
slim design allows easy placement in front of your TV
Dolby® and DTS® surround sound decoding
HDMI switching: 3 inputs, 1 output
optical digital audio input
3.5mm minijack input for connecting a portable music player
USB port for firmware updates and phone charging
43-1/16"W x 3-9/16"H x 3-5/16"D
Subwoofer:
200-watt built-in amplifier
8" down-firing woofer
syncs wirelessly with sound bar
bass-reflex (ported) cabinet design
12-1/2"W x 14"H x 14-5/8"D
General:
free Definitive Technology/Play-Fi app for Apple and Android devices offers easy music selection and playback
plays MP3, M4A, FLAC, and WAV files; sampling rates up to 24-bit/192kHz (downsamples high-resolution PCM files to 16-bit/48kHz)

not compatible with protected files with digital rights management (DRM)

remote control
IR flasher included for passing remote signals to TV
warranty: 5 years (speakers), 3 years (electronics)
requires high-speed Internet, Wi-Fi router and an Apple or Android smartphone or tablet
What's in the Box:
Definitive Technology W Studio Owner's manual
Active soundbar speaker
Wireless powered subwoofer
AC Power supply (w/ attached 6' DC cord)
Two 6' AC power cords
Remote control
2 "AAA" batteries
4" male-to-female minijack cable
6.5' IR-flasher cable
4 Magnetic feet
2 Wall-mount spacers
Setup Guide
Important Product Information
This sound bar is amazing! I love the quality of the audio! The coolest feature is/was the ability to program it to use my remote when my remote could not be programed to be used for the sound bar.

Jake, Pleasant Hill, CA
Details
Product Research
Soundbar Speaker & Subwoofer System
Wireless Music Streaming & Multiroom Capability
Soundbar Speaker & Subwoofer System
W Studio Home Theater System: The Definitive Technology W Studio consists of a wireless soundbar speaker with accompanying wireless subwoofer that blends high-performance home theater and musical sound with wireless music streaming and multiroom capability. The system has been designed to deliver a virtual 5.1-channel sound experience without the need for an AV receiver or rear speakers. Its the perfect compliment to your high-definition or Ultra-HD flat-panel TV. Plus, it works seamlessly with Definitive Technology's DTS Play-Fi wireless speakers for multiroom audio throughout your home.
Active Soundbar Speaker: The active soundbar speaker houses three 1" pure aluminum dome tweeters and six 3" polymer composite midrange drivers for accurate, clear natural sound. Each driver and tweeter in the soundbar is powered by its own digital amplifier. A total of 120-watts powers the soundbar to lifelike volume levels to fill even large rooms with high impact and low-distortion sound. The active soundbar features an extremely rigid and resonance-free enclosure constructed of MDF and ABS "polystone" for superior sound.
Wireless Powered Sub: The wireless powered sub features a down-firing 8" high excursion woofer housed in a bass reflex enclosure (with down-firing port) that is powered by an integrated 200W digital amplifier to provide you with all the impact you want from your favorite music and movie soundtracks. An acoustically inert cabinet and integrated rubber feet prevent against unwanted audible distortion. The subwoofer connects to the soundbar speaker wirelessly via 2.4GHz with a range of up to 45', so there are no additional cables to run. The wireless powered sub does require AC power.
Spatial Array & TruSurroundHD4 Technologies: The Definitive Technology W Studio incorporates Spatial Array and TruSurroundHD4 technologies, unique patented technologies that create an immersive surround sound from one soundbar speaker without the need for a room full of speakers. Spatial Array Surround technology uses subtle, but complex directional cues to completely free the sound from the speaker enclosure and convince your ear/brain listening mechanism that you are surrounded multiple speakers. TruSurround HD4 elevates the sound from the speaker axis, accentuates the perception of deep bass, adjusts the high frequencies making voice and dialog much clearer, and provides a greater enveloping sound. Since both of these technologies do not depend on bouncing sound off walls, it works in virtually any room and set-up configuration.
Dolby Digital/DTS + Dolby Pro Logic II Processing: The W Studio supports Dolby Digital and DTS 5.1ch format for maximum audio performance. You will enjoy music and movies with full dynamic impact and the highest definition, clarity and detail. The system also offers Dolby Pro Logic II processing which transforms stereo content into full-range surround sound.
Digital + Analog Connections (including HDMI): The W Studio soundbar speaker has a full-array of inputs including HDMI (3), digital optical (1), and analog (1) allowing you to connect your Blu-Ray player, cable/satellite tuner, gaming console as well as a legacy source such as a VCR. The three HDMI inputs support both audio (up 5.1ch) and video (up to 1080p) signals for convenient hookup and neat wire management. There is also a HDMI output that feeds the audio/video signal (up to 5.1ch/1080p) from your AV source through the soundbar speaker to your flat-panel TV. The optical (toslink) digital input supports 2.1ch to 5.1ch audio. The analog (3.5mm) input supports 2ch audio only.
Note: The digital optical output terminals of most newer flat-panel TVs only send an audio signal in 5.1ch when receiving Dolby Digital/DTS surround sound from the TV's built-in tuner, network connection, or connected USB device; and will output only 2ch stereo from sources connected to the TV via HDMI, or RCA (like your Blue-ray/DVD player or satellite/cable box). That's why Crutchfield recommends connecting your Blu-ray/DVD player, cable/satellite receiver, and gaming console directly to the W Studio soundbar speaker's 3 HDMI inputs and connect the soundbar speaker's HDMI output to your TV; you'll also need to connect your TV's optical digital output to the soundbar speaker's optical digital input since the system's HDMI output is not ARC-enabled.
Audio Enhancements: The W Studio soundbar speaker system offers a variety of audio adjustments to enhance your overall listening experience.
Music/Movie Modes: The Music/Movie modes optimize the system's sound characteristics such as bass level and surround effect intensity to best match what you're listening to - a movie or music soundtrack.
Bass Control: The remote's Bass control lets you optimize the system's bass loudness to match the program material, your taste or your mood.
Center Control: The Center control adjusts the volume of the channel that handles almost all of the dialogue duties in order to correct for differences in dialogue intelligibility from program to program.
Night Mode: Night Mode is a useful feature to use late at night if other family members are asleep. When Night Mode (Dynamic Range Compression) is turned on, peaks in the audio signal are compressed. This makes it easier to hear at low volume levels. At the same time more intense sounds (like explosions) are reduced.
Remote Control: The W Studio system puts you in control, simply and comfortably with its ergonomic IR remote. As you slide your finger over the remote you'll notice that all the controls are shaped with concave and convex forms to make it easy to use even in the dark. It fits perfectly in your hand, your thumb naturally falling on the most often used control (Volume). For greater convenience, you can program the W Studio to respond to the power, volume, mute, and source select commands of your TV or cable/satellite box remote. The soundbar speaker's IR output and the included IR flasher allow the unit to be placed in front of a TV (for example, when used on a table top) without disrupting your TV's remote functions. The soundbar's IR input can be used for custom home automation systems.
Mounting Options: The W Studio soundbar speaker offers a variety of mounting options. Supplied hardware enable the soundbar to be placed in one of three places; flat on a shelf under your flat-panel TV, raised above your TV's integrated pedestal stand, or mounted on a wall. The supplied magnetic riser feet enable you to raise the soundbar speaker (up to 5/8") in order to clear your TV's pedestal stand. If you prefer to wall mount the sound bar, it has built-in keyhole slots (spaced 32" apart). Because the powered subwoofer is wireless, you can select practically any location that best fits your lifestyle and décor. The subwoofer's unobtrusive cube form factor tucks out of the way nicely behind furniture.
Wireless Music Streaming & Multiroom Capability
Definitive Technology Wireless Collection: The W Studio is part of Definitive Technology's Wireless Collection which is wireless solution for distributing music anywhere in your home or office. Stream select online music services, Internet radio, and your personal digital music library all from your smartphone, tablet, or computer.
DTS Play-Fi Wireless Technology: Definitive Technology's Wireless Collection employ DTS Play-Fi wireless technology for wireless sound that is reliable and high-quality. DTS Play-Fi combines DTS audio and WiFi wireless technology to wirelessly stream high-definition "lossless" audio with no impact on sound quality. DTS Play-Fi will stream pure, bit-for-bit, lossless audio, for uncompromised quality sound; up to 16-bit/48kHz. DTS Play-Fi has a range of up to 100' from your wireless router.
Note: All DTS Play-Fi enabled products work seamlessly together, so there's no hassle adding more speakers, or choosing more than one audio brand (like Polk, Phorus, Wren, etc..) in your home.
WiFi Network: The Definitive Technology Wireless Collection system uses your home's wireless (WiFi) network for whole-house audio entertainment. The W Studio connects to your home's wireless network via WiFi (802.11 g/n). A dual-band (2.4/5GHZ) "N" or better router is recommended for the most reliable wireless network connection.
Simple Setup: There are two methods for connecting the DTS Play-Fi soundbar speaker to your home network. You can perform WiFi setup via the free Definitive Technology App on your Apple iOS/Android mobile device or Windows PC (this setup allows you to connect multiple Play-Fi device at once to your network). You can also use the WPS button on the soundbar speaker if your wireless router supports WPS (this setup only allows you to connect one Play-Fi device at a time to your network).
Definitive Technology App: Download the free Definitive Technology App onto your Apple iOS (8.0+) device, Android (4.0+) smartphone/tablet, or Windows (7/8) PC for easy and convenient management of your music from your mobile device or computer. From the app you can initially set up the Definitive Technology wireless system, as well as add, link, and control all your Definitive Technology Wireless Collection and DTS Play-Fi speakers. You'll be able stream music directly from the system's built-in music online services, or music on your mobile device or PC to multiple Wireless Collection series and DTS Play-Fi enabled speakers through out your home. The app lets you browse your music by artist, album, genre, or title; and provides album art. You can choose to play the same music in each zone or a different song in each room.
Variety Of Sources: The Definitive Technology Wireless Collection supports a variety of music sources.
Mobile Device (Apple iOS + Android):You are able to wirelessly stream your music files from your music library on your Apple iOS (6.0+) or Android (2.2+) device to the Definitive Technology Wireless collection system through the free Definitive Technology app.
Online Music Services: From the free Definitive Technology app on your mobile device or computer, you can share and listen to to Pandora, Spotify Connect, SiriusXM, TIDAL, Amazon Music, Songza, Rhapsody, and Internet Radio.
Computer Music Library: The Definitive Technology wireless system is DLNA compliant for playback of various music files stored on your Windows PC (7/8) or DLNA-certified NAS drives connected to your home network. Use the free Definitive Technology app on your mobile device or computer to access these music files. MAC OSX computers and laptops require third party software to be visible on the network (Twonky, Plex, Servio etc.) as they do not support DLNA.
Supported Music Files:
Definitive Technology's Wireless Collection and DTS Play-Fi support music formats such as MP3, AAC, FLAC, and WAV. The system will recognize music files up to 24-bit/192kHz and wirelessly stream these files at up to 16-bit/48kHz (CD quality sound). Some down-sampling may occur to ensure virtually lossless distribution throughout a home network.
Critical Listening Mode: For those who wish to hear high resolution audio as originally intended, Critical Listening mode will enable native rendering of high resolution files up to 24-bit/96kHz, with no down-sampling or network synchronization adjustment. In this way, audio files retain their original audio integrity. Critical Listening Mode is only available on one DTS Play-Fi speaker and not supported for multiroom audio distribution.
Maximum Number of Rooms/Zones Supported: You can play the same source in each zone or a different song in each room. Eight separate wireless source devices (smartphones, tablets, etc.), each with its own source, are supported simultaneously and any wireless source device can stream to eight DTS Play-Fi playback devices. Due to the bandwidth limitations of most wireless networks, no more than 16 wireless DTS Play-Fi products on a single WiFi network at one given time is recommended.
Our Product Research Team
At Crutchfield, you'll get detailed, accurate information that's hard to find elsewhere. That's because we have our own in-house Product Research team. They verify what's in the box, check the owner's manual, and record dimensions, features and specs. We stay on top of new products and technologies to help people make informed choices.