The Leica Q2 Monochrom camera can help you produce brilliant-looking black and white images — black and white only — with just the press of the shutter button. It's also got a raft of flexible modern features. But for me, that's not its biggest attraction. What I love about this camera's design is the way it takes me back to the foundations of good photography.
A tradition of optic excellence
I learned photography on my dad's old 1950s Leica M3, and I bet it's still taking great images for the lucky person he sold it to. It took a beating as I carried it around with me in high school and college, and in my backpacking trip across Europe in the early '90s. But that rock-solid, precise German design and build always functioned flawlessly, and always took great photos.
Three points of view on the Q2 Monochrom
So I was pretty excited when my Crutchfield writer colleague Kramer told me we'd be getting a packet of Leica cameras to test out. I drove over to his house post-haste when they arrived, and he met me on the porch with the Q2 Monochrom. It came with a strap and charger — that's it, except for a lens cap.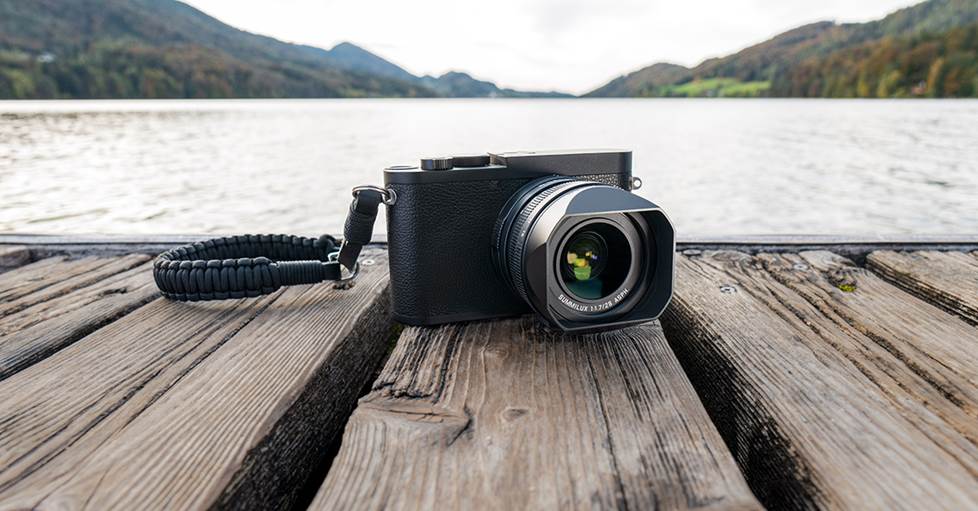 The Leica Q2 Monochrom is a high-performance point-and-shoot camera that also lets you take full manual control.
Over the next few weeks, three of us — myself, Kramer, and Crutchfield video-production coordinator Zak — got to spend some quality time with the Q2 Monochrom. Kramer is a professional photographer but has never shot film. Like me, Zak started shooting film back in the day and spent time in darkrooms. Unlike me, cameras remain key tools of Zak's trade.
All three of us enjoyed the challenge of shooting within the limits of this Leica black and white camera. You look at the world differently when you're shooting black and white.
"I look at things more in terms of angle shadows," says Zak. "I think about the composition of the frame a little bit more."
"A well-composed black and white image is timeless," Kramer says. "It's not always in your face. It's not always blatantly obvious where your eyes could be drawn to, so it sort of invites you into the frame to check it out a little closer."
Back-to-basics design
The Q2 Monochrom has that same durable German-built quality as the M3 I learned on. Precision-machined focal length and aperture adjustments on the lens barrel turn easily but never sloppily. Everything feels solid and balanced.
The Q2 Monochrom — like the other cameras in the Leica Q2 family — really invites you to ditch the menus and work in manual mode to get the effects you want.
Manual adjustments override whatever you do when you go into the menus. That makes for a natural fit if you're at home adjusting for light with the aperture ring on the lens barrel and top-mounted shutter speed knob and focusing manually.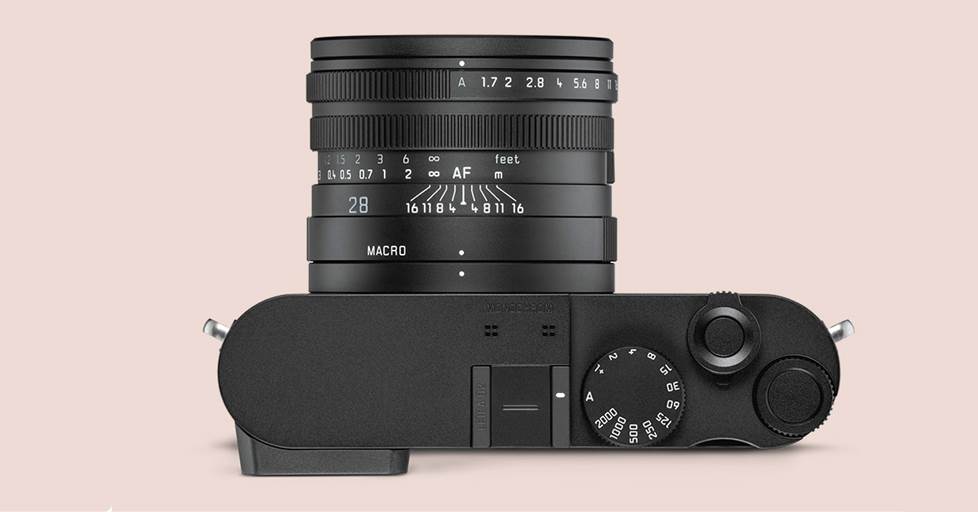 A view from the top: f/stop, focal length, and shutter speed controls are all at your fingertips.
The fixed prime Summilux 28mm ASPH lens has a maximum aperture of f/1.7 so it performs beautifully in low light. You can't change the lens, so that's one less thing to think about — although you can use the digital zoom crop modes to approximate 35mm, 50mm, and 75mm lenses.
Its black and white limitation is literally an asset
The full-frame 47-megapixel sensor that Leica developed exclusively for the Q2 Monochrom can capture gobs of detail, and its lack of color filter array makes for tack-sharp images. Unlike the ones found in its full-color counterparts, the monochrome sensor features no grid of alternating red, green, and blue pixels.
That means each color pixel in the analogous Q2 color sensor can only capture 1/3 of the available light — whether you're shooting in color or black and white. It can't match the black and white version, which can grab the full luminance value of each pixel.
So you literally get better image quality from the black and white version. The resolution is easily high enough that you can use cropping as a compositional tool. Details remain crisp and clean as you zoom in on a properly focused image.
You also get a significantly broader dynamic range and extremely low image noise, even at high sensitivities of up to ISO 100,000. Shooting in low light is no problem.
And even when you push the ISO to its limit in really dim conditions, you get a natural-looking grain. "It doesn't feel like digital noise," Zak observed. "It feels more like film grain to me."
Other cool Q2 Monochrom features
The Q2 Monochrom is full of thoughtful details. Features like the two-step battery release that saves your battery from dropping to the floor when you pull it to recharge, Zak observed, "seem like they were designed by photographers."
Some features, like autofocus ("Super-fast and accurate," says Zak) and focus peaking, are typical of modern cameras but particularly well-implemented in the Q2 family.
You can use aperture or shutter speed priority to have the camera give you an assist in composing shots. Shoot 4K video when you'd rather save the moment as motion instead of stills. Use the 3" touchscreen for focusing, shooting, and more with gesture-based controls. But as always, there's more.
Digital crop mode
Kramer appreciated the digital crop modes. "You can use it to get your image in-camera," he says, "then use the Leica Fotos app to transfer that cropped image from the camera right to your phone and put it on social media or email it to a friend."
That's nice. You don't have to transfer the raw files to your computer, put them in Lightroom or Photoshop, and then transfer them back to another device. "To me, this is where Leica is sort of acknowledging the modern world," Kramer says. "Let's give the photographer some extra tools to be able to get that end result."
Also, if you're shooting DNG/RAW files in one of the digital crop modes, the sensor still saves all the information outside the crop, in case you want to work with the native 28mm image.
More Leica Fotos features
You can also use the Leica Fotos app to control the camera. So if you have your camera set up perfectly on a tripod and you want to switch some settings without moving the camera, you can go in and change your aperture or your ISO or whatever through the app.
Get up close in macro mode
You'll see a mechanical marvel when you rotate the focus ring all the way down and watch the focal length slide into the macro range. When you use it, you can get as close as 6.7 inches (17cm) to your subject.
Zak experimented with close-ups of things like tree bark and a concrete bench. "Anything with a lot of texture in it," he says.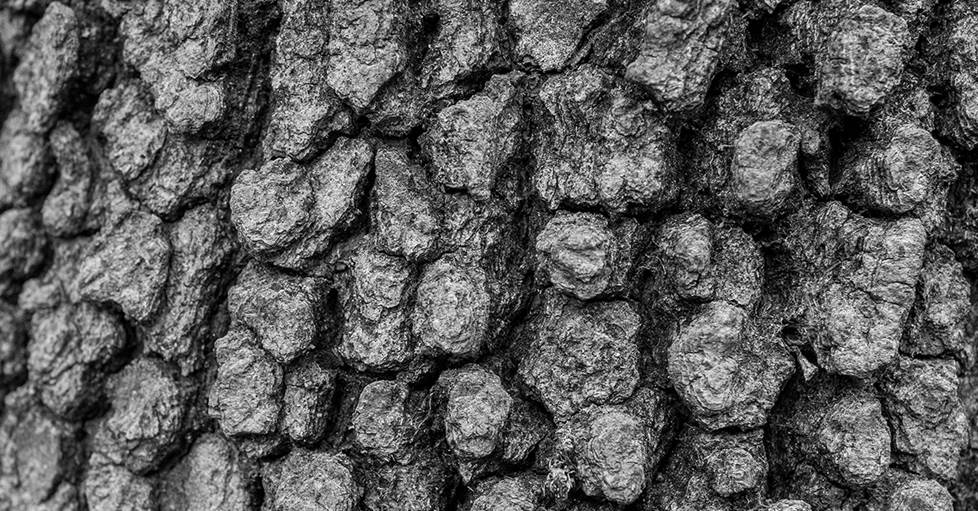 You can get really close to your subjects in the Q2 Monochrom's Macro mode.
Focus peaking
One of the digital features I found really helpful was focus peaking, both through the viewfinder and on the live view LCD screen. Leica has made this feature really user-friendly.
It helps you get your focus right where you want it. The feature moves like a sheet through the depth of your image, highlighting the plane of best focus. You can choose red, green, or blue highlighting.
Seeing in black and white
It's easy to get into the black and white zone with the Q2, because other than the focus peaking highlights and the menu displays, the camera shows you black and white while you're shooting — whether you're using the viewfinder or the 3" LCD screen. That's something we could never see when shooting black and white with film cameras.
"And boy does that help," Zak says.
My impressions of the Q2 Monochrom
I'm not a professional photographer — far from it. But I learned to appreciate great photography from my dad. He had coffee-table books from Alfred Eisenstaedt (an avowed Leica shooter), Ansel Adams, Diane Arbus, and others, plus a subscription to Camera magazine. I passed a lot of hours looking through all of these.
My dad used a Leicaflex SLR and shot and developed his own black and white film and prints in a darkroom he built in our basement. I was fascinated by the whole process and took part: working in complete darkness using a dark bag for film, or in the dim red glow of darkroom safelights for printing. Then smelling the chemicals, seeing the negative images through the enlarger, making test prints on photo paper scraps, and finally making a really nice print.
Even though I love taking photos and appreciate good photography, I got frustrated in the early days of digital photography. I didn't like working in tiny camera menus. And with newer, faster digital cameras always superseding the latest crop, the attrition rate was a buzzkill and expensive to boot.
With the rise of HD cameras in phones, it was even easier to ignore digital cameras. Like so many others, I've come to rely on my smartphone do the work I used to do with a camera: documenting adventures, family landmarks, and capturing the occasional striking image.
Since it works like the cameras I learned on, the Q2 Monochrom was a great fit for me. I loved getting back in touch with the basics and enjoying manual control without the constraints of physical film.
Beautiful images
I mostly used the viewfinder instead of the LCD display. And I stubbornly stuck entirely with manual focus, sometimes to the detriment of my shots. Old habits die hard. My instinct with this camera was to work the lens-barrel f-stop ring with my left hand and shutter speed with my right until the light was right, then focus and shoot.
I made plenty of mistakes. But that's what I was expecting. It's helpful for me to see the effects of pushing the ISO too high, or shooting stopped down when a wide-open aperture and faster shutter speed would've been in order.
Shooting at home
The Q2 Monochrom's incredible ISO range gives you enormous flexibility to dial it in for shooting in low-light situations, like nighttime interiors. It was fun for me to work toward a perfect balance.
Even though I think some images look good with a bit of noise — like the one of my dog looking like a passed out zombie with the humidifier vapor behind him — in general I wanted to be able to zoom in and find the fantastic detail that the Q2 Monochrom can deliver.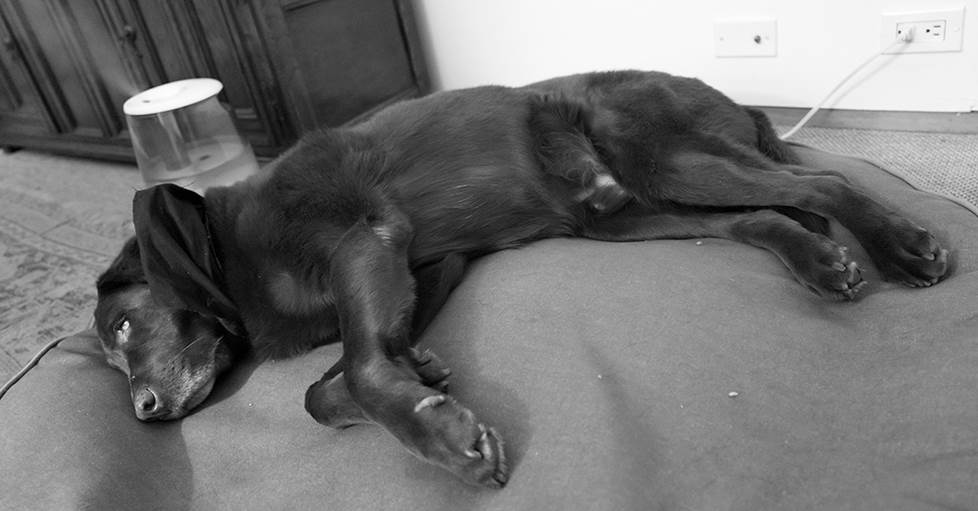 This somewhat noisy image was shot at night, with just a reading lamp illuminating the scene.
Shooting in the wild
Shooting on the southern tip of Assateague Island in bright sunlight and below-freezing temperatures with 25-mile-an-hour winds presented challenges. You had to wear gloves and sunglasses. But you had to take them off to adjust the camera.
It's hard to see the LCD display to review shots in bright sunlight with eyes watering from the wind. And instead of covering my bases by shooting at a range of aperture settings, I ended up with several overexposed images.
You can see incredible micro-detail in this shot of what is likely old ship timber, with one wooden-peg fastener still in place and another gone from its hole. I love how detailed the sand in the wood fibers looks when you magnify it. And that's not even in macro mode.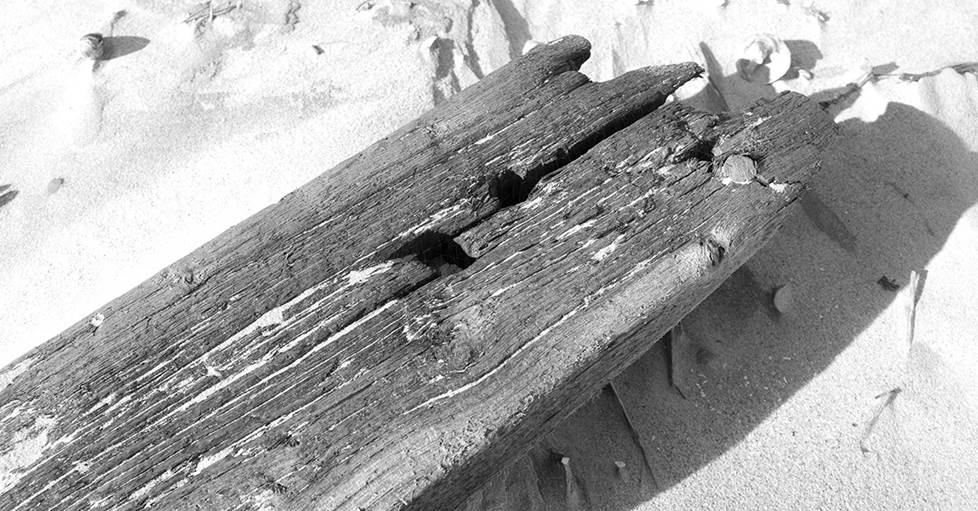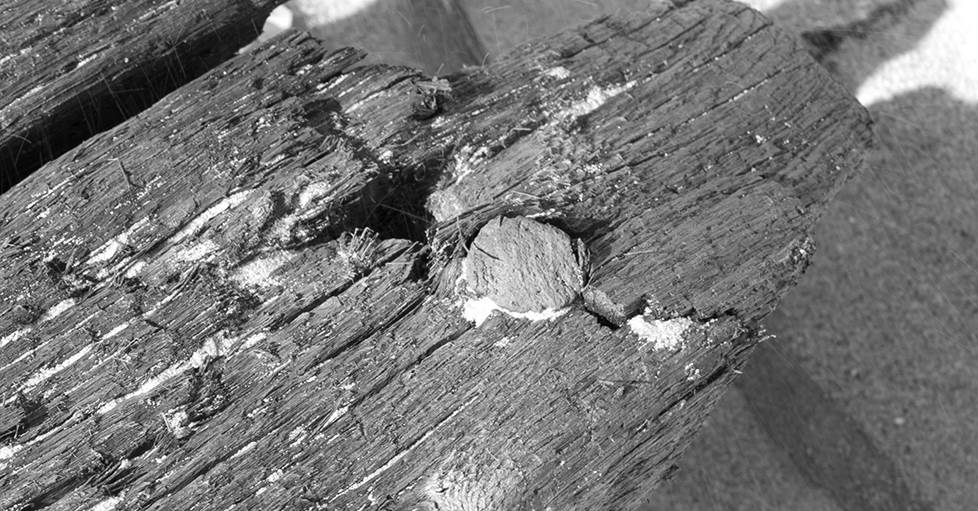 Street shooting
I think I got my best results when Zak and I went out shooting around town. We started at the recently opened CODE building at the west end of the Charlottesville downtown mall. Its stylish angles and reflective surfaces invited the Q2's lens to take it all in. This shot of its semi-enclosed outdoor fountain gives you an idea how well-suited the 28mm viewing angle for this kind of shooting.
Charlottesville's CODE building (left), with its patterns and reflections, seems custom-designed for black and white photography. And you can see an astounding level of detail and range of light in the right image, taken inside the Looking Glass exhibit at IX Art Park in Charlottesville.
We literally stumbled into the Looking Glass exhibit at IX Art Park. It's an immersive exhibit that relies on colored lighting in a dark space. But it looks really cool in black and white. The subtleties of light gradation are really awesome to behold in this shot of a highly decorated throne-like chair. Lots of great sub-details stay in focus when you zoom in on this one.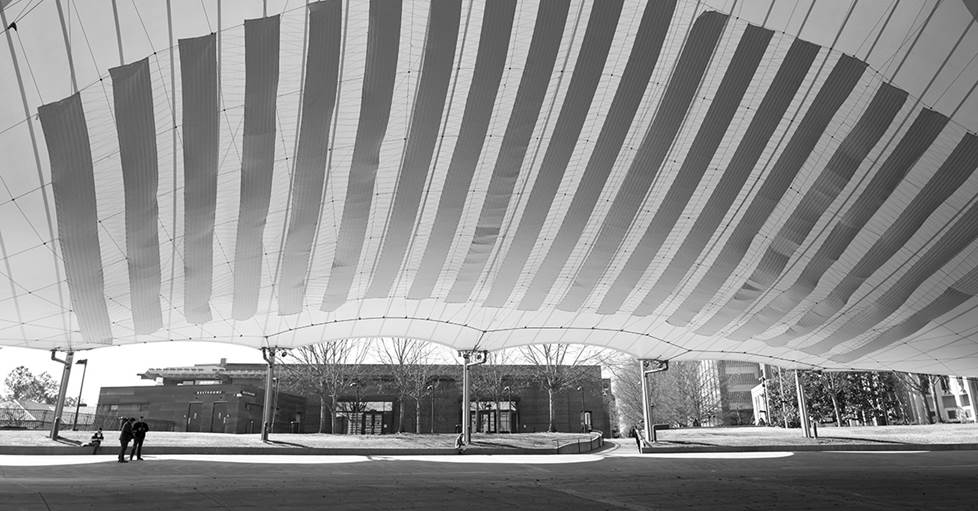 The versatile fixed Summilux 28mm f/1.7 ASPH lens shines whether you're near or — as in this image — far from your subject.
At the East end of the mall, the tent covering the Pavilion made a nice light-tent and backdrop for shooting with the aperture stopped all the way down to 16. I think it looks bigger when it's mostly empty, and that having some distant human figures in the composition helps exaggerate the scale.
High-performance point and shoot
The Q2 Monochrom is categorized as a point-and-shoot camera, owing to its fixed lens. It weighs less than one and a half pounds and doesn't feel like a burden around your neck or in a big pocket — it's great for traveling light. But it's obviously much more than your typical point-and-shoot camera.
I would definitely recommend it if you're someone who appreciates the ineluctable and timeless aesthetic of black and white photography. If you want to print big, you'll have the high resolution and low noise that you need for razor-sharp reproduction.
You also get tactile manual control and build quality to last a lifetime and longer. If you're coming from a film background, the Q2 Monochrom will feel like home. Maybe, like me, you'll even find its limitations freeing.
Helpful accessories
To record your images, you might consider getting a fast card. That way you can avoid lag while the camera transfers the enormous files it generates onto the card. That's especially helpful if you're planning to shoot 4K video or like to take shots in bursts.
Even though the Q2 Monochrom excels in low light, a flash can sometimes be crucial. And an extra battery is always a good idea.
Product highlights
lightweight magnesium alloy body and machined aluminum top plate with laser engraved lettering, numbers, and dials and mid-grain leatherette finish
47.3-megapixel effective recording
full-frame monochromatic (black and white) CMOS sensor
fixed Summilux 28mm f/1.7 ASPH lens offers superior light-gathering ability
digital crop modes: 35mm, 50mm, and 75mm
49mm filter diameter
variable ISO (100-100,000) for high-resolution, low-noise shots even in low light
3" high-resolution (1.04-million-dot) LCD touchscreen
3.68-million-dot electronic OLED viewfinder with eye sensor for automatic switching between viewfinder and LCD screen
shoots 4K video at 30 or 24 fps
records photos and video onto SD memory cards (SD, SDHC, SDXC)
Wi-Fi and Bluetooth for convenient sharing and control
manual macro setting for taking close-up images
IP52 weather rating for shooting in adverse conditions
weight (with battery): 25.3 oz.
warranty: 2 years
Need more help? Contact us!
Have questions about how the Leica Q2 Monochrom compares to other cameras? Contact us today.
Our expert Advisors know cameras inside and out. Your Advisor can send specific Crutchfield pages to your screen, saving you a lot of browsing time. You'll get a shopping cart loaded up with everything you need.
Free lifetime tech support is included with your Crutchfield purchase.