Bose® SoundTouch® 300 soundbar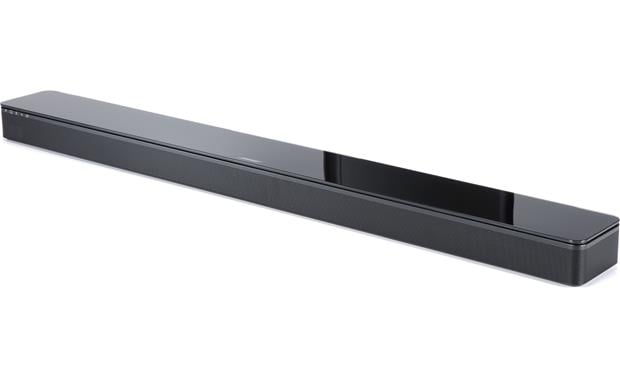 Bose® SoundTouch® 300 soundbar - Front

Bose® SoundTouch® 300 soundbar - With optional Acoustimass® bass module

Bose® SoundTouch® 300 soundbar - Sleek design with glass top panel
Crutchfield: Bose SoundTouch 300 soundbar

Bose® SoundTouch® 300 soundbar - Low-profile design fits under most TVs

Bose® SoundTouch® 300 soundbar - Special drivers and processing help simulate surround sound

Bose® SoundTouch® 300 soundbar - LED light indicator

Bose® SoundTouch® 300 soundbar - Remote

Bose® SoundTouch® 300 soundbar - Easily fits into most TV setups

Bose® SoundTouch® 300 soundbar - Back

Bose® SoundTouch® 300 soundbar - Back

Bose® SoundTouch® 300 soundbar - Back
Item # 018ST300 | MFR # 767520-1100
In Stock
Buy now

Our North American experts can help.
Overview
Our take on the Bose® SoundTouch® 300 soundbar by Crutchfield's Jeff Miller
Bose® sets the bar higher than ever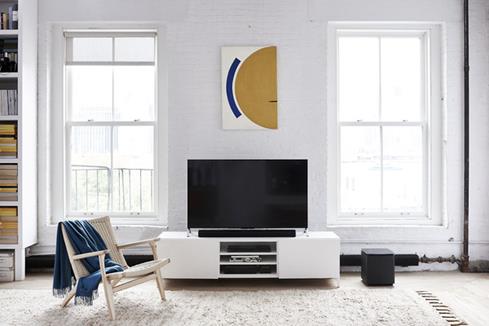 The slim Bose SoundTouch® 300 sports a living-room-friendly design (Bose® Acoustimass® 300 sold separately).
There's a lot to love about the Bose® SoundTouch® 300 soundbar. The sleek design includes an ultra-modern glass top panel to punctuate your living room's style. But to truly appreciate how special this bar is, you need to take a deeper dive under the hood.
Cinematic sound and convenient setup
The SoundTouch® 300's specially shaped drivers help add serious depth and clarity to your favorite shows and movies. Bose's advanced signal processing reads your room and optimizes the acoustics — reflecting sound from the walls to simulate surround sound and shape your home theater experience. Plus, a single cable connection to your TV and a super-simple universal remote make this cutting-edge product easy-to-use.
Bose also offers the optional wireless Acoustimass® 300 — the most powerful bass module they've ever made. It communicates wirelessly with the SoundTouch® 300 to add realistic impact to onscreen effects.
Gateway into multi-room audio, Bose-style
Bose included Bluetooth® and Wi-Fi® for practically endless wireless music options. You also get a first step into a whole-house music system with Bose® SoundTouch®. It lets you wirelessly stream online music services like Pandora® and Spotify®, along with your library of downloaded songs. Expand your system into different rooms by adding other SoundTouch® speakers. A helpful step-by-step mobile app gets you setup and running.
You can even send TV audio to other rooms via SoundTouch. This is perfect if you need to grab a snack while you keep tabs on the game.
Get full Bose® surround sound
Along with the optional Acoustimass bass module, you can add a pair of Bose Virtually Invisible® 300 surround speakers. They work seamlessly with this system, take up little space, and deliver complete wraparound sound effects.
Product Highlights:
Bose® SoundTouch® 300 Soundbar:
slim design fits neatly into your TV setup
sturdy aluminum construction with metal grille and premium glass top panel
4K/HDR passthrough
specially designed drivers deliver full, spacious sound
PhaseGuide® technology simulates surround effects by reflecting sound around your room
ADAPTiQ® automatic calibration system adjusts the sound based on your room's size and shape
QuietPort™ technology enhances bass response and lowers distortion
Dialogue mode makes speech easier to hear
optional Bose® Acoustimass® 300 wireless bass module and Bose® Virtually Invisible® 300 wireless surround speakers sold separately
Bose® SoundTouch&reg Wireless Music Features:
connects the system to your Wi-Fi home network
free easy-to-use SoundTouch&reg control and setup app for smartphones, tablets, and computers
supports MP3, WMA, AAC, and Apple lossless audio formats
stream from online music services including Pandora, Deezer Premium, and iHeartRadio for thousands of free Internet radio stations (subscription required for some services)
Spotify Connect compatible (subscription required)
Bluetooth connectivity allows you to stream music and audio from any app on your smartphone or tablet

Bluetooth connections can be streamed to other SoundTouch® speakers
Connections and General Info:
1 HDMI input and 1 HDMI output
HDCP 2.2 technology for 4K Ultra HD sources and TVs
HDR-compatible

HDMI output has Audio Return Channel capability for a single-cable connection to your compatible TV

Please note: There is an HDMI ARC "handshake" issue between some Samsung 4K TVs and this sound bar. Bose tells us that they are working with Samsung engineers to solve the problem

optical digital input
programmable remote control can operate your TV and other components

Ethernet port for connection to a wired home network

wall-mountable (bracket sold separately)
38-1/2"W x 2-1/4"H x 4-1/4"D
warranty: 1 year
What's in the Box:
Bose® SoundTouch® 300 soundbar Owner's manual
Active soundbar speaker
5' AC power cord
Remote control
2 "AAA" batteries
ADAPTiQ headset
5' HDMI cable
5' Optical digital cable
Cleaning cloth
Quick Setup Guide
Universal Remote Control Setup Guide
Important Safety Instructions
Warranty Information
Bose global contact information
Very impressed with this sound bar. The sound travels through the room as if you have surround sound. Little more than I wanted to spend but very happy. You can't go wrong with Bose!

Paul, Benton, AR
Details
Product Research
Home Theater Section
Network & Multiroom Audio
Home Theater Section
Bose Technologies: For spaciousness, the Bose SoundTouch 300 soundbar uses exclusive PhaseGuide arrays to send signals to the left and right of the room, so you'll hear separate channels of a movie soundtrack or song coming from places where there are no speakers. Proprietary QuietPort technology ensures deep, clean bass at any volume - so you can turn it up, and it won't distort. The SoundTouch 300 also incorporates advanced DSP (digital signal processing) for detail and balance across all frequencies.
ADAPTiQ Audio Calibration: The SoundTouch 300's performance is customized to the acoustics of your room with Bose ADAPTiQ Audio Calibration. ADAPTiQ Audio Calibration analyzes the way your room's dimensions and other variables affect sound, then automatically adjusts the sound of your speaker system to the acoustics of your room. To perform a calibration you need about 10 minutes when the room is quiet. While wearing the included special headset, the system will ask you to place yourself in five different locations (sitting or standing) in your listening area as the system takes measurements in each. Audio prompts from the system will guide you through the process.
HDMI 2.0a (4K/HDR Pass-Through): The Bose SoundTouch 300 is equipped with an HDMI 2.0a input and output. The HDMI input and output will pass up to a 4K/60Hz video signal, as well as HDR (High Dynamic Range) video. The SoundTouch 300's HDMI jacks also support HDCP 2.2 copyright protection for compatibility with 4K ultra-HD content from satellite/cable providers, online video services, and Blu-ray.
Note: The ARC-enabled HDMI input of some televisions will only pass 2ch PCM from devices connected to the TV via HDMI or analog.
Optical Digital Input: If your TV is not equipped with an HDMI ARC jack, the Bose SoundTouch 300 also features an optical (toslink) digital input that supports 2ch PCM, 5.1ch Dolby Digital, and 5.1ch DTS. This soundbar does not offer analog audio inputs.
Note: The digital optical output of many flat-panel TVs only send an audio signal in 5.1ch when receiving Dolby Digital/DTS surround sound from the TV's built-in tuner, network connection, or connected USB device; and will output only 2ch stereo from sources connected to the TV via HDMI, or RCA (like your Blue-ray/DVD player or satellite/cable box).
Universal Remote Control: The Bose SoundTouch 300 includes an IR universal remote control for wireless operation of the soundbar speaker system. You can also program the universal remote to control your TV, Blu-ray player, or cable/satellite box. If you choose, you can program most other manufacturer universal remote controllers to operate the Bose SoundTouch 300.
Dialog Mode & Bass Level: Dialog Mode improves the clarity of dialog and vocals in movies, TV programs, and podcasts by adjusting the tonal balance of the system. You can also increase the soundbar's Bass Level independent from the system's overall volume level.
Auto-Wake: You can set the Bose soundbar to power on whenever an audio signal is received via HDMI or Optical.
Mounting Options: The Bose SoundTouch 300 can simply be placed on a shelf below or above your TV. It slim-profile even allows you to sit the soundbar in front of most TVs without blocking the screen or interfering with TV's IR remote. The optional WB-300 wall bracket (018WB300, sold separately) lets you mount the SoundTouch 300 soundbar speaker flush to the wall.
Note: The SoundTouch 300 uses the reflective surfaces of the room to deliver a spacious home theater experience. To ensure optimal audio performance, the soundbar should be placed equidistant from each side wall and directly in front/center of the TV. No objects should be placed on either side of the soundbar, nor should it be placed inside a cabinet, as this would result in a limited sound stage.
Optional Wireless Powered Sub: The SoundTouch 300 will wirelessly connect to the Bose SoundTouch Acoustimass 300 bass module (018AM300, sold separately) for deep bass performance from your system. The optional powered sub can also be connected via a minijack cable if you are getting wireless interference. An available firmware update lets you pair a second Bose SoundTouch Acoustimass 300 bass module (sold separately).
Optional Wireless Rear Speakers: The SoundTouch 300 will wirelessly connect to the Bose SoundTouch Virtually Invisible 300 rear surround speakers (018VI300, sold separately) for more enveloping, immersive surround sound.
Wireless & Multiroom Audio
SoundTouch Wireless Audio: The SoundTouch 300 soundbar is part of the Bose SoundTouch wireless music ecosystem which allows you to play music throughout your home. The SoundTouch ecosystem is able to stream music wirelessly throughout your house over your home's WiFi network; it even works with your Bluetooth devices. With SoundTouch, you can stream Internet radio, select music services, and your music library throughout your home. A free Bose app transforms your Apple iOS or Android mobile device into the system's remote control.
Wired or Wireless Network Connection: The SoundTouch 300 soundbar offers a wired (Ethernet) or wireless (WiFi) connection to your home network. The SoundTouch 300 features an Ethernet R-J45 port and built-in WiFi (802.11 b/g/n; 2.4/5.0GHz). The systemr's network connection can be setup initially from the SoundTouch Controller App on your Apple iOS (7.0+) device or Android (4.1+) smartphone/tablet.
SoundTouch Controller App: The Bose SoundTouch Controller app is required for initial setup and control of the Bose SoundTouch music system. The Bose SoundTouch Controller app can be downloaded on your Apple iOS iPod/iPhone/iPad, Android smartphone/tablet, Windows PC, or Mac computer. Now you'll be able to setup and control the SoundTouch system from your Apple iOS or Android device, or from your Windows or Mac computer. Once initial setup is complete, you can use this app to explore Internet radio, select online music services, or browse your music library from your home network and computer for playback on the Bose SoundTouch speaker system.
For Apple iOS or Android: You can download the free SoundTouch Controller app (from Apple's App Store or Google Play Store) onto your Apple iOS (iOS 7.0+) or Android (4.1+) device so you can setup and control the Bose system from your mobile device.
For Windows PC or Mac Computer: The SoundTouch Controller app for Windows & Mac lets you setup and control the Bose SoundTouch system from your Windows PC (XP /7/8) or Mac computer (OS X 10.6.8+). Simply install the SoundTouch app onto your Windows PC or Mac computer.
Variety Of Music Sources: The Bose SoundTouch wireless audio system supports a variety of music options; including Internet Radio, select online music services, music files stored on your computer, as well as stored music & music apps on your Apple iOS or Android device.
Internet Radio & Online Music: The SoundTouch wireless system lets you play Internet radio stations from around the world. You also get access to the Pandora, Spotify Connect, iHeart Radio, and Deezer (coming soon) online music services. More music services will be added in the future.
Music Stored On Your Computer: The SoundTouch system can play back MP3, WMA, AAC. and ALAC music files that are managed by iTunes or Windows Media Player on your Windows or Mac computer. You computer must be connected to the same wired or wireless home network as the SoundTouch system.
Bluetooth Music Streaming: With built-in Bluetooth, the SoundTouch system wirelessly plays back stored music and music apps from your Bluetooth-enabled Apple iOS iPod/iPhone/iPad, Android smartphone/tablet, Windows Phone/PC, Mac computer/laptop, or other Bluetooth compatible device. You can pair up to eight devices (via SSP or NFC) with one actively connected
Multiroom Audio: For most home networks, you can link up to four SoundTouch music systems together for a multi-room/multi-source audio experience. For more than four rooms, Bose recommends using Ethernet wired connections to some of the SoundTouch systems. You are able to play the same music source or different music source on each SoundTouch system, using the SoundTouch app on your Apple iOS/Android device or Windows/Mac computer. Multiroom audio sources include the following -
Internet radio & online music sources
Music stored on your computer
Bluetooth source devices
Note: HDMI inputs and the optical input do not support multiroom audio.
Six Presets: You can personalize six presets to your favorite streaming music services and Internet radio stations, or playlists, artists, albums, and songs from your computer's music library. The presets can easily be set, changed, and accessed directly with the included remote control or the free SoundTouch app on your Apple iOS iPod/iPhone/iPad, Android smartphone/tablet, or Windows/Mac computer. You cannot set presets to a Bluetooth source.
Alexa Skill (via Firmware Update): The new Bose Skill for Amazon Alexa is available through a free network firmware update and is enabled through the Skills section of the Amazon Alexa companion app on your Apple iOS or Android device. The update enables you to control certain elements of the SoundTouch experience through Alexa by speaking to an Amazon Echo, Echo Dot, Tap, Echo Show, or other Alexa-enabled device. Simply say "Alexa, ask Bose to...". Voice control functions include-
Play music set to a SoundTouch preset.
Play content in a specific room.
Play the same music on all SoundTouch devices (everywhere).
Find out what's playing.
Play/pause/resume and skip tracks.
Adjust volume.
Turn on/off.
microUSB Port (Setup Only): The soundbar's microUSB port is for setup only. The microUSB port is not designed to playback or charge smartphones, tablets, thumbdrives, or other similar devices.
Our Product Research Team
At Crutchfield, you'll get detailed, accurate information that's hard to find elsewhere. That's because we have our own in-house Product Research team. They verify what's in the box, check the owner's manual, and record dimensions, features and specs. We stay on top of new products and technologies to help people make informed choices.