Review: Sennheiser HD 800 headphones
Heads up!
Welcome to this article from the Crutchfield archives. Have fun reading it, but be aware that the information may be outdated and links may be broken.
When I received a pair of
Sennheiser HD 800 headphones
to try out, I knew right from the outset this would be a different kind of listening experience. How many other headphones come packaged in their own hinged presentation case, ensconced in crushed velvet (or velvet-like fabric)?
These are headphones designed for serious listening. These are hefty headphones, and the heavy cord ends in a gold-plated quarter-inch plug — no minijack adapter included.
When I put on the HD 800's I was surprised at how they felt on my head. Yes, these headphones were substantial, but the padding on the headband and earcups wrapped me in comfort. I didn't feel like there was any excessive weight, and that impression lasted through my hours-long listening sessions.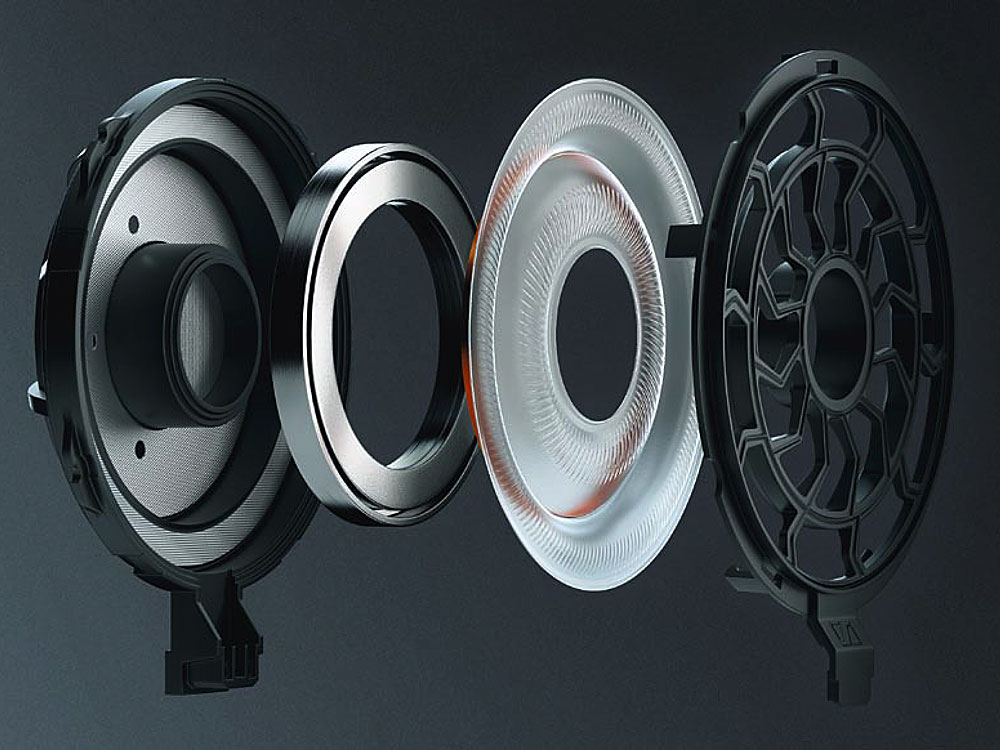 General listening impressions
According to Sennheiser, the reason for the large earcups is to accommodate a circular transducer that delivers cleaner, more accurate sound while minimizing unwanted vibrations. No question we're in audiophile territory here. You can see the transducer (second from left) in the exploded diagram. The second illustration (right below) shows how it spreads out the sound. And, based on what I heard, it's a pretty accurate representation.
What I actually experienced was the most detailed and spacious sound I had ever heard from my music. I started by cycling through a wide variety of genres, and deliberately picked tracks of both good and bad recording quality. As expected, mono tracks from 1960's teenage garage bands had all the surface noise and distorted sound of the original, but the HD 800's seemed to bring it out in higher relief, allowing me to hear more of the music buried amongst the noise.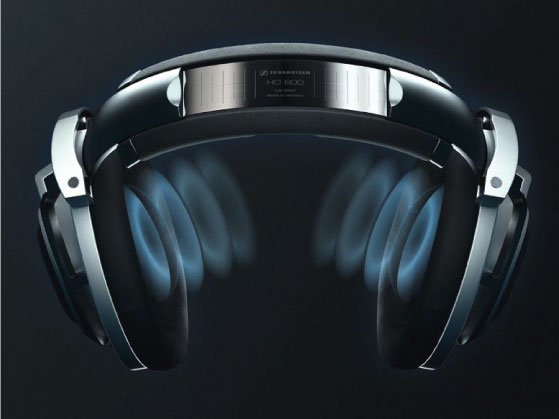 Professional recordings fared much better. I heard a wider soundstage than normal, but it was still a continuous sound from left to right (save for a few tracks that were deliberately mixed for separate and discreet channels). Listening is a subjective experience, but this is the only way I know how to describe what happened next. I listened to some current tracks from my Now 35 CD. I could hear the compression that most popular music is subjected to, but at the same time, I heard more deeply into the mix. The sound stage seemed like the equivalent of a letterbox image on a TV — full from side to side, but with black bars above and below. It was as if I could hear the space left by the missing high and low frequencies.
Going for the classical
With headphones this sensitive, I brought out my toughest test pieces, which are all classical compositions. Classical music recordings are seldom compressed at all — it's the extremes of the instruments' registers, and especially the blending of the overtones ringing in sympathy with the played notes that give the music its subtle shading.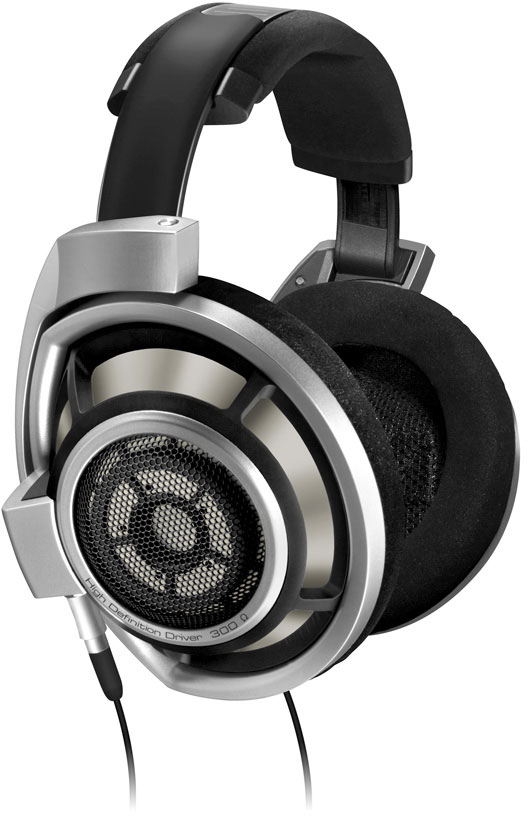 My favorite test piece is the opening part of Henryk Gorecki's Third Symphony, "Symphony of Sorrowful Songs," the Nonesuch recording with David Zinman, Dawn Upshaw, and the London Sinfonietta. The work starts out with the contrabasses and cellos playing in their bottom-most registers as softly as possible. Very slowly, they get louder, slowly moving up the scale and splitting off into contrapuntal lines. After a while, the violas join in (in their lowest register), then eventually the violins. Each section split into two or more sections playing different lines.
With an average set of headphones, I usually don't hear anything until about two to five seconds into the work (really low-end earbuds can take as long as eight-ten seconds before the music's audible). That's about the time this low indistinguishable rumbling that gradually sorts itself out into music when the cellos get to mid-register. Because the opening sounds murky on just about everything I've tried it on, I usually follow along with a copy of the score so I can determine more accurately at what point the system sorts itself out with this challenging sound.
For the first time through headphones, I actually heard the start of the work. The HD 800's accurately delivered the extremely soft low tones of the opening bass line, and I could even hear when the section split into two parts. I heard the entrances of the cellos, and when they branched off into different melodies, and it was wonderful and moving. That's what high-end audio's all about.
My second test piece was the opening to Ralph Vaughan William's First Symphony, the "Sea Symphony." It's the recent Telarc release with Robert Spano conducting the Atlanta Symphony Orchestra and Chorus in an immaculate recording.
The symphony starts with a clarion fanfare, and then a 40-voice chorus enters proclaiming, "Be-hold, the SEA!" On that last word the full 80-piece orchestra weighs in at full volume. After that final crashing chord on "Sea." the chorus fades back and a softer section of the music begins, simulating rippling waves.
Most headphones can't handle the full volume thrown at them, and I usually hear either some clipping or over-modulation. Some low-end systems take a moment to recover from the audio onslaught and the beginning of the soft section sometimes sounds blurred as a result.
To hear this work through the Sennheiser HD 800's was nothing less than a thrilling experience. I heard the full orchestra and chorus in all their glory, spread across a wide sound field, every section placed just as I could imagine them on stage. The sudden drop in volume level was no problem at all. I heard the woodwinds rise out of sound of the chorus' fading chord, everything in warm, natural detail. I also heard something I had never heard in any other audition — the collective intake of breath by the choir in preparation for their opening chord. It's often heard in live performance, and can provide a cue as to what's about to happen. To hear that in the recording just added to the authenticity of the sound and drew me further into the work.
I did a final classical test. This time is was an older Virgin Classics recording of Claude Debussy's "Dances Sacrée et Profane" for harp and string orchestra with Vanessa McKeand and the English Chamber Orchestra. It's an intimately recorded work, and I wanted to hear how the HD 800's handled it.
They did it beautifully, of course. With all of the overtones present, the harp sounded full and natural, as did the supporting instruments. I could also detect a soft thuck when the harpist changed pedals, and even a gentle swish with the conductor turned the pages of the score. Far from being off-putting, I found that level of detail in the sound exciting, as it's precisely what I would have heard in a live performance. It gave the recording real presence.
Into the studio
As I've mentioned in a previous post, I have a home studio where I produce a couple of podcasts. Although the Sennheiser HD 800's aren't technically studio headphones, I couldn't resist trying them out. This may be a case where the headphones worked too well. When I plugged them into the board, they immediately gave me everything the mike was picking up. And I mean everything. There's a lot of soft, ambient sound that's present, but never gets picked up once I start recording. I heard sounds that I hadn't heard even with studio-grade headphones.
I did some test voice track recordings (which is what I normally use the setup for) with the headphones. Once I started talking into the mike, the low-level ambient sounds got covered up, but I was hearing my voice in much more (unflattering) detail than I was used to! Every aspirate, every partial breath, every tongue clack was there with a little more presence then I was used to (even though I use a wind screen and don't talk directly into the mike just to address those very issues).
In playback, those sounds weren't there (thanks to the way I mix it), but still, I did find myself using the sound from the headphones to adjust my voice, delivery, and even position to the microphone. Listening to the end result played against previously-recorded voice tracks didn't yield that much difference, even heard over the HD 800's, although the test session did sound slightly cleaner.
So while the Sennheiser HD 800's are great headphones for personal listening, I'm thinking they're maybe a little too sensitive for studio work.
Final thoughts
Without a doubt, having the Sennheiser HD 800's to try out was the greatest listening experience I have ever had through headphones. Friends are often curious to know what I'm reviewing, and the HD 800's got a lot of comments — most of which were, "those headphones cost HOW MUCH?!" If it was short conversation, I explained that to someone serious about music who had made a substantial investment in their system, these were very reasonably priced for the performance they deliver.
If we had a little more time, though, I let them try on the headphones and played some music for them. Most had only one thing to say afterwords. A very quiet, and awe-struck word: "Oh."