Sony HT-X9000F
Powered sound bar with wireless subwoofer, Dolby Atmos®, and Bluetooth®
Item # 158HTX9KF | MFR # HTX9000F
In Stock
Buy now

Our North American experts can help.
Overview
Our take on the Sony HT-X9000F by Crutchfield's Emily S.
Affordable Atmos
I've experienced truly immersive Atmos sound in a theater setting, and it's pretty darn cool. The sound of a plane flying overhead almost had me looking up! But achieving that kind of three-dimensional sound at home takes time, money, and usually a bit of living-room real estate. Sony's new HT-X9000F sound bar is an easy, budget-friendly way to experience Atmos at home.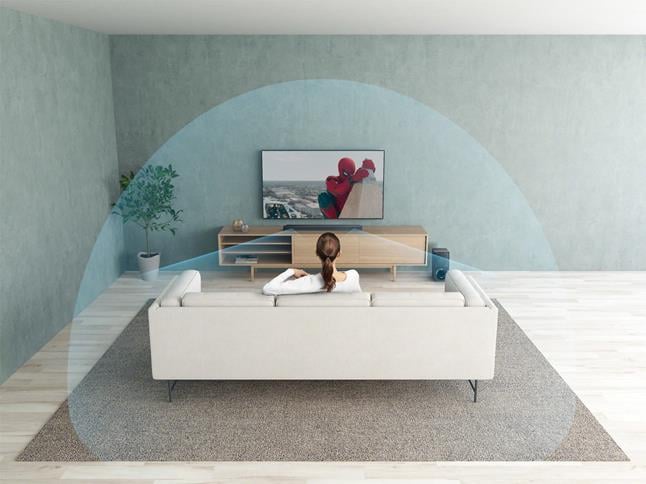 Sony's Vertical Surround Engine uses digital processing to simulate overhead effects.
How does it work?
Traditionally the overhead effects of Atmos and DTS:X have been achieved with upward-firing speakers (or in-ceiling speakers if you have that capability). But Sony unveils some new surround sound technology with the HT-X9000 — Vertical Surround Engine.
This proprietary digital processing simulates height effects using only the sound bar's two front-firing speakers. Since it doesn't need to reflect sound off the ceiling or the walls, you can experience enveloping sound in rooms of almost any size, shape, or ceiling height.
It fits right in
The HT-X9000F was designed to perfectly complement Sony's X900F TVs, with slightly tapered ends to nestle right inside the TV's base. But its streamlined style will look great underneath any TV, and it even includes keyhole slots for wall-mounting.
Cut the cords (or most of them, anyway)
The included subwoofer is wireless for flexible placement (though it still needs AC power, of course!). And if you want to keep it really clean, you can even use built-in Bluetooth® to wirelessly connect the sound bar to compatible TVs or stream music from compatible smartphones, tablets, and computers.
Product Highlights:
System:
2-channel sound bar and wireless subwoofer
creates virtual 7.1.2-channel sound with support for Dolby Atmos and DTS:X

Atmos and DTS:X decoding for heightened, three-dimensional soundstage
click "Vertical S." button on remote control to convert any audio signal into immersive surround

allows pass-through of 4K and HDR content

supports Dolby Vision™, HLG, and HDR10 formats

built-in Bluetooth for wireless music streaming from compatible smartphones, tablets, and computers
designed to complement Sony's X900F TVs
Sound Bar:
S-Master digital amplifier
built-in Dolby® decoding, including Dolby Atmos and TrueHD
supports DTS, DTS-HD, and DTS:X
Sony's S-Force® PRO/Vertical Surround technology offers an immersive listening experience
keyhole slots for wall-mounting
36-9/16"W x 2-5/16"H x 3-5/8"D
weight: 5.5 lbs.
Subwoofer:
connects wirelessly to sound bar for flexible placement options
AC power required, cord included
independent subwoofer volume control (via remote)
7-7/16"W x 15-1/16"H x 15-1/4"D
weight: 17.2 lbs.
Connections and General Info:
1 HDMI input, 1 HDMI output (one cable included)

HDCP 2.2 compatible for connecting to 4K video sources
HDMI connections support 4K/HDR video, Audio Return Channel, and HDMI-CEC
support for eARC with firmware update

optical digital audio input
USB port for connecting a thumb drive or external hard drive for music
3.5mm analog minijack aux input
total system power: 300 watts
remote control
warranty: 1 year
What's in the Box:
Active soundbar speaker (SA-X9000F)
Wireless powered subwoofer (SA-WX9000F)
Remote control (RMT-AH401U)
2 "AAA" batteries
5' HDMI cable
Operating Instructions
Quick Start Guide
Wall Mount Template
Warranty Sheet
Online Product Registration Sheet
Details
Product Research
Audio Section
Video Section
Convenience Features
Audio Section
Active Soundbar: The Sony HT-X9000F's soundbar speaker houses two full-range 1.625" x 4" cone drivers in an acoustic suspension (sealed) enclosure powered by a 35 watt x 2-channel S-Master digital amplifier for clear and dynamic sound. The soundbar speaker acts as your home theater system's front speakers, as well as utilizes two proprietary Sony technologies (S-Force Pro Front Surround & Vertical Surround Engine) to create virtual rear and height speakers for an immersive surround sound experience. The soundbar can simply be placed on a shelf or wall-mounted using its integrated rear-panel keyhole slots.
S-Force Pro Front Surround: Enjoy immersive, cinematic audio and virtual surround sound in your room with S-Force Pro Front Surround, a technology that reproduces a virtual surround acoustic field from only two front speakers. S-Force Pro Front Surround provides realistic surround sound from this two-piece home theater system. Unlike other "virtual surround" technologies, rear sound is generated from the soundbar speaker using sophisticated digital sound processing and does not need to be bounced off of side walls. No matter what the size or shape of the room or what is on the wall, it is possible to hear sounds from behind you without needing to place speakers behind you.
Vertical Surround Engine: Vertical Surround Engine, Sony's latest surround technology, lets you enjoy the thrill of Dolby Atmos and DTS:X without ceiling-facing or overhead speakers. No matter what type of room you're in, the soundbar's two front speakers reproduce "vertical" audio, creating virtual surround sound that seems to come from all around you. The HT-X9000F's advanced digital signal processing can even upconvert non Dolby Atmos and DTS:X content to an immersive surround sound effect.
Note: The main listening position should be between 8' to 12' from the soundbar speaker for optimum virtual surround sound performance.
Wireless Powered Sub: The included wireless powered subwoofer features a front-firing 6.375" woofer inside a bass reflex enclosure with a front-firing port that is powered by a built-in 100W amplifier for deep, dynamic bass response. You can even increase or decrease the wireless powered sub's volume level independent from the system's overall volume level. The powered subwoofer receives its LFE audio signal wirelessly from the soundbar via RF (5GHz) and has a range of approximately 32.8'. The wireless powered subwoofer does require an AC outlet connection.
Digital Surround Sound Formats: The Sony HT-X9000F system supports the following multichannel digital audio formats through its HDMI & optical digital inputs.
Digital Connector
Audio Signal Type
Audio Signal Format
HDMI
Bitstream
Dolby Digital: Dolby Digital, Dolby Digital Plus, Dolby TrueHD, Dolby Atmos
DTS: DTS, DTS-HD High Resolution Audio, DTS-HD Master Audio, DTS-ES, DTS 96/24, DTS:X
PCM
2ch / 5.1ch / 7.1ch
DSD
2ch / 5.1ch
Optical
Bitstream
Dolby Digital, DTS
PCM
2ch
Note: To obtain optimum surround sound, you are able to set the soundbar speaker and subwoofer distance (0-33') from your listening position and adjust the output level (-6 to 6dB) of the soundbar speaker and subwoofer independently from one another.
Sound Modes: Seven different Sound Modes enhance your entertainment experience - choose from Auto Sound (ClearAudio+), Cinema, Music, Game Studio, News, Sports, or Standard. The Cinema mode provides a more immersive sound for movies, while Music mode lets you hear the detail in every song. Game Studio mode was created by PlayStation developers for serious games, and Sports mode gives you a stadium like atmosphere. News mode provides clearer dialog, while Standard mode is suitable for any content. The Auto Sound mode utilizes Sony's ClearAudio+ technology to automatically optimize the sound setting.
Sound Effects: The HT-X9000F incorporates two Sound Effect modes - Voice & Night. With Voice mode, you'll be sure to hear every whisper and character nuance of the dialog compared to other sounds in the scene for a dynamic experience. Using Night mode, you can enjoy sound effects and hear the dialog clearly even at a low volume levels.
DSEE (Digital Sound Enhancement Engine): The Digital Sound Enhancement Engine (DSEE) enhances the sound quality of compressed audio files or CDs (2ch 44.1/48kHz) by restoring high frequency sound removed in the compression process. You can enjoy listening to sound that is more natural, spatial, and closer to the original recording (up to 96kHz/24-bit equivalent).
Advanced Auto Volume + Audio DRC: The Advanced Auto Volume function keeps the volume level constant across all programs and advertisements. This function is effective when the volume of a TV commercial is louder than that of the TV program. The Audio DRC function allows you to compress the dynamic range of Dolby Digital sound tracks.
ARC & eARC Compatible: Along with standard ARC (Audio Return Channel), the soundbar system will support eARC (Enhanced Audio Return Channel) through an available firmware update. ARC and eARC allow audio to be sent from your compatible TV to the soundbar system through the same HDMI cable already being used to send audio and video to your television. This eliminates the need for extra cables connected to your television. eARC will support uncompressed audio formats like Dolby TrueHD, Dolby Atmos, DTS:X, & DTS HD Master Audio - where standard ARC is limited to Dolby Digital, Dolby Digital Plus, DTS, DTS HD, and PCM.
Notes:

Your TV will also need to support eARC or ARC for this feature to work. Some newer TVs will support eARC, but most TVs only support ARC.
The ARC-enabled HDMI input on some TVs will only pass 2ch PCM from devices connected to the TV via HDMI or analog, we recommend that you connect your Blu-ray/DVD player, Satellite/Cable box, or Gaming console to the soundbar system directly; and then connect the system's ARC-enabled HDMI output to your TV's ARC-enabled HDMI input. This setup will give you with the best overall sound performance.
Digital + Analog Audio Inputs: The Sony HT-X9000F soundbar system features both analog (minijack) and digital (optical) audio inputs for connecting external audio sources, such as your DVD player and CD player, that do not offer HDMI connectivity. There is single minijack (3.5mm) analog audio input and one optical (toslink) digital audio input. The optical digital input supports Dolby Digital (up to 5.1ch), DTS (up to 5.1ch), and PCM (up to 2ch) audio signals.
Note: The digital optical output terminals of some flat-panel TVs only send an audio signal in 5.1ch when receiving Dolby Digital/DTS surround sound from the TV's built-in tuner, network connection, or connected USB device; and will output only 2ch stereo from sources connected to the TV via HDMI, or RCA (like your Blue-ray/DVD player or satellite/cable box).
USB Port: The soundbar speaker system is equipped with a rear-panel USB (type-A) port that allows you to enjoy music files stored on a USB mass storage class (MSC) device, such as a Sony WALKMAN or USB thumbdrive (formatted in FAT12/16/32). Compatible music files include MP3, WMA, AAC, AIFF, ALAC, FLAC, WAV, and DSD. You can use the system's on-screen menu (via HDMI) and remote control to navigate your stored music files with song/artist info (no album art) on your connected USB memory device. USB portable audio devices that can be charged via USB will be charged when plugged into the soundbar speaker system's USB port (5V/1A); even in standby mode. Compatible music files include -
Note: The USB port is not compatible with Apple iOS and Android OS devices. The USB port does not support the connection of USB hubs, card-readers, or computers.
Bluetooth Audio Streaming: The Sony soundbar speaker system features built-in Bluetooth 4.2 for wireless audio streaming (A2DP 1.2) and control (AVRCP 1.6). You'll be able to wirelessly stream stored music, music apps, and other audio content from your Bluetooth source device to the Sony soundbar system (supports SBC and AAC codecs). You'll also be able to control basic playback functions (Play/Pause, FF/RW, Skip) using the included remote control. Song/artist information (no album art) is displayed on the system's on-screen menu (via HDMI). You can pair up to nine devices, but only one device can be connected and used at a time. The system has a wireless Bluetooth range of approximately 98'.
Note: Due to the differences in Bluetooth technology, some Bluetooth enabled devices may be incompatible, function improperly, or may not support all features when used with the Sony system.
Video Section
HDMI 2.0a: The Sony HT-X9000F is equipped with one HDMI 2.0a input and one HDMI 2.0a output to connect your Ultra HD Blu-ray player or satellite/cable box and TV. The HDMI input and output support the latest HDMI 2.0a specifications - including 4K pass-through, HDCP 2.2, 4:4:4 color sub sampling, BT.2020 wide color space, & HDR (high dynamic range) video.
4K/60Hz Pass-Through: 4K/60Hz pass-through allows the HT-X9000F to receive ultra high-definition resolution video and pass the video signal to a 4K/60Hz compatible TV or display monitor. It will also pass a 480p, 720p, 1080i, and 1080p video signal.
HDCP 2.2: HDCP 2.2 is supported by the soundbar system's HDMI input and output. HDCP 2.2 is short for "High bandwidth Digital Content Protection" and is used for 4K video copyright protection for compatibility with Ultra HD Blu-ray players and 4K Satellite/Cable providers.
4:4:4 Color Sub sampling: The system's HDMI jacks support RGB, Cyber 4:4:4 color sub sampling for more vibrant and lifelike images, as well as Cyber 4:2:2 and Cyber 4:2:0 color sub sampling. With 4:4:4, luminance (brightness) and Chroma (color) are sampled at the same rate, resulting in an RGB color palette as big as the video sampling rate for a video image with more total colors, plus greater color accuracy and detail.
Wide Color Gamut (BT.2020): The BT.2020 color standard delivers a much wider color gamut and represents about 75% of the total visual color spectrum, while the current Rec. 709 color standard selected as the color space for HDTVs and early generation 4K Ultra HDTVs covers only 35% of the total visual color spectrum.
HDR (High Dynamic Range): HDR (High Dynamic Range) reproduces a greater dynamic range of luminosity or brightness levels, bringing greater contrast & wider color spectrum to the screen. This increased contrast reveals the subtle nuances of the image, from detailed blacks and shadows to the brightest whites and colors, plus greater depth. Previously hidden areas of dark shadow and sunlight are now full of clarity and detail.
HDR 10: HDR 10 is an open standard and currently the most popular HDR format on the market. It supports 10-bit color and 1,000 nits. It uses static metadata at the start of a movie to tell the soundbar system and your TV that the video content is encoded using HDR.
HLG (Hybrid-Log Gamma): HLG (Hybrid-Log Gamma) is primarily designed for live video feed and over-the-air broadcasts. It uses no pre-encoded metadata and is backwards compatible with SIR. HLG's native compatibility allows much of today's existing SIR infrastructure to be re-used for HDR in the future.
Dolby Vision: Unlike HDR 10 which contains static metadata and HLG which uses not metadata, Dolby Vision adjusts brightness, color, and contrast automatically for each scene. Dynamic metadata carries information that maps every image to your TV's display capabilities, so you see more of what the content creator intended.
Note: Note: Use a premium high-speed 18Gbps HDMI cable for the best 4K/HDR performance.
Triluminos Color: The Sony soundbar speaker system utilizes Sony's Triluminos Color technology to create a heightened sense of depth and incredibly true, natural shades of colors. Hard-to-reproduce reds, aqua blues and emerald greens are displayed beautifully, so landscapes and seascapes look more vivid. Faces look better too, with natural skin tones.
3D-Ready: The HT-X900F is compatible with 3D-ready Blu-ray disc movies, video games and other 3D content through its HDMI connection (720p/1080i/1080p only). 3D viewing requires 3D-ready source with 3D content, 3D-ready HDTV, 3D glasses, and high-speed HDMI cable. Other 3D accessories may also be required.
AV Sync: The audio output can be delayed so that the time gap between the audio output and the visual display is minimized. This is especially helpful when you are using a large TV or a projection screen. When activated, the delay can be adjusted from 0-300 ms (in 24 ms increments) or set to Auto.
Standby Pass-Through: You can conveniently access the HT-X9000F's HDMI input and HDMI output through your TV without having to power on the system.
Convenience Features
IR Remote w/ Pass-Through: The HT-X9000F comes supplied with a full-function IR remote control for wireless operation of the system. With many other soundbar systems, placing the soundbar speaker on your TV stand can be problematic and block the TV's remote control sensor, forcing you to stand up and angle your remote to control your TV. The HT-X9000F's soundbar speaker features an IR repeater pass-through which allows your TV remote control commands to pass-through the front of the soundbar to the TV behind it, eliminating this problem.
HDMI Control: HDMI Control allows you to easily manage and operate an HDMI Control compatible television and other audio/video components with a single remote, when all components are connected via HDMI. By connecting HDMI-CEC components operation is simplified in the following ways -
One-Touch-Play: When you playback a component such as a Blu-ray Disc Player, the soundbar speaker system and the TV are turned on automatically and switch to the appropriate HDMI input.
System Audio Control: While watching TV, you can select to output the sound from the TV speaker or the soundbar speaker system.
System Power Off: When you turn off the TV, the soundbar system and connected components are also turned off simultaneously.
On-Screen Display: The Sony HT-X9000F provides an on-screen display through its HDMI output for setup, operation, and song/artist info with album art. There is no front-panel display.
Auto Standby: The soundbar speaker system entering standby mode automatically when you do no operate the system for approximately 20 minutes and the system is not receiving an input signal.
Our Product Research Team
At Crutchfield, you'll get detailed, accurate information that's hard to find elsewhere. That's because we have our own in-house Product Research team. They verify what's in the box, check the owner's manual, and record dimensions, features and specs. We stay on top of new products and technologies to help people make informed choices.