Tracy Johnson's 2003 Ford Focus
Kenwood SIRIUS Satellite Radio installation
Items installed:
Why did you decide to put satellite radio in your car?
I was tired of the local stations and commercials. Additionally, I have a 45-minute commute and the appeal of different station choices (news, entertainment, sports, etc.) was too good to pass up.
Why did you choose these products?
Ease of converting to a direct connect with a Kenwood radio if I wanted to.
What was the most difficult part of the installation?
I paid for the installation, but there was a leak in my trunk (where the modulator/tuner box is installed behind a side panel) that was a pain to get repaired.
What plans, if any, do you have for future upgrades?
New speakers and a subwoofer.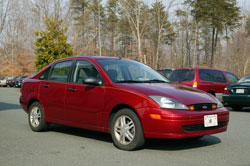 2003 Ford Focus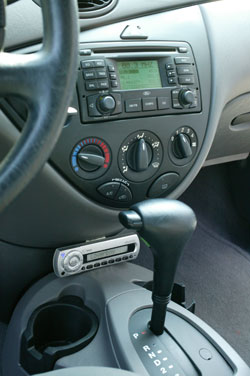 The Kenwood KCA-R71FM controller is mounted to the center console.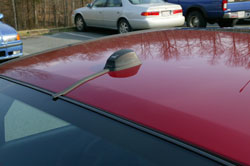 Roof-mount antenna.