Doug Smyther's 2002 Toyota Sequoia
FM-modulated XM Satellite Radio system
Items installed:
PIONEER GEX-FM903XM FM-MODULATED XM DIGITAL SATELLITE TUNER
Why did you decide to put satellite radio in your car?
Satellite radio gave me listening opportunities we didn't have in our area. It's also great for cross-country trips.
Why did you choose these products?
One of the first available satellite radio products.
What was the most difficult part of the installation?
Running the wires from behind the dash to the rear.
What plans, if any, do you have for future upgrades?
None.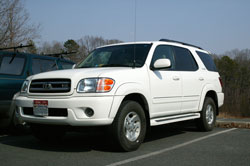 2002 Toyota Sequoia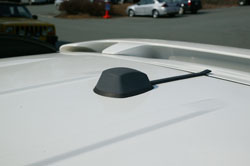 The XM antenna is mounted on the roof of the Sequoia. The wires are tucked under the weather stripping around the rear hatch.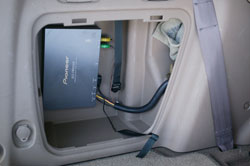 The Pioneer tuner box is mounted behind a panel in the rear.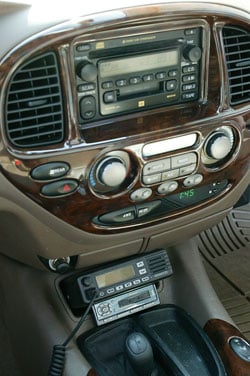 The wired control/display is mounted below the CB on the center console.