Items installed:
Under the Hood

MagnaFlow Custom dual exhaust
Jim Wolf Technologies Pop Charger air filter
Strobe lights, neon tubes, and Hott Wirez
Chrome Loomz on all wires & hoses

Exterior

Limited 20" 701 wheels with Goodyear tires
Strobe lights in wheel wells
Sir Michaels Tail Gate Relocator kit, roll pan, tailgate skin
A.R.E. flush-mount hard Tonneau cover
TRENZ upper and lower billet grills
Lightning rod neon, strobe lights in each billet grill
Front calipers painted red
Rear drums painted silver
Vent visors, rear sun shade
Tinted windows
Silver Strip on windshield Streetglow in Red
Inside Tonneau cover: speckle painted in gray, white, and black
Hott Wirez, neon, strobe lights in bed
Lighted picture of New York City skyline on inside of Tonneau cover
2 Red StreetGlow undercar kits
Hyperwhite headlight & fog lights

Interior

Custom-made switch control panel in center console
Charcoal leather with red stitching
Red Hott Wirez in all doors
Leather Hott Wirez 4wd Shift Knob with red neon trim
Red Luminescent Sport Pedals
"Super Charged" embroidered on floor mats and seats
Red neon under dash and under back seats
Hyperwhite reading and dome lights

Audio/Multimedia System

Kenwood KVT-910 in-dash DVD receiver
Kenwood KGC-9044 equalizer
Four 12" MTX Thunder8000 subwoofers (in the bed)
Four 6" X 9" MTX Tri-Axial speakers (in the cab and the bed)
Two MTX 8" MTX Thunder6000 subs (in the cab)
Two MTX Thunder8302 amplifiers
Two MTX Thunder4202 amplifiers
Two MTX Thunder81000D amplifiers
Streetwires capacitors, wires, and connectors
Sony PlayStation 2
Frank Mauro, out of Wayne, New Jersey, doesn't own your typical Nissan Frontier Pickup. He's painstakingly made major modifications to it, all in the name of putting on a thrilling show.
Under the hood, Frank has complemented his custom air filter and dual exhaust with StreetGlow Hott Wirez neon tubing, strobe lights, and Chrome Loomz wire wraps.
Frank gives you plenty to look at on the outside, too. He's got upper and lower billet grilles, complete with neon and strobe lights. Red neon undercar kits spread their glow beneath the truck. His 20-inch 701 rims add just the right amount of attitude to the truck, and he even has strobe lights tucked into the wheel wells!
Lift up the hard Tonneau cover, and you'll find more surprises in the bed of the truck. He's got the rear cover supports tricked out with Hott Wirez, and more neon and strobe lights line the bed. Frank also sports a lighted image of the New York City skyline on the inside of the Tonneau cover. Outrageously cool.
The interior of Frank's Frontier is something to marvel at, too. In his dash, he's installed a Kenwood KVT-910 DVD receiver (Frank treated us to the beginning of
Goodfellas
when we met him at Hot Import Nights in Atlantic City), which is connected to a Kenwood KGC-9044 equalizer, so he has plenty of tone control. And Frank knows that no entertainment package would be complete without a gaming system: that's why he's got a Sony PlayStation hooked up to the KVT-910 as well. Red Hott Wirez line the door, and he's got a black leather StreetGlow shift knob with red neon trim, plus a set of red-and-chrome StreetGlow luminescent pedals.
Thanks to his sponsors at MTX and StreetWires, his audio system sounds great! Between the bed and the cab, in custom enclosures, he's got a system that features four 12-inch subs, two 8-inch subs, two sets of 6" x 9" speakers, and two sets of component systems. Six MTX amplifiers send a tremendous amount of power to all these speakers, and he has it all wired with StreetWires accessories (such as capacitors, wires, and connectors).
Frank's incredibly enthusiastic about the Tuner scene. He's been into car audio since he was thirteen, and it was an easy leap for him into the custom-truck arena. Because of his extensive background, he's able to do the majority of the installation work himself. His truck's been featured in numerous advertisements and newspaper articles (including
The New York Times
), and he makes it a point to attend as many shows, mostly on the East Coast, as possible. If you happen to catch him at a show, ask him to show you the mini RC replica of his Frontier!
Thanks, Frank, for the quick peek at your pride and joy!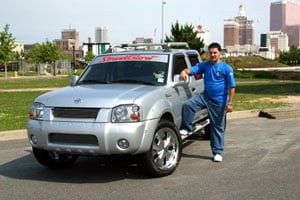 Frank Mauro with his "Sick Silver" Nissan Frontier in front of the Atlantic City skyline.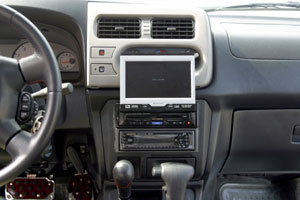 The Kenwood KVT-910 DVD receiver keeps him entertained with movies, music, and PlayStation games.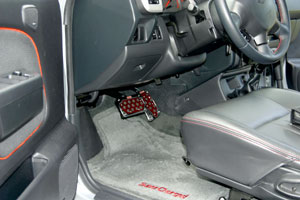 Luminescent red-and-chrome StreetGlow pedals look awesome next to his "Super Charged" embroidered floor mats.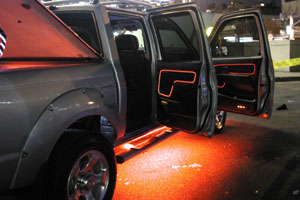 Nissan Frontier, or something from another planet? StreetGlow Hott Wirez trim the door and bed, while the undercar neon kits glow away.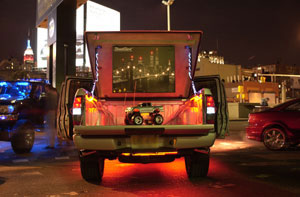 When Frank pops the Tonneau cover, he can show off his lighted picture of the beautiful nighttime New York City skyline. Look closely, and you'll also see his "Mini-Me" replica radio-controlled Frontier.