Rockford Fosgate's Nissan Xterra
Items installed:
Rockford Fosgate RFX-9210 CD/MP3 in-dash receiver
3 sets of Rockford Fosgate 6-3/4" FNQ-3614 2-way Fanatic Q component speakers — front doors, rear doors, and rear fill
2 Rockford Fosgate 18" RFD-2218 HX2 dual 2-ohm voice coil woofers
Rockford Fosgate Type RF X4 4-channel amplifier (25 watts RMS x 4)
Rockford Fosgate Type RF X7 mono subwoofer amplifier (625 watts RMS x 1 at 4 ohms)
Rosen 7" video monitor
Rosen DVD player
Connecting Punch wiring, accessories, and sound damping material
6 Rockford Fosgate Connecting Punch Extreme Duty Deep Cycle batteries
2 Cascade Audio 90-ampere power supplies
Winner of a prestigious Best of Show award at the 2002 Consumer Electronics Show, Rockford Fosgate's 2002 Nissan Xterra demo car is the latest expression of their vision to create the most imaginative and spectacular factory show cars on the circuit today. The high-tech, off-road concept of the Xterra's design combines perfectly with Rockford's aggressive, all-out car audio philosophy, making this one off-road vehicle that really pumps and jumps.
The installation was designed and fabricated by Bryan Schmitt, Senior Designer at the Rockford Technical Training Institute, and Jason Digos, also of RTTI. Between the two of them, they logged a total of 4,000 hours on the installation — 500 hours alone were spent designing the system on Auto CAD.
Their vision led them to a complete rethinking of the Xterra's interior, including rebuilding the doors, dash, and roof console. In the process, they used 250 pounds of machined aluminum, 200 feet of fiberglass matte, 20 sheets of medium density fiberboard (4'x8'), 10 (4'x8') sheets of ABS plastic, 75 gallons of fiberglass resin, 156 machined-aluminum parts, and 38 laser-cut parts. Over 700 square feet of Connecting Punch "Dead Skin" sound-damping material was applied to every metallic surface in the vehicle — in a double layer!
Take a look inside and you'll find yourself staring down the ports of twin 18" HX2 subs mounted in a giant aluminum and fiberglass enclosure that looks like a double-barreled rocket thruster. Each dual voice coil sub receives well over 650 watts RMS of power, creating a backwash of standing bass waves big enough to ward off the most determined tailgater. Another cool touch — custom-fabricated aluminum scooters fold-down and lock onto the top of each "bass thruster."
Once they had the sonic foundation secured with the massive ported sub enclosures, Brian and Jason set to rebuilding the front and rear doors with tubular aluminum handles, silver-rimmed woofer mounts, and backlit aluminum pipes loaded with neon tubes — the perfect setting to show off the Fanatic Q component speaker systems.
Each door houses FNQ-3614 components — a 6-3/4" aluminum cone woofer, a 1" aluminum dome tweeter, and an external crossover. A third FNQ-3614 component system sits in the factory speaker locations in the rear quarter panels for back fill. The 12 component speakers provide plenty of reference-quality midrange and high frequency reproduction to complement the subs' monster bass output.
Two Rockford Fosgate Type RF amplifiers kick out the power for the system from their housing in a molded fiberglass tunnel that rises off the floor between the subs. The four-channel Type RF X4 amplifier (25 watts x 4 RMS at 4 ohms) runs all the component systems — the front channels power the front door speakers, while the rear channels drive both sets of rear components (rear doors and rear quarter panels).
The X4 features the most sophisticated sound-shaping controls Rockford Fosgate has ever incorporated into an amplifier. All-pass/low-pass/ high-pass crossover functionality may be set digitally anywhere from 30-40,000 Hz with a selectable slope of 12 or 24 dB. DSP-controlled Punch Bass and Treble, a switchable subsonic filter, DSP signal delay, and linear phase crossovers are also included.
A mammoth Type RF X7 mono sub amp tackles the job of keeping the twin 18" HX2s happy. The dual 2-ohm voice coil subs are wired in series/parallel to present a 2-ohm load to the X7, to which it responds with 1,350 watts RMS of power. The amp's features include a fixed 24 dB subsonic filter to trim the notes below audible range, a remote bass Punch, and a variable 40-250 Hz low-pass crossover (with a vicious 24 dB slope) to keep the big boys focused on crushing out the lowest notes.
Two consoles converge in the center dash area of the truck, where the A/V control units are stationed. One console runs from the rear amp location, forward between the subs and the front seats, terminating at the shifter. The overhead console holds a 7" Rosen overhead monitor that drops down for viewing DVDs from the Rosen DVD player that is mounted under the passenger seat. Smack in the center of the modified dash sits the RFX-9210 MP3/CD receiver, the A/V brains behind all the SPL brawn.
To keep all this power-hungry hardware up and running (especially at shows where the motor is turned off), Jason fortified the Xterra's power supply with 6 Connecting Punch Extreme Duty batteries and a pair of Cascade Audio 90-amp power supplies. To keep these bulky power backups out of the vehicle's already crowded interior, he cut a hole through the floor just above the spare tire underneath the car. He welded a steel cage covered in a watertight aluminum skin to the vehicle body — the cage protects the 6 batteries, while another box holds the power supplies. A fuse panel is hidden behind an easily accessible trim panel in the rear.
Slashes of Rockford Fosgate red, black, and silver paint rip across the Xterra's exterior — there's no chance of mistaking this for anyone else's show car. Of course, you'll probably hear this car long before you see it — like every Rockford Fosgate product, this Xterra totally thrashes!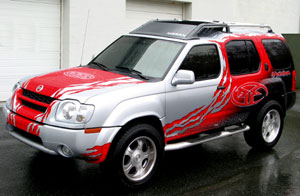 Straight out of the X-Files: Rockford Fosgate's otherworldly 2002 Nissan Xterra.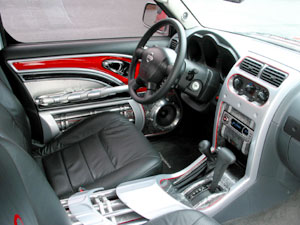 Rockford Fosgate's RFX-9210 CD/MP3 in-dash receiver rocks out in the totally-rebuilt cockpit.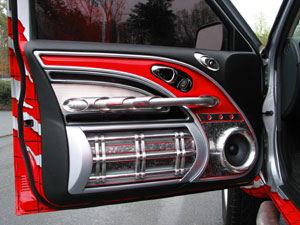 The FNQ-3614 Fanatic Q component speakers are integrated seamlessly into the machined aluminum and fiberglass moldings of the Xterra's door panel.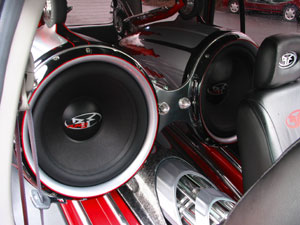 Two Rockford Fosgate RFD-2218 HX2 dual voice coil 18" woofers, mounted in twin ported enclosures and powered by 1,350 watts, threaten the driver and passenger with extinction.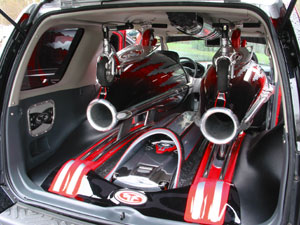 The Rockford Fosgate Type RF amps are mounted in the tunnel between the two ported enclosures. And check out the aluminum scooter mounted on top of each bass "thruster" — too cool!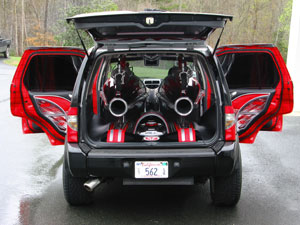 Show car or 23rd century combat vehicle? With tailgate raised and doors open, the Rockford Fosgate Xterra amazes onlookers at stores and shows across the USA.