Best action cameras for 2020
Our top picks, plus some shopping tips
Heads up!
Welcome to this article from the Crutchfield archives. Have fun reading it, but be aware that the information may be outdated and links may be broken.
ll action cameras are not created equal. They're all designed to take spectacular outdoor adventure videos and photos, but there are some differences you'll want to consider. Some are more rugged than others. Different models offer different mounting options. There are also key differences with regard to remote controls, companion apps, and shooting modes. Here are our best picks:
No. 1 overall — GoPro HERO8
GoPro® makes super-fun, user-friendly cameras with crisp imaging and smooth stabilization. The HERO8 is their best yet.
The standout feature of the HERO8 is the new HyperSmooth 2.0® setting. It helps you shoot amazingly steady video when you're running, mountain biking, snowboarding, or speed-boating.
Even in a more laid-back setting, the butter-smooth stabilization stands out. I took some footage just walking through the woods and holding the camera in front of me. The resulting video looked anything but handheld.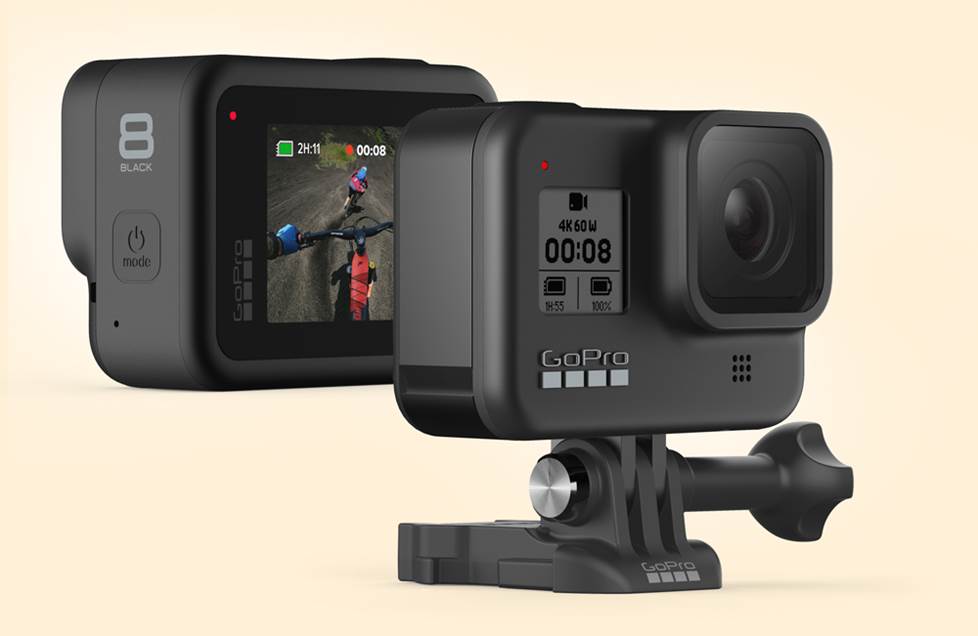 Back and front views of our top pick, the GoPro Hero 8.
I was amazed at the image quality GoPro was able to crank out. The colors really pop, even in seemingly monotone winter settings. You don't need to know a whole lot about cameras to get breathtaking results from the HERO8 Black. Just mount it, hit record, and do your thing.
The camera has multiple digital lenses: narrow, linear, wide, and SuperView. I spent most of my time in linear since it avoids the fish-eye curving that the wide-angle lens tends to have. SuperView produced the kind of beautiful, sweeping shots you would find in a Sergio Leone film.
Bottom line: GoPro HERO8 has the best image quality and features of any action camera on the market today.
Details
12-megapixel action camera shoots 4K Ultra HD video at 60 fps
8X slow-motion (in 240 fps HD mode)
HyperSmooth 2.0 image stabilization keeps photos sharp and video jitter-free
TimeWarp 2.0® video records time-lapse footage at up to 30x speed
waterproof to 33 feet without external housing
---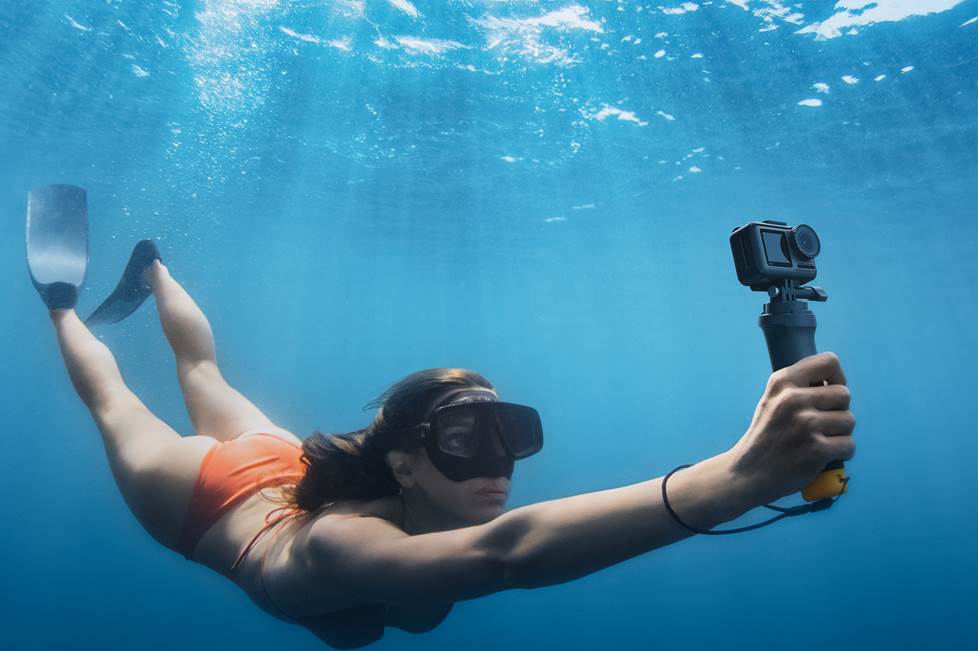 The DJI Osmo Action is waterproof down to 36 feet without an external housing.
Bigger screens! — DJI Osmo Action
The first thing I noticed about the DJI Osmo Action is the screen size. Both the front and the back screens are considerably larger than GoPro screens.
The front screen acts as an actual video display, so you can see yourself while taking a selfie or vlogging. With the extra screen size in the back, it's easy to navigate menus and review footage without straining your vision.
Another success of the DJI Osmo Action design is the Quick Switch button. This lets you switch between selected presets like 4K video, time-lapse, and burst photo mode without going back into the menu. This is crucial when you are otherwise engaged and don't have the coordination or time to work your way through the menus.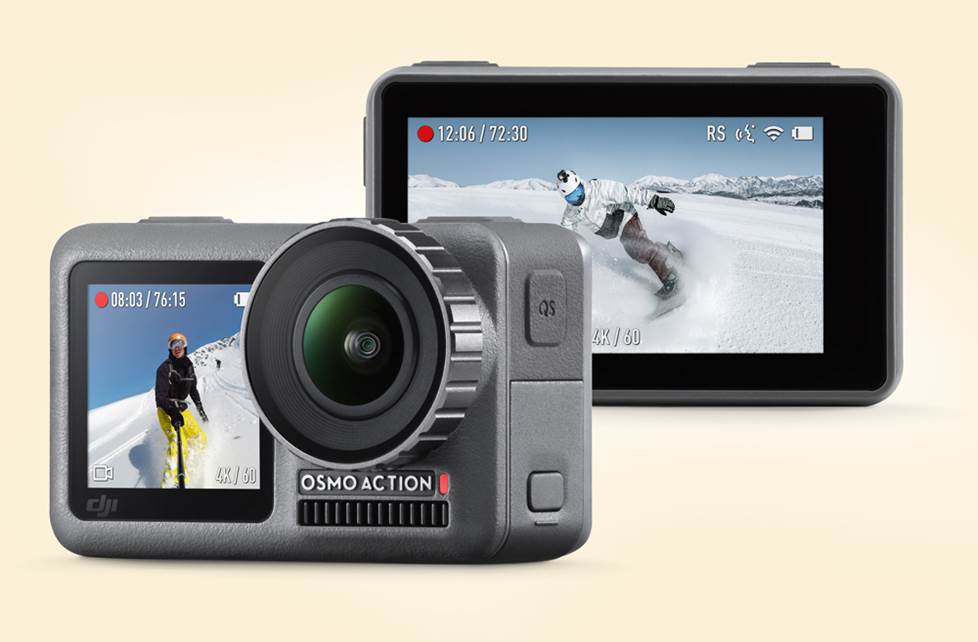 Big screens make the DJI Osmo Action a joy to use.
I was thrilled by the wide lens of the DJI Osmo Action Camera. Most action cameras tend to have a fisheye-style wide-angle lens. Images get a little curved at the edges. The Osmo Action has a flat, cinematic look.
The HDR (high-dynamic range) shooting mode locks in rich details for high-contrast shots. HDR isn't great for all situations, but can really help with sunrises and sunsets, other types of landscape shots, extreme closeups, backlit scenes, and a few other things.
The DJI Osmo Action gives an abundance of shooting modes to play around with. If you are looking to do vlogging but still want dynamite action shots, it's the camera for you.
Details
12-megapixel action camera shoots 4K Ultra HD video @ 60 fps
4K High Dynamic Range (HDR) video @ 30 fps
8X slow-motion (in 240 fps HD mode)
RockSteady® electronic image stabilization
What our customers say...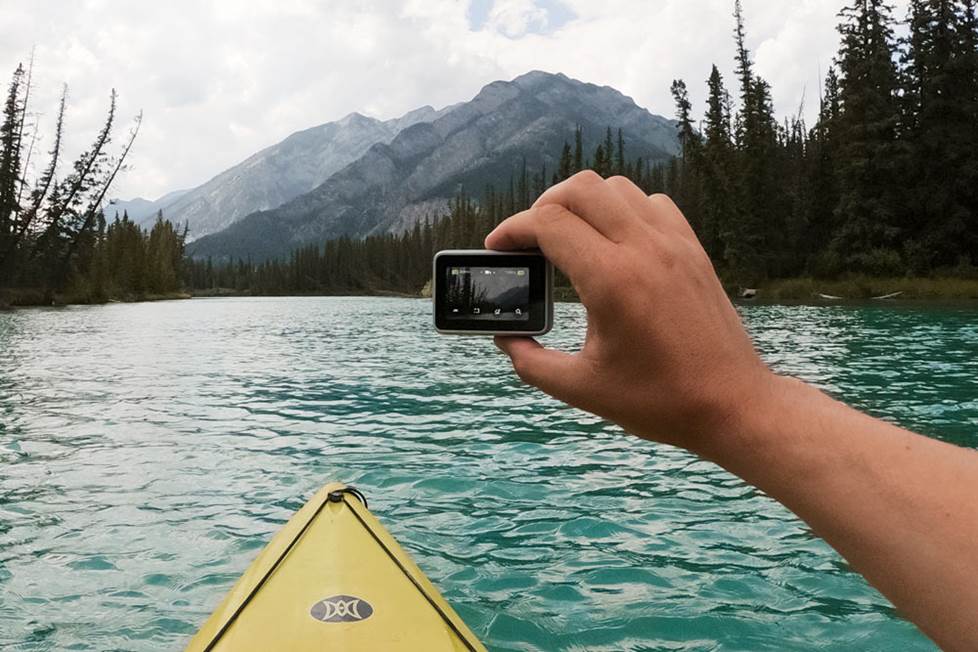 The GoPro Hero 7 is a great choice for a beginner.
Best value — GoPro HERO7 Silver
The GoPro HERO7 Silver is perfect if you are getting your first action camera. Or if you just want something that is super-easy to use.
In its price range, it has the best image quality. It obviously benefits from the material quality and integrity of the GoPro brand.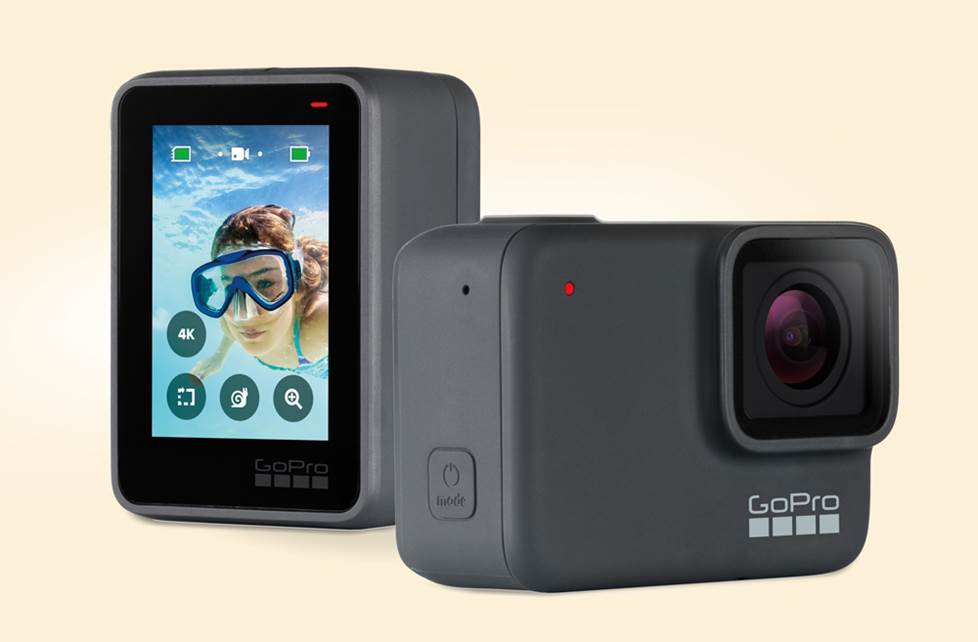 Simple, easy to use, and very affordable. That's the GoPro Hero 7.
You can get brilliant 4K footage, with solid image stabilization and vivid colors. The detail is exceptional as well. While following my dog Baxter, it was able to pick up all the intricacies of his wild fur patterns. It also brought out the subtle tone changes in his fur. It provides stellar color accuracy, something I was not expecting considering the low price.
To see the results you can get with a Hero 7, watch this GoPro video:
Bottom line: the Hero 7 is a waterproof and dependable barebones camera with simple operation. It doesn't have all the bells and whistles of the Hero 8. But everything it does, it does really well.
Details
10-megapixel action camera shoots 4K video @ 30 fps
2X slow motion
time-lapse video at half-second intervals
video stabilization reduces camera shake
waterproof to 33 feet without external housing
What our customers say
What to look for in action cameras
Here are the main things you need to look for when choosing an action camera:
Resolution
Resolution refers to the amount of horizontal and vertical pixels a screen has. The most common options are HD (1920 x 1080 pixels) and Ultra HD 4K (3840 x 2160).
4K is incredibly sharp and clear, and it's great if you want to display your work on a 4K TV. But 4K videos take up a lot of memory. And keep in mind that those huge files take a lot longer to upload, download, and share.
HD is not as sharp, but still a high-quality picture. And the files are more manageable. It's plenty sharp enough for Facebook videos or other small-screen applications..
Shooting modes
Check the details when choosing a camera, and make sure it will give you the creative control you want. Look for things like Slow Motion, HDR Video, Burst, Timed, and Timelapse.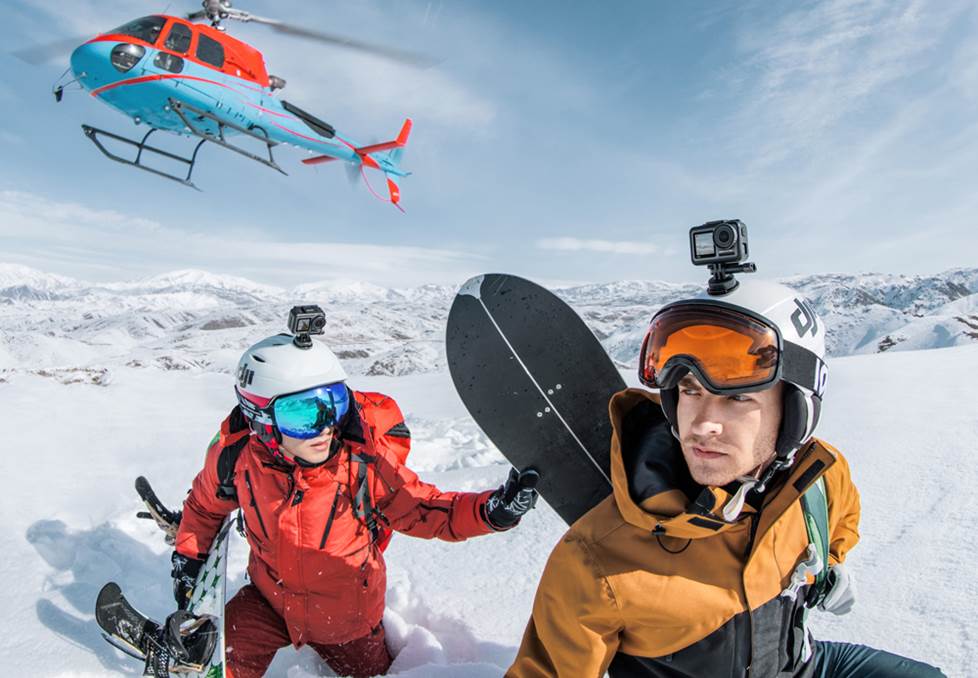 Check the specs to what sorts of extreme conditions an action cam can withstand.
Durability and waterproofing
All action video cameras are rugged, but there are varying degrees of toughness. Know what you expect to put your camera through before making a decision.
Each product is labeled with specific information on what it can tolerate. You are going to want to see how deep underwater it can be submerged. How far you can drop it and expect it to still work. And how hot or cold it can get.
You'll often see weatherproof rating numbers like IPX6 or IPX7. Read my article about IP weatherproof ratings to understand what those numbers mean.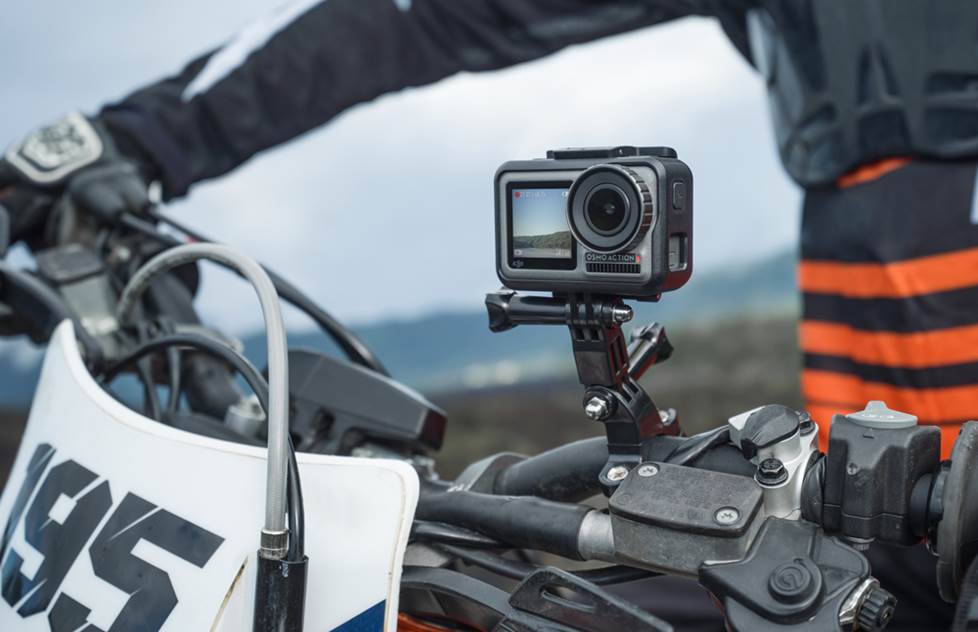 Take a look at the mounting options before you buy an action camera.
Mounting options
Action video cameras can be mounted to handlebars, helmets, surfboards, selfie-sticks, or almost anything you can think of. It's all part of the creativity of using action cams.
It's good to find out what kind of mounting system options are available before making a decision. Also check out which mounts will come with each camera, as one or two are usually included in the box.
You will likely see methods that use straps, clamps, or adhesives to keep the mount in place. In addition, you'll want to know if the mount is fixed in one position, or if it can be tilted and pivoted when necessary.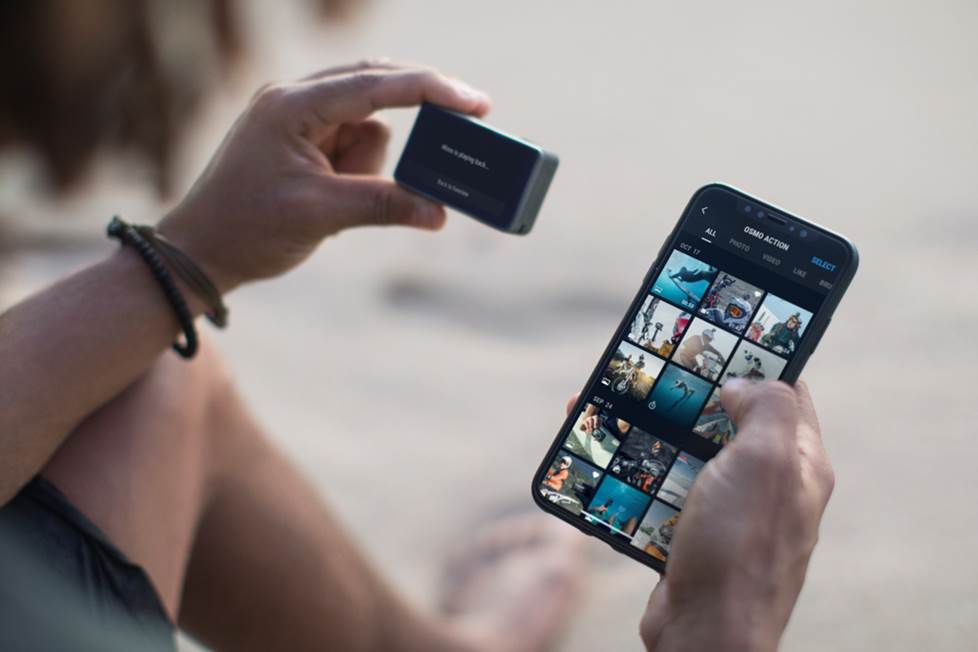 Use your phone to collect, store, and share images and videos from your action camera.
Easy-to-use apps
Action camera manufacturers work hard to produce do-it-all apps for mobile devices. They include ways to edit and share your creations. Some let you control camera functions via Wi-Fi.
You may also see features that let you play videos back in slow motion, add special effects, or layer the video with speed and altitude data.
Here are some links to more information about apps: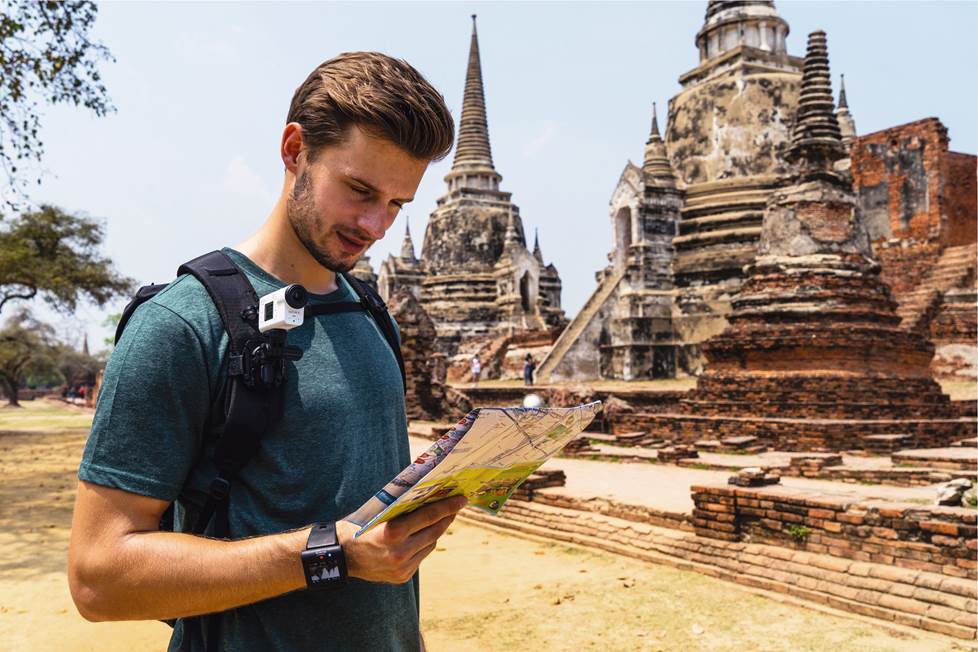 A GPS-enabled camera can automatically tag videos with geographical details.
GPS
If you're surfing off Maui, running the Boston Marathon, or biking Moab, you want to be able to flaunt it. Apps like Quick for GoPro can add telemetry data like mph, direction, distance traveled, etc., and overlay it on your video.
This information is extra useful if you are using an action camera as a dash-cam for your car.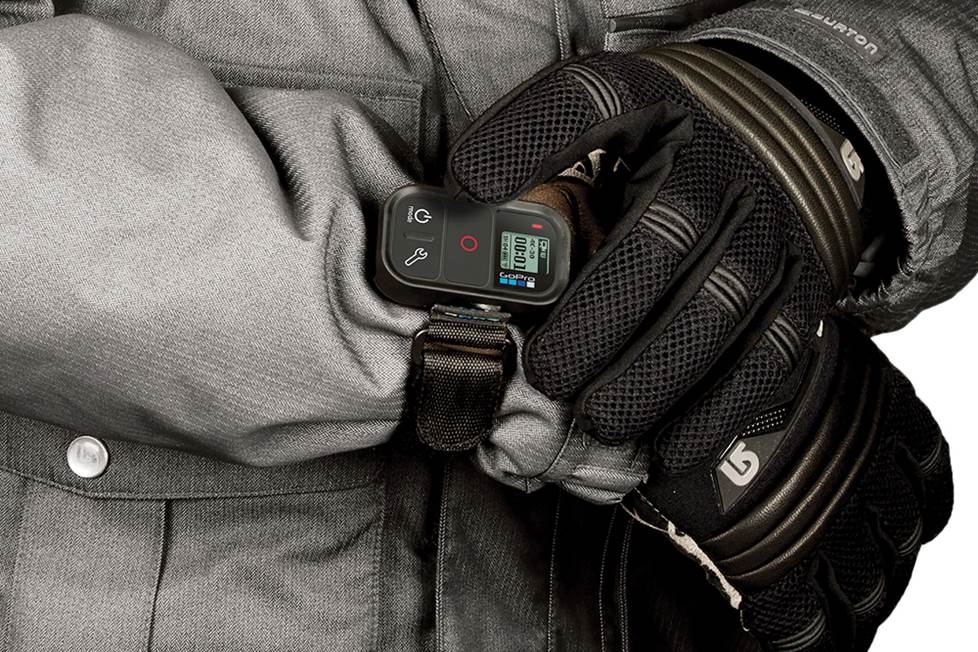 If your action cam is mounted to your helmet, a remote control is a must-have accessory.
Remote control
Most activities filmed with action cams require the use of hands to steer, swim, climb, or balance. Cameras often offer some sort of wireless remote control that can be mounted on a wristband, helmet, handlebars, or chest mount.
These wireless functions won't work underwater, but the devices themselves are usually splash-proof, so you can take them boating or surfing.
Some cameras also have voice control, which is a game-changer for handling functions during action sports.
Battery life
If you're using an action camera, you might not be near a power outlet for some time. Check to see how long a camera can go on a full battery.
Extra batteries are an essential accessory for any camera. Nothing is worse than being in the middle of getting the perfect shot and running out of power.
Along those lines, you don't want to run out of memory. You can always delete a few videos, but do you want to do that with freezing hands in the middle of the slopes?
Memory is cheap these days, take advantage by getting a couple of big cards in the SD format your camera uses.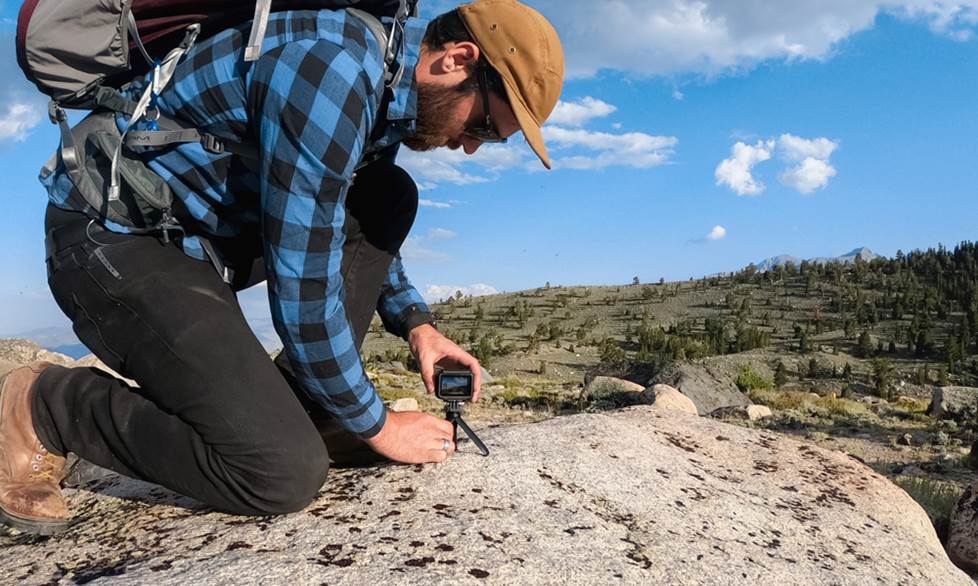 Want to be in the picture? Carry a compact, lightweight tripod.
Accessorize for versatility
In addition to the special mounting systems, a wide range of accessories are available for action cams.
Since these items tend to be made specifically to fit individual models, your best bet is to check the accessories link for the cameras you're considering. There may be something there you've never seen before.
Recommended accessories for GoPro HERO cameras:
Recommended accessories for DJI Osmo Action:
Questions?
Our advisors know the gear inside and out. They can recommend an action camera for you based on your specific needs.
Contact us today.
Free lifetime tech support with every purchase.