A hands-on review of Meural Canvas
This digital frame makes fine art accessible and fun
Working for Crutchfield gets me access to all sorts of cool gear. But I've never been more stoked about trying out a new product than I was when I got my hands on a Meural Canvas. It's a smart art frame with a 27" lifelike digital display, and it has seriously changed the way I experience art.
Getting content on your Canvas
Setup is fairly straightforward. You connect the Canvas to your Wi-Fi using the Meural mobile app. After that, you can control the Canvas using the app, a web browser, or gesture controls.
I use a combination of all three, and occasionally my voice, too. Gesture controls are ideal for reading a work's "art card." I like to use the app on my iPhone for uploading art or switching to a different playlist. If I'm really digging into settings or scrolling through my Meural feed, I prefer the larger scale view offered by the web interface on my laptop.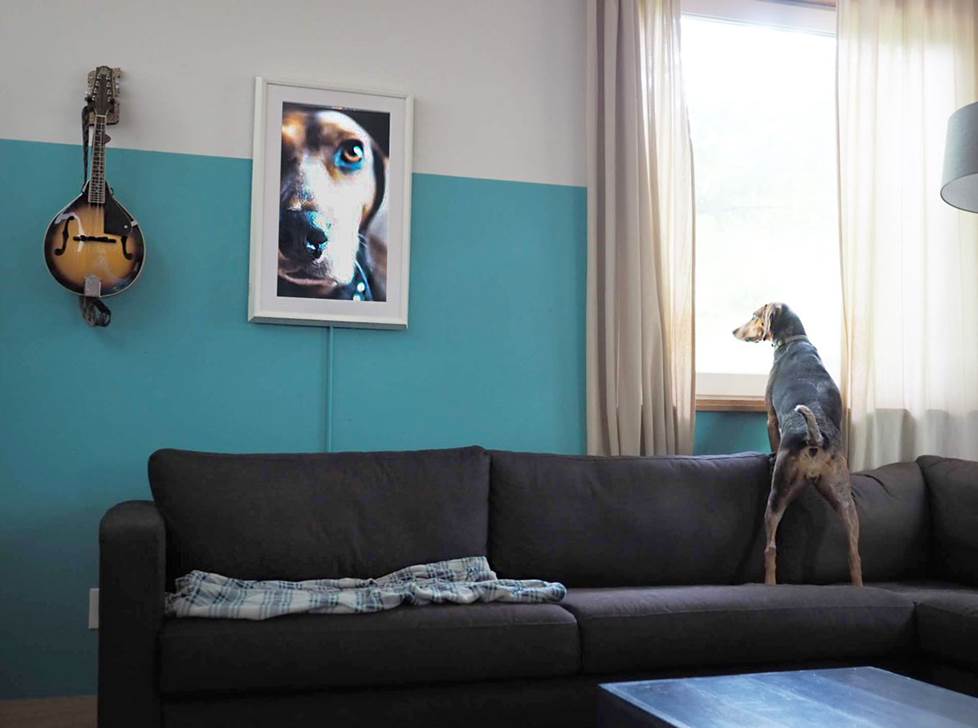 When uploading your own photos, it's super easy to change where and how you want them cropped.
What you get for free
Every Canvas includes access to a curated collection of 100 images from Meural's art library. The classical sampler features pieces like Van Gogh's Starry Night and Gustav Klimt's The Kiss. There's also a modern playlist with more contemporary works from artists like Hopper and Kandinsky. And you even get some "cinemagraphs" — works with motion elements. It's a great start for any gallery wall.
Upload your own images
I love that the Canvas can also showcase my own art. I can't do anything with paint and a canvas, but I've been an enthusiastic amateur photographer since I was a kid using a purple plastic 110 film camera. And when I graduated to my first SLR (a hand-me-down Minolta SR-T 101), I remember spending what felt like several eternities finishing a roll of film, waiting weeks while it was developed, and then finally deciding which shots — if any — were frame-worthy enough to enlarge and hang on the wall.
In these digital days, we can see our shots as we take them, but few ever actually make it on display. Well, that has certainly changed for me since I installed this thing. I've been having so much fun creating playlists of my favorite pet photos and posting my best vacation snaps (pretty much immediately after getting home). Whether I shot something on my phone or my Olympus PEN, I can see it enlarged on my wall in moments. It's amazingly satisfying.
I even uploaded a GIF I made of some Fourth of July fireworks, but it ended up being a little too wobbly for my wall. I want to try my hand at some proper cinemagraphs, but I really need to spend some time experimenting with my tripod for that.
The Canvas also has a micro SD input on the back that can be used to store and display images in up to four playlists. Uploading over Wi-Fi has been so easy that I haven't tried this, but I appreciate that it's an option.
The annual subscription
I'd be remiss not to mention the annual membership because that's where the Canvas really shines. For $69.95 a year, you get access to tens of thousands of works from around the world. You can search by artist or movement, subscribe to channels, and check out playlists based on color or theme. They have everything from ancient classics to contemporary creations from the last few months. You can also get recommendations based on what you already like — it feels a bit like Pandora for art.
It's July 2019 as I'm writing this, and my Meural feed has had loads of content to celebrate the 50th anniversary of the moon landing. They've had great historical pictures from the NASA archive, along with editorials by astronauts that include playlists of photos taken while they were in space. I can also view satellite shots of earth that look like a lot like abstract art. It's really cool.
After spending some time with a trial subscription, I can already say that I will definitely pay to renew my membership when the time comes. Surfing the Meural app has led me to discover several artists whose work I really love but had somehow never seen before.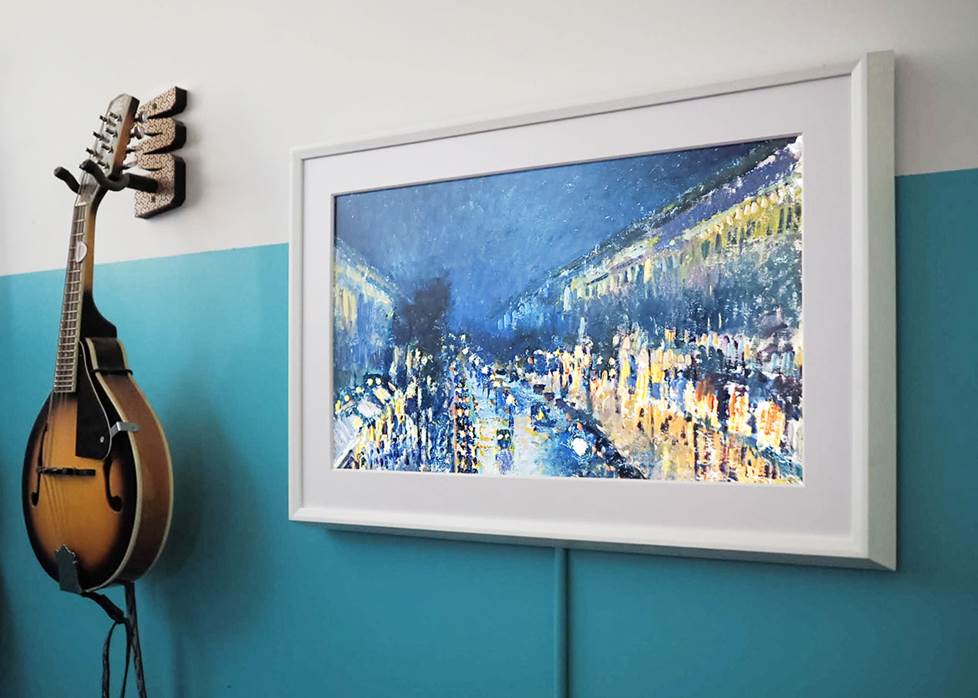 I've really enjoyed being able to display an ever-changing mix of art that my husband and I can both enjoy.
How does it look?
First of all, the frame itself is solidly built. The modern "Leonora" version that I have is made of poplar, and it comes in black or white. It's a perfect fit for the modern feel in my living room.
And the art? I was worried it would just look like a computer screen on my wall, but it doesn't. The matte screen has an anti-glare finish that's very convincing, especially during the day. It's almost too vivid at night, though, so I have it set to turn off when the room gets dark. And thanks to the built-in ambient light sensor, you can also choose to auto-adjust the screen's brightness based on the amount of light in the room.
Most of the time, it looks like I have a really high-quality print on display. Sometimes it's hard to tell it's not an actual canvas. I'm looking at Sorolla's Rocas de Jávea y el bote blanco right now, and the brushstrokes on Meural really seem to have depth and texture. It looks so much more lifelike than the flat version I'm comparing it to on my computer screen.
Art for days
I hung my Canvas while I was in the middle of reading David McCullough's The Greater Journey: Americans in Paris. It was so satisfying to learn about a work of art and then be able to see it immediately on my Canvas. When the book mentioned that Harriet Beecher Stowe was awestruck by The Raft of the Medusa at the Louvre, I did a quick search in the Meural app and it was on my wall in no time at all. I was awestruck, too.
One tiny drawback
When I selected John Singer Sargent's The Daughters of Edward Darley Boit to display after reading about it in the book, I was perplexed. McCullough mentioned four girls in the painting, but I could only see three. Weird. I looked it up, and discovered that the fourth daughter had been cropped.
You see, the Canvas has a 16:9 aspect ratio, and most art doesn't. I started wondering just what I was missing after that. And while most of the art I selected didn't seem to have major players cropped out, I still wish that the app would give me the option to see the whole painting. It would be even cooler if it allowed me to choose what part of a work gets displayed on the Meural like I can with my own uploaded photos.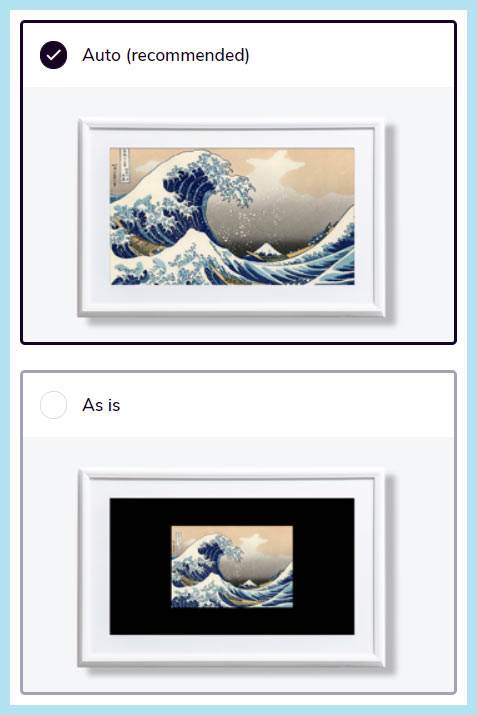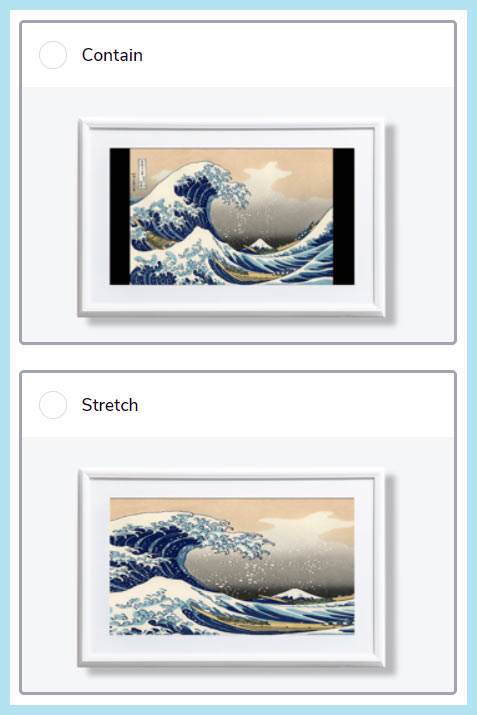 Sometimes adjusting the Fill Mode can help you see parts of the original image that would otherwise be cropped.
More settings
You can choose how long to display each work from hours to minutes to seconds. I have it set to move to a new piece every five minutes, though I'll occasionally use the option to "freeze" the current image when I want to linger on one work of art I'm really digging in the moment.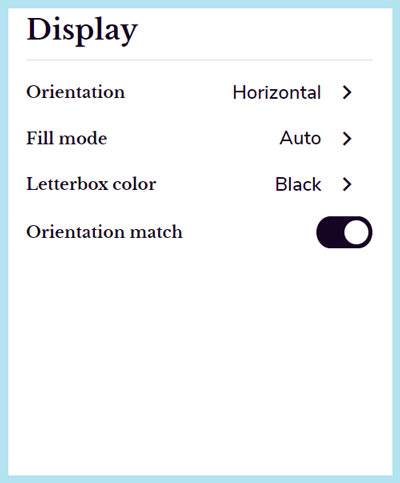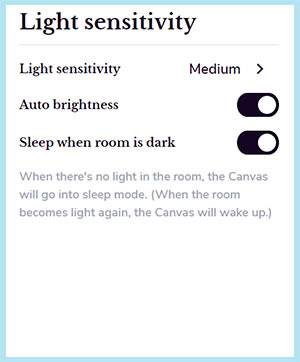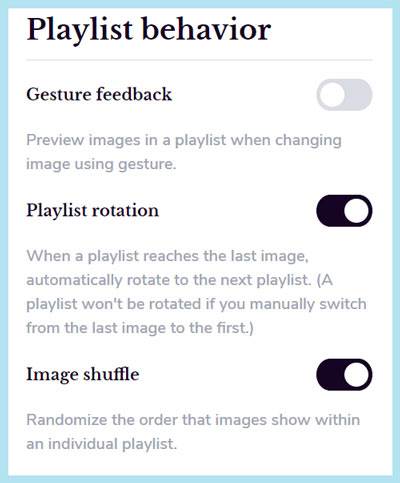 It's easy to tweak settings using either the web browser or the mobile app.
Gesture controls
I'll admit that using the gesture controls took a little getting used to. But it's really easy once you get the hang of it. I frequently cross the room to swipe up and read each piece's "art card" detailing the history of the work and the artist. I've probably already learned half a semester's worth of art history. Gesturing left and right near the bottom of the frame lets me scroll through the playlist.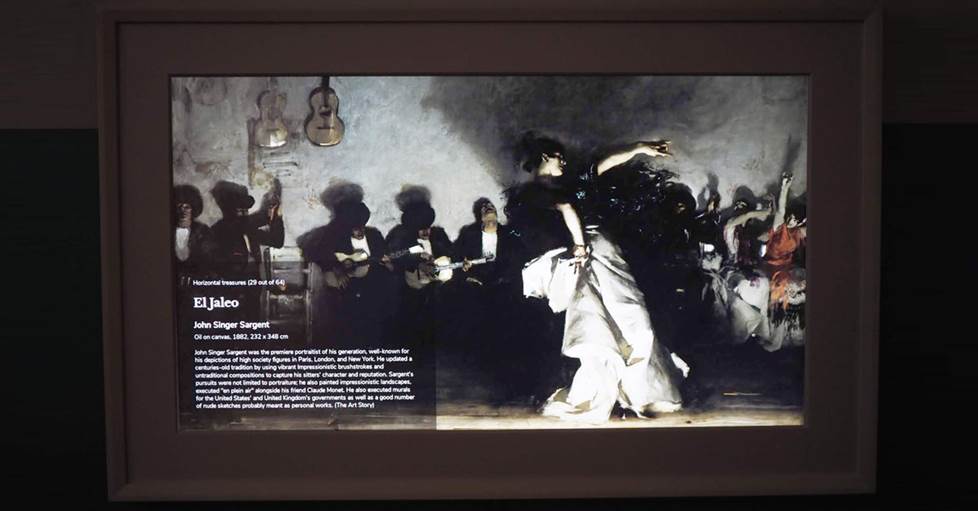 Each image has an informative "art card" — just like you'd find in a museum!
Alexa integration
If you have a device with Amazon Alexa voice control, you can use it to turn the Canvas on and off, scroll forward and back in the playlist, and adjust the screen's brightness. Truth be told, this was a struggle at first. I had some initial problems linking the Alexa skill with my Meural account. Apparently, this is a common issue, and Netgear support was very helpful in resolving it.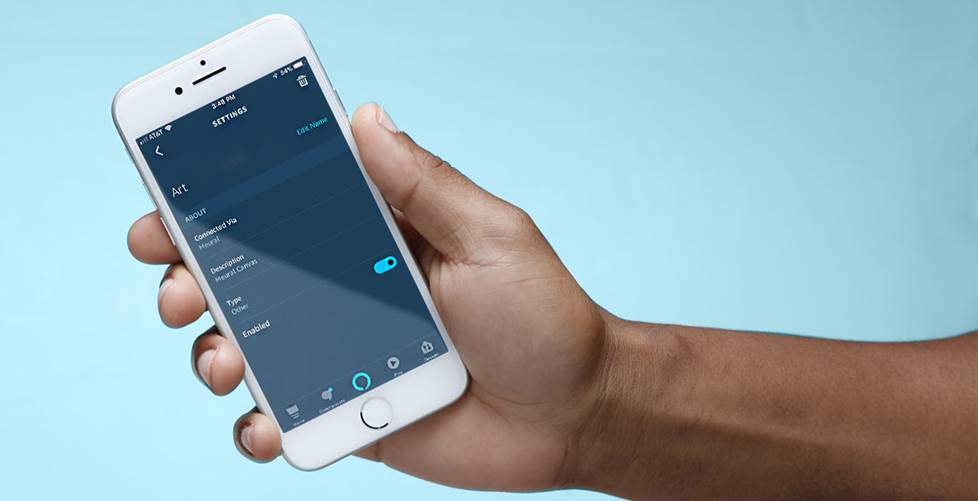 Alexa sometimes struggles to understand the word "Meural" so it's helpful to rename your Canvas within the Alexa app. I called mine "Art."
Mounting notes
The Meural Canvas comes with a hanging bracket that allows you to mount it horizontally or vertically. But if you want to change it up regularly, I recommend picking up the swivel mount. That's how I have mine mounted.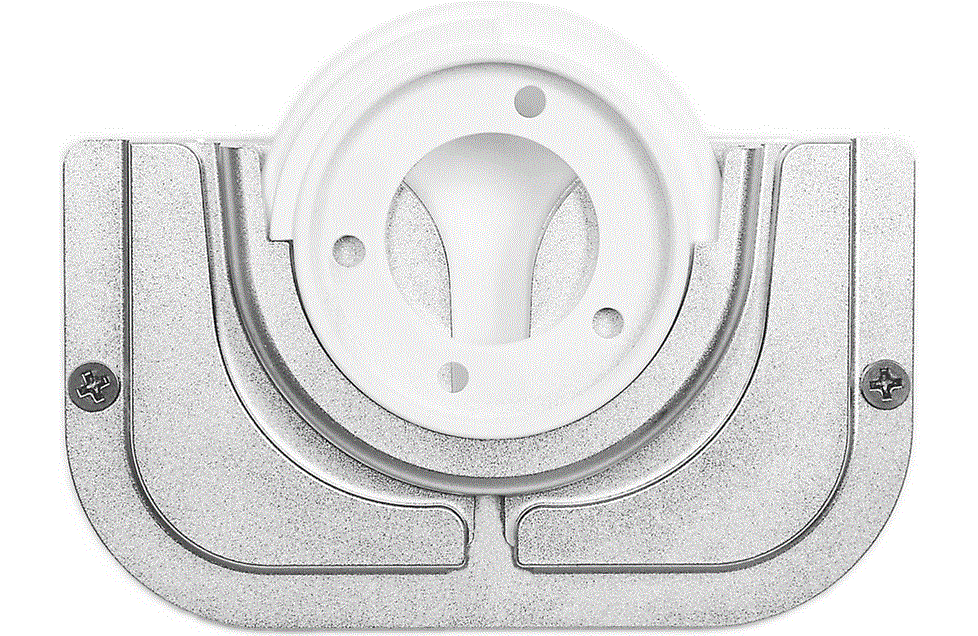 The swivel mount makes it easy to rotate the attached Canvas whenever you get the urge to go from portrait to landscape mode.
While Meural includes wall anchors with either mounting option, I strongly suggest making sure at least one of your screws is in a stud, especially if you will be rotating your Canvas a lot.
The 8-foot power cord on the Meural Canvas is fairly unobtrusive, but hiding it definitely makes for a cleaner look. The cord is rated for in-wall use, but if you don't want to cut holes in your wall, you can easily disguise it with a paintable cable cover like I did to keep your home gallery looking super-streamlined.
Final thoughts
I love it. Yes, it's a bit of a splurge, but the detail of the display, the ease of use, and the opportunity to discover new art all the time make it a pretty worthwhile one. Even my husband — who is not a huge fan of all the technology I bring home — has enjoyed the rotating gallery in our living room. I was delighted to find him swiping up to see the "art card" of a work on display — more than once!
Canvas II
As I was finishing up this article, Meural released the Canvas II. This new frame has a streamlined look that comes in four colors — black, white, dark wood, and light wood. But what's even more exciting to me is that it comes in two sizes, including a smaller 21.5" version with a lower price point that will make it accessible to more people. The larger 16" x 24" option has the same 27" display size as its predecessor.
Want to know more?
If you're still curious about the Meural Canvas and what it can (or can't) do, feel free to leave me a question or a comment below. Our friendly and knowledgeable Advisors are also happy to help. Contact us today.