Crutchfield Advisor Laura Sturgill didn't originally plan to transform her 2000 Kia Sportage into a mobile entertainment center, but after winning a local sound-off competition with a modest starter system, she couldn't help herself.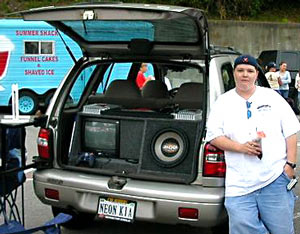 Laura poses with her 2000 Kia Sportage.
"It started with a single amp and one 12" sub, then it all kind of kept growing," she says. "My goal now is to see how much stuff I can shove into one little SUV."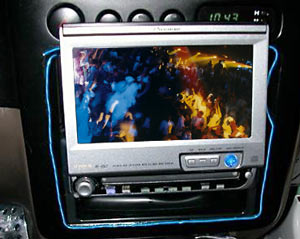 The Pioneer AVH-P6400CD CD receiver with built-in video monitor runs the show from the dash.
She's well on her way — the Kia currently holds a DVD player, in-dash Pioneer video monitor, Xbox? video game system, TV, and 1,020-watt sound system. Laura recently offered Crutchfield Advisor a glimpse into her award-winning ride.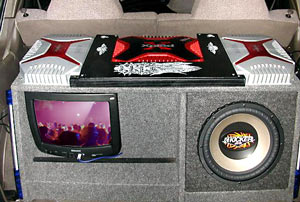 Laura designed and built the sub enclosure herself to make sure everything fit in the Kia's limited rear space. Here we can see the three Sony amps, 12" Kicker sub, and 13" TV.
She selected Pioneer's AVH-P6400CD CD receiver/monitor to anchor the system. The built-in 6.5" monitor combines with the Farenheit DVD-5F mobile DVD player (installed under the passenger seat) for DVD entertainment. The AVH-P6400CD's extensive feature package and 4-volt preamp outputs provide the high-end flexibility needed to control the multi-amp A/V system. She calls the AVH-P6400CD her "pride and joy," and it lives up to the name, boasting Pioneer's advanced Sound Focus EQ, Supertuner III AM/FM tuner technology, and an XM-ready interface. And as if that weren't enough stimulation, the Xbox? plugs directly into the receiver's A/V inputs.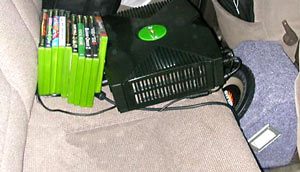 Making the most of her available space, Laura installed her 8" sub between the front and rear seats. The Xbox? signal is fed directly to the Pioneer head unit.
One Sony XM-460GTX amplifier (60 watts RMS x 4) runs the show, supplying a set of 4" JBL GTO 4.2C component speakers up front and a pair of 6-1/2" Polk EX 602 2-ways in back with 60 watts RMS each. The low end is handled by two dedicated sub amps: a Sony XM-2165GTX (165 watts x 2 at 4 ohms) bridged to 400 watts mono, and a Sony XM-2150GSX (150 watts x 2) bridged to 380 watts mono. The 2165GTX powers a 12" Kicker CompVR subwoofer in the rear box, while the 2150GSX powers an 8" Kicker CompVR that sits on the floor in the back seat. If she wants the bass without the boom, Laura can flip a switch on her dash and disable the 12".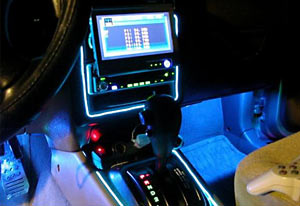 Laura designed her interior neon to coordinate with the Pioneer display. Here we can see the 6.5" monitor going to work.
The Sportage doesn't have a traditional trunk or rear deck, so Laura had to get creative with the subwoofer installation. She wanted to keep the look clean and professional, so she built a custom box for the 12" Kicker sub and mounted all three of the Sony amps on top, hiding the Rockford Fosgate wiring under some nifty custom paneling. As an added twist, she mounted a standard 13" TV set in the box too, powering it with the Kia's rear lighter outlet. A GlasScapes Tribal window graphic on the hatch glass keeps the installation safely hidden from view.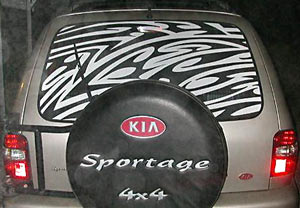 This GlasScapes Tribal window graphic keeps curious eyes away from the system.
"The TV in the back was put in mainly for shows since no one else around here has anything like it," Laura says, "but when I take it camping and it starts to rain I can just kick open the hatch, throw up a tarp, and watch a DVD until the rain stops."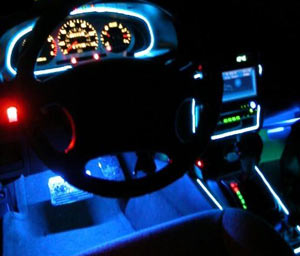 The interior in all its neon glory.
Neon highlights almost every inch of this vehicle. Starting with a StreetGlow under-car kit, the exterior of the Sportage is bathed in purple light. But it doesn't stop there. Inside, two StreetGlow mini tubes (under the dash) and a Eurolight replacement dome light (overhead) lend an eerie blue tint to the interior that matches the HottWirez string around the gauge cluster. Ichibahn strobes light up the front and rear windows, and neon tubes in the back highlight the amp installation. Laura also installed a brushed steel gauge plate and burlwood trim kit to give her car a finished look, topping it all off with chrome Ractive "Sport" pedals.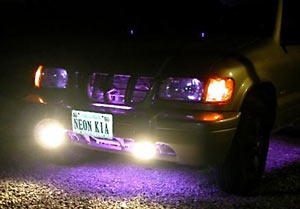 The evil grin.
The Kia has been to several competitions so far and has seen its share of success. It took home "Best of Show" honors two years in a row at a local car show, and earned trophies for sound quality and SPL (a measurement of how loud a system can play) at the 2003 Crutchfield Sound-Off. But Laura isn't done yet. She's already planning her next round of upgrades — including a Pioneer DVD player and CD changer, a new custom hatch box with two 12" Kicker Comp VR subs, Farenheit headrest monitors, and a navigation system — and wants to take the car to larger shows in 2004.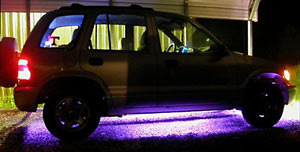 Exterior lighting from the Street Glow under-car kit gives the Sportage a striking presence when the sun goes down.
"It may just be a modestly priced car, but it's got some style!," she says.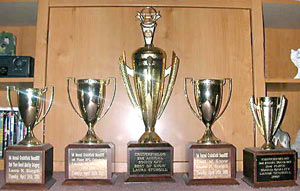 This Sportage is a winner, and it has the trophies to prove it.