For years, Sonos fans have pleaded for a speaker they could easily carry outdoors. Finally, they can buy one. It's called Sonos Move. Is it worth it?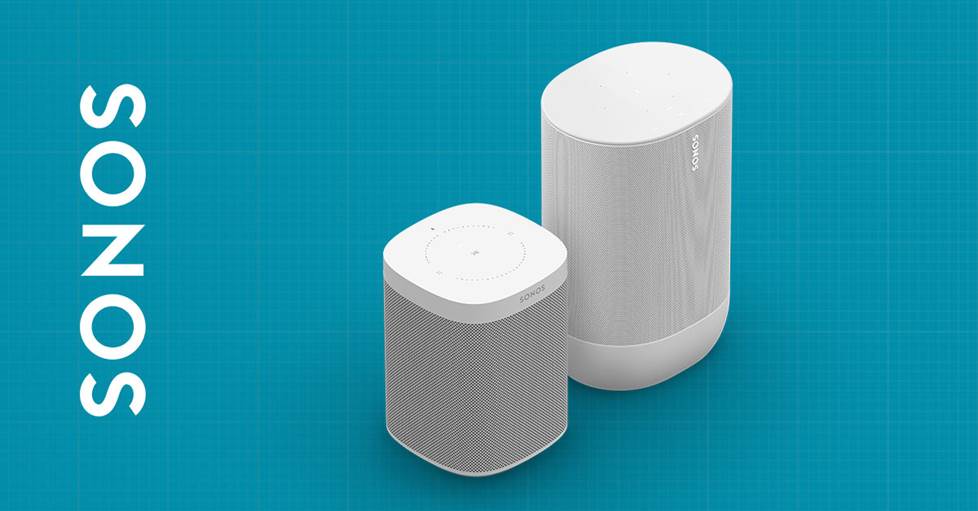 The Sonos One (foreground) and the Sonos Move, the first truly portable speaker from Sonos.
In many respects, the Move is comparable to its indoors-only cousin, the Sonos One. In several important ways, they're very different. Here's a side-by-side comparison of the features and specs:
| | Sonos One | Sonos Move |
| --- | --- | --- |
| Tweeter | Single front-firing tweeter | Single down-firing tweeter |
| Mid-woofer | Single mid-woofer | Single mid-woofer |
| Amplifiers | Two Class D amps | Two Class D amps |
| Power source | AC power only | AC or built-in battery power |
| Bluetooth | No | Yes |
| AirPlay 2 | Yes | Yes |
| Room tuning | Manual Trueplay | Auto Trueplay |
| Weather-resistant | Humidity only | Yes, IP56-rated |
| Pair two for stereo | Yes | Yes |
| Works with Sonos Sub | Yes | No |
| Can be used for wireless surround sound | Yes | No |
| Ethernet port | Yes | No |
| Built-in mics for voice control | 6 | 4 |
| Width | 4-3/4" | 6-5/16" |
| Height | 6-3/8" | 9-1/2" |
| Depth | 4-3/4" | 5" |
| Weight | 4.08 lbs. | 6.6 lbs. |
To learn about how they sound and what each one is good for, I turned to Dave Brown, one of Crutchfield's catalog editors. Dave owns both the Sonos One and the Move.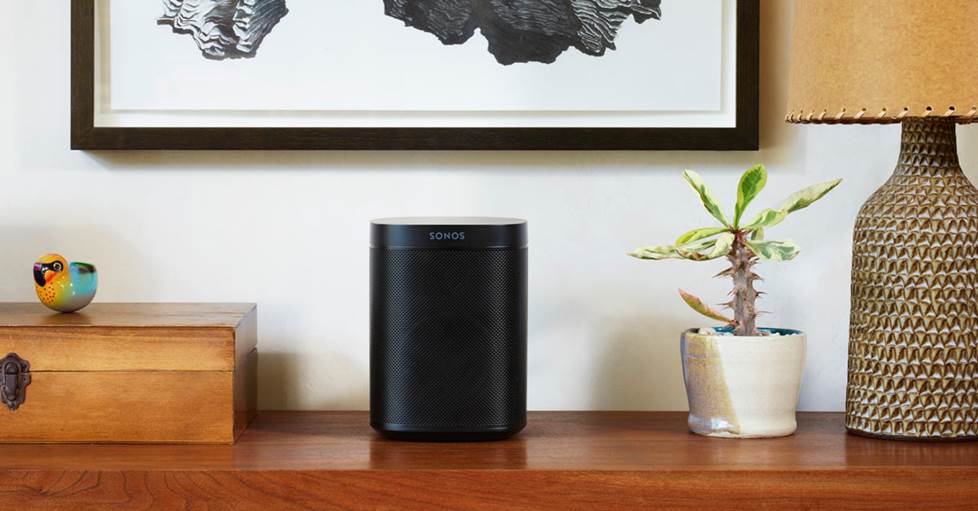 The Sonos One blends nicely into your decor, and it gives you big sound from a compact form factor.
The case for the Sonos One
"The Sonos One is a great speaker where you want to simply add music to a room," Dave said. "It has surprisingly big sound given its compact size, with bass response that's particularly impressive."
"This is more of a 'set-it-and-forget-it' speaker," he said. "Because it has to be plugged in for power, it's best placed in a single spot where it's not in the way and where you won't feel the need to move it."
If you're looking for a bargain, the One is the clear winner.
"You can buy two Ones for the price of the Move," Dave said. "Pair them, and you have a compact stereo system that sounds as good as pricier component systems."
Though the One is smaller than the Move, the built-in speakers and amplifiers are the same. The Tweeter in the One fires forward, while the tweeter in the Move fires downward. (The down-firing driver disperses the sound in all directions, which is a plus in an outdoor setting.)
"I don't think the Move sounds any better than the One," Dave said. "I might even prefer the sound of the One slightly more than the Move."
An obvious question: Can't you just carry the One from one room to another?
"Sure," Dave said, "but you've got to unplug it, plug it back in, and wait a couple of minutes while it reconnects to your Wi-Fi network. Not ideal."
The One is more versatile than the Move in some respects. You can use two Ones as wireless surround speakers in a Sonos surround sound system. And the One will work with the Sonos Sub. The Move can't do either of those things, even when connected to Wi-Fi.
The case for the Sonos Move
Perhaps the best speaker is the one you use the most.
"I probably listen to the Move more than any of my other Sonos speakers," Dave said. "I keep it on a shelf next to my desk at home for when I'm working. But if I head outside to fire up the grill, or to relax with a drink on my back porch, the Move comes with me. I'll also take it outside if I'm doing some yard work. Or anyplace around the house where I don't already have speakers."
The Move's ingenious charging cradle means docking and undocking is as simple as picking it up and putting it down. You can get up to 11 hours of un-docked playing time from the Move's battery. And with built-in Bluetooth, you can use it even when you're out of Wi-Fi range.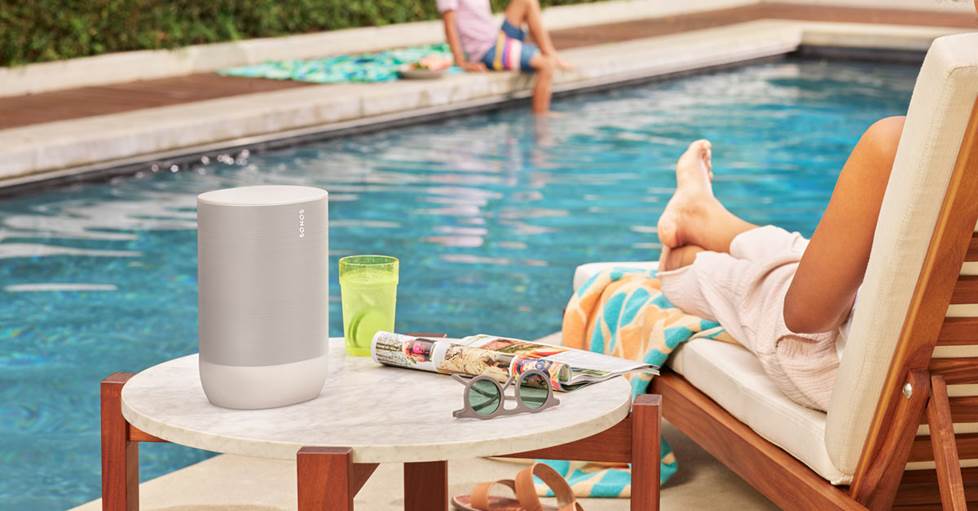 You can easily carry the Sonos Move outdoors. If you go beyond the range of your Wi-Fi, you can use Bluetooth to play music from your phone.
You could make do with a less expensive Bluetooth speaker. But those speakers won't connect to all your other Sonos speakers.
"That's why I had to have the Move, Dave said. "I want the ability to have all my speakers playing the same song at the same time."
The Move's Auto Trueplay room tuning feature is an upgrade over the One's manual Trueplay. The Move's built-in microphones listen to the sound in your surroundings, and the Trueplay software adjusts its EQ to deliver the best sound for the space it's in. And Auto Trueplay automatically recalibrates the sound whenever the Move is placed in a new location.
The One's manual Trueplay uses your phone's mic (iOS only) and the Sonos app. You have to manually recalibrate when you move the speaker.
Be aware that you'll lose some of Move's features when you use Bluetooth. The Sonos app won't work, since that relies on Wi-Fi. For the same reason, it will not function as part of your Sonos multi-room audio system. Additionally, voice control and Trueplay room tuning aren't available in Bluetooth mode.
Many Bluetooth speakers support hands-free control (HFP) for making or answering phone calls. The Move does not.
Is the Sonos Move good for the beach or a camping trip?
At 6.6 lbs., the Move is heavier than most other portable, weather-resistant Bluetooth speakers. It's also more expensive than most Bluetooth speakers of the same size. However, if you don't mind the risk, and you don't have to tote it too far from your car, then sure. Why not go for it?
Is the Move the only way to enjoy Sonos outdoors?
No. You can use a Sonos Amp or Sonos Port in your wired outdoor speaker system. Learn about how to do that by reading this article.
Need help choosing?
To learn more about the Sonos speaker lineup, read our Sonos buying guide. To speak with a Crutchfield advisor, call 1-888-955-6000.