A tale of two boat audio installations
New gear for the Crutchfield fleet
There's a lot to enjoy about taking your boat out for a day on the water. Whether you're fishing, waterskiing, wakeboarding, or just cruising around, it can be even more fun when you have a capable marine audio system to provide the music. Here's how we outfitted two different boats belonging to Crutchfield employees.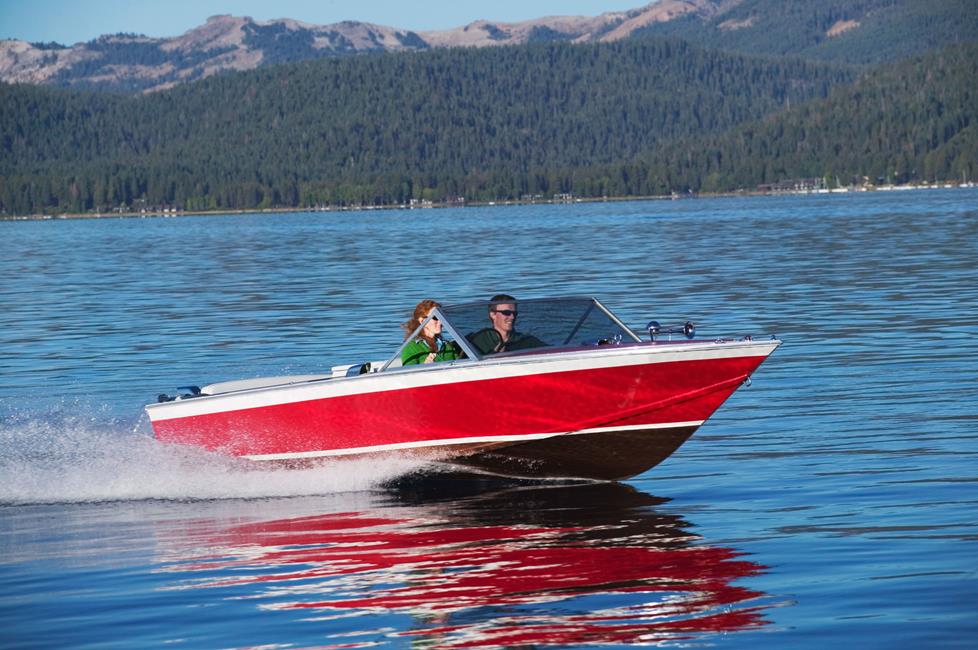 Each boat was equipped with a system designed to suit the boat and the owner's preferences. Whether you're into fishing, cruising, water skiing, or wakeboarding, it's easier than you think to design a system that's ideal for your boat and your lifestyle.
---
A sea-worthy system for fishing and cruising
Doug, our Operations Manager in Charlottesville, looks forward to weekends at Virginia Beach every summer. That's where he berths the 25-foot Grady-White he uses for fishing and cruising in the Chesepeake Bay. Doug wanted to upgrade existing system to provide good sound all around the boat, while also giving him more entertainment options.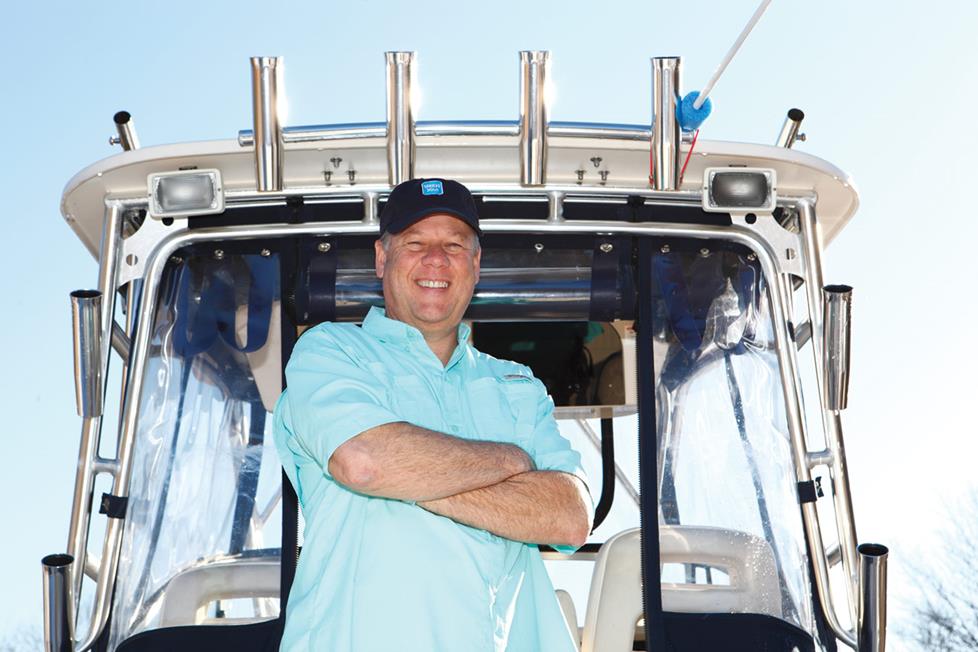 The receiver is the heart of the system
We installed a Clarion marine digital media receiver in the bow cabin. These receivers don't have CD players, but that was okay with Doug, since he prefers his iPod® and satellite radio. The one we chose has a USB input and iPod controls, plus it's satellite radio-ready, so Doug can take his SiriusXM tuner out of his car and use it in the boat, too. Built-in Bluetooth® connectivity allows Doug and his guests to stream music wirelessly from their devices to the receiver.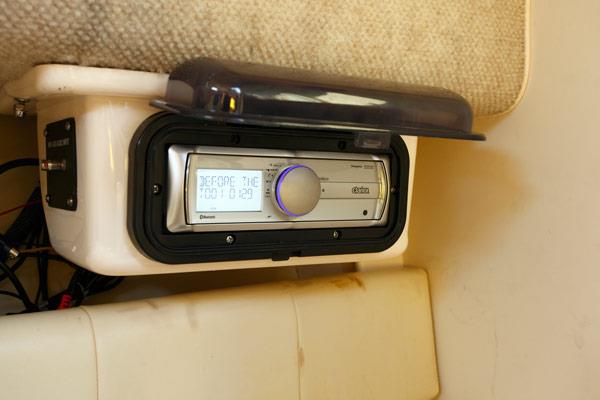 The Clarion marine receiver was installed in the bow cabin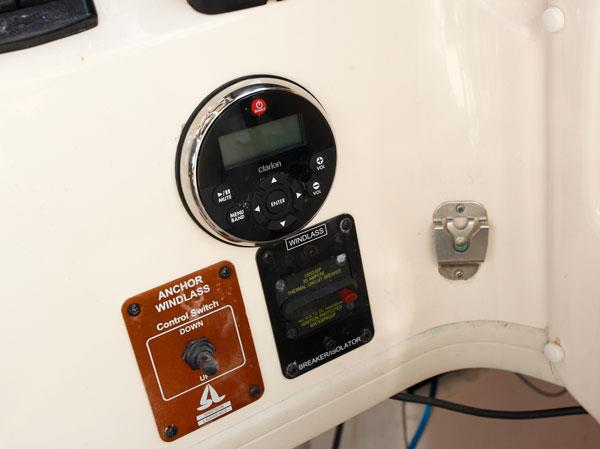 The Clarion MW1 marine remote control fit neatly near the helm
Although we mounted the receiver below decks, we also installed a Clarion wired remote control at the helm. The remote's LCD display provides feedback, while the waterproof buttons give Doug easy control of the receiver. The wired remote controls the receiver from the helm.
See our full lineup of marine receivers.
Filling the boat with sound
Doug and his passengers could be anywhere on the boat while they're cruising or fishing, so we wanted to provide good sound throughout.
A pair of Polk marine speakers fit nicely in the bow cabin, where they're protected from the elements. At the helm, we installed a set of JL Audio marine speakers.
For the rear of the boat, we added a marine audio system, with an amplifier, enclosed subwoofer and a pair of waterproof speakers. With the sub mounted in a stern compartment and the speakers under the gunwales, the bass response and sound in the stern was greatly improved.
That system is no longer available, but we offer a number of marine receiver/speaker combos that have everything you need to start building your own marine sound system.
See all of our marine speakers.
Watch our video about the installation in Doug's Grady-White
Fun on the lake
J, Crutchfield's in-house photographer, keeps his 20-foot Moomba Outback on the inland waters of Virginia's Smith Mountain Lake, where he enjoys taking out friends and family for wakeboarding and exploring. Having a system with plenty of power to cut through the sound of the wind, waves, and engines was important to him.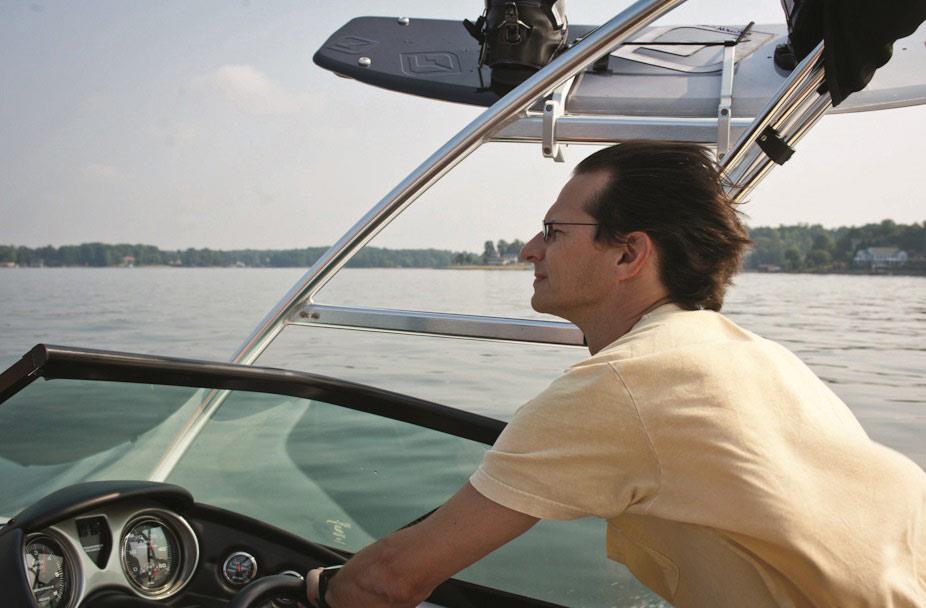 Keeping the receiver safe and dry
It gets damp inside a fast, open boat, so we wanted to find a protected location for the receiver. Fortunately, the Moomba has a variety of watertight compartments that were perfect for the installation. Not only does the compartment provide an extra degree of protection for the Kenwood marine CD receiver we installed, but it also protects devices connected to it from spray. A Kenwood wired remote lets J control the receiver from the helm.
See our full lineup of marine receivers.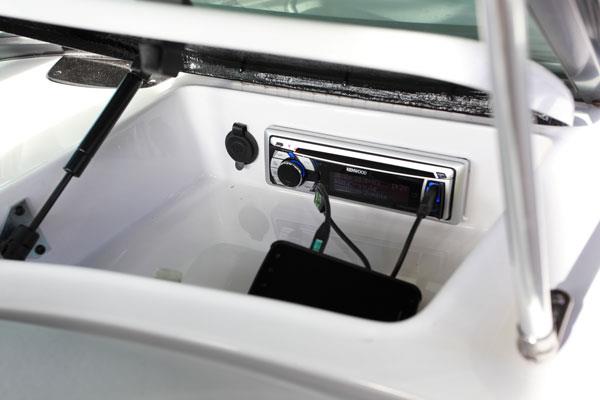 The Kenwood marine receiver and devices stay safe and dry in this waterproof compartment
Adding an amp and speakers
We installed three pairs of 6" Kicker marine speakers in the boat's existing speaker openings, covering the front, middle, and rear of the craft. We kept the amplification in the family with a Kicker marine amp.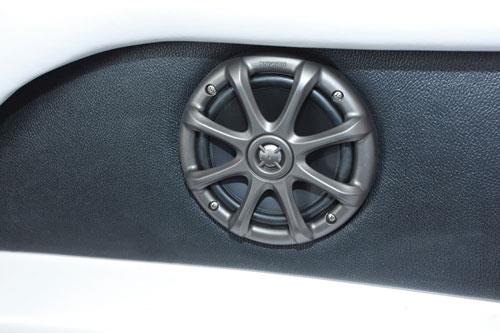 Three pairs of Kicker marine speakers provide full-range sound
The amplifier is essential to providing the punch necessary for clear sound when the throttle is up and the boat is humming along the water. And, since the amp has a separate subwoofer channel, J can add a marine-rated sub to the system later if he wants.
See all of our marine amps and marine speakers.
Watch our video about the installation in J's Moomba.
---
Tips for your marine stereo installation
Putting a system into your boat may seem like a daunting task. Here are a few handy tips from our installers at Crutchfield that'll help make the process a little easier.
Take your time, and try to plan the installation out in advance. (This should actually apply to any installation.)

When drilling into any fiberglass or wood surfaces, always check what's on the backside. It sounds silly, but it's easy to forget and you don't want to drill into a fuel line or worse yet, through the hull!

If you need to cut a large hole using a hole saw (like we did for the Clarion remote control in the dash), run the hole saw backwards against the gelcoat to score it. This will prevent chipping of the surface. And always go slow and steady with a hole saw.

Anytime you pull wires, also pull an extra piece of polyester twine with the wires and leave it in the run. This can serve as your pull string for future installations.

Speaking of wires, always use marine-rated wiring when you're installing gear on a boat. Ordinary car/truck wiring just isn't designed to stand up to the corrosion-causing moisture that's just part of life on the water. We also carry essential accessories like patch cables, covers and mounts, antennas, marine Bluetooth® adapters, and more.

Before you button everything up, make sure all of your components are working as expected.
More marine
We carry an every-expanding array of marine-rated audio gear, including receivers, speakers, amps, and subwoofers, plus fishfinders, chartplotters, wiring and more. If you have and questions about selecting the best equipment for your boat, give us a call. We'll be happy to help you find the gear you need to make your boat sound better than you'd ever imagined.