1821-up Flying Sleigh
Upgrading the stereo system in your Flying Sleigh
1821 • 1822 • 1823 • 1824 • etc.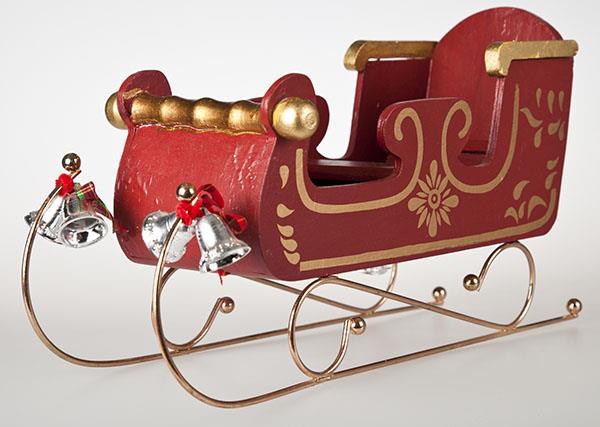 One early variation of the 1821-up Flying Sleigh
In brief: This Crutchfield Research Garage article gives you an overview of your Flying Sleigh's stock stereo system and your aftermarket upgrade options.
Overview of the Flying Sleigh
After almost two centuries of use, the Flying Sleigh remains the undisputed leader in the "worldwide overnight toy delivery vehicle" segment. With legendary performance, fantastic reliability and unlimited cargo capacity, it's easy to see why. Though some scientists and engineers continue to scoff at the idea of a renewable energy-powered vehicle delivering toys to millions of good girls and boys around the world, the Flying Sleigh's record speaks for itself.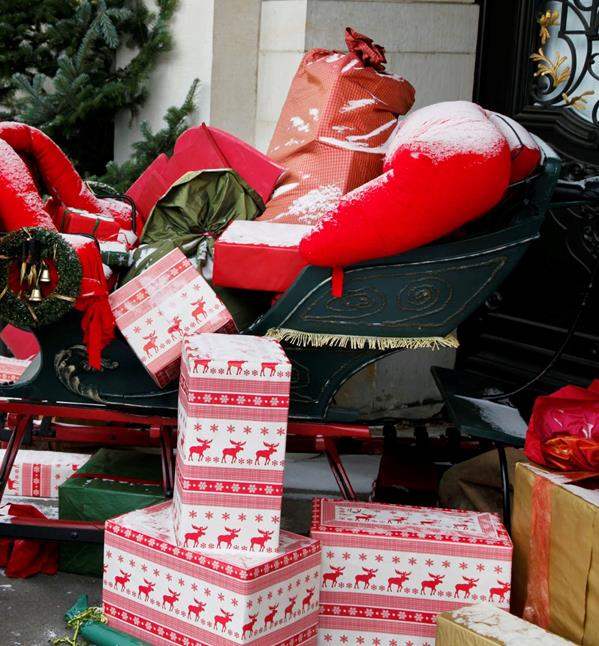 Room for a world of gifts – and a great stereo system
The unique reindeer-based propulsion system (a Flying Sleigh exclusive) remains the envy of the package delivery industry. Though basic maintenance is required 365 days per year and (typically) several times on work nights, the effort pays off with a combination of speed and reliability that's almost unheard-of.
The addition of a ninth reindeer in 1939 gave the Flying Sleigh a fresh new look and a mild performance boost. As a bonus, the glow from the new reindeer's shiny red nose proved to be a huge benefit on foggy nights. Safety innovations like that one have helped the Flying Sleigh accumulate an estimated 5 million-plus miles of service without a reported accident or mechanical failure.
The Flying Sleigh's spacious cockpit and open-air design ensures comfortable seating and outstanding visibility, but wind noise is quite noticeable and the driver is exposed to the elements. With that in mind, it's important to choose durable, versatile gear that's tough enough to keep the carols cranking all night long in any conditions. And that new gear will leave you feeling jolly the next time you take to the sky!
This article is an overview of your sleigh's audio system and its upgrade options. If you're looking for step-by-step instructions on how to install a car stereo or speakers in your sleigh (or car or truck), there's nothing better than our exclusive
Crutchfield MasterSheet
™. This detailed, well-illustrated document is free with your Crutchfield order, or you can purchase one separately for $9.99.
Replacing your factory radio
The Flying Sleigh's stock radio was a set of bells that, while certainly capable of playing popular music, usually wound up jingling in the wind. As for news, weather, and traffic updates—forget it.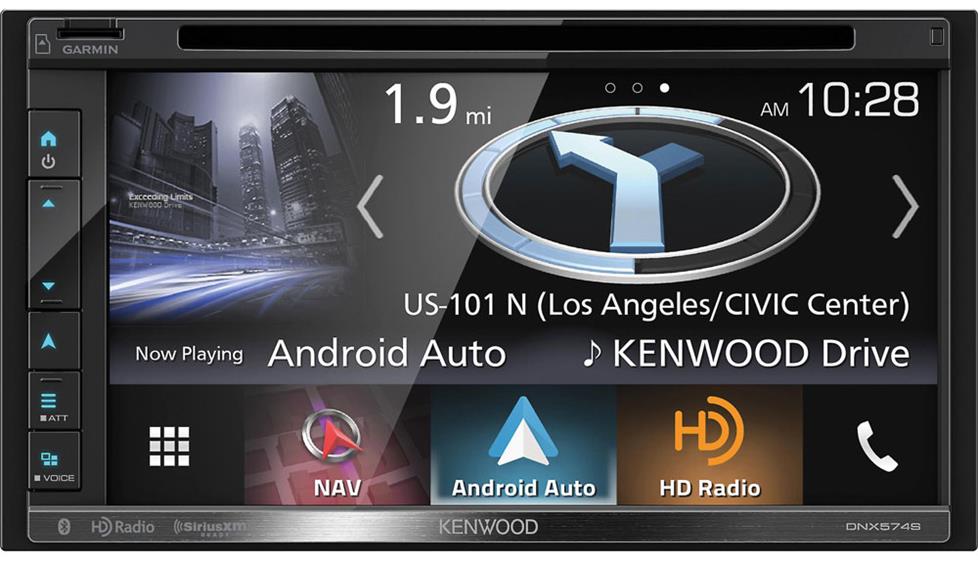 A quality navigation receiver offers all the connectivity a traveler could need.
An in-dash DVD/navigation receiver (not to be confused with the in-Dasher designs tested and abandoned during the nineties) is the perfect solution for the driver with lots of places to go and little time to get there. The screens are getting bigger all the time, the navigation quality is first-rate and, with great features like SiriusXM satellite radio, Pandora® Internet radio, and iPhone® and Android smartphone compatibility, these high-performance models aren't just radios, they're total entertainment centers. If you're taking a spin around the world, a quality multimedia receiver is a terrific travel companion.
Updating the Sleigh's "infotainment" system will involve some modification to the cockpit area. You'll need to build a dashboard to hold the new receiver and speakers, of course, plus you'll need to fabricate mounts for any additional speakers you're planning to add at the rear of the vehicle. Extensive wiring is involved, but the open-air design and spartan interior help make the task easier than it could be.
The average do-it-yourselfer could get all of this done in a couple of days, but this is a busy time of the year for anyone who owns and operates a Flying Sleigh. Barring an unprecedented number of "naughty" children, you're better off saving your strength and leaving the job to an experienced installer. Or a team of elves.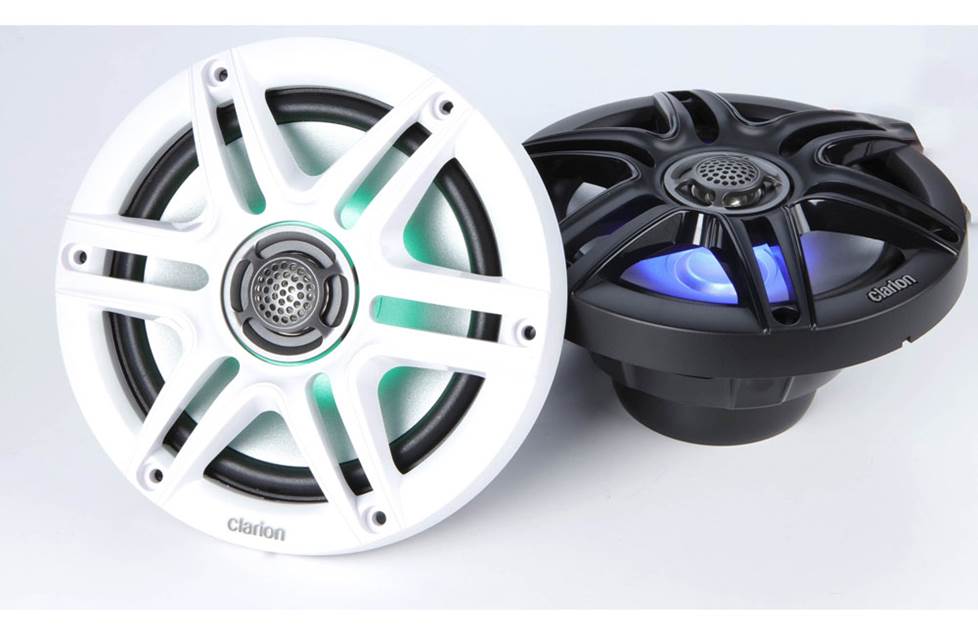 These Clarion marine speakers feature festive built-in LED lights.
Replacing your factory speakers
The Flying Sleigh's lack of front doors helps with speedy ingress and egress, which is why it continues to influence Earth-bound package delivery vehicles today. Alas, it also makes front speaker placement a bit of a challenge. Thankfully, the spacious cockpit and wide-open dash area allow for some custom solutions.
We suggest a set of marine-rated speakers. If you opt for a component system, the woofers will mount nicely near the base of the dash, while the tweeters will fit comfortably in your custom dashboard assembly. Your speakers will sound terrific, even in howling, windy conditions; plus they'll really stand up to winter weather.
Like a pickup truck, the Flying Sleigh can haul vast amounts of stuff, yet offers little room for rear speaker placement. As with the front speakers, you'll need to fabricate a custom housing to mount speakers in the rear of your sky-ride. One option is to use a pair of 6"x9" boxes and bolt them to the sides of the sleigh somewhere behind the seat.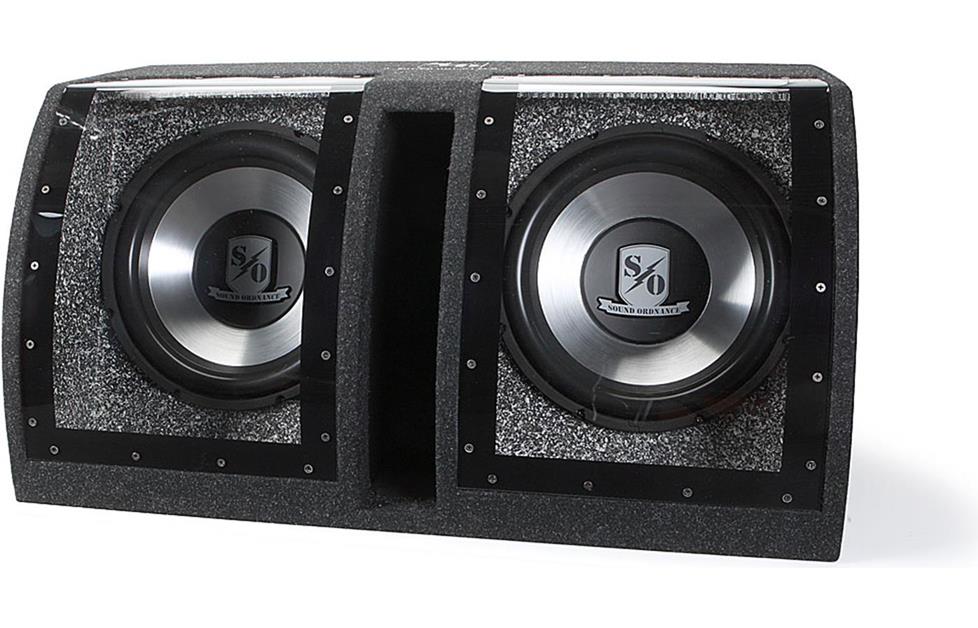 The Sound Ordnance B-24 loaded bandpass enclosure will fill your sleigh with bass.
More bass in your Flying Sleigh
For the best overall sound quality, we suggest mounting a powered subwoofer below the seat. Marine-grade amps and subs are available, but if you enclose the below-seat area, standard car audio equipment should be just fine. This set-up should have you shaking like a bowlful of jelly all night long.
Of course, if you want serious bass power, the opportunities are as limitless as your imagination. You can go big by adding component subwoofers and a dedicated sub box. You'll need an amplifier to power the subs, of course, and we offer a healthy variety of automotive and marine-rated amps that will really jingle your bells.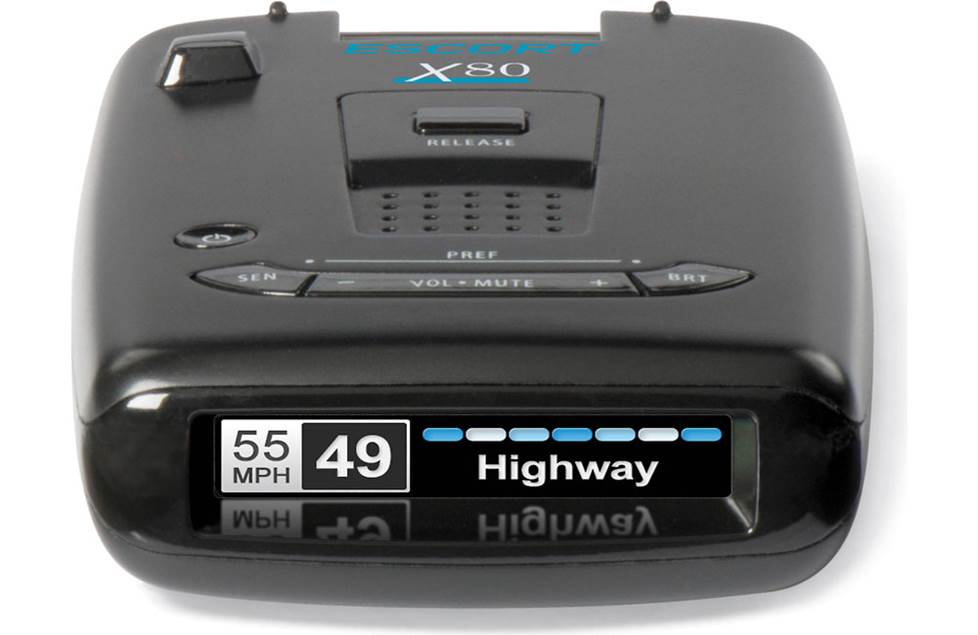 Another one of Santa's helpers: A radar detector!
Other options for your Flying Sleigh
Flying Sleighs are well-known radar magnets. In fact, there's an entire website devoted to tracking Flying Sleigh speeds and travel patterns. Track 'em back with a high-tech radar detector. The latest models can also alert you to the presence of speed cameras. (Just remember to disconnect the detector when you're over Virginia or Washington, D.C.)
A compact rear-view camera can be a big help when your vision is obstructed by bags of toys and you're trying to park on a top of a snow-covered roof.
Unlike the Flying Sleigh's famed red-nosed reindeer, aftermarket stereo equipment is not self-powered. You'll need to add some juice to operate this gear, and that means you need a sturdy, deep-cycle battery. Make sure it's rugged enough for extreme conditions and guaranteed not to leak or corrode, because no one wants a baby doll that's been soaking in battery acid for three hours. For optimal weight distribution, mount the battery behind the seat, in the center of the chassis. A battery hold-down will keep it in place during high-speed aerial maneuvers.
Find what fits your vehicle
You might not own a Flying Sleigh (yet), but you can still get the gift of great car audio for your current vehicle. Click below, and enter your vehicle information. We'll show you all the gear that will work in your vehicle, from receivers and speakers, to subwoofers and more. If we can outfit a Flying Sleigh, we can probably handle whatever you're driving!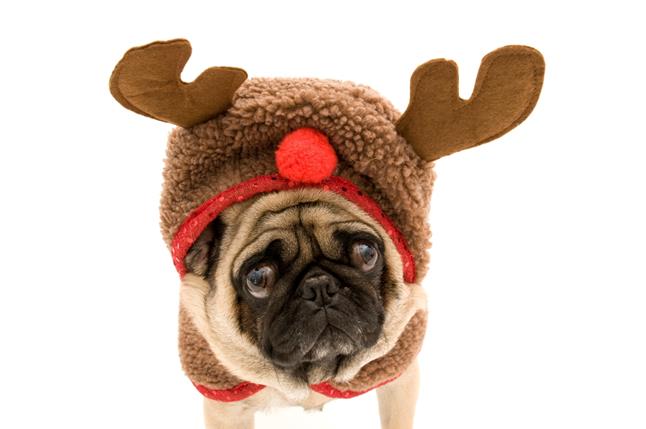 Find the gear that fits!
Find the audio gear that fits your car or truck
Visit our Outfit My Car page and enter your vehicle information to see stereos, speakers, subs, and other audio accessories that will work in your vehicle.